Are you looking to grill or roast fish for dinner? One of the best kinds of fish to do that with is keta salmon. It's one of the many kinds of salmon species to choose from. However, before you choose keat salmon, you should also consider sockeye salmon.
Keta salmon vs. sockeye salmon offers a lot of similarities and differences. For instance, keta salmon comes mainly from Alaska. They also swim as far as 2,000 miles for spawning grounds. Keta salmon are also similar to sockeye salmon in that they both thrive in either saltwater or freshwater. They also have an abundance of omega-3 fatty acids, making them one of the most nutritious meals.
In this guide, we'll explore the key differences between these kinds of fish. You'll discover their origin, nutrition, and the variety of meals you can make with either fish. You'll discover the better fish for personal taste and overall nutrition.
The Origin of Keta Salmon and Sockeye Salmon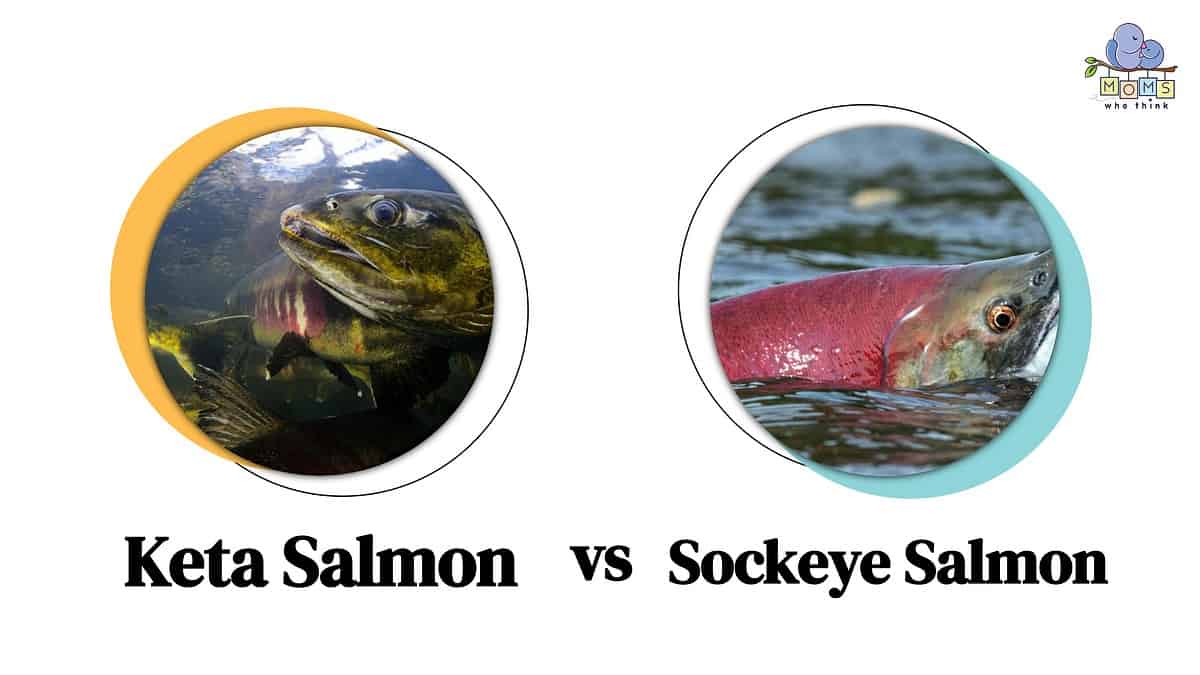 One unique thing about keta salmon is that they are also known as chum salmon. They also belong to the genus Oncorhynchus. It's a Greek name that means kype nose, which is seen on the spawning fish. If you're looking to fish for keta salmon, you can find them between June through October in Alaska. The average lifespan of a keta fish is between 3 and 7 years, and they have a diet of zooplankton and insects. The average keta salmon will weigh nearly twenty pounds. However, the biggest keta salmon ever caught on record was nearly 100 pounds.
If you're looking to fish for sockeye salmon, you'll find them in Alaska and parts of Washington from June until the end of September. You can also find some sockeye salmon in Oregon. Sockeye fish also have a similar lifespan of around 3 to 7 years and a zooplankton diet.
Since keta salmon and sockeye salmon can thrive in saltwater or freshwater, they have a strong sense of smell. Another unique thing about either fish is that they undergo different colors. The keta salmon, for instance, develop a pattern of bold red and black tiger stripes. For sockeye salmon, during the spawning season, they turn red, and their faces turn green.
While keta and sockeye salmon are the same species, they are wildly different in taste. For instance, keta salmon has less of a fishy taste when compared to sockeye salmon. One of the best ways to cook keta salmon is to smoke it, which gives it a salty-sweet flavor. In comparison, sockeye salmon has a robust salmon taste. It also has a firm texture and is great for different kinds of cooking beyond just smoking it.
The Health Benefits of Keta Salmon vs. Sockeye Salmon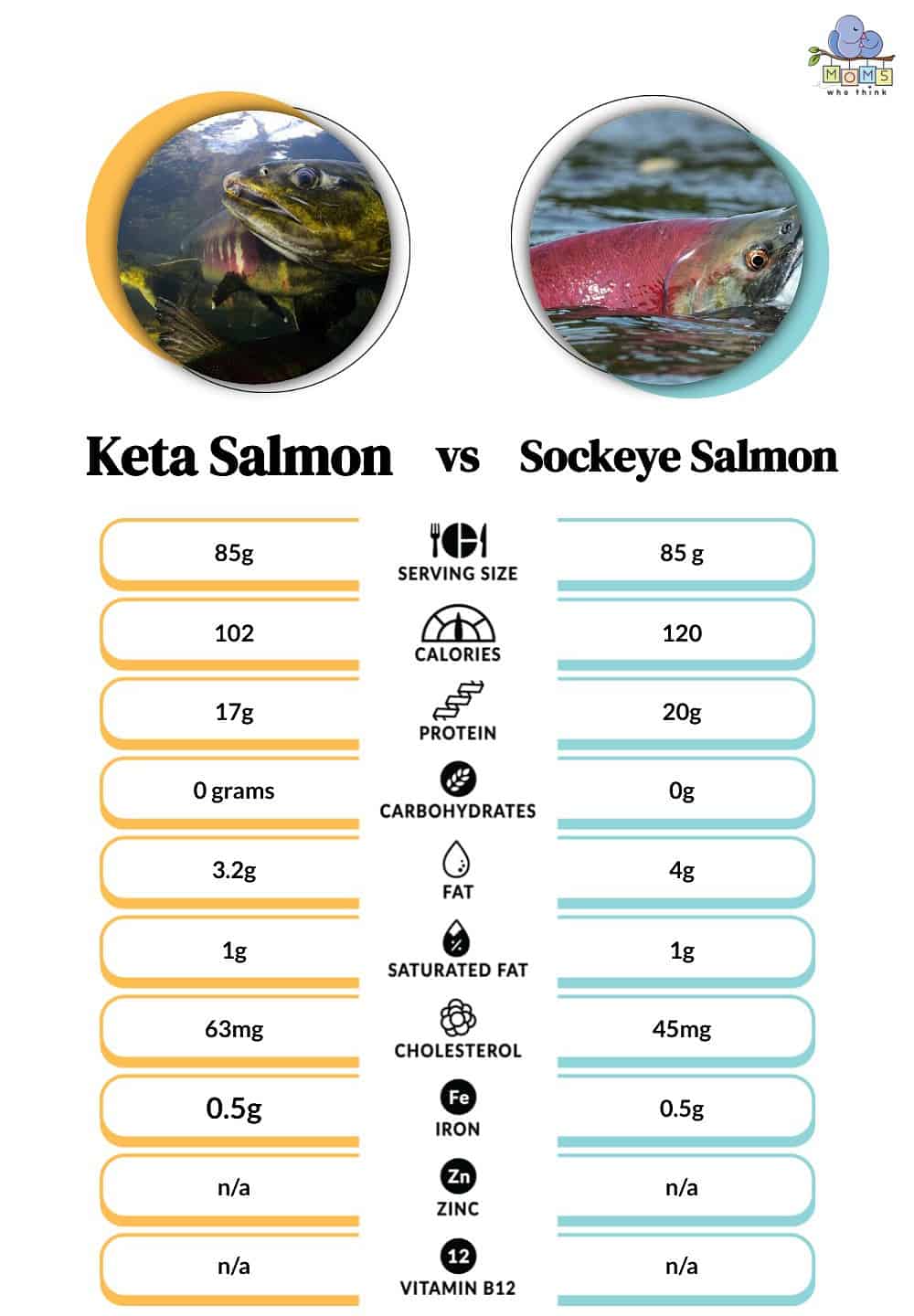 In general, salmon is considered one of the healthiest fish to eat. Of all the fish, they are known to have the most omega-3 fatty acids. This is beneficial for reducing inflammation, lowering blood pressure, and decreasing your overall risk for diseases.
For keta fish specifically, it has an abundance of protein. It also contains selenium, which studies have shown to reduce cancer risk. Another health benefit of keta salmon is that it has phosphorus and potassium. It's also rich in calcium and vitamin E.
Like keta salmon, sockeye salmon has a lot of similar health benefits. For example, sockeye salmon has an abundance of omega-3 fatty acids, which is terrific for heart health. It also has the nutrients to improve blood lipids and lowers your cholesterol. Additionally, sockeye salmon has a tremendous amount of selenium.
While either salmon fish offers an array of health benefits, you might be wondering what the best way to cook them is or even the healthiest way to cook is. Below you'll discover a list of the different ways to cook fish best that allow you to receive the most nutritional benefits.
Different Meals for Keta Salmon and Sockeye Salmon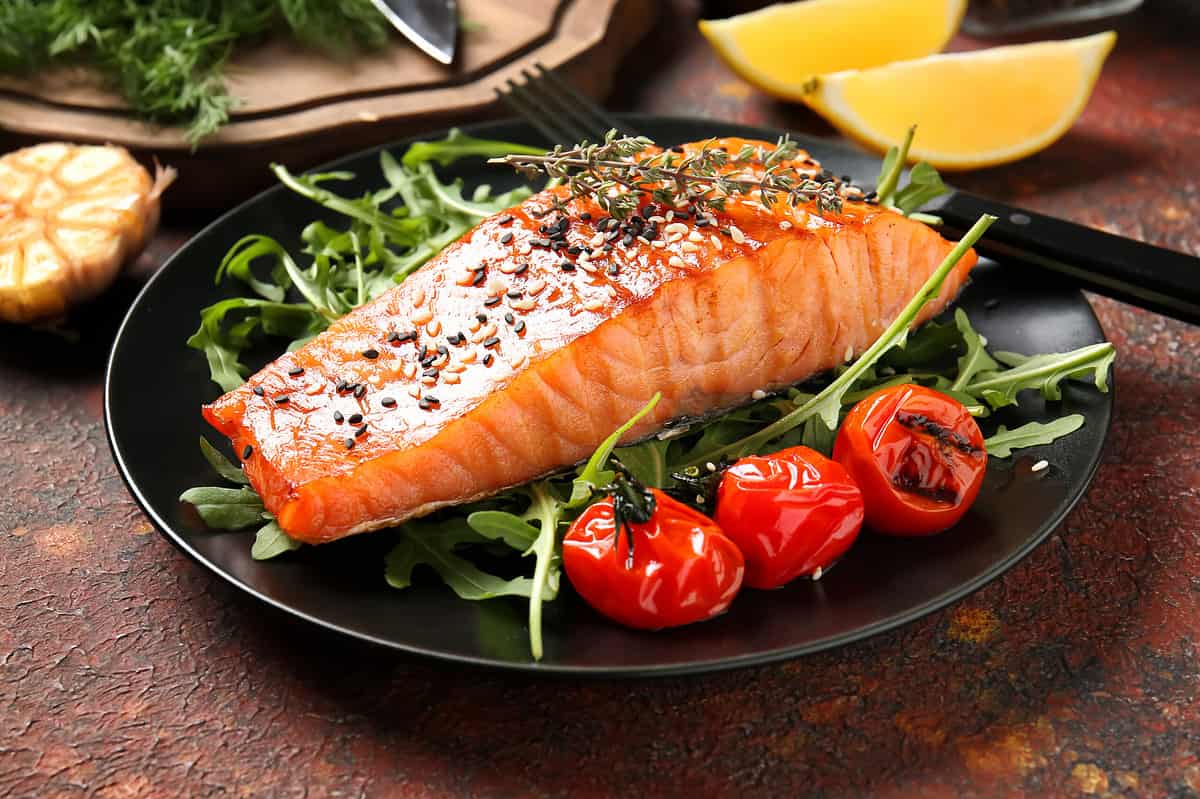 Keta salmon and sockeye salmon can be cooked in various ways, from grilling to baking to frying. While how you cook either fish depends on your taste, you'll discover that either can be prepared as the main course or as a side course to other meals.
Here are some of the best meals to consider with either fish.
Baked or grilled salmon with garlic lemon
Salmon salsa fish tacos
Salmon and potato soup
Easy blackened salmon
Deep fried salmon
Keta Salmon and Sockeye Salmon Offer a Variety of Options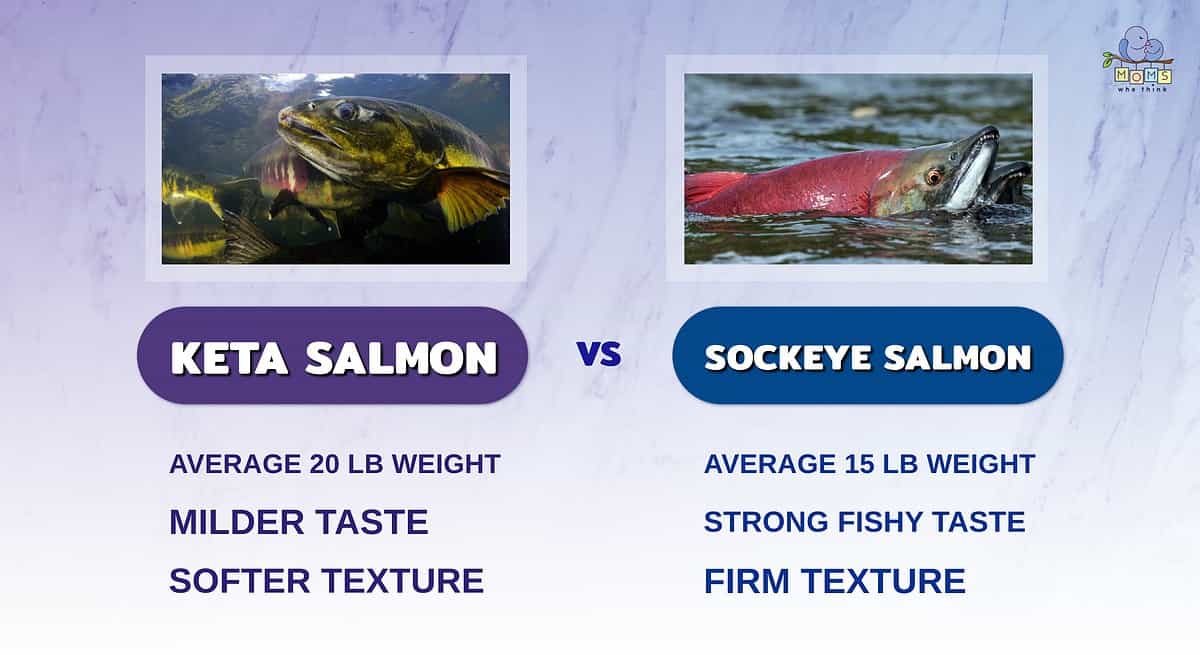 While keta and sockeye salmon are similar, they are also very different in taste and health benefits. They show how unique a fish is and how they develop. Choosing either fish for a meal will give you the nutrients you want. You'll also discover that there are different ways to cook fish that match your food tastes. Trying both kinds of fish can give you an idea of what fish you enjoy more.
Still looking for a great salmon recipe? Look at this:
Print
Succulent Herb Crusted Salmon
---
Author:

Yield:

4

servings

1

x
1½ cups soft bread crumbs
2 Tablespoons minced fresh parsley
1 Tablespoon minced fresh thyme or 1 teaspoon dried thyme
2 garlic cloves, minced
1 teaspoon grated lemon peel
½ teaspoon salt
½ teaspoon lemon pepper seasoning
½ teaspoon paprika
4 salmon filets (6 ounces each)
Refrigerated butter flavored spray
---
Instructions
1. In a large bowl, combine everything but the salmon and set aside.
2. Pat salmon dry. Place skin side down, in a 13×9 inch baking dish coated with cooking spray.
3. Evenly spray salmon with butter flavored spray. Cover salmon with crumb mixture.
4. Evenly spray crumbs with butter flavored spray.
5. Bake, uncovered, at 350° for 15 minutes or until fish flakes easily with a fork.
Nutrition
Serving Size:

One salmon fillet

Calories:

371

Sodium:

525mg

Fat:

19g

Saturated Fat:

4g

Carbohydrates:

12g

Fiber:

1g

Protein:

36g

Cholesterol:

113mg
The image featured at the top of this post is ©Pixel-Shot/Shutterstock.com.