Mahi Mahi vs. salmon: which should you choose for dinner? Different factors go into either choice, particularly healthy choices, taste, and what kind of meal you're making.
Also, knowing either fish's history can give you some educational insight into what you're preparing for dinner. For example, there are seven different kinds of salmon species. Atlantic salmon is a prevalent kind of salmon that is caught in Northern Europe. You'll also find farmed salmon in Chile and Canada. What makes salmon unique is its abundance of omega-3 fatty acids. Additionally, they are one of the only kinds of fish that can survive in saltwater and freshwater. When it comes to taste, salmon is often considered the most flavorful because it has the most fat.
Mahi Mahi fish is a much different kind of fish when compared to salmon. Mahi Mahi fish are found in the Gulf of Mexico and around the Atlantic Ocean. They are known to have slender and compressed bodies with blue and green dorsal fins. These extend almost the entire length of their bodies.
In this guide, we'll explore more of the differences between Mahi Mahi and salmon. You'll discover what makes them so unique and how they offer some of the best health benefits along with the tastiest meals.
Why Mahi Mahi and Salmon Are Considered the Finest Fish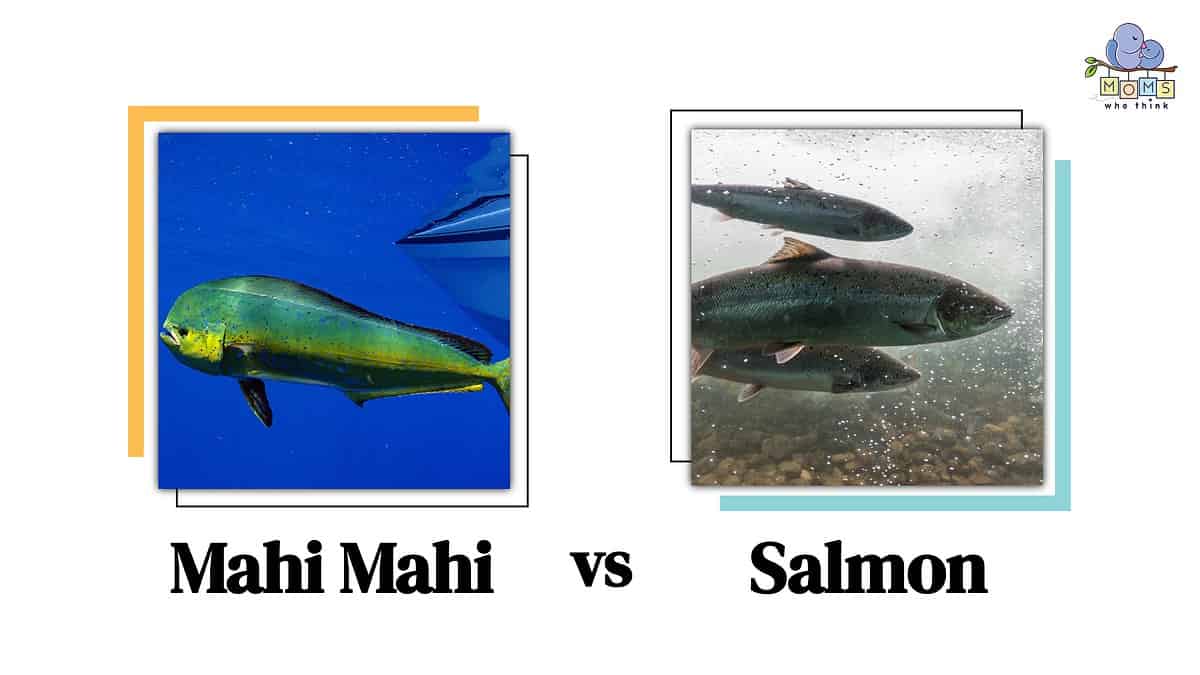 Mahi Mahi is one of the faster-growing kinds of fish species. They can grow nearly 3 inches per week. They are considered adult-size after a year. When it comes to color, they have a pale pinkish color and have a flaky flesh. They are also considered the "Dolphin Fish" because they are fast swimmers, reaching up to 60 mph.
Besides being able to thrive in saltwater or freshwater, salmon also have a strong sense of smell. They also change colors from blue to green to red. Their color depends on the age of their life. One of the most unique things about salmon is that they are considered they have a profound impact on the ecosystem. They contribute to developing moss, trees, herbs, and even specific animals. A final fun fact is that the largest salmon ever caught was 97 pounds.
The Health Benefits of Mahi Mahi vs. Salmon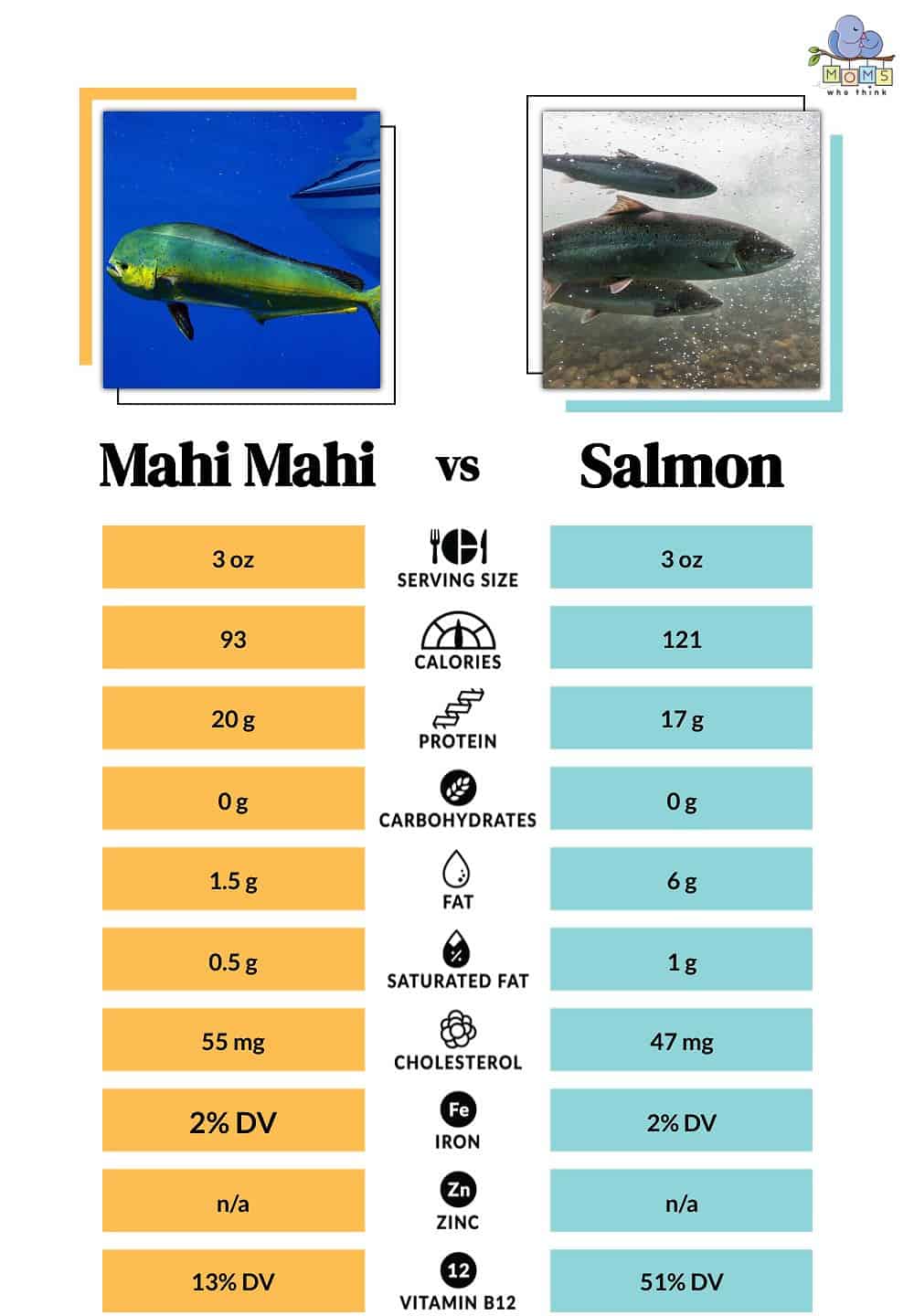 Like most fish, Mahi Mahi and salmon offer tremendous health benefits. They contain an abundance of omega-3 fatty acids, potassium, and magnesium. They also have unique health benefits that make them stand alone.
For example, Mahi Mahi is full of rich protein. It also contains sodium and selenium. Additionally, Mahi Mahi has low amounts of fat and low mercury levels. As mentioned before, Mahi Mahi has an abundance of omega-3 fatty acids, which are particularly healthy for your heart and minimize inflammation.
Salmon also offers an abundance of health benefits. While there are various salmon species, they generally have the same health benefits. For example, all kinds of salmon are rich in protein. They also have B-12 and selenium. Salmon also has plenty of omega-3 fatty acids, folate, potassium, and iron. You'll also find that salmon has anti-inflammatory fats.
Altogether, Mahi Mahi and salmon are considered the healthiest fish you can eat. But how should you eat them? You'll see the best recipes to make with either fish and how they can help you decide what to eat.
Different Meals to Consider With Mahi Mahi and Salmon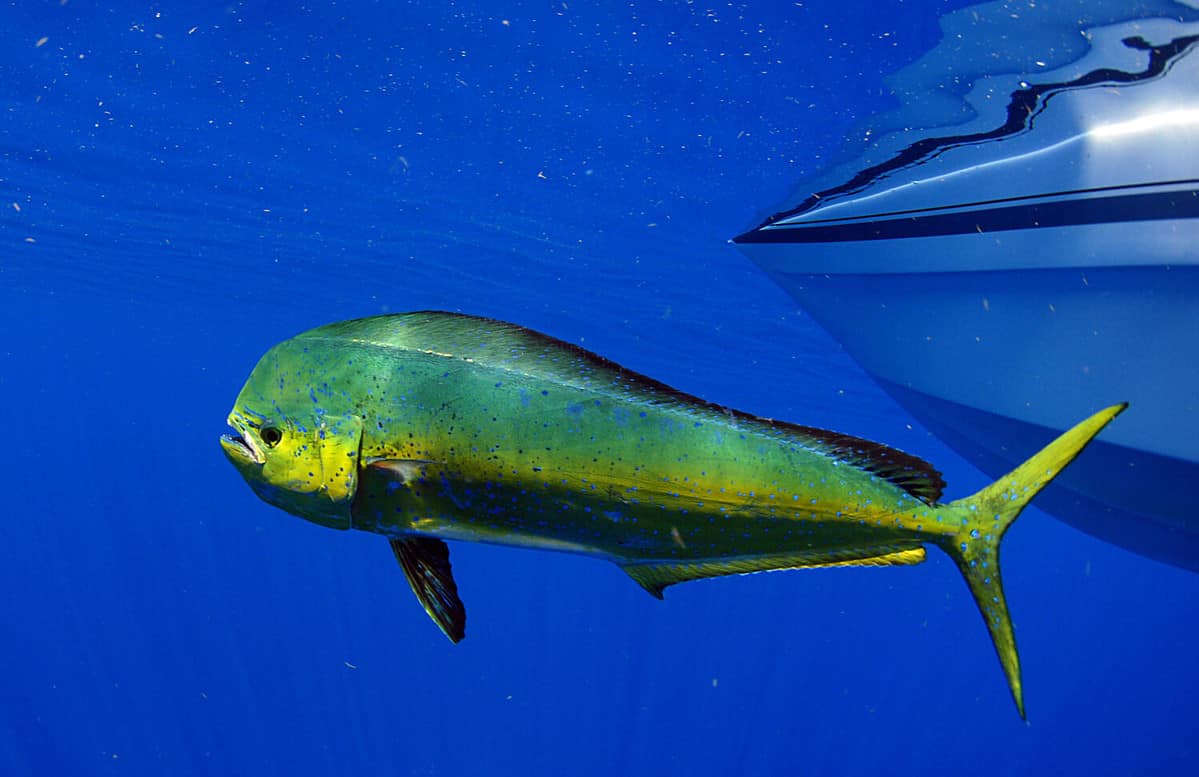 Grilled? Baked? Barbequed? How do you cook Mahi Mahi or salmon that fits your taste preference? How you cook depends on what you want in a meal. Mahi Mahi or salmon can stand alone as the main course or complement other foods.
How you cook, will also affect the nutrients you receive from each meal. For instance, if you fry it, you may receive fewer nutrients than grilled it because grilling tends to be a healthier option without the oils.
If you're looking for a variety of meals to make, consider these meals for Mahi Mahi:
Garlic lemon Mahi Mahi
Fried Mahi Mahi
Baked Mahi Mahi
Pan-seared Mahi Mahi
Salmon has a different taste than Mahi Mahi. It's known to have a creamy taste that can sometimes melt in your mouth, depending on how it's cooked. Here are some ideas on how to cook salmon:
Print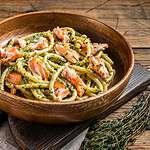 Salmon Noodle Bowl
---
Author:

Total Time:

25 minutes
1

(9 ounce) package refrigerated fettuccine

1

pound skinless, boneless 1-inch thick salmon fillet, cut into

8

pieces

2 tablespoons

olive oil

6 cups

packaged fresh baby spinach

1/2 cup

bottled roasted red or yellow sweet peppers

1/2 cup

garlic-stuffed green olives, coarsely chopped

1/2 cup

reduced-calorie balsamic vinaigrette salad dressing
---
Instructions
Cook pasta according to package directions.
Meanwhile, brush fish with 1 tablespoon of the olive oil. Sprinkle lightly with salt and black pepper.
Heat a very large skillet over medium heat. Add fish to hot skillet; cook for 8 to 12 minutes or until fish begins to flake when tested with a fork, turning once halfway through cooking. Remove fish from skillet; cover and keep warm.
Add spinach, roasted peppers, olives, and the remaining 1 tablespoon olive oil to skillet; cook and stir for 1 to 2 minutes or just until spinach is wilted.
Drain pasta; add to skillet.
Add dressing; toss to coat. Season to taste with salt and pepper.
Divide pasta mixture among 4 shallow bowls; top with fish.
Prep Time:

10 minutes

Cook Time:

15 minutes
Baked salmon with lemon
Salmon fish tacos
Salmon soup
Easy blackened salmon
Mahi Mahi and Salmon Offer the Best of Both Worlds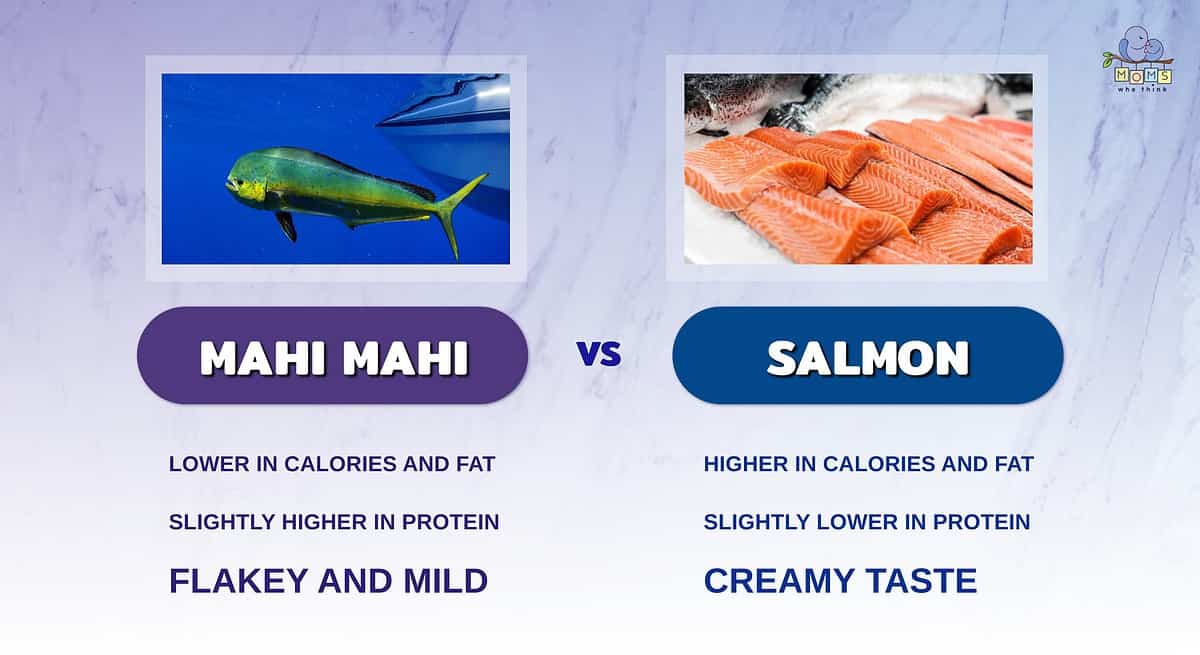 Mahi mahi is often considered one of the healthiest fish you can eat, due to its low fat and caloric content and fantastic nutritional offerings. That doesn't mean salmon slacks, though; it's still a very healthy food to eat.
Both Mahi Mahi and salmon are high in protein, but Mahi Mahi has just a bit more.
Mahi Mahi is flakey, with a fairly mild taste. Salmon is also known as a mild fish, but has a creamier taste than Mahi Mahi
Mahi Mahi and salmon offer the finest taste and the finest nutrients. Choosing one over the other is a matter of personal preference. It also depends on what you're looking for in a meal. While Mahi Mahi and salmon have different backgrounds and are distinct in many ways, they are also the same in many regards. They are the most popular kind of fish because of how much they have to offer around nutrition and taste.