Did you know that the fish, Salmon, changes color? That isn't the only thing that's interesting about them. They also have a strong sense of smell and love salt and freshwater.
However, salmon aren't the only fish that have interesting characteristics. Halibut is another exciting fish that is found throughout the world. They have a thick texture, two eyes on the right side of their head, and can weigh as much as 500 pounds. But what's the better fish to eat if you had to choose salmon or halibut? How do you know what recipes to choose or if one is healthier than the other?
In this guide, we'll look at the differences and similarities between salmon and halibut. You'll see what makes them so different and how it impacts your decision on which to eat. When it comes to salmon vs. halibut, you'll discover these kinds of fish offer nutritional value, tasty recipes, and more.
Halibut and Salmon Unique Differences
Salmon date back millions of years ago. They were first found Pacific Northwest. Something wildly interesting about salmon is that they are anadromous. This means they will hatch in freshwater and migration to the ocean to saltwater. Eventually, they return to the freshwater to reproduce.
Another interesting fact about salmon is that there are seven different kinds of salmon species:
Chinook
Coho
Chum
Sockeye
Pink
Masu
Amago salmon
Halibut fish are just as enjoyable. They can grow about 7-8 in length and weigh as much as 500 pounds, making them one of the most giant fishes to catch. Halibut also have a typically longer life than other fish, living as long as 55 years.
The Nutritional Value of Halibut vs. Salmon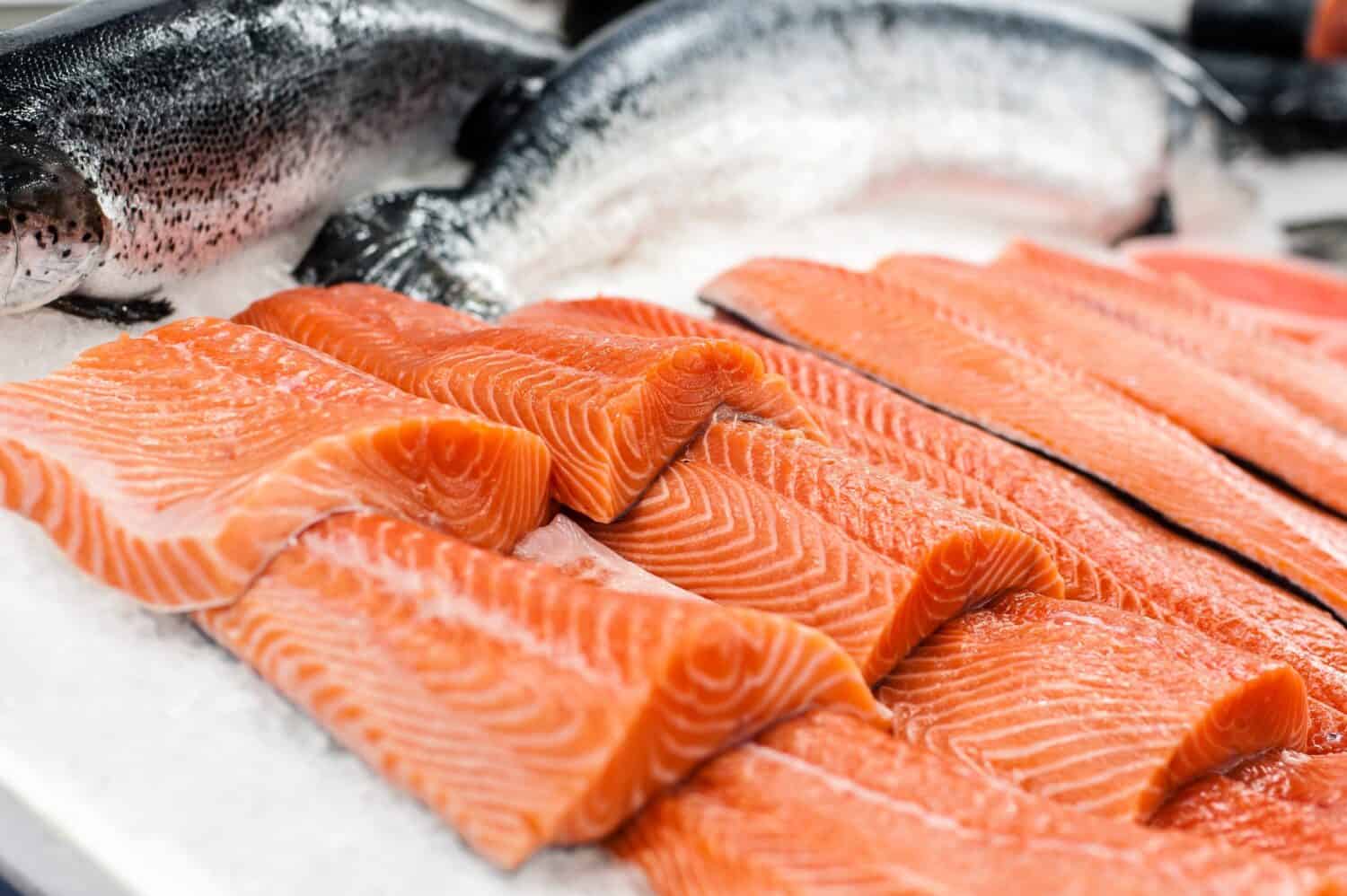 Salmon and halibut are both very nutritious. But they are very healthy for different reasons. You'll discover which fish offers more health benefits in a particular area of your life.
For example, Salmon has low saturated fat and is considered a source of protein. It's also the kind of fish that offers the best source of vitamin B12. You'll also find potassium and iron in Salmon. It's a superfood because of its high omega-3 fatty acids.
Halibut is also one of the best foods to eat for your health. It not only contains a lot of vitamins, but it also contains omega-3 fatty acids and lean protein. These benefits help benefit your heart and mind. It lowers your risk of cancer and enables you to manage chronic inflammation.
Recipes to Consider With Salmon and Halibut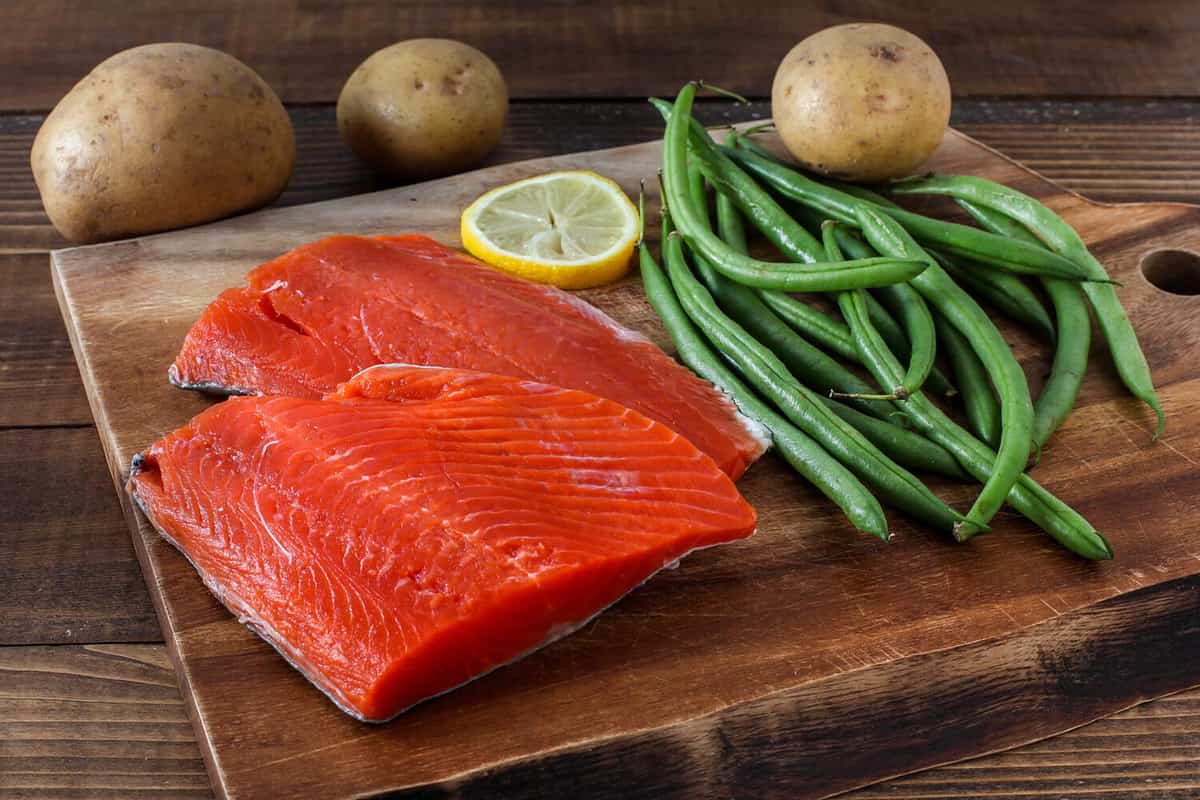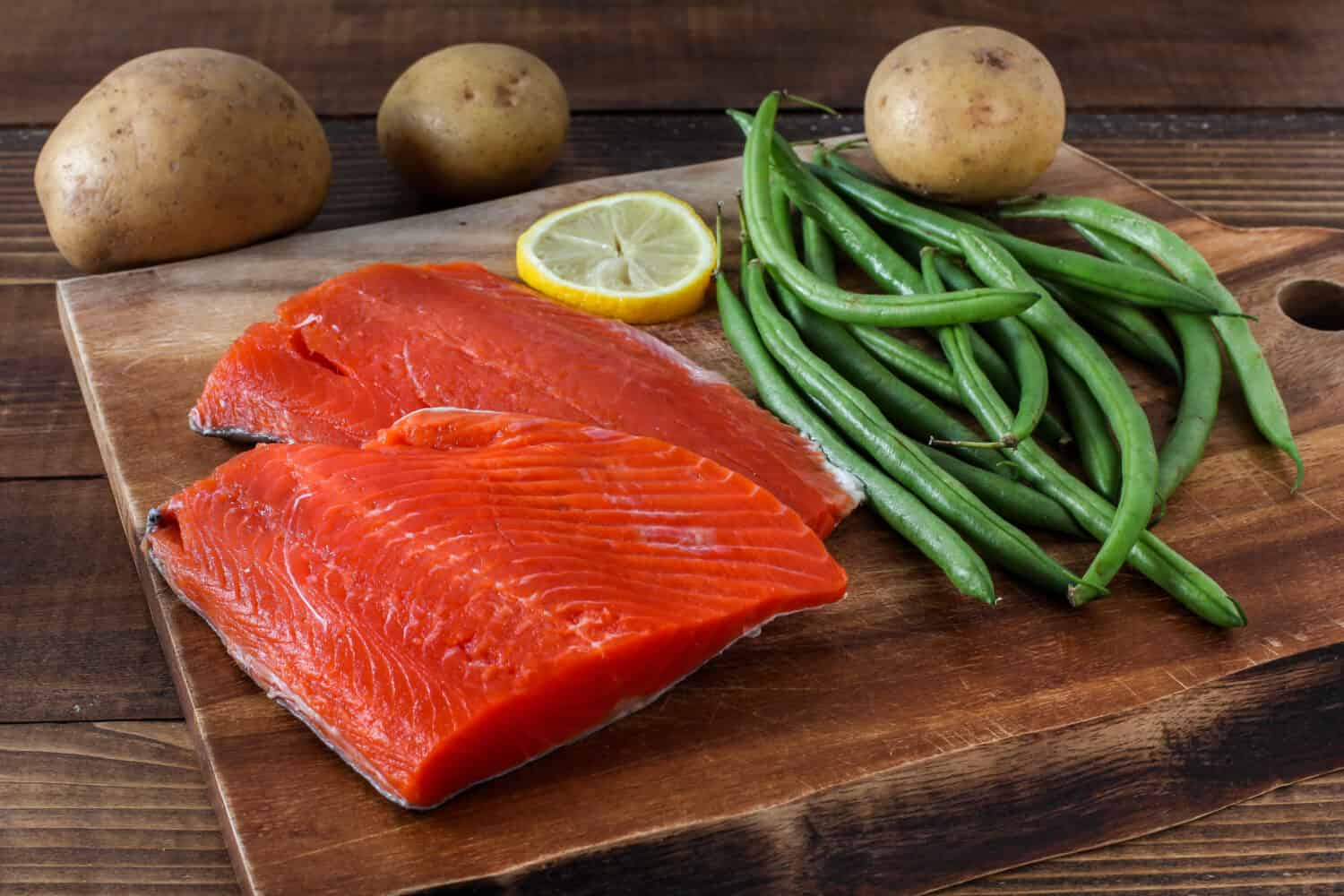 If you want to improve your overall health, salmon, and halibut are the best foods. You can make delicious meals with these kinds of fish. You can either make standalone dishes or complement them with other foods. The goal is to find something you like with either fish, whether grilling, barbequing, or baking.
Halibut often has a sweeter taste with a firmer texture. On the other hand, salmon has more of a creamy taste. It also isn't too rich of a taste. Some of the best recipes come with salmon. You can grill, steam, and even barbeque salmon with different pieces, complementing other food.
Here are some of the best foods you can make with salmon:
Grilled salmon with butter
Brown sugar salmon dish
Salmon tacos
Honey garlic salmon
Creamy Tuscon salmon
Halibut offers plenty of meal options that complement different foods. Here are some of the most popular recipes:
Halibut with lemon butter
Halibut fish tacos
Halibut soup
Garlic butter halibut
There's no wrong or right meal choice. These are just some of the popular ones that give you an idea of what you can make. You can make something based on your preferences. It depends on how you like the texture of the meat or if you like your fish grilled or barbequed. You have a variety of ways to cook halibut or salmon.
Should You Choose Salmon or Halibut?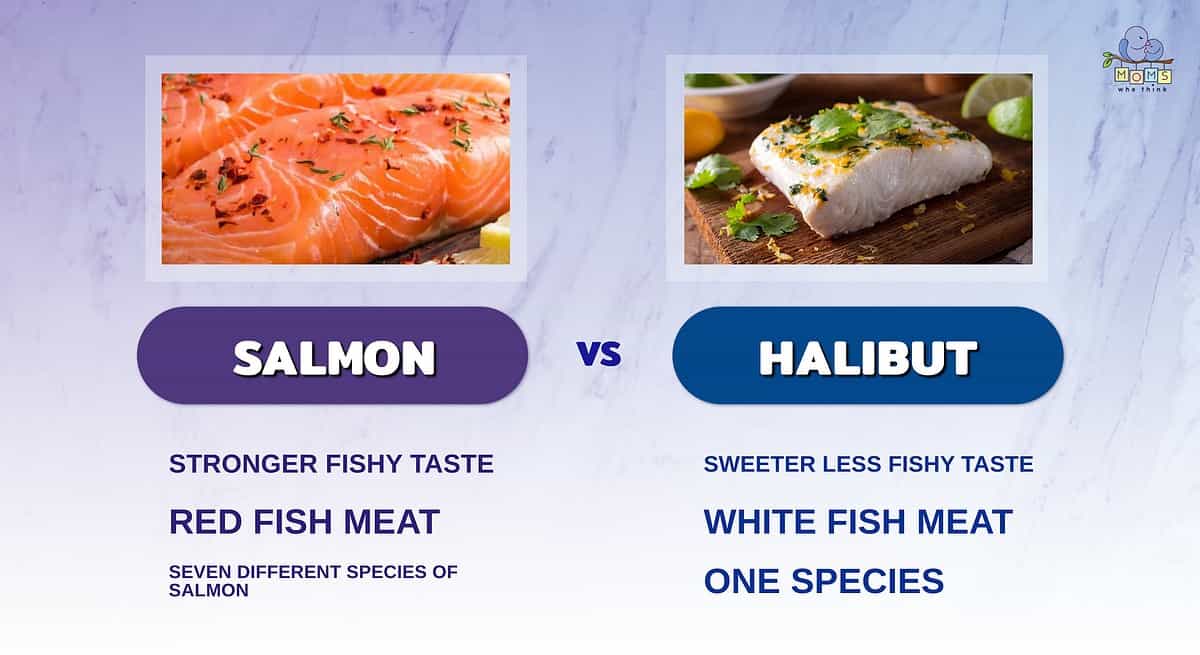 Salmon is a redfish with a very rich flavor.
Halibut will be a light flavor but slightly sweet.
There are seven different species of salmon, all with different flavors.
Lots of people love eating salmon because it's a superfood. And there are others who love eating halibut because it tastes amazing. You have to find what you enjoy eating the most. You have to discover the different variety of dishes you want to make with either fish and what tastes the best to you. No matter the choice, you'll discover that salmon or halibut offer tremendous health benefits with tons of recipe options.
Check out this delicious Creamy Halibut Enchiladas recipe!
Print
Creamy Halibut Enchiladas
---
4 cups water
2 pounds halibut, cut into 1-inch cubes
6 ounces reduced-fat cream cheese
⅔ cup fat-free sour cream
4 green onions, chopped
2 (4 ounce) cans chopped green chilies
1 (4¼ ounce) can chopped ripe olives, drained
2 jalapeno peppers, seeded and chopped
1½ teaspoons ground cumin
8 (8 inch) flour tortillas
4½ teaspoons all-purpose flour
1½ cups fat-free half-and-half cream
1¼ cups shredded reduced-fat Monterey Jack
⅓ cup shredded Parmesan cheese
½ cup salsa
---
Instructions
1. In a large saucepan, bring water to a boil. Carefully add fish; reduce heat. Cover and simmer for 5 minutes or until fish flakes easily with a fork; drain well.
2. In a mixing bowl, combine the cream cheese, sour cream, onions, chilies, olives, jalapenos, and cumin. Fold in fish.
3. Place generous ½ cup down center of each tortilla; roll up. Place enchiladas in a 13x9x2-inch baking dish coated with nonstick cooking spray.
4. Combine flour and cream until smooth; pour over enchiladas.
5. Cover and bake at 350°F for 20 to 25 minutes or until heated through. Uncover; sprinkle with cheeses. Broil 4 inches from heat for 2 minutes or until lightly browned. Serve with salsa.