There are over 20,000 kinds of different fish species. But there are only a few favorites when it comes to fish to eat. Pollock and Cod are often favored the most in this category, because they offer the best taste.
While they both have flaky and somewhat similar tastes, Pollock and Cod still have quite a bit of difference that makes them stand apart. They have nutritional differences, and they also complement meals differently. So, how do you know what the best choice is? How do you recognize the difference in these meats?
Here's a guide that covers everything you need to know when it comes to Pollock and Cod. You will learn the key differences and how they can influence you to choose one fish meat over the other.
How Are They Different?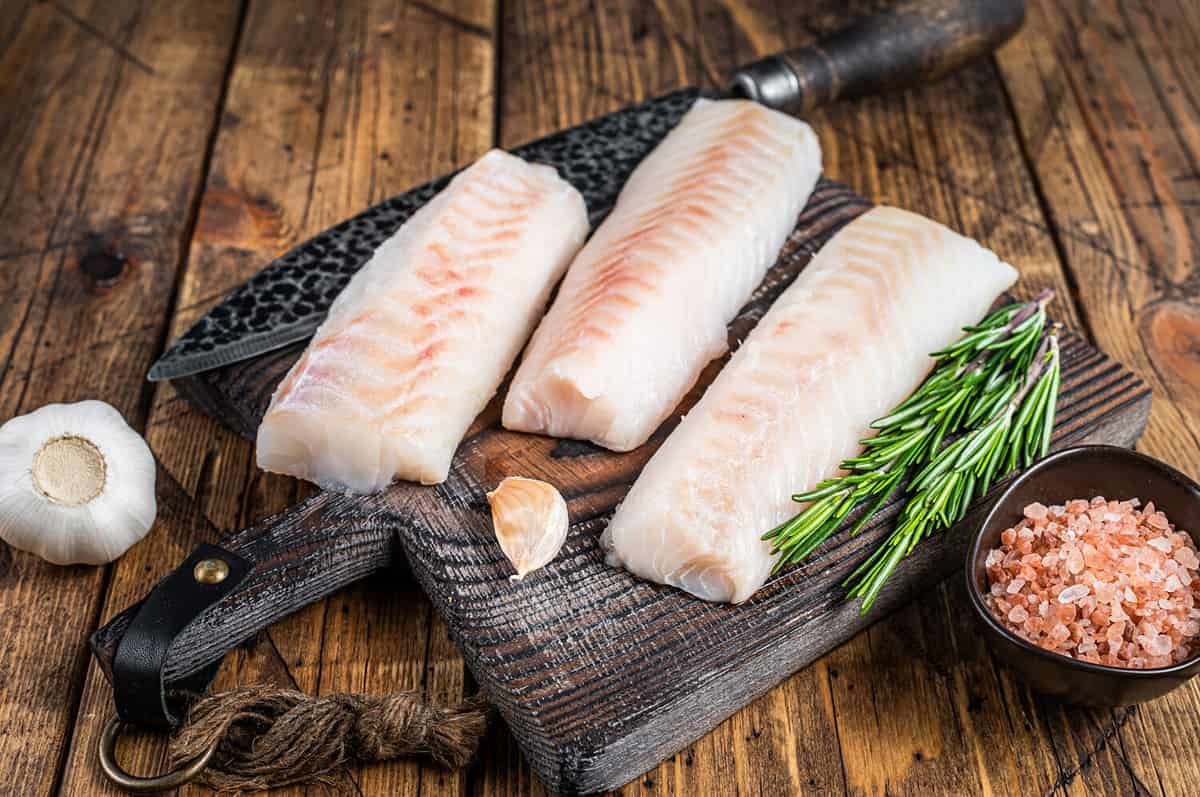 While Alaska Pollock and Pacific Cod are different in many ways, they also share many similarities.
For example, they come from the same geological region: The Bering Sea and the Gulf of Alaska.
The key difference is that Pacific Cod also comes from other parts of the world. You can find Pacific Cod around California and as far as Japan. On the other hand, Alaska Pollock's location is more centralized, only coming from the Bering Sea and the Gulf of Alaska.
Beyond geographical differences, Alaska Pollock and Pacific Cod also share differences in appearance and taste. For example, these are the differences between the two fish species.
Speckled fish, with black and yellow spots running the length of their bodies.
Pacific Cod has a wider tale than Alaska Cod.
Pacific Cod can develop as long as 6ft while Alaska Pollock only develop as much as 3ft
They also have a life span difference. Pollocks tend to live between 10 and 12 years. And Pacific Cod live significantly longer, as long as 20 years.
How to Cook Pollock vs. How to Cook Cod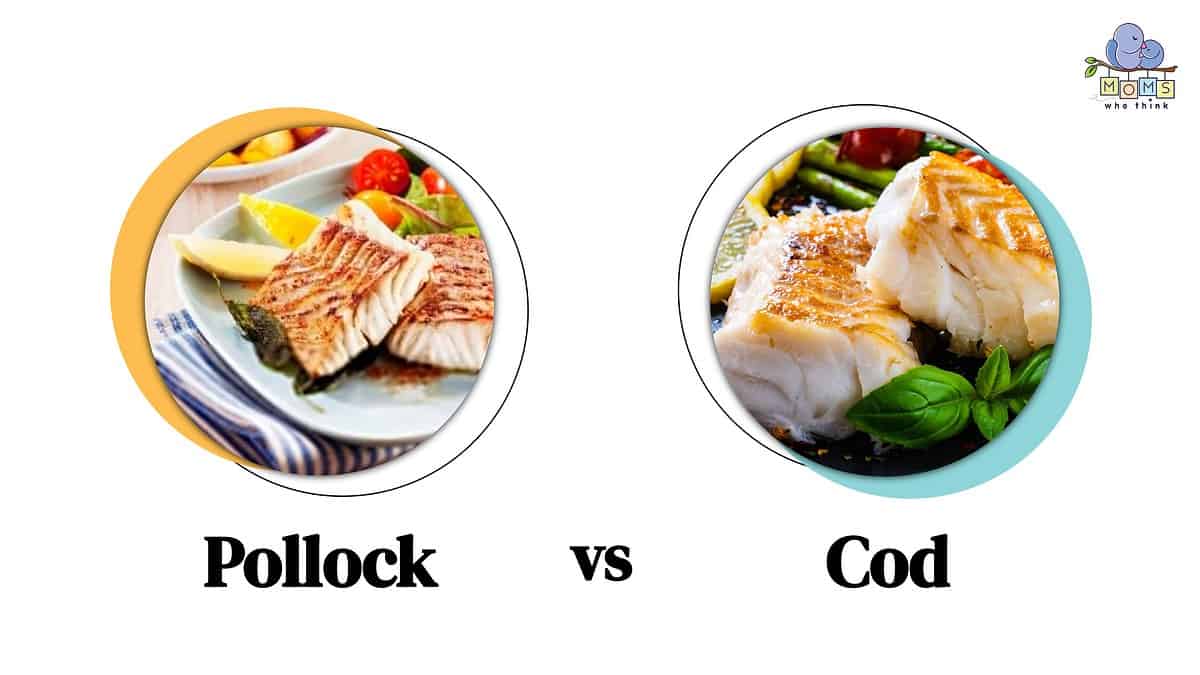 While you may think either of these fish would taste amazing as sushi, Pollock nor Cod should be eaten raw because of the parasitic worms. However, both kinds of fish can still be prepared carefully for a delicious meal.
For instance, Cod meat is firmer meat than Pollock and can be prepared for different meals. Here are some examples of the dinners you can make with Cod:
Baked garlic butter Cod
Cod with noodles
Grilled lemon Cod
Pollock Tacos
Cod sandwiches
Cod chowder
Pollock has a less distinct taste, giving it a milder flavor. It's also known to have white flaky meat. Additionally, you have to be more careful with Pollock because if overcooked, it can lose its flavor. When Pollock is cooked correctly, it's great for California rolls. Famously, Mcdonald's is also known to use Pollock for Fillet-O-Fish meals.
If you want to make Pollock at home, you'll discover that these are the most common dishes associated with Pollock:
Baked garlic butter Pollock
Pollock with noodles
Grilled lemon Pollock
Pollock Tacos
Pollock sandwiches
Pollock chowder
Nutritional Value of Cod vs. Pollock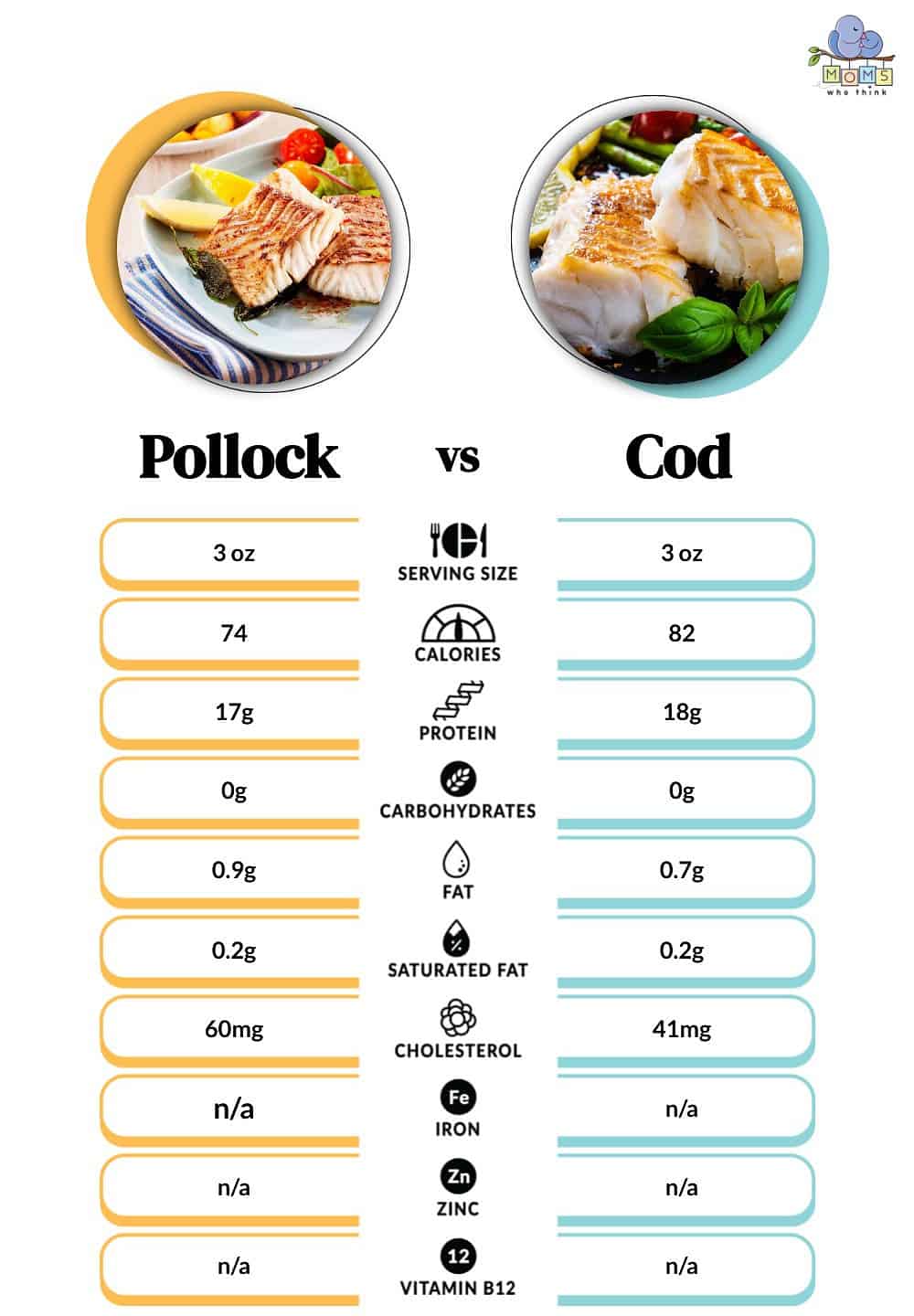 When it comes to nutritional value, Pollock is a rich source of lean protein. It helps if you want to reduce your fat intake, especially because Pollock is known to be low in saturated fat and lean protein. It's also a good source of vitamin B12, phosphorous, and selenium source.
Like Pollock, Cod also contains numerous health benefits. It has B12, phosphorus, selenium, and omega-3 fat. And it's the perfect food intake if you're looking to reduce your fat intake and improve your overall heart health. Additionally, Cod also contains iodine, which is known to support thyroid function.
There's no superior health choice between these two kinds of fish. They both offer tremendous health benefits.
What's the Better Choice?
Despite having fewer calories than cod, pollock has more cholesterol.
Pollock is fairly centralized in its native distribution, while cod has an extensive range.
Both of these fish have great health benefits, when added to a balanced diet.
If you're only looking at nutritional value when deciding between these meats, you'll discover that Cod and Pollock offer tremendous benefits. They both contain selenium, which reduces your chance of cancer. They are also known to lower blood pressure and improve your cholesterol. If you want more vitamins A and D, you should consider the benefits of Cod, especially since it contains liver oil.
If you're looking strictly at taste and food preferences, it might be harder to decide between the two types of meat. While Pollock is perfect for California rolls or even baked recipes, Cod is equally delicious with food tacos or also having it baked. You have to decide what you like the best. The good news is that Pollock and Cod both offer delicious options.
Speaking of delicious options, this lemon pepper cod is a must-try:
Print
Lemon Pepper Cod
---
1 pound frozen cod, thawed
16 ounce package frozen stir-fry vegetables
Salt to taste
1 teaspoon lemon-pepper
1 teaspoon dried rosemary
1 cup tomato juice
2½ Tablespoons grated Parmesan cheese
---
Instructions
1. Line a 13×9 baking dish with aluminum foil.
2. Place cod in dish and cover with vegetables. Season with salt, lemon-pepper and rosemary.
3. Pour tomato juice over everything, sprinkle With Parmesan cheese.
4. Bake at 400 degrees F for 20 to 25 minutes or until fish flakes and vegetables are tender.
5. Serve with steamed white rice. Makes 4 servings.