You're looking for a way to add more fish to your diet and wondering what type of fish is best. Flounder and cod are two types that often seem similar, but they do have some distinct differences.
The main difference between flounder and cod is their nutritional values. While both types of fish are a great source of protein and fatty acids, cod has more protein than flounder, and it's also lower in fat. On the other hand, flounder has more omega-3s and is lower in calories.
Both flounder and cod can be healthy fish to include in your diet, whether you roast, grill, or fry them. Keep reading to learn more about the differences between these two types of fish.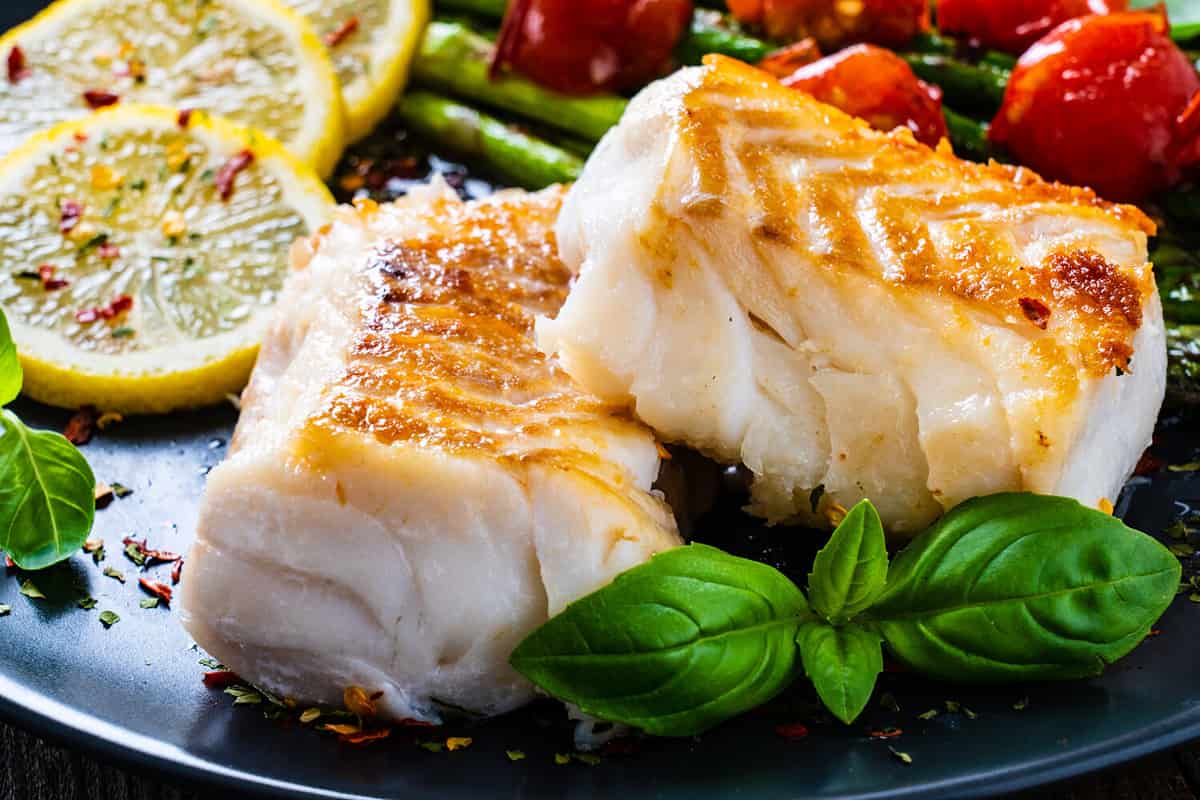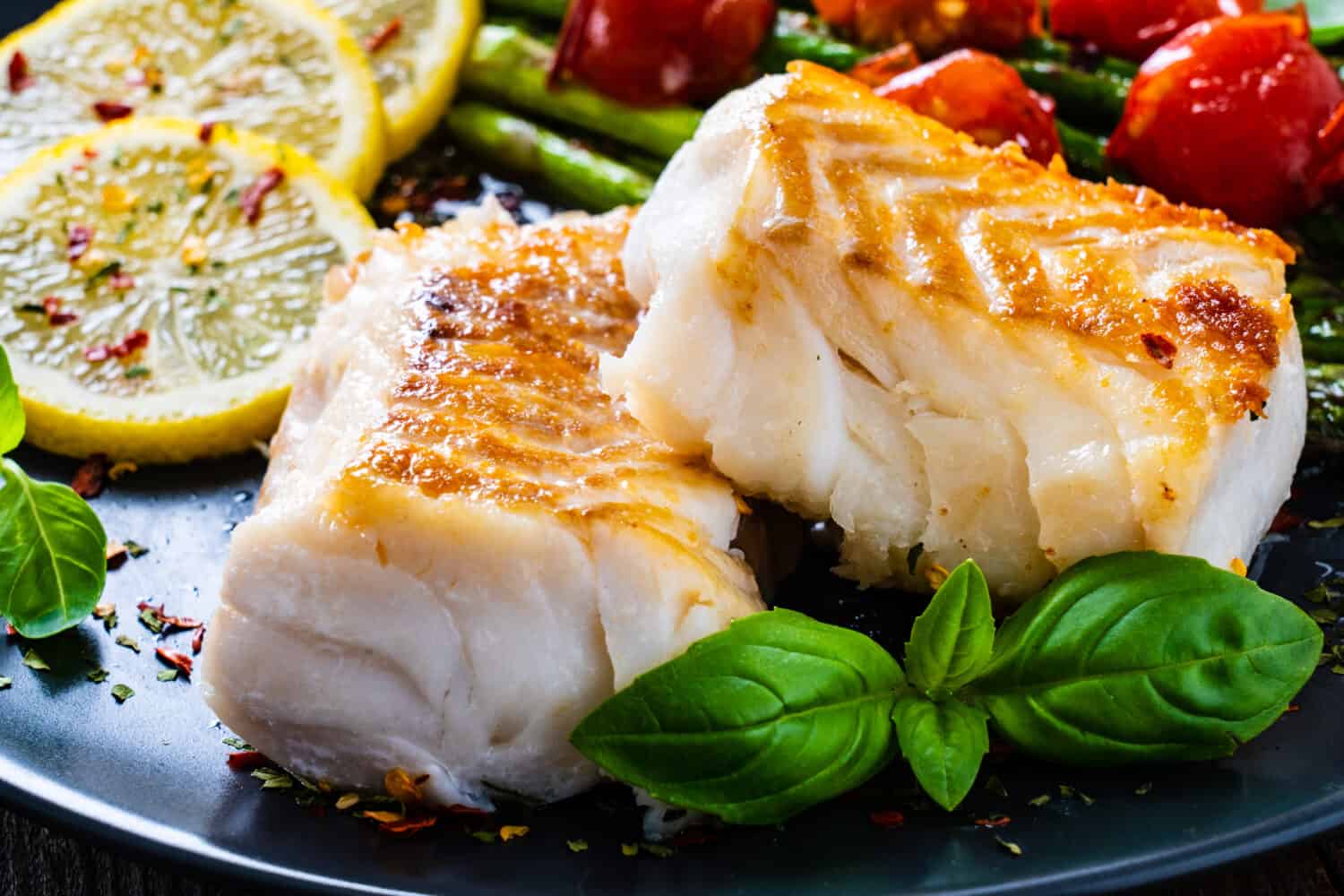 Flounder vs. Cod: What Is the Difference?
When you compare flounder and cod, there are many similarities between them. They're both saltwater fish, and like most fish, they're filled with healthy fats and high amounts of protein. However, there are also many differences between them, especially when it comes to their nutritional value.
Flounder and cod taste similar, but cod is often sweeter, while flounder has a milder flavor. Cod is also firmer than flounder, which makes it great for grilling or frying. Also, cod is typically used to make fish and chips, a delicious entree of fried fish and french fries that originated in England. Flounder is a bit more delicate and prone to falling apart, so it's better if you roast or steam flounder instead of frying it.
You can cook both flounder and cod in a variety of ways and create numerous healthy meals with them. Their nutritional values are similar, but cod is higher in calories and protein, while flounder is higher in omega-3s and fat. Flounder is also higher in vitamin D, but cod is significantly higher in magnesium and selenium.
Instead of only eating one or the other, it can be beneficial to your health to include both flounder and cod in your diet.
Main Differences Between Flounder and Cod
Despite many of their similarities, there are also many differences between flounder and cod. Here's a look at the main differences between them:
They have different nutritional profiles.
The main difference between the two fish is their nutrients. While they both have many benefits, cod is higher in calories, protein, and nutrients such as selenium or magnesium. Flounder also has many benefits and is higher in vitamin D but lower in calories.
Cod has a sweeter flavor.
Both fish have similar flavors, but there is some difference in their taste. Cod typically has a sweeter and stronger flavor, although it's still considered a mild-tasting fish. Flounder is much milder than cod and isn't as sweet.
Flounder is more delicate and not as great for frying.
Cod is known for how delicious it tastes when fried, especially when making fish and chips. Since flounder is not as firm as cod, it's better to roast, steam, or poach flounder because it doesn't hold up as well when frying.
Nutritional Value of Flounder vs Cod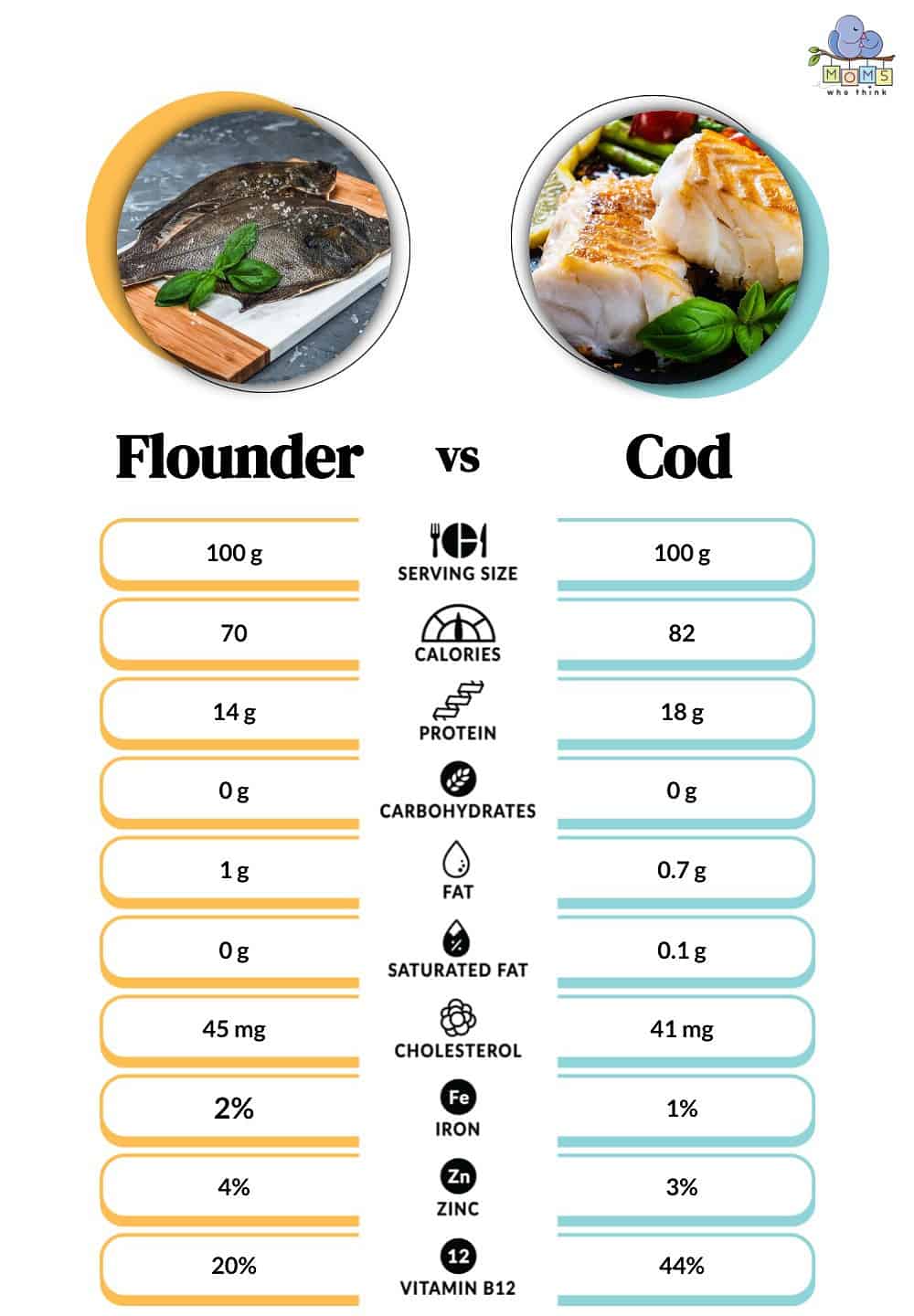 What Is Flounder?
Flounder is a saltwater fish often known for its flat shape. They're also bottom feeders or bottom dwellers, which means they lay flat on one side instead of laying on their belly. They're also found at the bottom of the ocean. Since they're bottom dwellers, both of their eyes are on one side of their body.
Flounder is low in fat and calories but high in protein. Like many fish, it's a lean source of protein, making it a great and healthy way to include more protein in your diet. One of the main benefits of eating fish like flounder is the high amount of omega-3 fatty acids, which are great for heart health.
This fish is also high in iodine and other nutrients. One of the main concerns of eating too much fish is the amount of mercury. Some types of fish have higher amounts of mercury, which can be a concern if you consume it too often. However, flounder has a low amount of mercury compared to other fish and is considered one of the best choices when it comes to mercury content.
What Is Cod?
Cod is another type of saltwater fish that is generally bigger than flounder. It's a highly nutritious fish, and eating it on a regular basis has many health benefits. Like flounder, cod is one of the safest fish to eat when it comes to the amount of mercury, and it's relatively low in mercury compared to other fish.
Cod can be cooked in numerous ways whether you prefer to roast, steam, or fry it. The famous fish and chips dish from England is typically made using cod. This type of fish holds together well enough to be battered and fried for a delicious meal.
One of the benefits of eating cod is that it's a great, lean source of protein. A 100-gram serving of cod can have up to 20 grams of protein but is still low in calories and fat.
Omega-3 fatty acids are another one of the benefits. These healthy fats are essential to your health, and one of the best ways to get the recommended amount is by eating foods rich in omega-3s, like seafood. Cod doesn't have as many omega-3s as flounder, but a 100-gram serving can still provide about 20% of your daily intake of omega-3 fatty acids.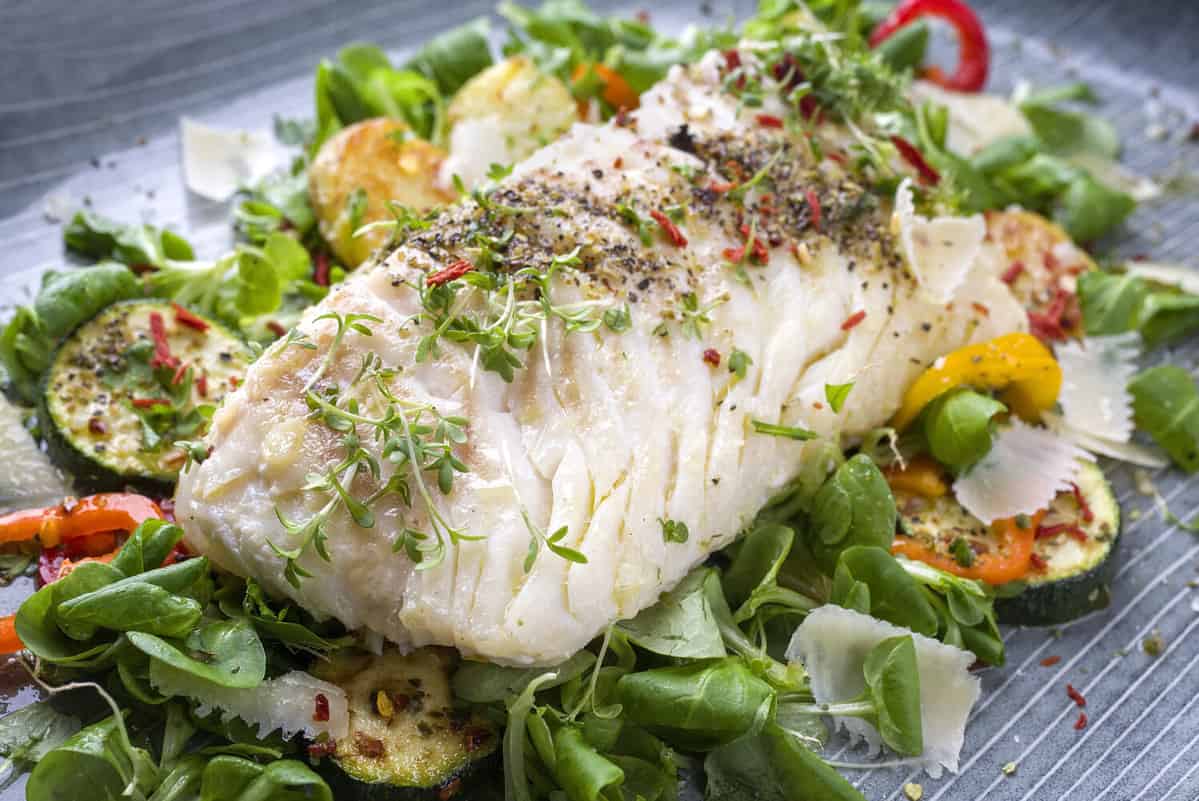 Which Is Healthier: Flounder or Cod?
Most types of fish have many health benefits. That's why experts recommend eating low-mercury fish twice a week. But not all fish have the same health benefits. While most are a good source of lean protein and omega-3s, some fish are healthier than other types.
Flounder and cod are similar in many ways, but cod has more protein and is higher in nutrients such as vitamin B12. On the other end, flounder is lower in calories and higher in omega-3 fatty acids. Cod is going to be better for you if you're on a high-protein diet or you're trying to build muscle. Flounder will be better if you're trying to stick within a certain amount of calories or need to increase your intake of omega-3s.
Can You Substitute Flounder for Cod?
Like most fish, you can cook flounder and cod in several different ways. Even though the flavors of flounder and cod are similar, there are some slight differences between them. One of the main differences is that cod is slightly sweeter than flounder.
In most recipes, you can substitute flounder for cod or vice versa since they'll taste similar in a variety of dishes. The main thing to look out for is how you plan on cooking the fish. Flounder is more delicate in texture, so it doesn't hold up as well and may fall apart if you try to fry it.
Choosing Between Flounder vs. Cod for Your Next Meal
Flounder and cod are a great way to increase your fish intake and get your daily intake of protein and omega-3 fatty acids. You don't need a lot of ingredients to cook these fish–all it takes for a delicious meal is salt, pepper, and a squeeze of lemon juice.
If you're feeling more adventurous, you can also try fried cod and cook up your own version of fish and chips. No matter what you're in the mood for, both cod and flounder can be tasty additions to your weekly meals.
Print
Baked Lemon Garlic Cod
---
Author:

Total Time:

20 minutes

Yield:

4

servings

1

x
4

cod fillets (about

6 ounces

each)

4

cloves garlic, minced

3 Tablespoons

fresh lemon juice

2 Tablespoons

olive oil

1 teaspoon

dried oregano

1 teaspoon

dried thyme
Salt and pepper to taste
Lemon slices for garnish
Fresh parsley for garnish
---
Instructions
Preheat your oven to 400°F (200°C).
Place the cod fillets in a baking dish and season with salt and pepper.
Whisk together minced garlic, lemon juice, olive oil, oregano, and thyme in a small bowl.
Pour the lemon garlic mixture over the cod fillets, making sure they are evenly coated.
Place lemon slices on top of each fillet for added flavor.
Bake in the preheated oven for about 15-20 minutes or until the fish is opaque and flakes easily with a fork.
Garnish with fresh parsley before serving.
Nutrition
Calories:

250

Sugar:

1 g

Sodium:

300 g

Fat:

11 g

Carbohydrates:

3 g

Fiber:

1 g

Protein:

30 g