There are plenty of fish in the sea, and if you're a fan of seafood, you'll be glad when some of those fish end up on your plate. Fish is a healthy addition to your weekly meals, and most varieties are filled with healthy fats and high amounts of protein. If you're looking for your next catch to roast or fry up for dinner, you might wonder about the difference between fish like grouper and snapper.
The main difference between grouper and snapper is their flavor and texture. While both are white fish, snapper is sweeter than grouper and less firm. Grouper has a more subtle flavor and a firmer texture, which makes it less likely to fall apart during the cooking process.
Both grouper and snapper can be a great source of lean protein and omega-3 fatty acids, but they do have many differences as well. Keep reading to find out more about the differences between grouper vs. snapper.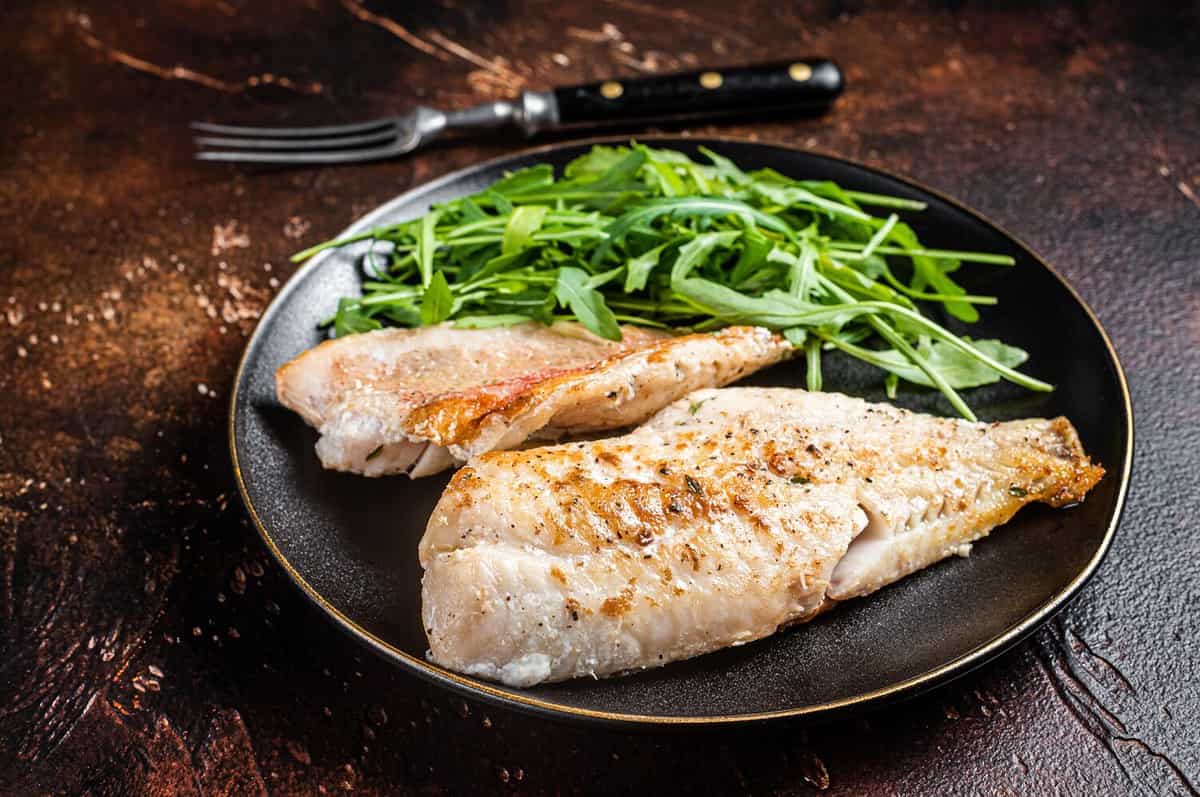 Grouper vs. Snapper: What Are the Differences?
Grouper and snapper are both types of white fish that are often compared due to their similarities. They're both popular and have mild flavors, but there are many differences between them as well.
One of the main differences between grouper and snapper is their price. While grouper is a delicious fish, they're not as widespread as snapper, which naturally leads to them costing a bit more.
The average cost for grouper is around $12 per pound, while snapper is closer to $10 per pound. Of course, the price depends on where you purchase it from, and the type of grouper or snapper you choose will also affect the cost.
Another difference between snapper and grouper is the taste. Both of these white fish have a mild taste compared to other types of seafood, but snapper is sweeter than grouper.
Grouper and snapper can both be healthy parts of your diet and are full of vitamins and minerals. While grouper is higher in iron, snapper is higher in vitamin B12 and vitamin B6. They are both beneficial in many ways but have different nutrients. To get the best of both types of fish, you can include grouper and snapper in your diet.
Main Differences Between Grouper and Snapper
Here are the main differences between grouper and snapper:
Grouper is generally larger than snapper.
While both snapper and grouper can be pretty big fish, grouper tends to be larger than snapper. The Goliath Grouper can reach up to 1,000 pounds.
Snapper is more affordable.
While there's not a substantial difference in the price, snapper is often more affordable than grouper since snapper is more common.
Snapper is slightly sweeter than grouper.
While snapper and grouper are both white fish with mild flavors, snapper is slightly sweeter than grouper and also more delicate in texture.
What Is Grouper?
Grouper is a type of fish known for its large mouth. These fish are part of the same family as sea bass, and the largest variety of grouper is the Atlantic Goliath Grouper. The largest one ever caught was nearly 700 pounds.
When it comes to enjoying seafood, grouper is one of the most popular types of fish. As a white fish, grouper has a mild flavor, which makes it perfect to serve with a variety of seasonings or sauces since the flavor of the fish isn't overpowering.
There are hundreds of varieties of grouper, and each one has a slightly different flavor. While grouper is a safe and healthy fish to eat, you do need to pay attention to the amount you're consuming due to the presence of mercury. This is especially true for pregnant women or young children since they're more susceptible to mercury poisoning.
Due to the amount of mercury in grouper, it's recommended that most adults avoid eating it more than twice a month. Also, it's not recommended for young children to consume grouper more than once a month. If you still want to eat fish twice a week, you can occasionally switch grouper out with lower-mercury fish like tilapia.
What Is Snapper?
Snapper is also part of the sea bass family. The most common type of snapper to eat is red snapper. It's also one of the most popular types of white fish. While you can find snapper all across the globe, most of the snapper we eat comes from the Gulf of Mexico.
Red snapper is a delicious fish you can cook in a variety of ways, but one of the best ways to cook snapper is to throw it on the grill. You can also purchase snapper in filets or whole, although grilling a whole fish may seem intimidating at first.
Much like grouper, snapper is a mild-flavored fish that goes well with different sauces and marinades. One of the issues, however, is that snapper has become more of an umbrella term for white fish. Other types of white fish are often mislabeled as snapper, and this has led to price increases in many cases.
Snapper is full of healthy omega-3 fatty acids, but like most other fish, it's important to consider the amount of mercury in red snapper. Although snapper does have less mercury than grouper, and it's normally safe to eat once or twice a week.
Nutritional Value of Grouper vs. Snapper
Can You Substitute Grouper for Snapper?
If you find a recipe for grouper or snapper, you might wonder if you can substitute one type of fish for the other. Grouper actually makes a great substitute for snapper because they're white fish with a relatively mild flavor.
Both grouper and snapper will work well with your recipe because they have similar flavors and textures. However, keep in mind that snapper is sweeter than grouper, so you may need to slightly adjust your seasonings.
Which Is Healthier: Grouper or Snapper?
Both grouper and snapper can be healthy fish to include in your diet. They're both high in omega-3 fatty acids, which are great for your heart and may reduce your risk of cancer, Alzheimer's, and age-related macular degeneration. Grouper and snapper are also good sources of lean protein since they're high in protein but low in unhealthy fats.
The biggest concern about eating grouper or snapper is the level of mercury. Snapper has significantly less mercury than grouper, so it's safer to eat snapper more often, up to two times a week. It's best to limit the amount of grouper you consume because of the high mercury levels.
That being said, grouper still has a low amount of mercury compared to other types of fish. Some of the fish with the highest levels of mercury include swordfish, tuna, and king mackerel. On the other hand, some of the lowest are salmon and tilapia. Grouper is a type of fish with high mercury levels, while snapper has lower mercury levels.
Choosing Between Grouper or Snapper for Your Meal
Both grouper and snapper are delicious and healthy fish for you to eat or cook for your family. You can cook them both in a variety of ways, but keep in mind how you choose to cook them will determine how healthy they are. For the healthiest options, grill or roast your fish and serve them with a side salad or a serving of vegetables.
Tasty Grouper Recipe
Looking for a simple and nutritious recipe idea for dinner? Try this easy grouper recipe. It's sure to be a hit!
Print
Easy Grilled Grouper with Lemon & Herbs
---
Author:

Total Time:

25 mins
4

grouper fillets

2 Tbsp

of lemon juice

2 Tbsp

of olive oil

2

cloves of garlic

1/4

cup

of fresh parsley
to taste of salt
to taste of black pepper
---
Instructions
Preheat grill to medium-high heat.
Mix lemon juice, olive oil, minced garlic, chopped parsley, salt, and pepper in a bowl.
Brush the grouper fillets with the mixture.
Grill the fillets for about 5 minutes on each side or until the fish flakes easily with a fork.
Serve with additional lemon wedges and a sprinkle of fresh herbs.
Prep Time:

15 mins

Cook Time:

10 mins

Category:

Main Course

Method:

Grilling

Cuisine:

American