From shrimp cocktail to fried shrimp, there's no limit to the ways you can enjoy this tasty crustacean. But before you dive into that all-you-can-eat shrimp buffet, you should know whether shrimp is actually healthy or not.
There's a lot of negative talk about shrimp, especially when it comes to the amount of cholesterol or concerns about contaminants. Shrimp, like other seafood, has both pros and cons, but overall it has many benefits for your health. Keep reading to find out the benefits and potential risks of eating shrimp.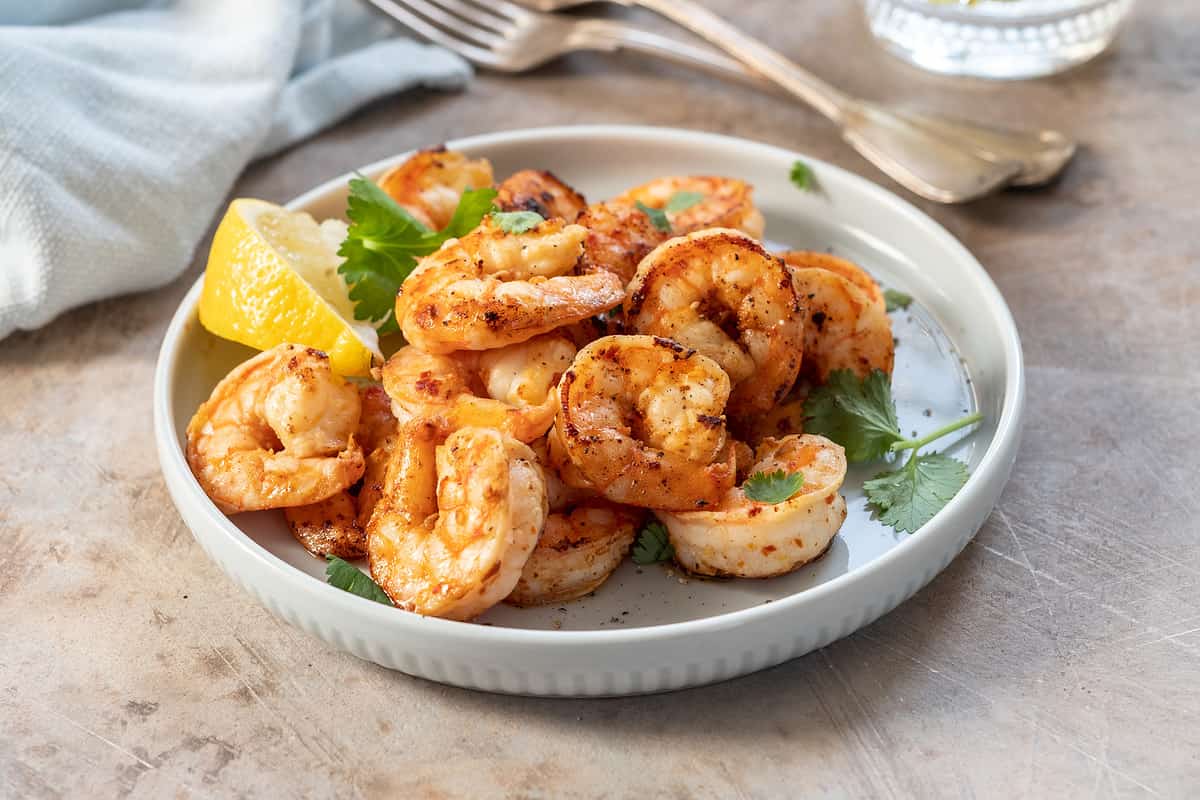 Is Shrimp Healthy?
If you've ever seen shrimp in an aquarium, you'll notice they look pretty different from the ones that end up on your plate. A shrimp is a type of crustacean, also known as a shellfish. Like prawns, shrimp are decapods because they have ten legs, but in many cases, the legs are already removed before you purchase shrimp. If you buy fresh shrimp, you may have to remove the legs yourself.
Shrimp is the most popular seafood in the United States, and for good reason. Despite concerns about some of the risks of eating shrimp, eating shrimp comes with many health benefits for people of all ages and even pregnant women.
Like any food you add to your diet, it's essential to weigh the risks versus the benefits of eating shrimp. Although, for most people, shrimp is incredibly healthy, there are some things to look out for. Let's first look at some of the many benefits of including shrimp in your diet.
Benefits of Eating Shrimp
Shrimp is an easy seafood to include in your diet. You can purchase shrimp fresh or frozen and use it to make sushi, shrimp tacos, or a tasty pasta dish. No matter how you choose to eat it, here are some of the benefits of eating shrimp:
Full of Nutrients
Many people choose to eat shrimp for the taste, but shrimp is also full of nutrients. Even though shrimp is relatively low in calories, it's high in protein and filled with amino acids, zinc, and vitamin E. When compared to eating processed meats, shrimp is more nutritious and is beneficial in many ways.
Good for Your Heart
In the United States, heart disease is the leading cause of death. Heart health is vital to living a full life, and studies have shown eating shrimp can have a positive impact on cardiovascular health. Those who eat shrimp have a lower risk of developing heart disease and a lower risk of stroke.
Healthy During Pregnancy
Although eating fish and other seafood is great for your health, there are often concerns about consuming seafood during pregnancy due to the presence of mercury. Compared to fish, the amount of mercury in shrimp is low, and eating shrimp can actually be beneficial for your health during pregnancy. Eating seafood during pregnancy has been linked to healthy brain development for growing babies.
Nutritional Value of Shrimp
There are many nutritional benefits to eating shrimp and other types of seafood. While many factors contribute to the nutritional value of different seafood, shrimp is beneficial to your health in many ways. Here's a look at the nutritional value of 100 grams of cooked shrimp:
99 calories
17.37 grams of protein
1.29 grams of fat
0.2 grams of carbs
69 mg of calcium
0.24 mg of iron
24 mg of magnesium
101 mg of potassium
While there are less than 100 calories in about 100 grams of shrimp, it has nearly 20 grams of protein. This makes it great for those who are trying to get their daily amount of protein without eating too many calories.
Concerns About Eating Shrimp
In addition to the health benefits, there are some downsides to eating shrimp. Even if the risks don't outweigh the benefits for most people, they are something to consider before you add shrimp to your diet. Here are some of the concerns about eating shrimp:
Potential Contaminants in Shrimp
With seafood in general, one of the concerns is potential contaminants. This risk depends on how shrimp and other seafood are harvested and farmed. There are concerns about contaminants like metals and plastics in seafood, but one of the most common concerns is the presence of mercury.
Exposure to mercury in excessive amounts can be detrimental, especially to young children and babies in utero. However, shrimp has a low amount of mercury compared to other seafood.
Risk of Foodborne Illness and Allergic Reaction
Another concern about eating shrimp is the risk of foodborne illness or an allergic reaction. While this isn't a concern for everyone, shellfish is one of the nine major food allergens. If you or your child haven't had shrimp before, keep this in mind.
Additionally, the risk of foodborne illness is another concern. The best way to avoid the possibility of foodborne illnesses from shrimp is to always check shrimp before buying or cooking it. Make sure there's no unusual smell before consuming shrimp, and always cook it properly to avoid consuming bacteria from undercooked shrimp.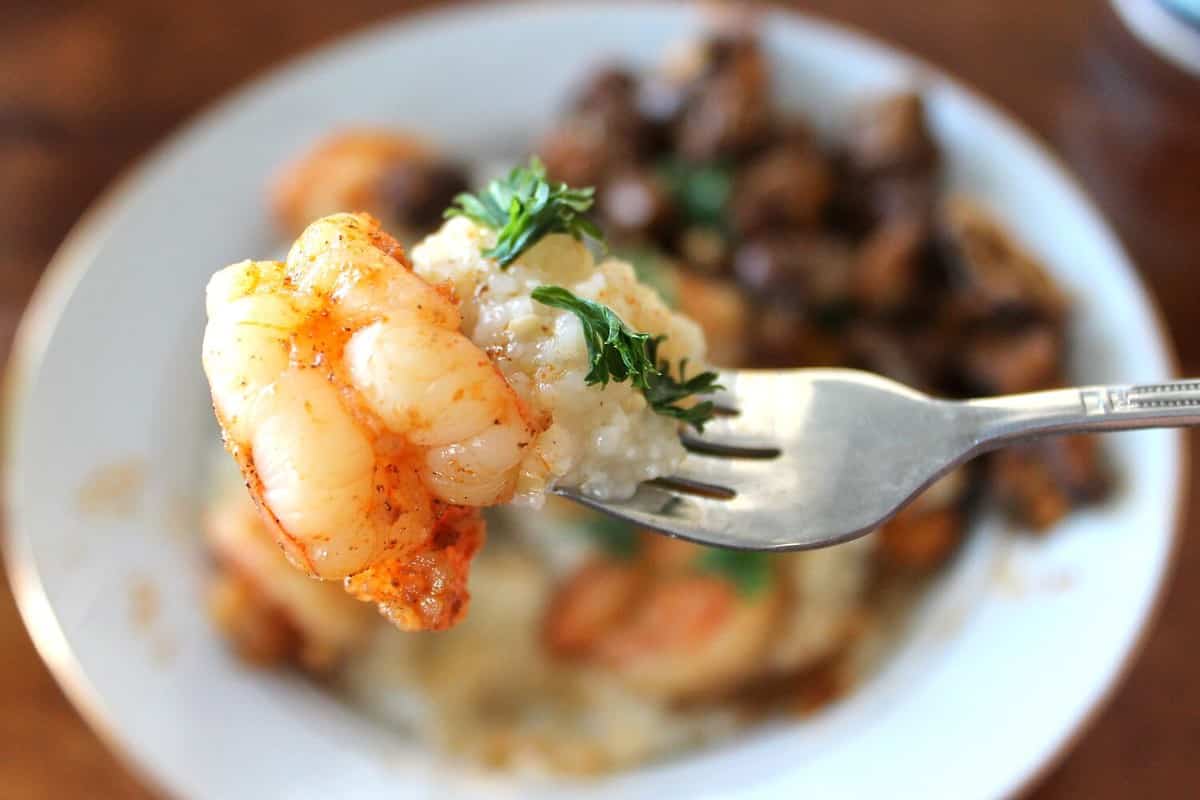 Is Shrimp Healthy for Weight Loss?
When you think about whether shrimp is healthy, you might wonder how it will impact the rest of your diet, especially if you're trying to lose weight.
Although there's nothing specific about shrimp that will necessarily help you lose weight, it can be beneficial for those who are trying to eat a low-carb or low-calorie diet. Shrimp is low in calories and carbs but still has a decent amount of protein.
How healthy your meal is will depend on what you include with the shrimp. Pairing grilled shrimp with a side of vegetables is going to be healthier than eating it with pasta or eating fried shrimp.
Ways to Serve Shrimp
If you're looking for healthy ways to serve shrimp for your family, this shellfish is versatile enough to serve in a number of ways. Here are some healthy meal ideas and ways to serve shrimp:
Sheet pan dinner with shrimp and vegetables
Shrimp tacos with cabbage coleslaw
Grilled shrimp
Shrimp with rice
Shrimp orzo with cheese
Shrimp and lentil bowls
Garlic shrimp and rice
There are plenty of shrimp recipes to choose from for a delicious, healthy, and balanced meal for yourself or the whole family.
Final Thoughts
While you may have heard about the risks of eating shrimp, there are plenty of health benefits. Compared to other seafood, shrimp is relatively low in mercury, making it a great choice for pregnant women or young children.
There are some potential risks to eating shrimp, and shellfish is considered one of the major allergens, so it's important to look out for any foodborne illness or symptoms of an allergic reaction in your family. However, for most people, the benefits of eating shrimp far outweigh the downsides. If you're looking for a healthy meal, enjoy some of the shrimp recipes below!
Tasty Shrimp Recipe
Print
Broccoli Shrimp with Orzo
---
Author:

Total Time:

30 mins
200

g

of Shrimp

1

cup

of Orzo

100

g

of Broccoli

2

cloves of Garlic

2 tbsp

of Olive Oil
---
Instructions
Boil the orzo.
Cook the shrimp in a pan with the garlic and olive oil until browned.
Add the broccoli and cook until tender.
Serve the shrimp and broccoli with the orzo.
Prep Time:

10 mins

Cook Time:

20 mins

Category:

Main Course

Cuisine:

Mediterranean
The image featured at the top of this post is ©KudPhotoCreate/Shutterstock.com.