Seared, roasted, or grilled tilapia can be a delicious and healthy meal any day of the week. With just some salt, pepper, and a squeeze of lemon juice, you can have a nutritious and tasty serving of tilapia in less than 20 minutes. However, there are concerns about tilapia, and many wonder whether it's actually healthy.
There are many factors that can contribute to how healthy tilapia is, including how often you eat it and how the tilapia is raised. Keep reading to find out the benefits and downsides of tilapia and some healthy ways to serve it. 
Is Tilapia Healthy?
There are so many health benefits to eating fish that the American Heart Association suggests you eat it at least two times a week. If you're trying to find a way to include more fish in your diet, tilapia is an easy way to increase your fish intake. Fish is full of omega-3 fatty acids and a great source of protein.
When you search online about the benefits of tilapia, you'll find some strong opinions about the risks of eating this type of fish. Some articles even go as far as claiming you should never eat tilapia, but are any of these concerns valid?
The main concern about tilapia is the potential exposure to contaminants and disease because of poor farming practices. Over the past 10 years, there have been reports that tilapia farmed in certain countries are raised in unsanitary conditions, leading to a greater risk of exposure to disease and contaminants when eating tilapia.
Despite these concerns, tilapia can be safe to eat if you purchase it from countries that use safe and sanitary farming practices. Tilapia farmed in Ecuador or Peru is considered the safest. If you buy tilapia from stores that only sell responsibly farmed tilapia, it can be a healthy part of your diet.
Like any healthy food, there are definitely unhealthy ways to eat tilapia. Roasting or searing your tilapia is going to be healthier than frying it. You can also make tilapia a healthy part of your diet by serving it with brown rice and vegetables, or you can top a salad with a roasted tilapia filet.
What Is Tilapia?
When determining what type of fish to include in your weekly meal rotation, tilapia might come to mind. Tilapia is easy to find in most grocery stores, it's easy to cook, and has numerous health benefits.
Compared to other types of fish like salmon, tilapia doesn't taste as fishy and the flavor is milder. It also has a firmer texture than other fish, which makes it a good substitute for meat like chicken or pork–even kids or adults who don't normally like fish can enjoy a fresh tilapia filet.
Tilapia is a type of white fish and is the most commonly farmed fish in many countries. The species of tilapia you see most frequently at the store is native to Africa, and despite many of the concerns about eating tilapia, it actually has many health benefits. Let's take a look at some of the benefits of eating tilapia.
Benefits of Eating Tilapia
Although it's not recommended to eat fish every day, tilapia and other types of fish can be included as a healthy part of your diet up to two times a week. With tilapia, the process is simple since it can be cooked in so many ways. Here are some of the benefits of eating tilapia:
Tilapia Is a Good Source of Protein
Protein is an essential nutrient and tilapia is a great lean source of protein. In one tilapia filet, there are around 23 grams of protein. To give some perspective, a chicken breast of around 100 grams has about 31 grams of protein. For those looking to add fish to their diet but still gain enough protein, tilapia can be an excellent choice.
Tilapia Is Filled With Beneficial Nutrients
Aside from protein, there are also many other beneficial nutrients present in tilapia. Tilapia is high in nutrients such as vitamin B12, phosphorus, and selenium. One tilapia filet also has 14 mg of calcium, 150 IU of vitamin D, and 380 mg of potassium. All of these are essential nutrients, but tilapia is still a lean source of protein, with 2.65 grams of fat in 100 grams.
Tilapia Is Good for Your Heart
Heart health is so important, especially considering the leading cause of death in adults in the U.S. is heart disease. Tilapia is beneficial for your health due to the omega-3s that are present in tilapia and other fish. These healthy fats can lower blood pressure and decrease your risk of heart issues.
Tilapia Is Low in Mercury
When it comes to eating fish, one of the major concerns about consuming it too frequently is the exposure to mercury. Consuming too much mercury can have severe health effects, especially for young children and pregnant women. However, tilapia is low in mercury compared to other types of fish like salmon.
Downsides of Eating Tilapia
Even though tilapia can be included as part of a healthy meal, there are some downsides to eating tilapia. These shouldn't necessarily keep you from eating tilapia altogether, but they are something to keep in mind. Here are some of the major concerns or risks of eating tilapia:
How the Tilapia Is Farmed
There has been a lot of controversy surrounding tilapia and how it's farmed. The main concern comes from tilapia that is pond raised since this leads to unsanitary conditions and the fish consuming more pollutants. Additionally, there are concerns about what tilapia is fed during the farming process.
To avoid eating tilapia raised in unhealthy conditions, purchase tilapia from a store that specifically sells responsibly farmed tilapia. Some stores where it is safe to buy tilapia include Costco, Kroger, and Walmart.
The Ratio of Omega-6 to Omega-3
Fish is often known for the presence of healthy fats such as omega-3s. However, tilapia doesn't have as many omega-3s as other types of fish. There are also concerns about the ratio of omega-3 to omega-6 in tilapia.
Tilapia has more omega-6 fatty acids than omega-3. There is some debate around the impact of omega-6 fatty acids, but the general consensus is that they're not as healthy as omega-3 fatty acids. Either way, it may be beneficial to alternate tilapia with other fish since it doesn't contain as many healthy fatty acids.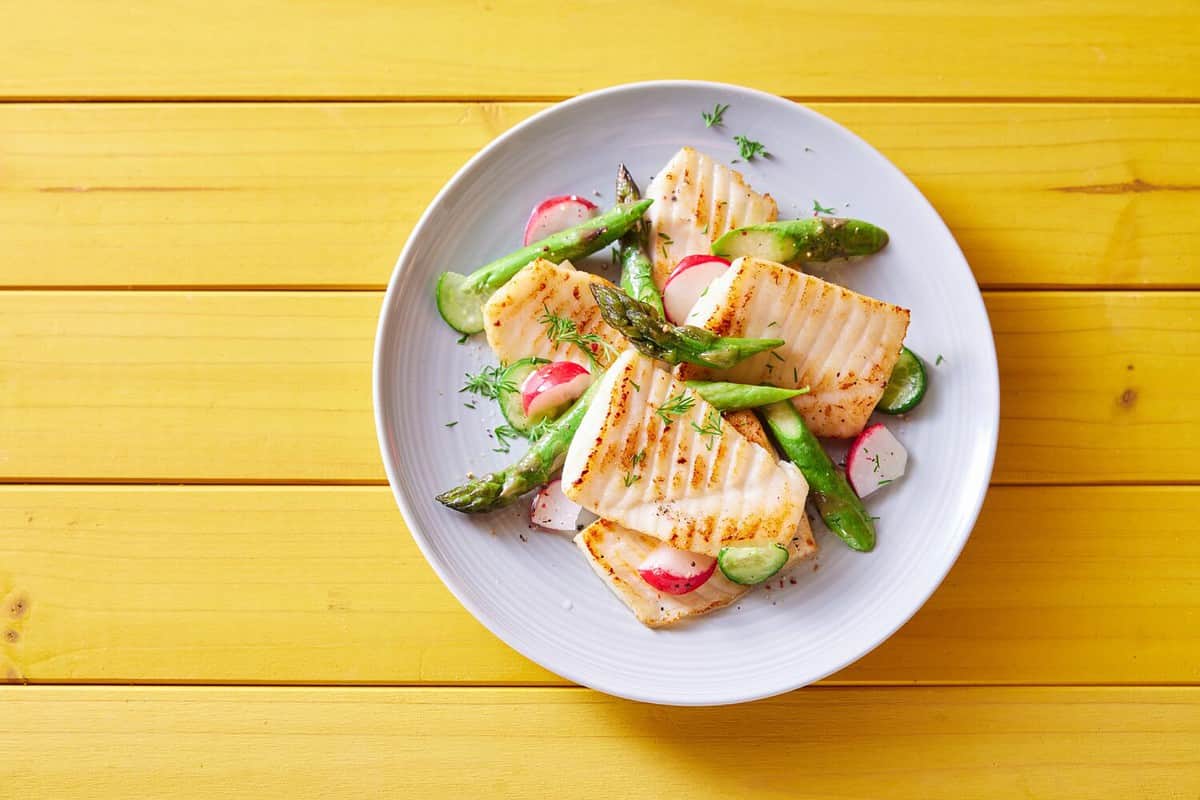 Healthy Ways to Serve Tilapia
The number one way to ensure the tilapia you purchase is safe is to choose tilapia from a store with responsibly farmed tilapia. Aside from that, the other ingredients in your meal will impact how healthy your tilapia is.
There are numerous ways to cook tilapia, from searing it in a pan to cooking it in an air fryer. You can also create a balanced meal by serving tilapia with:
Roasted vegetables such as asparagus, corn, or sweet potatoes
Brown rice, quinoa, or another healthy grain
Greek or Caesar salad
Healthy pasta salad
No matter how you choose to cook tilapia, serving it with vegetables or a healthy grain can help you get all the necessary nutrients.
Final Thoughts
Tilapia can be a delicious, tasty, and healthy fish to add to your weekly meal plan. Although there are some concerns about how tilapia is farmed, this mild-flavored fish can be incredibly beneficial for your health. Before you purchase tilapia, be sure you're buying it from a store with responsibly farmed fish.
Recipe Card
Now that you know all the health benefits of tilapia, try out a delicious and nutritious recipe. Be sure to save this one so you can make it again!
Print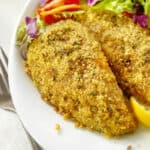 Crunchy Baked Tilapia
---
Author:

Total Time:

45 minutes
2

pounds white fish, your choice

10 3/4 ounce

can cream of mushroom soup

1 1/4 cups

sour cream, or plain yogurt

1/2 cup

buttered crumbs, or cracker crumbs

1 Tablespoon

poppy seeds
---
Instructions
Put fish in a greased 2-quart casserole dish.
In a small bowl, mix soup and sour cream. Pour over fish.
Add poppy seeds to crumbs. Sprinkle on top.
Cover. Bake at 425°F for 30 minutes or just until fish flakes easily.
Prep Time:

15 minutes

Cook Time:

30 minutes

Category:

Main Course

Method:

Baking

Cuisine:

American
The image featured at the top of this post is ©stockcreations/Shutterstock.com.