Should you eat cod or tilapia? That's a difficult question because there are so many variables between them. They are different fish with different tastes and health benefits.
For instance, cod fish have no enemies or predators except humans. The Atlantic cod fish are also on the brink of extinction because they are one of the most commonly fished for. On the other hand, tilapia is one of the most abundant fishes in the world. They are freshwater fish that are found in rivers and lakes. These are just some things that make these two kinds of fish unique.
In this guide, you'll discover the differences that separate cod and tilapia, mainly what makes them unique, their health benefits, and the different meals you can eat with them. You'll have a better idea of what fish to choose from when you're preparing your next fishy meal.
The Unique Differences Between Cod and Tilapia
Do you like prosciutto? If you do, cod is generally recognized as the prosciutto of the sea. For years, cod has been fished off the Atlantic coast. It's one of the reasons Cape Cod was named after the fish because it was one of the most abundant fishes off that coast. This saltwater fish is also carnivorous, meaning they eat other fish. Another fun fact about this fish is that they can travel nearly 200 mph. And the female codfish can lay over 4 million eggs.
In regards to lifespan, cod fish can live past 20 years old. They typically grow around 50 inches and almost weigh 80 pounds. The biggest cod fish caught was 112 pounds and nearly 6 feet long.
Tilapia are found throughout the world in lakes and rivers. They typically live up to 10 years and weigh between 4 and 9 grams. The biggest tilapia ever caught on record was 25 inches long and almost 11 pounds.
While cod and tilapia differ in many ways, they are similar in health benefits and taste. You'll discover how they are prepared differently. For instance, regarding culinary, swai and tilapia offer different health benefits and tastes depending on your preferences. By looking at both, you'll see which is your better choice.
The Nutritional Value of Cod vs. Tilapia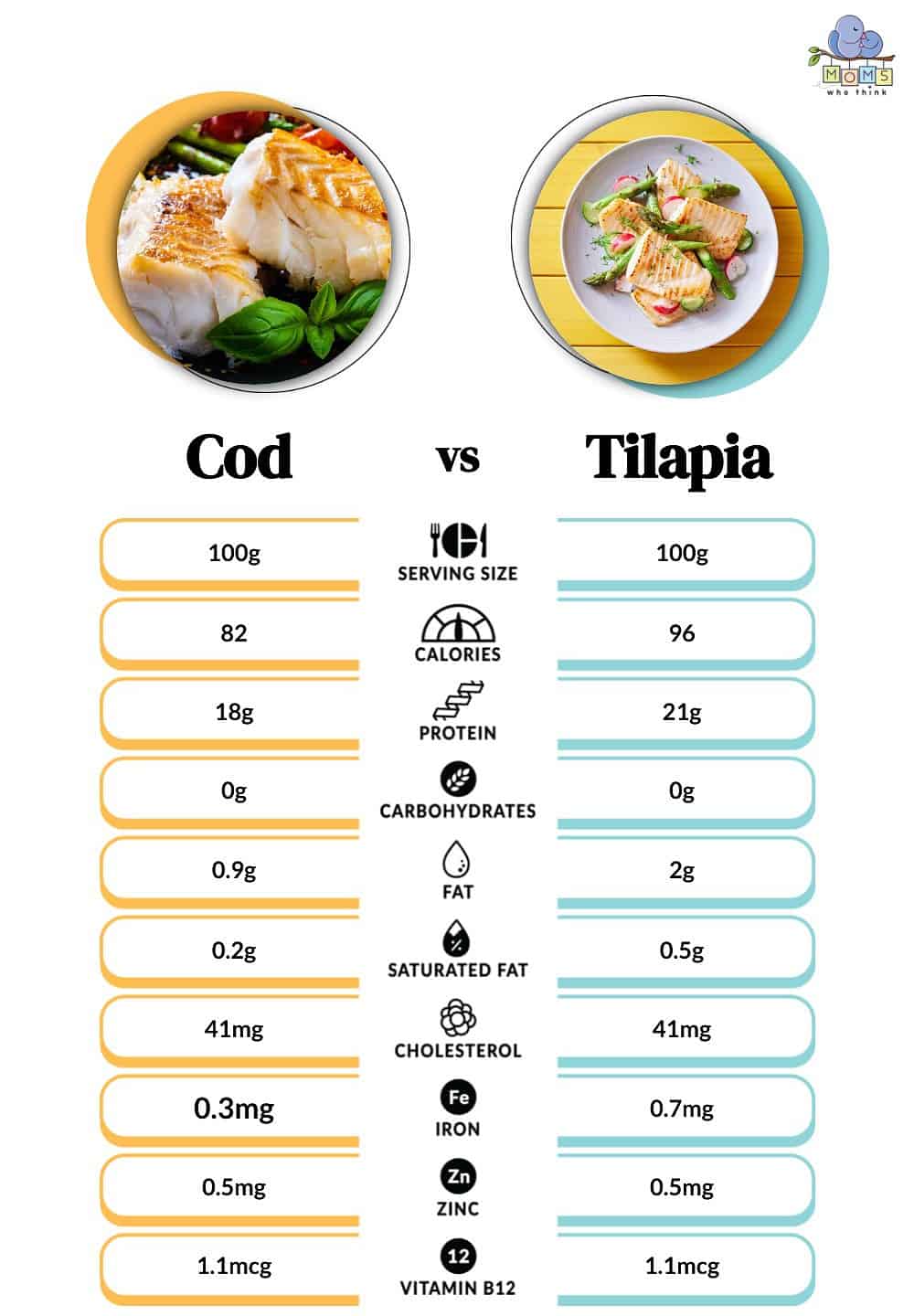 Cod is one of the healthiest fish to eat. They are a low-fat source of protein and great for improving your overall health, especially your heart. One of the unique things about cod that distinguishes it from other fish is that it has an abundance of iodine, which is essential for thyroid health. Cod also has omega-3 fatty acids, which are healthy for your heart. Additionally, eating cod reduces your risk of a stroke and helps lower high blood pressure.
Like cod, tilapia offers similar health benefits. It has omega-3 fatty acids, magnesium, and potassium. Eating tilapia can also help lower your risk of heart disease and reduce your high blood pressure. Both fish are incredibly nutritious and considered one of the best foods to improve your health.
Different Ways to Eat Cod vs. Tilapia
When it comes to cooking, cod and tilapia offer different recipes. For example, cod fish can be prepared by frying, grilling, steaming, baking, and even broiling. Cod is also described as mildly sweet and delicate. It's also moist and flaky and not considered too fishy.
Here are some of the best recipes to cook with cod fish:
Garlic butter cod
Lemon butterfish
Oven-baked cod fish
Baked parmesan cod fish
Tilapia has more of a fishy taste. It also has a flaky texture and is considered not too sweet. Like cod, tilapia offers a variety of meal options if you like grilled, baked, or steamed fish.
Here are some of the best meals to make with tilapia.
Baked tilapia with lemon
Tilapia fish tacos
Tilapia soup
Easy blackened tilapia
Whatever you choose is based on your preferences. They both offer unique meal choices that come with tremendous house benefits.
Cod or Tilapia?
Do you want a fishier-tasting fish or something not as sweet? Your food preferences will help you decide if you like cod or tilapia more. You'll discover what kind of meal you want and if you want a particular health benefit. While cod and tilapia are very different, they both offer the same health benefits and similar meal choices. Either fish is sure to taste incredible, whatever you decide.
Both cod and tilapia are types of white fish that have incredible nutritional value. With their many similarities, they have quite a few differences, too. Here are some of those differences:
It's no secret that cod is more expensive than tilapia. And tilapia is found in just about any store.
Another difference between the two is that Cod can live past 20 years, while tilapia generally live up to 10 years.
Tilapia has more of a flakier texture and is not as sweet. On the other hand, Cod is slightly sweeter and not as flaky.
A Great Cod Recipe From Moms Who Think
Print
1 pound frozen cod, thawed
16 ounce package frozen stir-fry vegetables
Salt to taste
1 teaspoon lemon-pepper
1 teaspoon dried rosemary
1 cup tomato juice
2½ Tablespoons grated Parmesan cheese
---
Instructions
1. Line a 13×9 baking dish with aluminum foil.
2. Place cod in dish and cover with vegetables. Season with salt, lemon-pepper and rosemary.
3. Pour tomato juice over everything, sprinkle With Parmesan cheese.
4. Bake at 400 degrees F for 20 to 25 minutes or until fish flakes and vegetables are tender.
5. Serve with steamed white rice. Makes 4 servings.