Fish is one of the most nutritional things to eat. The challenge is finding the right fish that offers a flavor you like. Given the varieties of fish to eat, it's essential to look at the specific kind of fish and what they can offer you regarding recipes and overall health benefits.
In this guide, we'll look at Haddock vs. Tilapia and the key differences that distinguish them. For starters, haddocks are commonly known as part of the cod family, while tilapia is one of the most popular fish to eat worldwide. They share a lot of commonalities when it comes to nutrients, recipes, and their key features.
Haddock vs. Tilapia: The Key Differences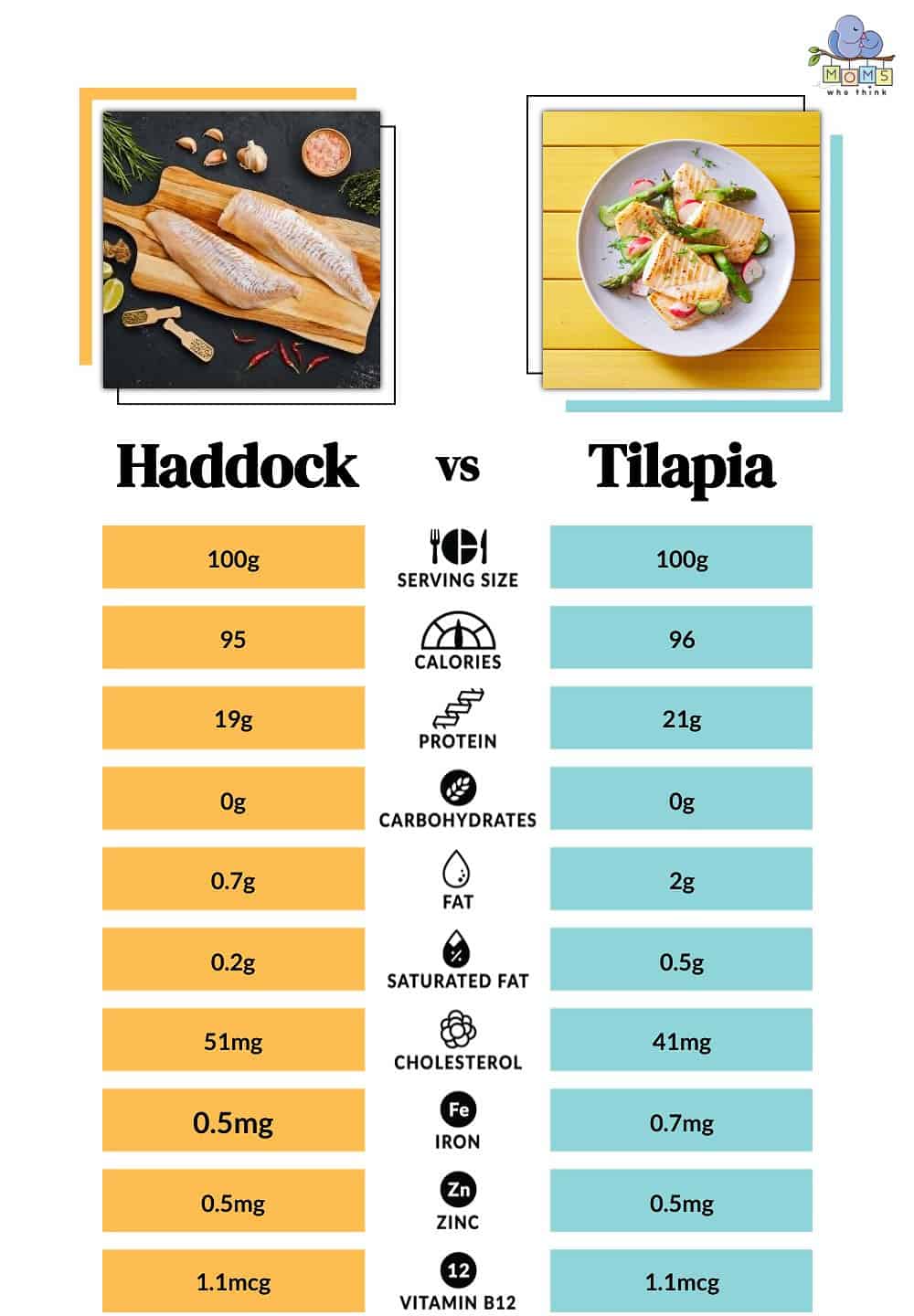 Haddocks are saltwater fish and are part of the codfish family. The official name (and much longer name) for them is Melanogrammus. Regarding weight, haddocks typically weigh between 2 and 5 pounds. In rare cases, haddocks will weigh as much as 15 pounds. The typical lifespan of haddock is 3-7 years.
They have a sleek and compressed body. Their appearance is silver-colored with noticeable black spots. The actual meat of the Haddock is white in color. One of the most common places to find Haddock is in the North Atlantic, particularly near the Gulf of Maine.
On the other side of the world is Tilapia. It originated in Africa and is now found in nearly every country. It's particularly popular in the United States, where it is served frozen in groceries stores and fresh in restaurants. Their diet typically includes algae, water plants, plankton, and aquatic invertebrates. They can also live up to 10 years.
When it comes to appearance, Tilapia is similar looking to halibut and catfish. However, one thing that makes it uniquely different from other fish, especially haddock, is that it has no flavor. This is often why Tilapia is served with other dishes to complement the taste.
Different Ways to Eat Haddock and Tilapia
Haddock and Tilapia can be made in diverse ways. You can bake haddock, make soup, or even fry it. While Tilapia is mostly flavorless, Haddock is known for its mild sweetness. And, it doesn't have an overpowering fishy taste to it. Here are some common recipes associated with Haddock:
New England baked haddock
Parmesan crusted haddock
One-pan Mediterranean haddock with artichoke hearts
Tilapia can also be made in diverse ways, from baking to frying. Tilapia is different from haddock because it's thicker and has less flavor. Here are some examples of what you can cook with Tilapia:
Baked tilapia with lemon
Tilapia fish tacos
Tilapia soup
Easy blackened tilapia
This makes it a perfect addition to dishes where you want to taste the sauce or other ingredients more than the fish. Tilapia, different from haddock, has a thick texture. It's one of the reasons it's great for soups and stews.
Nutritional Value of Haddock vs. Tilapia
Fish, in general tends to be a great source of nutrients. Haddock and tilapia are especially healthy when it comes to boosting your immunity, lowering your blood pressure, and improving your heart health.
For example, haddock fish has an abundance of vitamin D and potassium. It also contains selenium, which helps lower the risk of cancer. Another part of haddock is omega-3 fatty acids, which help regulate blood clotting and reduce inflammation. You'll also find phosphorus and vitamins B6 and B12. One of the specific health benefits of haddock is how it helps prevent cardiovascular disease and stroke and reduces inflammation throughout the body.
Tilapia is also a great source of nutrients. Like haddock, tilapia is high in its vitamins, like vitamin B12, which helps maintain its nervous system and produce red blood cells. Other health benefits include low saturated fat. It also has an abundance of 0mega-3 fatty acids, which help with anxiety and lower depression. Additionally, it's low in carbohydrates and sodium, making it one of the healthier food choices.
Should You Choose Haddock or Tilapia?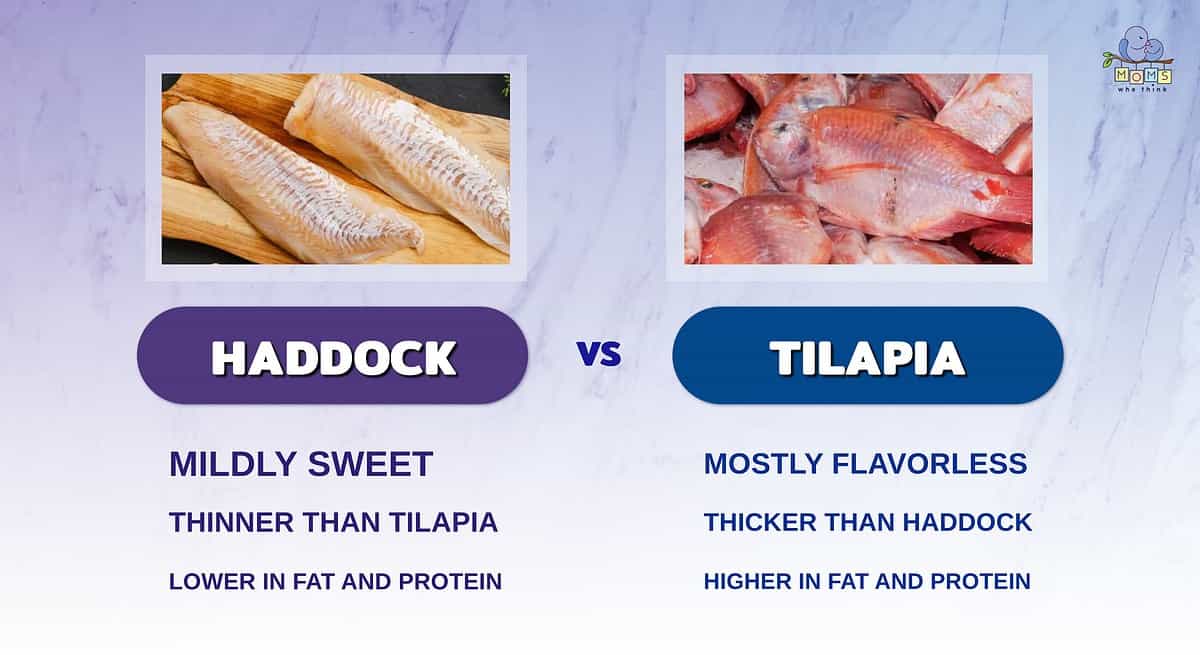 Tilapia is an interesting fish because it lacks any significant flavor. Haddock, on the other hand, is mildly sweet.
The thicker texture of tilapia makes it a great addition to stews and soups. Haddock is thinner than tilapia.
Tilapia has more fat and protein in comparison to haddock, although not by a high margin. Both of these fish are great for anyone trying to diet!
While there are a lot of benefits between Haddock and Tilapia, the decision comes down to personal preferences. It comes down to your diet and what you're looking for in a recipe. Both fish contain the nutrients you're looking for; the core difference is taste, flavor, and how you want to cook each one.
You may discover the difference is more challenging than chicken vs. seafood. Finding the right kind of fish can be more difficult. The good news is that haddock and tilapia are the finest and most popular kinds of fish to eat in the world.
If you want a fantastic haddock recipe to try, we've got you covered. Check out this wonderful Rockport Fish Chowder recipe:
Print
Rockport Fish Chowder
---
Author:

Yield:

8

servings

1

x
2 Tablespoons vegetable oil
1/4 cup onion, coarsely chopped
1/2 cup celery, coarsely chopped
1 cup carrots, sliced
2 cups potatoes, raw, peeled, cubed
1/4 teaspoon thyme
1/2 teaspoon paprika
2 cups bottled clam juice
8 whole peppercorns
1 bay leaf
1 lb. fresh or frozen (and thawed) cod or haddock fillets, cut into 3/4–inch cubes
1/4 cup flour
3 cups lowfat milk
1 Tablespoon fresh parsley, chopped
---
Instructions
1. Heat oil in large saucepan. Add onion and celery, and sauté for about 3 minutes.
2. Add carrots, potatoes, thyme, paprika, and clam broth. Wrap peppercorns and bay leaf in cheese cloth. Add to pot. Bring to boil, reduce heat, and simmer for 15 minutes, then add fish and simmer for an added 15 minutes, or until fish flakes easily and is opaque.
3. Remove fish and vegetables. Break fish into chunks. Bring broth to boil and continue boiling until volume is reduced to 1 cup. Remove bay leaf and peppercorns.
4. Shake flour and 1/2 cup lowfat milk in container with tight-fitting lid until smooth. Add to broth in saucepan, along with remaining milk. Cook over medium heat, stirring constantly, until mixture boils and is thickened.
5. Return vegetables and fish chunks to stock and heat thoroughly. Serve hot, sprinkled with chopped parsley.
Nutrition
Serving Size:

1 cup

Calories:

186

Sodium:

302mg

Fat:

6g

Saturated Fat:

1g

Carbohydrates:

18g

Fiber:

2g

Protein:

15g

Cholesterol:

34mg