Both haddock and cod are two popular types of white fish, and while they may seem similar, there are differences between the two. Haddock has thinner fillets, while cod has thicker fillets. Both fish also look different. In this article, we are going to discover the key differences and features between haddock vs. cod and which one is healthier.
What is Haddock?
Haddock is a ray-finned saltwater fish from the Gadidae family and is found in the North Atlantic Ocean. It is commonly sold smoked, frozen, or fresh.
It often has a drawn-out body similar to that of the cod family. Its face is rounded, and it has a small mouth. Haddock has three dorsal fins. Its body is dark gray on top and silvery underneath. It also has a black lateral line that curves over the pectoral fins.
Haddocks usually live for 3-7 years and weigh 2-7 pounds and are 1-3 feet long.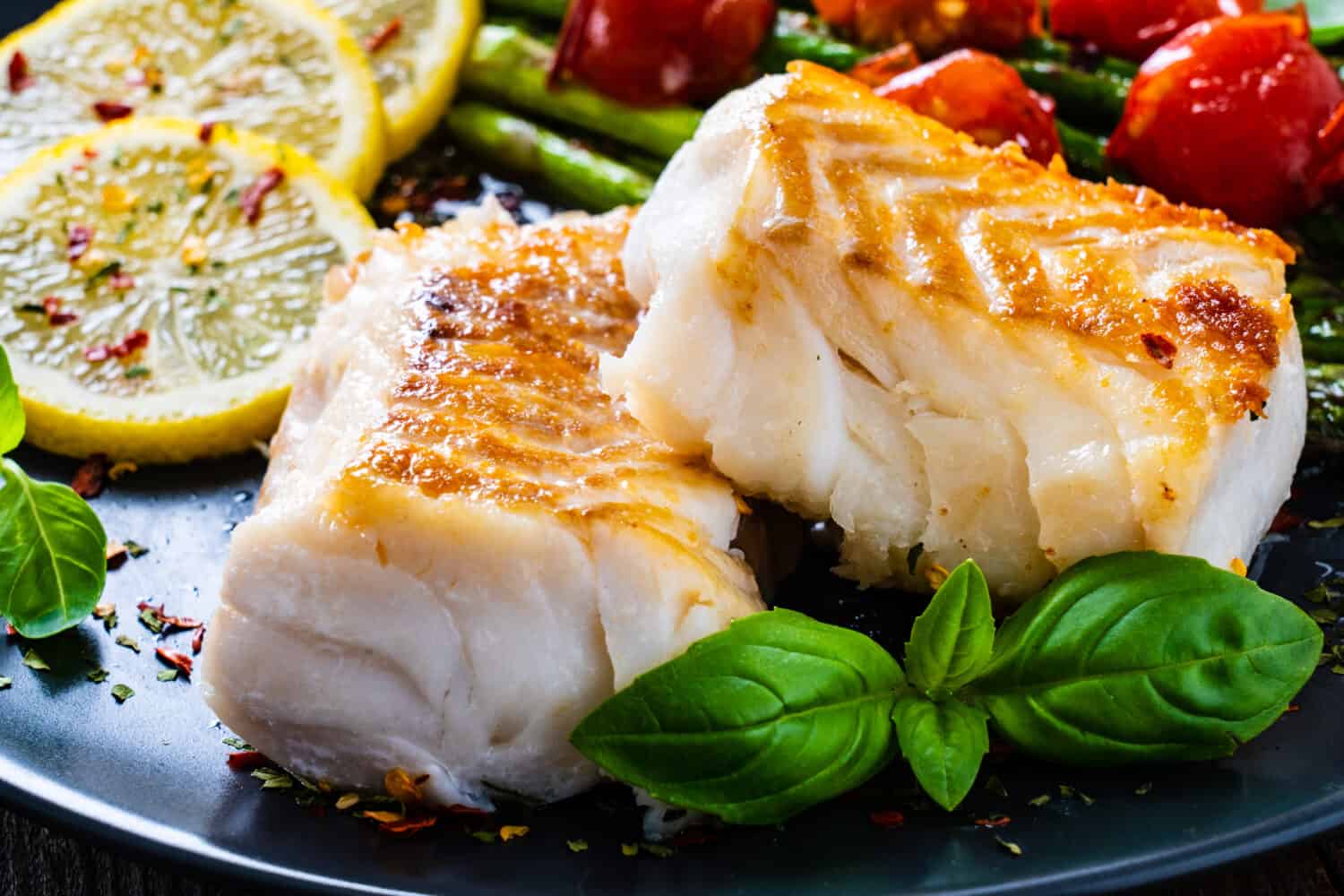 What is Cod?
Similar to haddock, cod also belongs to the Gadidae family, and its common name is the demersal fish genus Gadus. There are two common species of cod. The Atlantic cod lives in deep, cold water throughout the North Atlantic. It has two colors: reddish brown and gray-green. At specific depths of water, it can also change color.
Pacific cod, however, are darker, and smaller and are found in the eastern and western regions of the North Pacific. Cod has a noticeable white lateral line that extends from the base of the caudal or tail fin to the gill hole, which is found above the pectoral fin.
Cod live for approximately more than 20 years. The average weight of the Atlantic cod is about 11-26 pounds.
What Does Haddock vs. Cod Taste Like and How Are They Prepared?
Haddock is white, firm, and flakey, with a thinner fillet and a slightly mild flavor. It tastes sweet with a little bit of saltiness, and it doesn't have an overpowering fishy taste. In England, haddock is commonly served in fish and chip shops.
Additionally, cod is flakey, white, and firm, with a thicker fillet, and a hint of sweetness. Cod is served the most in Portuguese cuisine.
The most popular method when preparing haddock or cod is to season it with salt and pepper and then bake it in a preheated oven at 200°C /400°F for 12-15 minutes until flakey.
Another method is to poach the fillets in a pan with enough milk to cover all of the fillets and season with some freshly ground black pepper. You can then add some onion, parsley, and garlic. Next, heat the milk, but don't let it boil over. After that, add the fillets and make sure they are all covered in the milk. Allow the fillets to simmer in the milk for about 10 minutes. The fillets should flake apart when ready.
However, panfrying is a great way to create a delicious haddock or cod meal. To pan-fry, first coat the fillets in flour or breadcrumbs; this gives them that crispy outside. Next, cook the fillets in the pan with a little butter or oil, turning regularly, until they look golden brown.
Furthermore, both haddock and cod can be added to soups, stews, and pies, adding a hearty flavor to your dish. Both can be served with tartar sauce, lemon butter, mint sauce, parsley, and garlic.
What Side Dishes Can You Serve With Haddock or Cod?
Eggplant caponata: It has a lovely tangy twist.
Cucumber kiwi salsa
Oven-roasted asparagus
Spaghetti aglio e olio
Zucchini fritters
Greek lemon rice
Roasted sweet potatoes
Brussel sprout casserole
Summer vegetables with couscous
Sweet and spicy green beans
How Much Does Haddock and Cod Cost?
In the USA, fresh whole haddock can be priced between $6-$12 per pound. Fresh cod, on the other hand, is about $12-$15 per pound. However, prices generally vary based on quality and supplier.
Which is Healthier?
Haddock and cod are excellent sources of high protein, vital for repairing and building body tissue. Both fish provide vitamin B12, vitamin D, iron, phosphorus, selenium, and zinc.
If you want to watch your calorie intake, both haddock and cod have fewer omega-3 fatty acids when compared to fatty fish like salmon. Let's take a look at the chart below and see haddock vs. cod: Which Is healthier and differences.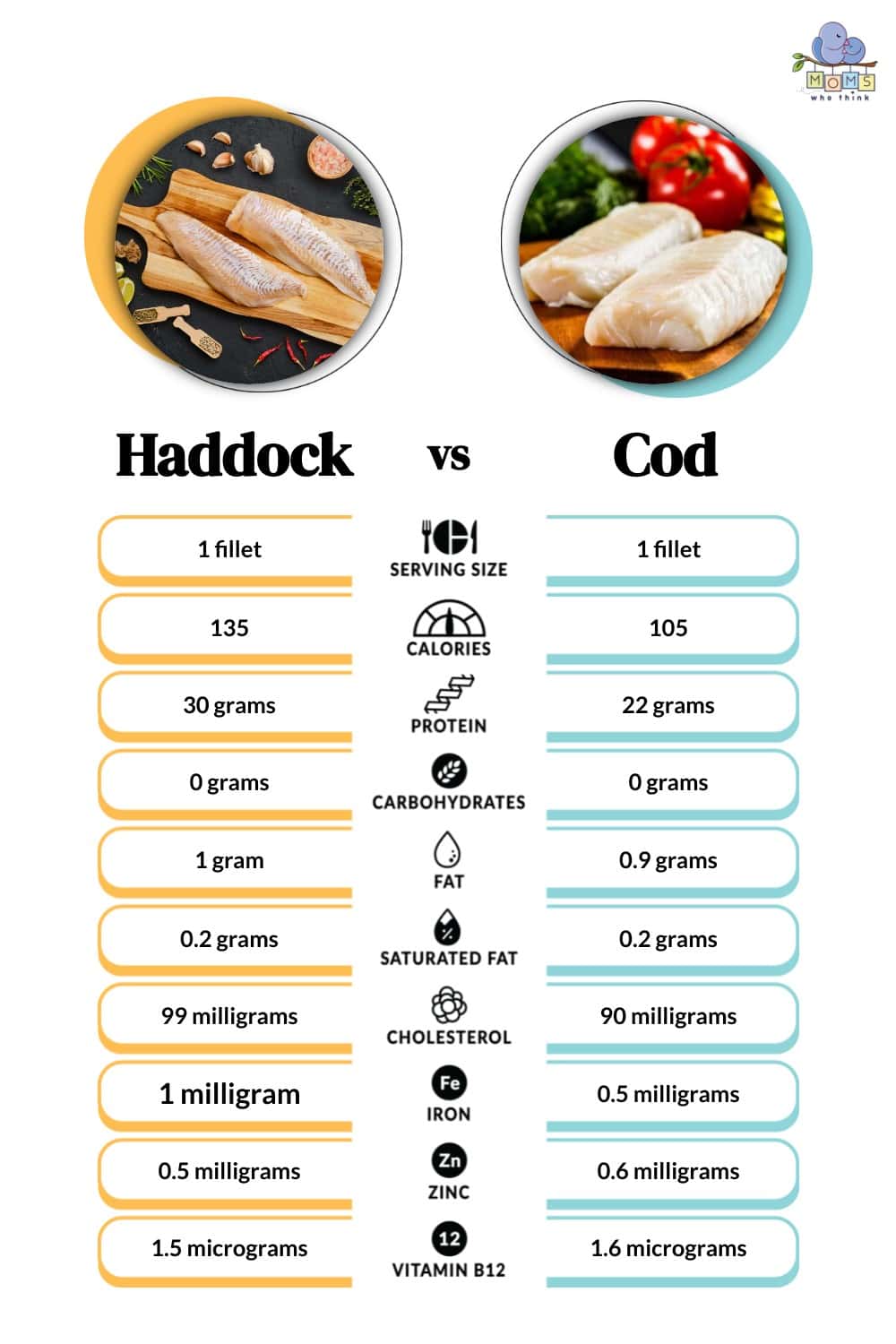 Conclusion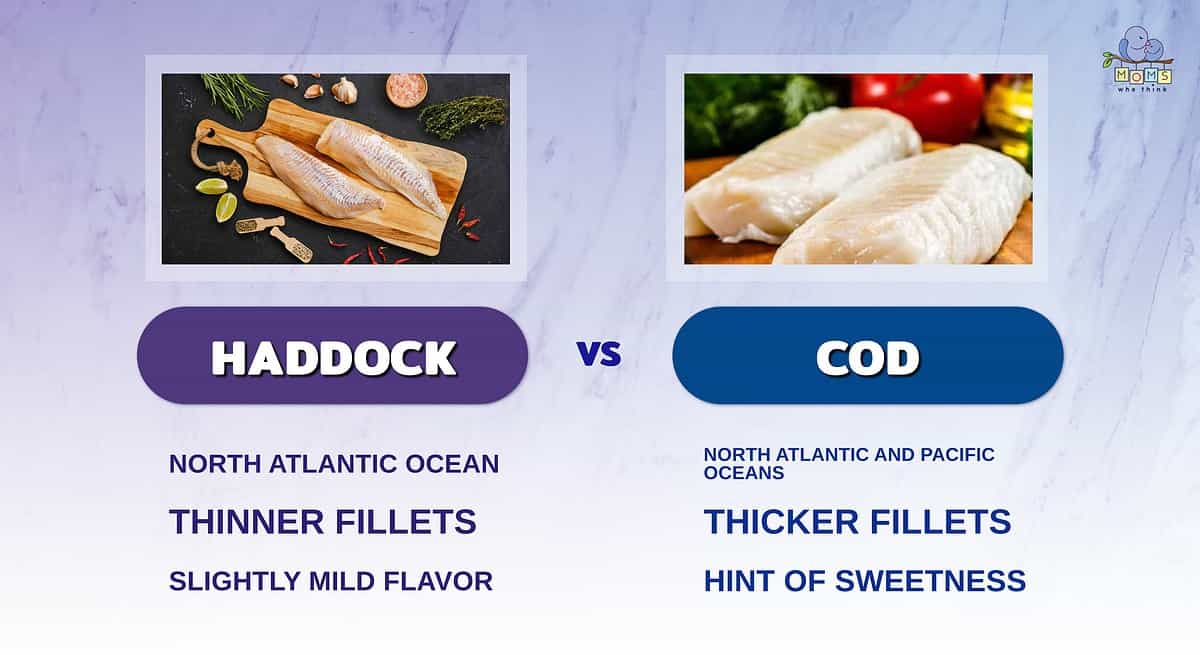 To summarize, haddock and cod are both white, flaky fish with slightly different flavor profiles. Both are nutritious and can be prepared in the same way. Cod has slightly thicker fillets, whereas haddock fillets are slightly thinner. Incorporating either of these fish into your diet can assist you in leading a healthy lifestyle.
Print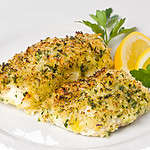 Healthy Baked Cod
---
Author:

Yield:

4

servings

1

x
1

pound

cod fillets, fresh or frozen

4 tablespoons

cheddar cheese, shredded
---
Instructions
Thaw cod according to package directions.
Prepare cod according to package directions.
After it is fully cooked, sprinkle cheese on the cod. Return cod to oven to melt cheese, about 3 to 5 minutes.
Nutrition
Serving Size:

3 oz

Calories:

155

Sodium:

160mg

Fat:

5g

Saturated Fat:

3g

Cholesterol:

65mg
Related Articles