[addtoany]

If there are two things that go together well, it's salmon and noodles. Salmon is light and airy, and it is perfectly complemented by noodles which add a bit of weight to the dish without overpowering it.
The dish is also versatile as you can add any number of ingredients to elevate the taste, up the health quotient and please different tastes.
Read on to find out more about the salmon noodle bowl recipe we have here and how you can make your own tasty variations.
Salmon Noodle Bowl
The dish we have here is pretty basic. All it requires is the preparation of the salmon and the pasta. We added spinach, roasted peppers and olives as vegetables and a balsamic vinaigrette dressing. This gives it a light Mediterranean flavor your family is sure to love.
It is also quite a healthy dish. Salmon is a great source of protein and it is rich in vitamins and minerals like potassium, selenium, B12 and omega 3 fatty acids.
Spinach contains vitamin K, A and C, and folate. It is a good source of manganese, magnesium, iron, and B2.
Peppers are low in calories and rich in vitamins A and C, potassium, folic acid, and fiber. Red peppers are also excellent sources of beta carotene.
Olives are high in vitamin E and other antioxidants. They contain healthy fats that can protect against osteoporosis and cancer.
Pasta provides energy and is rich in some vitamins and nutrients. To make the dish even healthier, opt for a whole-wheat variety.
While this is a great salmon and pasta dish, there are other variations you can create. Here are a few:
Light Lemon Garlic Pasta with Salmon: This recipe gives the dish a bit of an Italian flare. It is seasoned with garlic, olive oil, basil, salt, and pepper. Lemon juice, zest, and capers are added to elevate the taste.
Creamy Lemon Vodka Salmon Pasta: This dish requires a heavier sauce made of cream, butter and yes, vodka. Lemon juice, zest, onion, dill, and cheese work to give this recipe a unique flavoring.
Fish and Noodles
Because fish and noodles are so complementary, there are several dishes you can make that incorporate these ingredients. Here are some examples.
Turmeric Fish with Rice Noodles and Herbs: This Vietnamese dish is often cooked tableside and served with the main ingredients separated. It uses cod and vermicelli noodles that are flavored with ingredients like garlic, fish sauce, lime juice, turmeric, pepper, dill, and pepper. Peanuts and scallions really work to set this dish apart.
Baked Fish with Noodles: This easy dish takes just six ingredients: egg noodles, frozen stir fry vegetables, coconut milk, fish fillets, sweet chili sauce, and fish sauce. Prepare noodles, veggies, and fish and use the coconut milk, fish sauce, and chili sauce to dress the noodles.
Pan-Seared Lemon Tilapia with Parmesan Pasta: In this recipe, the spotlight is on the tilapia and macaroni both of which are nicely seasoned with lemon juice, oregano, basil, cilantro, salt, and pepper. Add parmesan for some cheesy goodness.
Farfalle with Salmon, Lemon, and Peas: To make this dish, prepare salmon and set aside. While pasta is cooking, add in the cream, lemon zest, salt, and pepper to taste and frozen peas for a meal that is delicious as it is easy to prepare.
No matter what kind of combination you choose, fish and pasta make a great balanced meal that is sure to please even your fussiest eaters. What ingredients will you be adding to make your fish and pasta combo stand out?
If you enjoyed this recipe, make sure to check out our Shrimp Salad Recipe and our Ramen Noodle Salad Recipe.
Print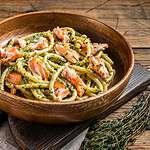 Salmon Noodle Bowl Recipe
---
Author:

Total Time:

25 Minutes
Description
If there are two things that go together well, it's salmon and noodles. Salmon is light and airy, and it is perfectly complemented by noodles which add a bit of weight to the dish without overpowering it.
---
1

(9 ounce) package refrigerated fettuccine

1

pound skinless, boneless 1-inch thick salmon fillet, cut into

8

pieces

2 tablespoons

olive oil

6 cups

packaged fresh baby spinach

½ cup

bottled roasted red or yellow sweet peppers

½ cup

garlic-stuffed green olives, coarsely chopped

½ cup

reduced-calorie balsamic vinaigrette salad dressing
---
Instructions
Cook pasta according to package directions.
Meanwhile, brush fish with 1 tablespoon of the olive oil. Sprinkle lightly with salt and black pepper.
Heat a very large skillet over medium heat. Add fish to hot skillet; cook for 8 to 12 minutes or until fish begins to flake when tested with a fork, turning once halfway through cooking. Remove fish from skillet; cover and keep warm.
Add spinach, roasted peppers, olives, and the remaining 1 tablespoon olive oil to skillet; cook and stir for 1 to 2 minutes or just until spinach is wilted.
Drain pasta; add to skillet.
Add dressing; toss to coat. Season to taste with salt and pepper.
Divide pasta mixture among 4 shallow bowls; top with fish.
Prep Time:

10 Minutes

Cook Time:

15 Minutes

Category:

Main Course

Method:

Simmering

Cuisine:

American
Keywords: salmon noodle bowl, fish and noodles