Let's Get Ready for Baby!
Sign up for our monthly pregnancy email series, and you'll get regular updates on your baby's development, helpful timelines to get ready for their arrival, must-have baby needs and so much more! PLUS, you'll get instant access to the MomsWhoThink "Ultimate Guide to Baby Naming in 2022."
CLICK HERE
to get started!
[addtoany]

Ramen noodles were once known as an inexpensive staple for college students everywhere. But today, these noodles seem to be everywhere including on the menus of high-end restaurants.
Moms Who Think is getting on board with the diversity by offering this great Ramen noodle salad recipe. But before finding out about that recipe, let's find out more about Raman noodles and why they are so popular.
Ramen noodles are wheat-based noodles native to Asia.
There is some debate as to whether they were introduced in Japan or China but it's likely that they were first seen in China and then skyrocketed in popularity once Japan caught on to the trend.
Early on, the noodles were sold in the street by Chinese workers. Their popularity was said to have soared when Japanese soldiers came back from the war with a new appreciation for Chinese cuisine.
The noodles became even more popular when policemen were shown eating them during a live news broadcast regarding a hostage situation.
Ramen finally came to America in the early '70s branded as Cup o' Noodles although later on, Ramen noodles would be found in grocery stores in block form sold in a thin, plastic wrapping.
Many say the noodles gained gourmet status with the opening of New York's Momofuku Noodle Bar. If the legend is correct, this was the first of many restaurants to serve hand made Ramen noodles in a savory broth served with a variety of toppings all of which helped to elevate the dish.
Ramen Salad 
Ramen salad is one way to put a spin on this popular noodle dish. It can be made in a variety of ways, but the recipe often starts by putting fresh vegetables in a bowl. You can use any you'd like but shredded cabbage, green onions, and carrots are recommended.
Next, you will want to add the dressing. You can make your own dressing or use one that is store-bought but light balsamic flavor will work perfectly.
The noodles are then added. To be clear, these are uncooked to give the salad just the right amount of crunch. The dressing will work to soften them a bit.
Any flavor of Ramen can be added although chicken is recommended. The seasoning pack should be included as well.
Toss these together in a bowl and refrigerate for eight hours. Then you will have a dish that can work well as a side or a main course. Ingredients like almonds and snow peas can be added to taste.
Ramen salads are great because they are extremely easy to make. And although Ramen noodles are admittedly not the healthiest food, they give the salad a great crunch and the addition of the veggies up the health factor by quite a bit.
Ramen Noodle Cole Slaw
If you are thinking of other ways to be adventurous with your Ramen noodles, Ramen coleslaw is another dish you can make.
Ramen coleslaw is quite similar to Ramen salad and uses much of the same ingredients. The main difference is that more cabbage is used. You can also use a store-bought coleslaw mix.
This is a great alternative to traditional coleslaw and it provides a great, tangy taste.
To make Ramen cole slaw, start by mixing green onions, cabbage or coleslaw mix, toasted sesame seeds, toasted slivered almonds, and Ramen noodles. Once again, the Ramen noodles will be raw to provide a great crunch. Packets should be crushed before adding so that noodles get separated.
As with the coleslaw salad, the dressing that is added can be store-bought or you can make it yourself. One recipe for the dressing calls for adding the flavor packets into the mix. Other ingredients include red wine or white vinegar, oil, sugar, salt, and black pepper. Ingredients can be combined with a whisk.
This coleslaw also contains several healthy ingredients including the vegetables which are rich in vitamins and minerals and the nuts which are full of omega 3's and healthy fats. It is also a great alternative to traditional coleslaw which has content due to the mayonnaise.
Because this coleslaw is so similar to the Ramen salad, there is no reason why it can't be served as a main dish, but, because it bears the name cole slaw, most will choose to serve it as a side dish. It will make the perfect complement to your favorite sandwich.
Ramen has gone from a dorm room staple to a gourmet restaurant favorite. What innovative recipes will you be able to create using this inexpensive noodle product?
If you enjoyed this recipe, make sure to check out our Ratatouille Recipe and our Shrimp Salad Recipe.
Print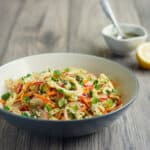 Ramen Noodle Salad
---
Author:

Total Time:

25 Minutes
Description
This Oriental Coleslaw with almonds and seeds is loaded with spicy-sweet flavors and ramen for the perfect crunch!
---
1/2

head green cabbage, chopped

1/2

carrot, shredded

4

green onions, chopped

1

package ramen noodles (Oriental flavor)

2 tablespoons

slivered almonds, sunflower seeds, or sesame seeds
Dressing (whisk or shake together):
1/2 cup

salad oil

3 Tablespoons

balsamic vinegar

3 Tablespoons

sugar

1 teaspoon

salt

1/2 teaspoon

pepper
Flavor packet from ramen noodles
---
Instructions
Toast the nuts or seeds in a warm oven for 6-8 minutes, watching carefully to prevent over-toasting. Cool.
Combine cabbage, carrots and onions.
Break up noodles and add to vegetables.
Shortly before serving, add nuts or seeds and the mixed dressing; toss well.
Prep Time:

15 Minutes

Cook Time:

10 Minutes

Category:

Salad

Method:

Tossed

Cuisine:

Asian
Keywords: ramen salad, ramen noodle coleslaw