Ramen and pho are two noodle soup dishes from Asia that are now wildly popular in the West. At a glance, they may appear alike, but ramen and pho are quite different. Served in broth with a variety of ingredients, the similarities between the two cuisines end there.
These two noodle soups originated in different countries and are influenced by distinct cultures. Additionally, the flavors, ingredients, and noodle styles are not the same. In fact, these two delicious noodle soups provide completely different culinary experiences. Let's examine the differences between ramen and pho and see if one is healthier than the other.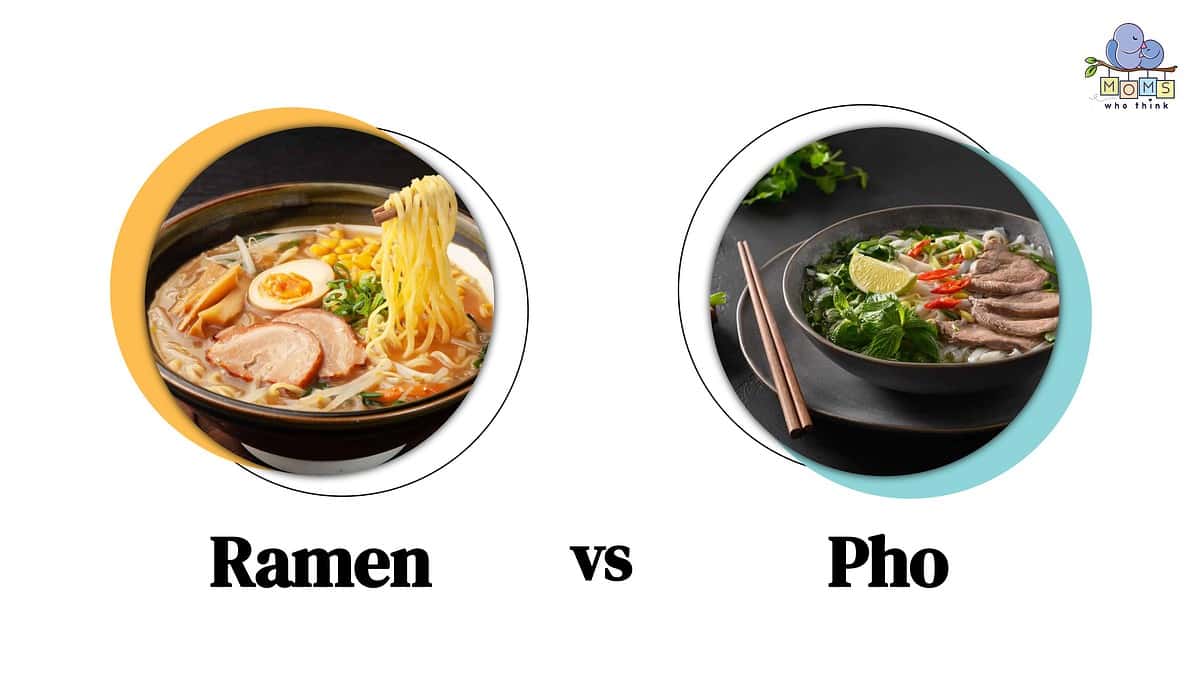 Ramen vs. Pho: How are they different?
While both ramen and pho are delicious Asian soups with noodles, they have quite a few differences. Let's take a look at how they differ:
The contrasting flavors and smells of these two soups are the most distinct difference. Pho is more aromatic, while ramen is milder and can be heartier or light in flavor.
Both soups come in different variations. However, ramen typically includes seaweed, bamboo shoots, and other favorites. In contrast, pho contains lime, cilantro, and mint to give it that distinct flavor.
Another key difference is that Ramen hails from Japan, and pho originated in Vietnam.
Here is table providing a brief overview of the two soups.
| | Ramen | Pho |
| --- | --- | --- |
| Country of origin | Japan | Vietnam |
| Type of noodles | Wheat noodles | Rice noodles |
| Style of noodles | Varying shape and thickness | Flat, delicate, translucent |
| Typical ingredients | Regional broths and a variety of toppings | Chicken or beef broth and your choice of beef cut |
| Flavor profile | Varies from hearty to light and delicate depending on toppings | Savory broth, aromatic spices, herbal toppings |
| Traditional toppings | Seaweed (Nori), corn, bamboo shoots, and green onions | Lime, cilantro, basil, mint, and bean sprouts |
Table showing the differences between ramen and pho
Ramen: A brief history
Around 400 CE, Chinese immigrants brought wheat noodles to Japan, where it eventually became known as ramen. In 1958, a businessperson named Momofuku Ando invented instant ramen, which directly contributed to ramen's increase in popularity, not only in Japan but throughout the world. In addition to ramen's versatility, it has the added benefits of being inexpensive and easy to make.
Ramen: Important things to know
Ramen's wheat-based noodles are hearty and more filling than Pho noodles. Additionally, ramen noodles vary in shape and length. They are thick, thin, wavy, or straight, depending on the kind you buy. Also, ramen noodles stay firm longer than pho noodles, which gives them a different texture.
Beef, chicken, or pork is the base of ramen broth. However, the broth is incredibly versatile. There are four main broth variations.
Tonkotsu Ramen – a thick, savory pork ramen dish.
Shoyu Ramen – a ramen broth made with soy, giving it a darker color.
Shio Ramen – a simple ramen broth flavored with a bit of salt.
Miso Ramen – a savory ramen broth made with miso, a fermented soybean paste.
For flavor, cooks add onions, miso, or soy sauce. Additionally, most cooks use pork or beef in their soup, especially the fattier cuts. Finally, additional toppings include green onions, seaweed, corn, sprouts, and boiled eggs.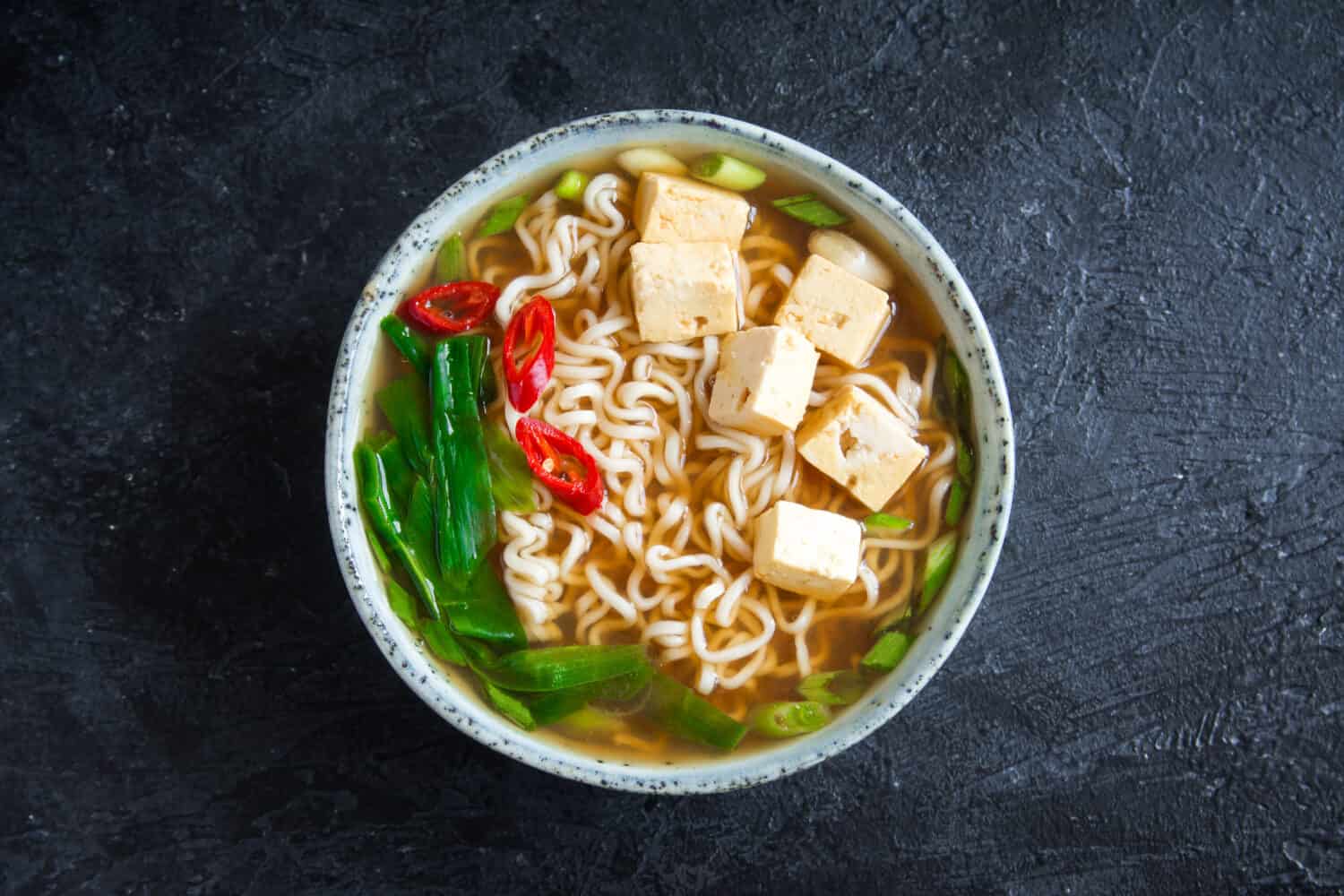 Pho: A brief history
Pho became popular in Vietnam in the 19th century when the country was under French rule. Before French colonialism, the consumption of beef was not common. Furthermore, the Chinese influence on Pho is evident in its use of rice noodles. The French made "pot-au-feu," which is a type of boiled meat and vegetable stew, that some culinary historians believe influenced pho.
Pho: Important things to know
Pho was first popularized by street vendors, particularly in North Vietnam. When it migrated to South Vietnam, two different regional styles of pho soup emerged.
Pho Bac (Northern Pho) has a clearer and lighter broth than that of South Vietnamese pho. Additionally, the noodles are thinner and wider than the noodles in southern pho. Since it is colder in the North, this version may have emerged to provide warmth.
Pho Nam (Southern Pho) has a richer and sweeter broth than the clear and lighter broth of pho bac. Moreover, star anise, cinnamon, cloves, and ginger add flavor to the soup. It also has generous amounts of bean sprouts, Thai basil, mint, and lime wedges.
While there are many variations of pho, they typically break down into three basic categories.
Pho bo (beef)
Pho ga (chicken)
Pho chay (vegetarian)
It is worth noting that purists believe that pho made with meat other than beef is not pho. When ordering traditional beef pho, there are specific names for each type.
Pho Chin – sliced, well-done cuts of beef or brisket
Pho Tai – thinly sliced rare tenderloin or ribeye
Pho Ve Don – untrimmed flank steak
Pho Gau – made with fatty brisket
Pho Gan – made with tendon
Pho Sach – made with tripe (stomach lining of a cow)
Pho Vien – made with meatballs
Finally, pho noodle soup has more greens than ramen. Cilantro, limes, jalapenos, basil, bean sprouts, and green chilis are popular toppings.
Ramen vs. Pho: Which is healthier?
Is ramen a healthier option than pho? Or vice versa? While both can be enjoyed as part of a balanced diet, there are several factors to consider, including the ingredients used, the cooking methods, and the portion sizes. Both ramen and pho have high sodium content, which is another nutritional factor to consider. Here is a general nutritional overview of both ramen and pho.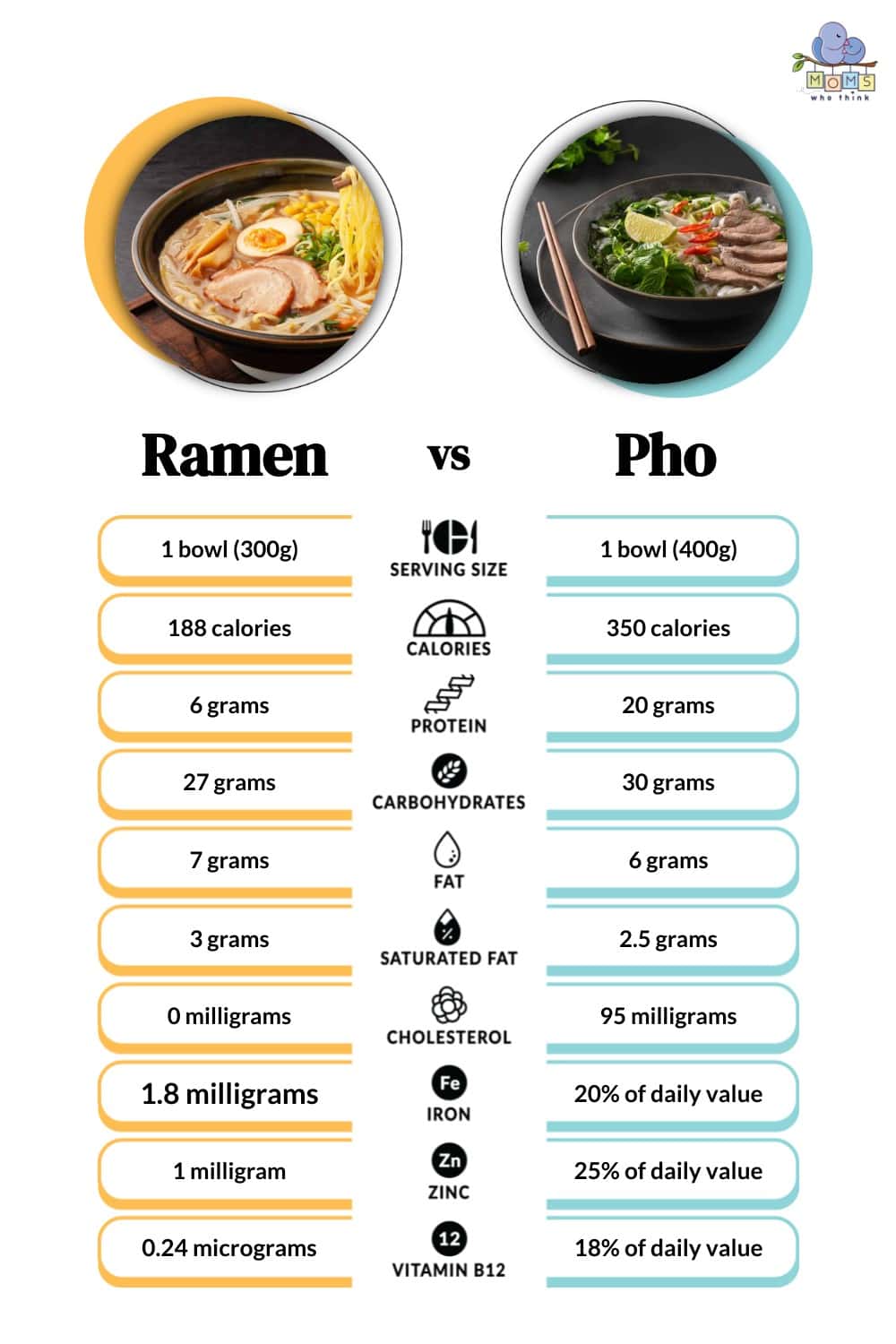 One Final Note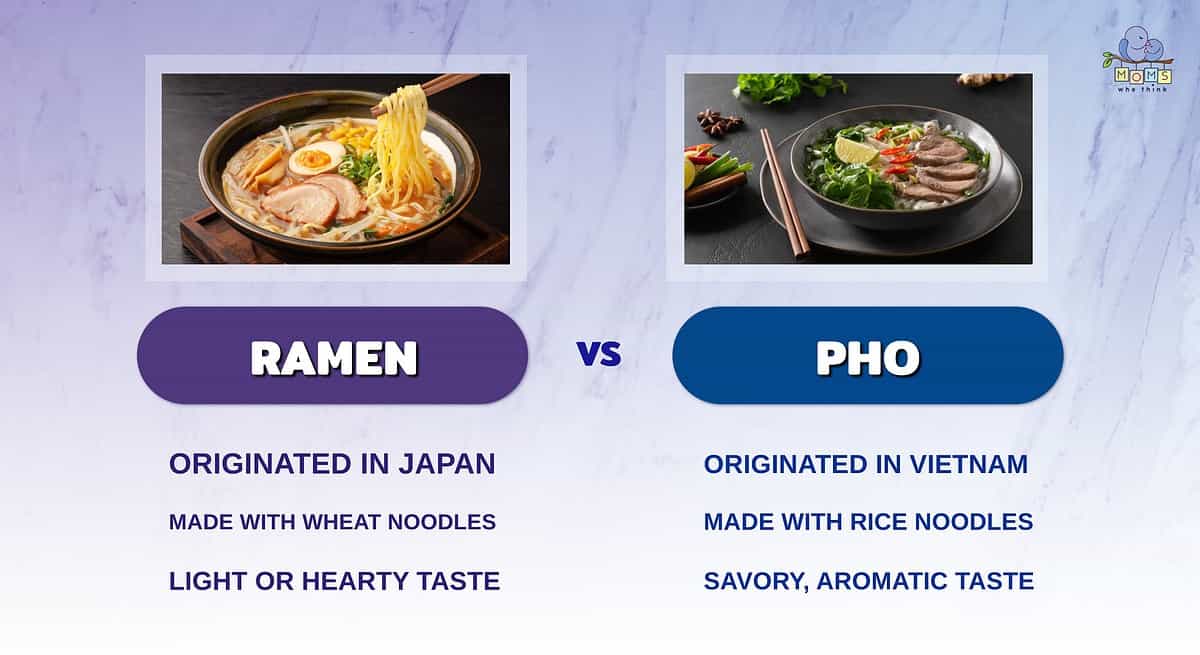 Ramen and pho are delicious noodle soups from Japan and Vietnam, respectively. Pho soup features rice noodles in a light broth with beef, while ramen features wheat noodles in a variety of broths, including chicken, beef, miso, or soy sauce. Ramen incorporates richer toppings like eggs, seaweed, and corn, while pho incorporates light herbs and spices like cilantro, bean sprouts, and lime.
Both soups can be enjoyed within a healthy diet. Be mindful of portion sizes, ingredient choices, and preparation methods. Additionally, load up on vegetables and opt for lighter broths when making them at home. If you take all these factors into consideration, it is possible to enjoy both delicious noodle soups without compromising your nutritional goals.
Print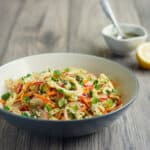 Ramen Noodle Salad
---
Author:

Total Time:

25 minutes
Description
This Oriental Coleslaw with almonds and seeds is loaded with spicy-sweet flavors and ramen for the perfect crunch!
---
1/2

head green cabbage, chopped

1/2

carrot, shredded

4

green onions, chopped

1

package ramen noodles (Oriental flavor)

2 tablespoons

slivered almonds, sunflower seeds, or sesame seeds
Dressing (whisk or shake together):
1/2

cup

salad oil

3 Tablespoons

balsamic vinegar

3 Tablespoons

sugar

1 teaspoon

salt

1/2 teaspoon

pepper
Flavor packet from ramen noodles
---
Instructions
Toast the nuts or seeds in a warm oven for 6-8 minutes, watching carefully to prevent over-toasting. Cool.
Combine cabbage, carrots and onions.
Break up noodles and add to vegetables.
Shortly before serving, add nuts or seeds and the mixed dressing; toss well.
Prep Time:

15 Minutes

Cook Time:

10 Minutes

Category:

Salad

Method:

Tossed

Cuisine:

Asain
Keywords: ramen salad, ramen noodle coleslaw
The image featured at the top of this post is ©sasazawa/Shutterstock.com.