Having trouble deciding on a soup base between bouillon vs. chicken broth? You've come to the right place. No matter the season, bouillon and chicken broth are preparation staples for lots of soups, stews, and noodle dishes. The flavor of chicken adds a nice creaminess to whatever you're making. It can complement and highlight the other flavors in the dish. No wonder it's such a fan favorite. But, what is the difference between bouillon vs. chicken broth? How do you know which one will be a better fit for your particular meal?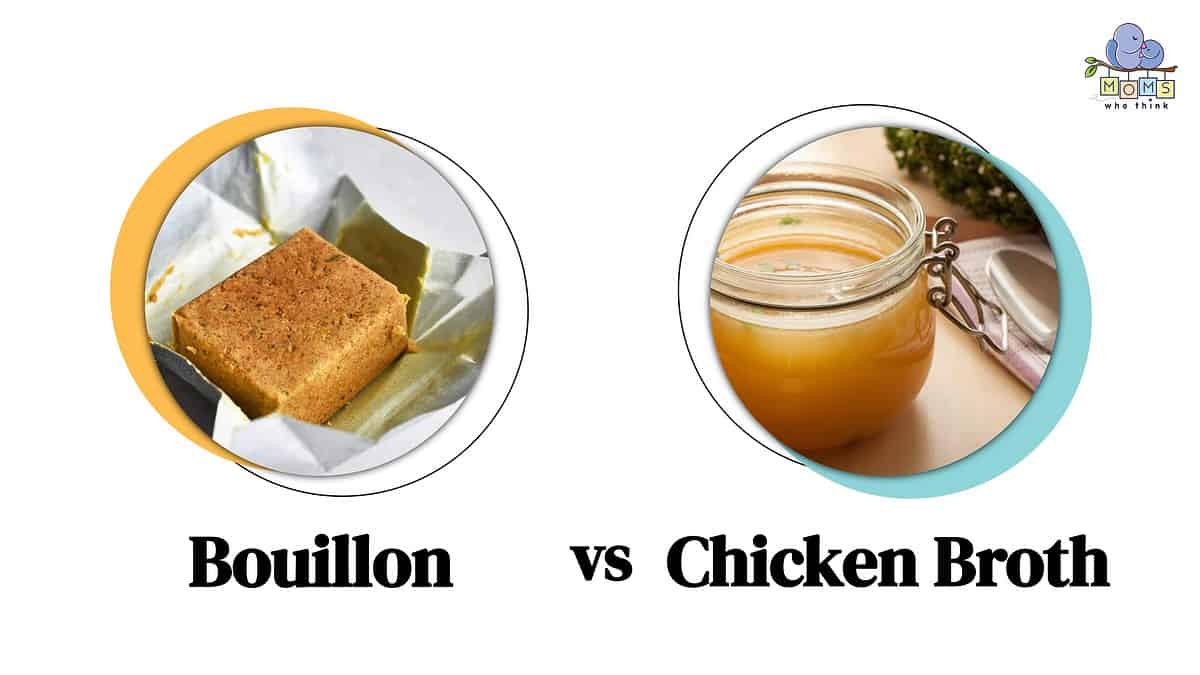 Keep on reading as we break down the significant differences. You'll learn about the classic bouillon recipe and the kinds of bouillon available in stores. We'll also take a look at the ingredients and process for making chicken broth. We'll talk about some of the history of each, and by the end of this, know definitively, which is which.
Bouillon vs. Chicken Broth: How Are They Different?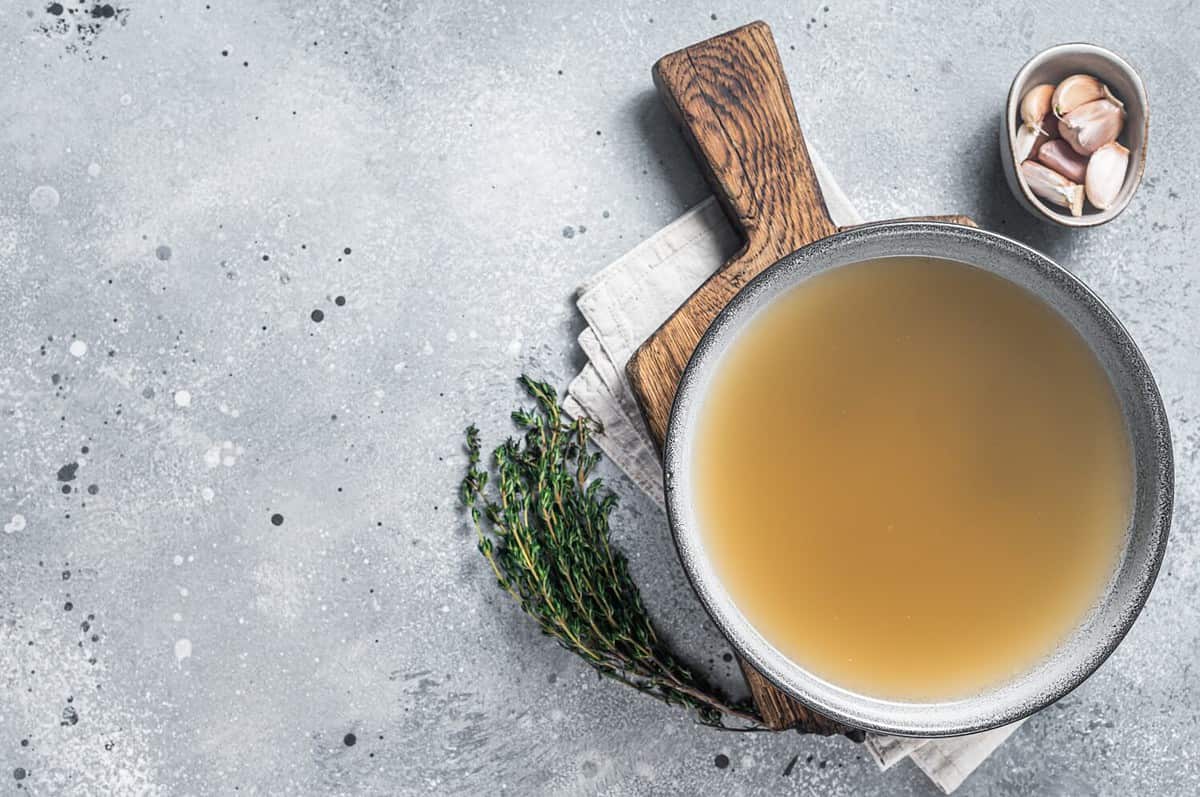 The most important difference between bouillon and chicken broth is that bouillon is sold in dehydrated cubes while chicken broth is a liquid you can typically find in cans or paper cartons. Because bouillon is packaged dehydrated, it'll need to be dissolved in hot water.
While bouillon is technically just chicken broth that's been dehydrated, it can have some differences. For example, bouillon often has higher sodium content and a more concentrated flavor.
Fresh chicken broth on the other hand may be garnished with all kinds of ingredients that may not stay preserved in powdered form. Making chicken broth can take longer to make in terms of preparing the chicken and simmering the broth. Bouillon often comes in a jar where it can be put directly into whatever you want to add chicken flavoring to.
What is Bouillon?
Bouillon translated from French means broth. However, bouillon can come in many concentrated forms. There are bouillon cubes and bouillon powders, even bouillon pastes. The FDA also characterizes a more granular form of the dehydrated stock as "Granulated Chicken Bouillon Cubes." There are lots of kinds of bouillon, from vegetable to beef, pork to chicken. So, while the name might be misleading in the sense that bouillon is not chicken broth, once it is added to hot water, it does become a form of chicken broth.
History and Origin
Commercially, bouillon was first marketed by three companies, Knorr, Maggi, and Oxo. The original bouillon recipe can be traced to both a German chemist named Justus von Liebig and a Japanese chemist named Ikeda Kikunae. Liebig worked on turning beef meat into an extract form, while Kikunae was inspired by miso recipes to find that "umami" flavor concentrate. Leibig would produce this liquid bouillon with the company Oxo. Around the same time period, the Swiss company Maggi launched its own line of dried soups and dehydrated foods. By 1910, bouillon in liquid and cube form was marketed commercially and thus the bouillon industry was born (via Serious Eats).
How to Make Bouillon
The easiest way to make bouillon broth is to get the handy pre-packaged form from the store. Popular bouillon brands include Better Than Bouillon, Wyler's Chicken Cubes, Kallø Organic Chicken Cubes, and the classic Knorr Bouillon Paste, just to name a few.
However, you can make it at home without too much trouble. This homemade version will be made without meat unless you can find a pre-dehydrated version of the meat you want to add. The major ingredient of this homemade bouillon is nutritional yeast, salt, herbs, and spices. Some people add in coconut powder or include roasted seaweed, mushroom powder, or a few chiles for increased spice levels! These ingredients get pulsed together to form a powder that can be added to hot water and thus formed into a broth. At this point feel free to add fresh ingredients to your broth.
Popular Uses
Bouillon is a great base for hearty soups, stews, curries, and noodle dishes. It's great in batters for deep-frying because it adds so much flavor to the crust of the meat as well as in homemade sauces. Whether you're using homemade bouillon or storebought bouillon, there are lots of applications and uses (via Food and Wine Magazine).
What is Chicken Broth?
Chicken broth is made by simmering freshly cooked chicken meat in hot water. You can add spices and herbs, veggies, chicken meat, and whatever else you choose. These will help in flavoring your broth however is best for your dietary needs and preferences. Chicken broth is different than chicken stock because the stock is simmered from the bones of the chicken and has a very long simmering time in which the collagen is pulled from the bones and into the stock. It can be used in all kinds of soups, stews, noodle dishes, and more, to add base flavoring.
History and Origin
While chickens may have been originally used only for their meat and their eggs, early civilizations strived to use all parts of the chicken by boiling the tougher meat at the bones. There is evidence of chicken broth in ancient Asian recipes. Culturally, broth can be considered therapeutic and easy to digest. Chicken broth variations have appeared in mentions during the middle ages, throughout the Mediterranean and parts of Western Europe. Persian and Jewish philosophers wrote about the healing benefits of chicken broth, a belief that has subsisted into modern-day cooking, as its frequently served in hospitals and when people aren't feeling well. Chicken soup recipes have been around in America since the 1820s and chicken soup continues to be a dietary staple.
How to Make Chicken Broth
There are many ways to make chicken broth, but we'll go with a standard option for the basics. The simple way involves cutting the raw meat and simmering it with veggies, seasonings, spices, and herbs. This mixture can be simmered for up to five hours, but you want to be sure you don't overcook the chicken so it doesn't get dehydrated by the mixture. It can be added back in later.
Bouillon vs. Chicken Broth: Which is Healthier (Calories, Fat, Vitamins)
Bouillon sometimes gets a bad rap because commercial brands can contain a lot of sodium and MSG. This is because it is a concentrate and should be used in small portions. This is also a reason that some people prefer powdered or paste bouillon so they can better control the added portion. Healthline breaks down the nutritional profile of bouillon as follows. In one cup of chicken bouillon combined with water, there are about 10 calories, 0.5 grams of fat, 1 gram of carbohydrates, and 1 gram of protein. It contains a high sodium content as well as trace elements of copper, selenium, magnesium, calcium, and riboflavin.
100 grams of chicken broth, on the other hand, has variable nutritional levels depending on how it is made. The USDA breaks down chicken broth as follows. There are around 0.64 grams of protein, 0.44 grams of carbohydrates, and 0.43 grams of sugar. Chicken broth contains vitamins B, K, E, A, and C, as well as amounts of copper, manganese, selenium, niacin, retinol, choline, and calcium. So many of these are dependent upon how the broth is made and what exactly is added.
Possible Alternatives To Bouillon or Chicken Broth
We mentioned some vegetable-based homemade bouillons above, but there are also pre-packaged vegetable bouillons available at the store. Add coconut powder to make your veggie-based broth creamier. There are lots of ways to modify chicken broth or bullion to fit the needs of your meal!
Are Bouillon and Chicken Broth the Same Thing?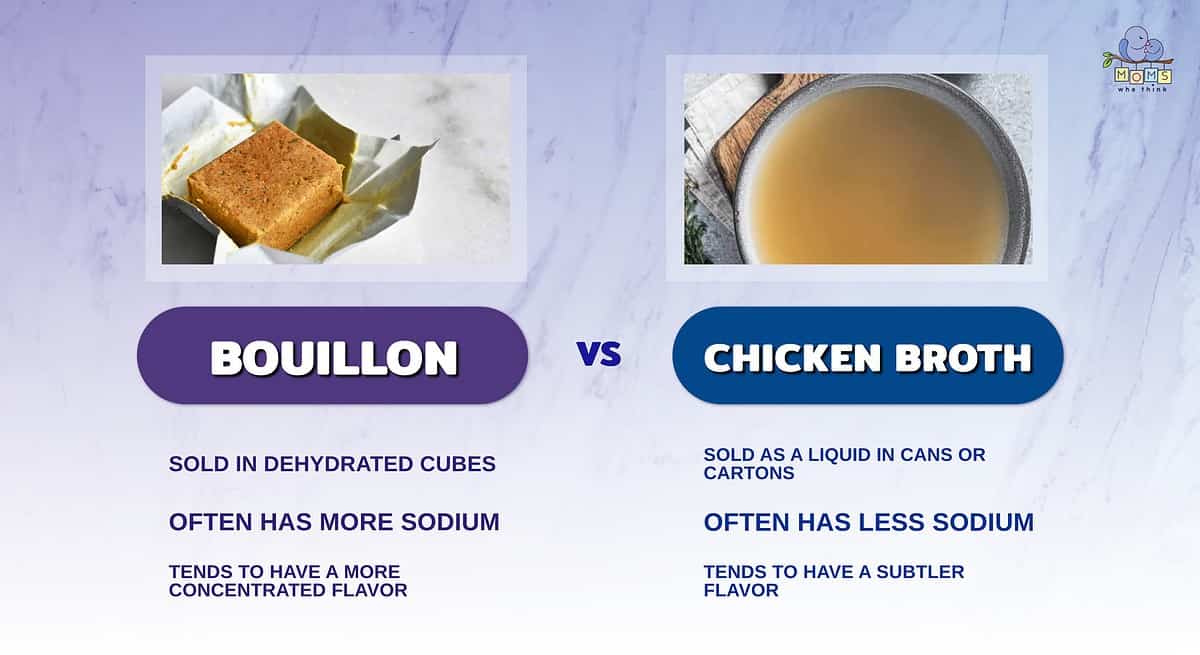 Bouillon is sold as dehydrated cubes, while chicken broth is sold as a liquid in cans or cartons.
One important distinction between bouillon and chicken broth is that bouillon tends to have more sodium. If you're on a low sodium diet, it may be wise to stick to chicken broth.
Bouillon tends to have a more concentrated flavor than chicken broth. This impacts how much of each you should use in a recipe.
In the grand debate of bouillon vs. chicken broth, bouillon is a dehydrated variation of chicken broth. The two can be used as a base for many dishes and bring a comforting, flavorful taste to these meals. While bouillon is a concentrated form, chicken broth is a fresh version of the ingredients that go into bouillon.
Print
Slow-cooked Chicken Supper
---
Author:

Yield:

4

servings

1

x
4 medium carrots, cut into 2 inch pieces
1 medium onion, chopped
1 celery rib, cut into 2 inch pieces
2 cups cut fresh green beans (2 inch pieces)
5 small red potatoes, quartered
1 broiler/fryer chicken (3 to 3½ pounds), cut up
4 bacon strips, cooked and crumbled
1½ cups hot water
2 teaspoons chicken bouillon granules
1 teaspoon salt
½ teaspoon dried thyme
½ teaspoon dried basil
Pinch pepper
---
Instructions
1. In a 5 qt. slow cooker, layer the first seven Ingredients: in order listed.
2. In a small bowl, combine the water, bouillon, salt, thyme, basil, and pepper; pour over the top. Do not stir.
3. Cover and cook on low for 6 to 8 hours or until vegetables are tender and chicken juices run clear.
4. Remove chicken and vegetables. Thicken cooking juices for gravy if desired.
Nutrition
Serving Size:

1 serving

Calories:

510

Sodium:

1,262 mg

Fat:

25g

Saturated Fat:

7g

Carbohydrates:

24g

Fiber:

6g

Protein:

47g

Cholesterol:

137mg
The image featured at the top of this post is ©Ahanov Michael/Shutterstock.com.