Have you thought about the differences between tomato bisque and soup? Tomato bisque is thicker than most soups and is usually a combination of tomatoes, water, chicken broth, or vegetable broth with heavy whipping cream, Greek yogurt, or pureed shellfish. There is usually no dairy in soup, which makes it thinner. Though, there are always exceptions to the rule.
In this article, we will compare tomato bisque and the base form of soup and discuss their origin, similarities, and differences.
Tomato Bisque vs. Soup: What Is the Difference?
What is the difference? Though they are both liquid based, there are differences between the two. Each has delicious flavors and different consistency due to their ingredients and the preparation that goes into each. Tomato bisque is creamer, silkier, and rich in flavor.
Where Did Bisque Originate?
Bisque itself has its origin in France. It has a strong flavor as a creamy and tasty French soup, with added pureed crustaceans such as shrimp, lobster, or crayfish.
Where Did Soup Originate?
The first published tomato soup was created by a woman named Eliza Leslie, who was born in Philadelphia, PA, in 1787. She was known as Miss Leslie and became a famous American cookbook author in the nineteenth century.
Her book Directions for Cookery sold at least 150,000 copies, making it the most popular cookbook of the century.
Soup generally has a liquid consistency. The dish dates back to a Hebrew recipe from as early as 6000 BC that had meat and vegetables. This is considered the oldest recipe for soup.
In ancient Egypt, Greece, and Rome, barley and vegetables were common in soups, which were a staple food for the underprivileged classes.
In China and most of Asia, soup was and still is a staple diet food consisting of meat, fish, and vegetables with added stock variants.
China also incorporated a technique of simmering the soup, which we still use today. Simmering allows the flavors to merge and emulsify.
Tomato bisque and soup are both excellent cuisine dishes that have some similarities. Each of their histories is vibrant and fascinating.
What is in Tomato Bisque?
Your tomato bisque could include the following:
A substantial amount of cream.
A broth made from shells.
A thickening made from rice.
In addition, the meat is prepared and used as a topping for the tomato bisque.
What Are the Similarities Between Tomato Bisque and Soup?
Both tomato bisque and soup have similarities regarding the ingredients used to prepare these dishes.
Generally speaking, bisques are pureed. Pureed beef and vegetables can be used in soups and bisques, which are similar.
Different Types of Soup
Spice up alternative soup recipes by adding a thickening cream to give it that bisque texture and taste.
Chicken Noodle soup is a comfort soup and super easy to make. It tastes fabulous and is light on your stomach when you don't feel well, as it is rich in nutrients and aids in healing.
Chicken is an excellent and healthy protein source packed with zinc and other nutrients to help improve your body's immune system, and by adding the noodles to provide carbohydrates, you are getting a complete meal.
Meatball soup – Yup, meatball soup is a real thing. It is made with tomato broth, noodles, and Italian Pork Meatballs. It is a hearty tomato soup that the whole family can enjoy.
If you are looking for a vegetarian soup, a Coconut Lentil Curry soup is perfect. It's creamy, rich, loaded with veggies, and can be made in under 30 minutes. Since lentils are high in fiber, iron, and potassium, they are fantastic for controlling cholesterol and blood pressure. Besides that, they include vitamin B1, which helps improve a healthy heartbeat.
Chinese Dumpling soup, or Jiaozi, is famous in East Asia and other Western parts of the world. If you can boil water, then you can make this soup. It has bold flavors of soy sauce, ginger, and garlic and tastes magnificent.
Butternut soup is another all-time favorite. Butternut contains antioxidants such as beta-carotene, vitamin C, and vitamin E. Antioxidants have been found to aid in preventing and slowing inflammation, which may lower the chance of developing a number of chronic diseases. It's critical to consume enough potassium to sustain healthy blood.
What is Tomato Bisque?
Rich tomato flavors and a smooth, creamy texture define the tomato bisque, a creamy take on traditional tomato soup. Serve it with a delicious gooey cheesy sandwich, salty croutons, or shaved Parmesan cheese on top. This comforting soup is ideal all year round.
What is Soup?
A soup is a flavorful and nutritious liquid food served at the start of a meal. Soup initially originated from sop, or sup, which referred to the sliced bread that the liquid broth was poured onto. Unstrained vegetable, meat, or fish soups garnished with bread, pasta, or rice were classified as soup.
Classification of Soup
Thin soup is one of the most common types of soup.
Thick soups have pureed vegetables.
Consommé includes meat, herbs, and spices.
Chowder is a wholesome soup with a tomato, eggplant, or dairy base thickened with potatoes.
Cold soup is a raw vegetable soup. Furthermore, chilled cucumber soup is a favorite.
Each of these has its own unique and delicious flavor.
Seasoning and Serving
You can add your personal touch by seasoning your tomato bisque and soup. Basil, thyme, oregano, and garlic are popular herbs and spices that enhance the flavor. Serve with croutons, bread, or crackers for a satisfying meal.
Conclusion and Final Thoughts on Tomato Bisque and Soup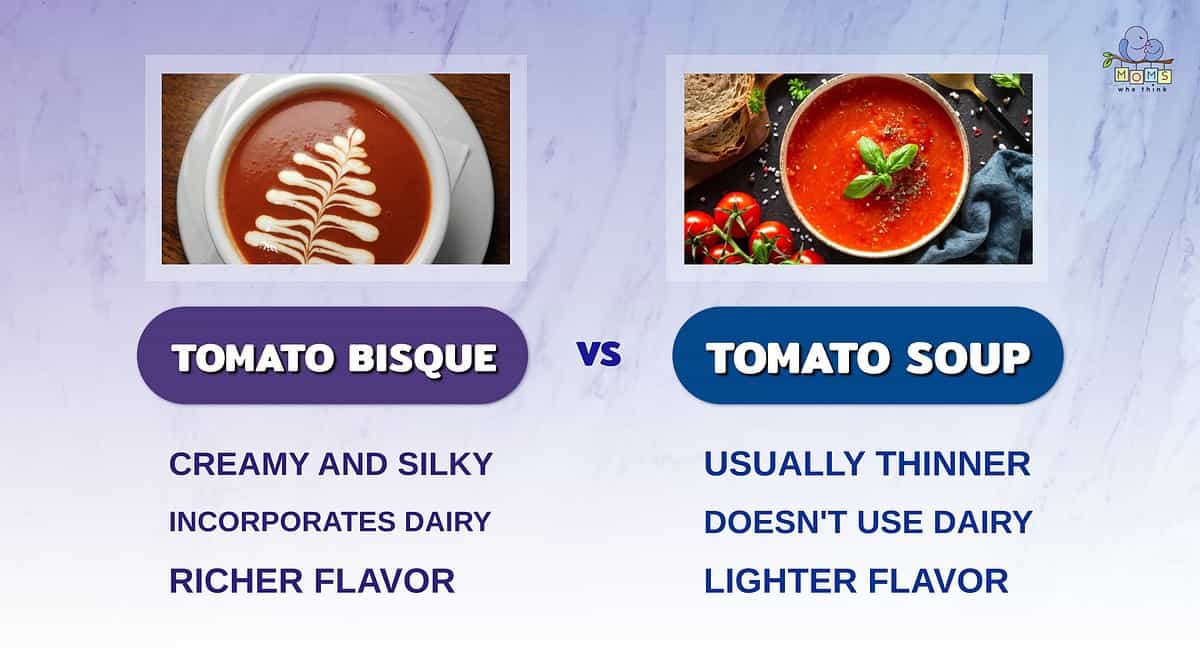 Tomato bisque is creamier and silkier than tomato soup. It definitely makes for a hearty and filling meal!
Dairy is a major component of tomato bisque, while it rarely makes an appearance in tomato soup. If you or someone in your family is lactose intolerant, it's worth keeping this difference in mind.
Because of the use of dairy, tomato bisque has a richer flavor. Tomato soup is great if you're looking for a light and delicate meal.
Tomato bisque and soup are classic comfort foods that are easy to make and can be enjoyed throughout the year. You can create a satisfying and nutritious meal that everyone will enjoy by choosing the right tomatoes, blending and straining, and adding your personal touch to season and serve.
Whether you try a classic, roasted, or lentil tomato soup recipe, you can't go wrong with this timeless classic.
In conclusion, tomato bisque and soup are both flavorful and highly nutritious dishes that offer a range of health benefits. By incorporating these dishes into your diet, you can enjoy their delicious taste while reaping their nutritional rewards. With the tips and recipes in this article, you can easily prepare and enjoy these dishes at home for a nutritious and satisfying meal.
Try these tasty dishes for a quick weekday meal:
Print
Tomato Soup
---
4 cups

chopped fresh tomatoes

2 cups

chicken broth

1

onion sliced

2 tablespoons

butter

4

cloves garlic

2 tablespoons

all-purpose flour

1 teaspoon

salt

2 teaspoons

white sugar, or to taste
---
Instructions
Gather all the ingredients.

Combine the tomatoes, slices of onion, a few garlic cloves, and chicken broth in a stockpot over moderate heat. To mix the flavors, bring it to a gentle boil and cook for 20 minutes.

Remove it from the heat and pour the mixture into a big bowl or pan after passing it through a blender or food processor.

Melt the butter in the now-empty stockpot over medium heat. Make a roux by stirring in the flour and heating it until it reaches a medium brown color.

Stir in the remaining tomato mixture after gradually whisking in small amounts to prevent lumps. Add salt and sugar, and season to taste.

Serve hot or cold with your desired bread or croutons.

Storing tomato soup: Refrigerate your homemade tomato soup in an airtight container. The soup will keep in the refrigerator for 3 – 4 days, or you can freeze it for up to 6 months.
The image featured at the top of this post is ©Toasted Pictures/Shutterstock.com.