People frequently offer soup and chowder in restaurants, homes, and other eating establishments. They are two different dishes that vary from one another.
We will explore the differences between chowder vs. soup, their ingredients, and their cultural significance. Additionally, we'll compare their nutritional value and help you decide which one to choose depending on your taste preferences and dietary needs.
Chowder vs. Soup: What Is the Difference?
Regarding chowder and soup, the texture and consistency are the main differences. Chowder is known for its thick, creamy texture. Like a stew, it contains chunks of vegetables, particularly potatoes, meat, or seafood. At the same time, soup is known for being lighter and brothy.
Did you know as people moved to North America, particularly New England, chowder became a staple dish made with local seafood like clams and lobster? You can find regional varieties like Manhattan clam chowder or Cornish fish chowder. Chowder is a beloved comfort food that has been enjoyed for centuries, and it's no wonder considering its rich history and delicious taste.
What Is Soup?
Soup has been a staple dish for thousands of years, with various cuisines and cultures creating unique versions. The origins of soup can be traced back to ancient civilizations, where cooking in large pots over an open flame was common practice.
Farmers would gather ingredients such as vegetables, meat, grains, herbs, and spices from the surrounding areas, like wild thyme or mint. These ingredients were then cooked together in water or broth to create a hearty and nourishing meal for the family.
Soup gained popularity due to its ability to stretch ingredients further and feed many people simultaneously while using minimal resources. Over time, soup evolved across different cultures, adding new elements to create unique flavors.
What Is Chowder?
A chowder is a lot more than a simple soup. It is a filling bowl of creamy delight that warms the stomach and the palate. Each region adds its own twist to this traditional dish, which is typically cooked with seafood or vegetables and thickened with potatoes or cream.
How Long Does Chowder Take to Prepare?
Well, that's a good question! The exact answer would depend on the specific recipe and ingredients used to make the chowder. However, most chowders generally take 30 minutes to an hour to prepare.
The time can vary based on factors such as how quickly you can chop vegetables or cook meat, how long the chowder needs to simmer for flavors to meld together, and whether or not any unique steps are required.
Some homemade chowders may require overnight soaking of beans or slow cooking to achieve optimal flavor and texture. Ultimately, it all depends on your personal preferences and cooking skills – but regardless of the specifics, there's nothing quite like a bowl of warm chowder on a chilly day!
How Long Does Soup Take to Prepare?
It depends on the type of soup you're making. If you're throwing together a simple tomato soup or chicken noodle soup, it could be ready in as little as 30 minutes. However, if you're making a heartier soup like beef stew or chili, it may take a couple of hours for all the flavors to meld together just right. Most homemade soups can be made within an hour or two if all your ingredients are prepped and ready to go. So why not give it a shot? A warm bowl of homemade soup on a chilly day is delicious.
Can You Substitute Chowder for Soup?
Depending on your preference, substituting chowder for soup might work in some cases but not others. For example, if you're making a recipe for clam chowder and all you have on hand is vegetable soup, the taste will likely be very different than intended. However, if you want to make a lighter version of a chowder using other ingredients like chicken or beef broth instead of cream-based products, that could serve as an acceptable substitute. Ultimately it comes down to personal preference and what ingredients you have on hand in your pantry.
Nutritional Values Chowder vs. Soup
The table below compares the nutritional values of corn chowder vs. vegetable soup based on a 100g serving.
| Nutritional Value | Chowder | Soup |
| --- | --- | --- |
| Calories | 99 | 42 |
| Total fat | 6g | 1.9g |
| Cholesterol | 11g | 0g |
| Sodium | 299mg | 249g |
| Total Carbohydrates | 8g | 5.13g |
| Dietary Fibre | 0.9g | 0.9g |
| Protein | 3.1g | 1.76g |
In Conclusion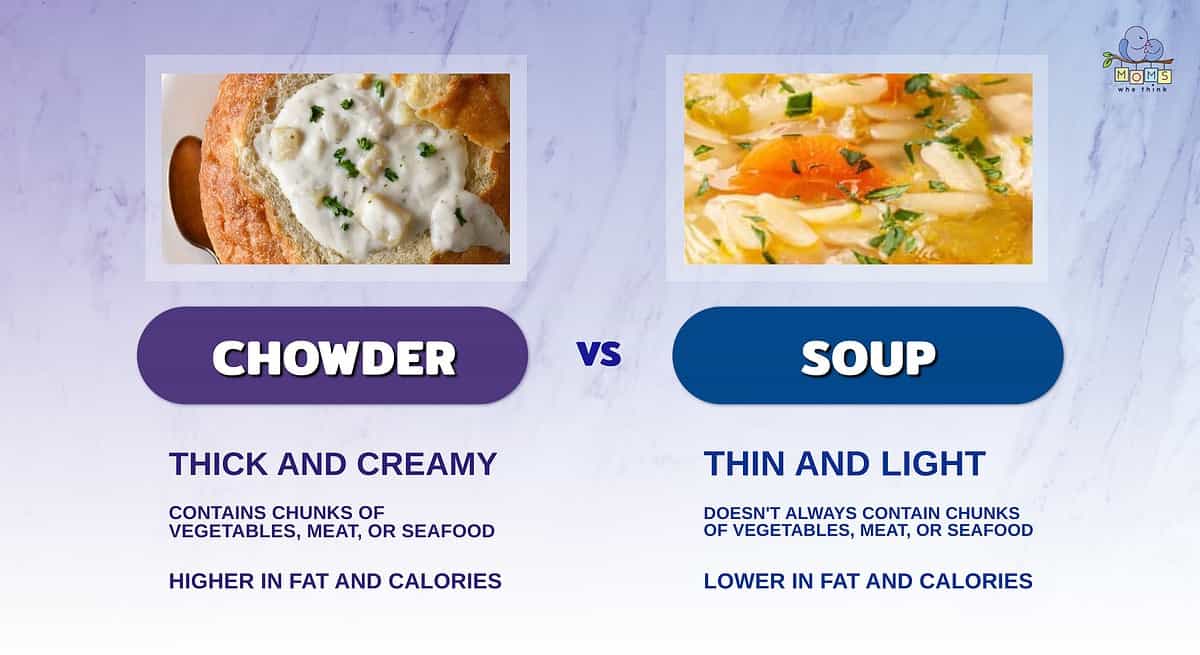 Chowder's consistency makes it perfect for throwing chunks of vegetables, meat, or seafood into. While soup can also contain chunks of food, it isn't quite as common.
Unsurprisingly, chowder is higher in fat and calories compared to soup. If you're looking to eat healthy, soup is definitely the better option. Some may find chowder more filling, however.
Soup has a light and thin consistency most of the time; some soups can be on the thicker side, but none are as thick as chowder!
After all, the difference between chowder and soup comes down to one major factor: dairy. Chowders always contain milk or cream, which gives them a thick and creamy consistency. Soups, on the other hand, may or may not include dairy, depending on the recipe.
If you're looking for a hearty and healthy soup that's perfect for vegans, then vegetable chowder is an excellent choice. Filled with colorful vegetables like potatoes, carrots, corn, and onions, this soup is packed with nutrients and flavor.
Chowders are typically chunkier than soups, with larger pieces of vegetables or meat mixed in. Chowders and soups can be made with various ingredients, from seafood to vegetables to meat. Ultimately, it comes down to personal preference – whether you prefer a hearty and creamy chowder or a lighter and brothier soup is entirely up to you!
Chowder and Soup Recipes
Print
Cabbage Soup
---
6 Large Green Onions
2 Green Peppers
1-2 Cans Diced Tomatoes
1 Bunch Celery
1 Package Lipton Onion Soup Mix
1-2 Cubes of Bouillon (if desired)
1 head cabbage
---
Instructions
1. Cut all vegetables into small pieces and cover with water.
2. Bring to a hard boil and boil for 10 minutes. Reduce to simmer and continue cooking until vegetables are tender.
3. Season to taste with salt, pepper, oregano, parsley, etc.
The image featured at the top of this post is ©Chatham172/Shutterstock.com.