If there's one thing we can count on, it's that French and Italian food is pretty incredible. Take Bouillabaisse vs. Cioppino, for instance. Both soups feature a melange of seafood. They also include the flavors of onion, tomato, and flavorful herbs, but there are some differences worth knowing.
While bouillabaisse is fish broth-based, the base of cioppino is tomato broth. Bouillabaisse also features a "Rouille" sauce. This sauce is made from egg yolk (optional), with olive oil, garlic, saffron, cayenne pepper, and breadcrumbs. This is spread on grilled bread and dipped into the fish-based stew. The spices between the two also vary slightly, giving bouillabaisse vs. cioppino unique flavorings. So, what do the differences really come down to? The answer is the origin of the stew, French or Italian, the flavors, related to the spices and sauces, and the base of the broth, fish, or tomato. Let's take a deeper dive into these unique seafood stew recipes.
In this post, you'll learn about the comparisons of bouillabaisse vs. cioppino. We'll discuss the history of these dishes, as well as how they got their name. From seafood ingredients to particular spices, you'll get the rundown of what you'll need to make these wonderful dishes. By the end of this, you'll be a pro in spotting how bouillabaisse differs from its regional cousin cioppin. And maybe you'll know which one you'd like to give a try first!
Bouillabaisse vs. Cioppino: What is the Difference?
The major differences between bouillabaisse vs. cioppino come down to the flavoring ingredients, the base of the stew, and the region of Europe it hails from. Bouillabaisse has a fish-broth base and comes from France. This stew features spices like saffron, orange zest, and fennel seeds. It is served alongside a "rouille" sauce typically made with egg yolk, garlic, saffron, cayenne pepper, olive oil, and breadcrumbs. Cioppino is a tomato broth-based stew that comes from Italy. Alongside its seafood components, Ciopinno includes onions, garlic, more tomatoes, fennel, other herbs, olive oil, and wine (via Harbor Fish).
What is Bouillabaisse?
Bouillabaisse is a fish-broth-based French seafood stew. It features all kinds of sea creatures. These include fish heads, peeled shrimp, wild cod (which can be substituted for halibut or sole,) mussels, or clams. The stew is flavored with saffron, orange zest, and fennel seeds. There is also a rouille sauce consisting of egg yolk (sometimes), spices, breadcrumbs, and olive oil. This fabulous savory blend is served on grilled bread alongside the savory stew.
History and Origin of Bouillabaisse
The city of Marseille, along the French coast, is famous for its bouillabaisse. The soup was originally made from scraps. Think of all the leftovers on fishing boats that could be cobbled together to form a kind of stew. These days it can run a high price given the number of seafood ingredients, and it's typically made with special cuts instead of fish leftovers. In 1980, the city put together a charter that outlined the exact ingredients needed for a true bouillabaisse soup. It is commonly served along with grilled bread, or croutons dipped in the iconic "rouille" sauce that no true French bouillabaisse stew would be caught dead without (via NPR).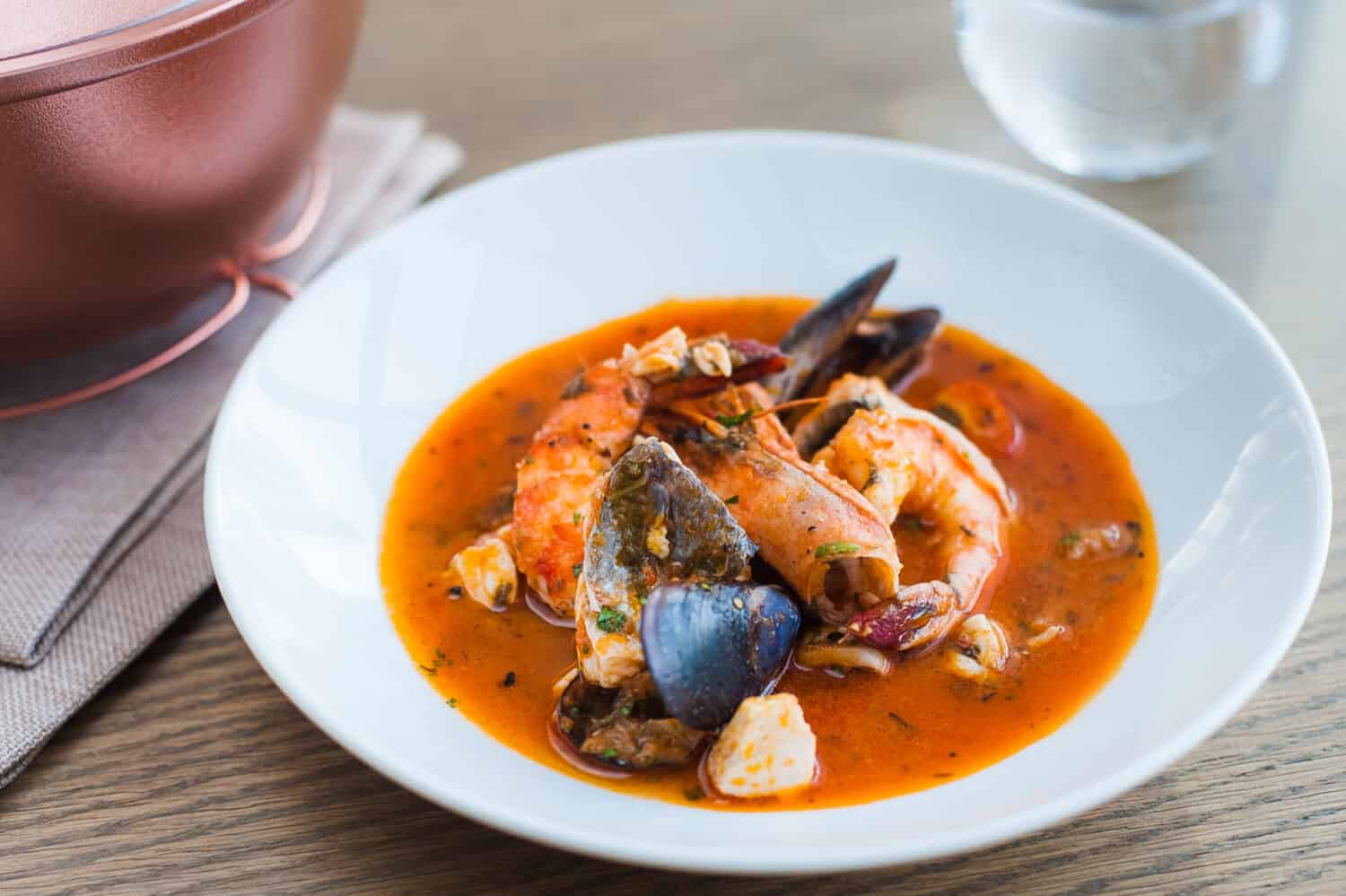 How Bouillabaisse is Made
The Ingredients
A popular bouillabaisse recipe belongs to the iconic Julia Child. Child worked to make French cooking accessible to Americans and published a famous cookbook that features numerous traditional recipes. Her bouillabaisse recipe serves about 10 people. For ingredients, you'll need olive oil, chopped onion, leek, fennel, and mashed garlic cloves. It calls for 2-3 ripened tomatoes, also chopped, and 2 quarts of water for the broth. You'll need fish heads, along with the bones and trimmings, shrimp shells, peeled shrimp, and your choice of wild cod, halibut, or sole, as well as de-bearded mussels, or clams. Spices include thyme, fennel, basil, parsley, saffron, and sea salt. Child's rouille sauce doesn't call for an egg, but many traditional recipes use one. You'll also need roasted, peeled red pepper, cayenne, pepper, lemon juice, a garlic clove, breadcrumbs (or finely chopped almonds), parsley, sea salt, and EVOO.
The Cooking Process
Heat a pot over medium heat, add half of your chopped ingredients, and cook until softened. Next, you'll add in the garlic, tomatoes, water, spices, salt, and your fish bones, heads, shrimp shells, and trimmings as well. This mixture will need to simmer, so you can reduce the heat and cook it for 30 minutes. Next, strain the broth and discard the larger fish and seafood fragments. The broth can go back into the pot where you'll add the remainder of your chopped vegetables, alongside your remaining shrimp which should be cooked until they're pink. Add in the fish, and shellfish, and simmer the whole mixture until the clams/mussels are open. Add more spices as you'd like, and top with minced parsley in the serving bowl.
The rouille sauce is made up of blended red bell pepper, chili or cayenne pepper, lemon juice, breadcrumbs, parsley, salt, and garlic. Add in olive oil until it becomes a paste. Toast some bread or make some croutons and dip them in the rouille sauce, to be served alongside your bouillabaisse.
What is Cioppino? 
Cioppino is a tomato-broth-based seafood stew that hails from Italy. Similarly to Bouillabaisse, the mixture featured all kinds of leftover fish and seafood scraps, cobbled together by fishermen looking to make a meal with what they had. It features a lot of the same ingredients as bouillabaisse, but also items like crab, and scallops, as well as cubed cod fillets (via Allrecipes).
History and Origin of Cioppino
The Italian tomato stew has ties to the Geonese stew known as cioppin, a similar seafood concoction. This seafood melange was a huge hit on the docks of San Francisco in the 19th century, where a lot of Italian dockworkers and fishermen would enjoy it after their long day out on the boats. It featured simple ingredients, and lots of leftovers along with easy additions like olive oil, and wine. Historians theorize that the name came from the concept of "chipping in," as in whatever there is to eat would go into the crockpot. But there's a good chance it's related to the Northern Italian work "ciuppon" which translates to the creation of soup from fish (via Whats Cooking America)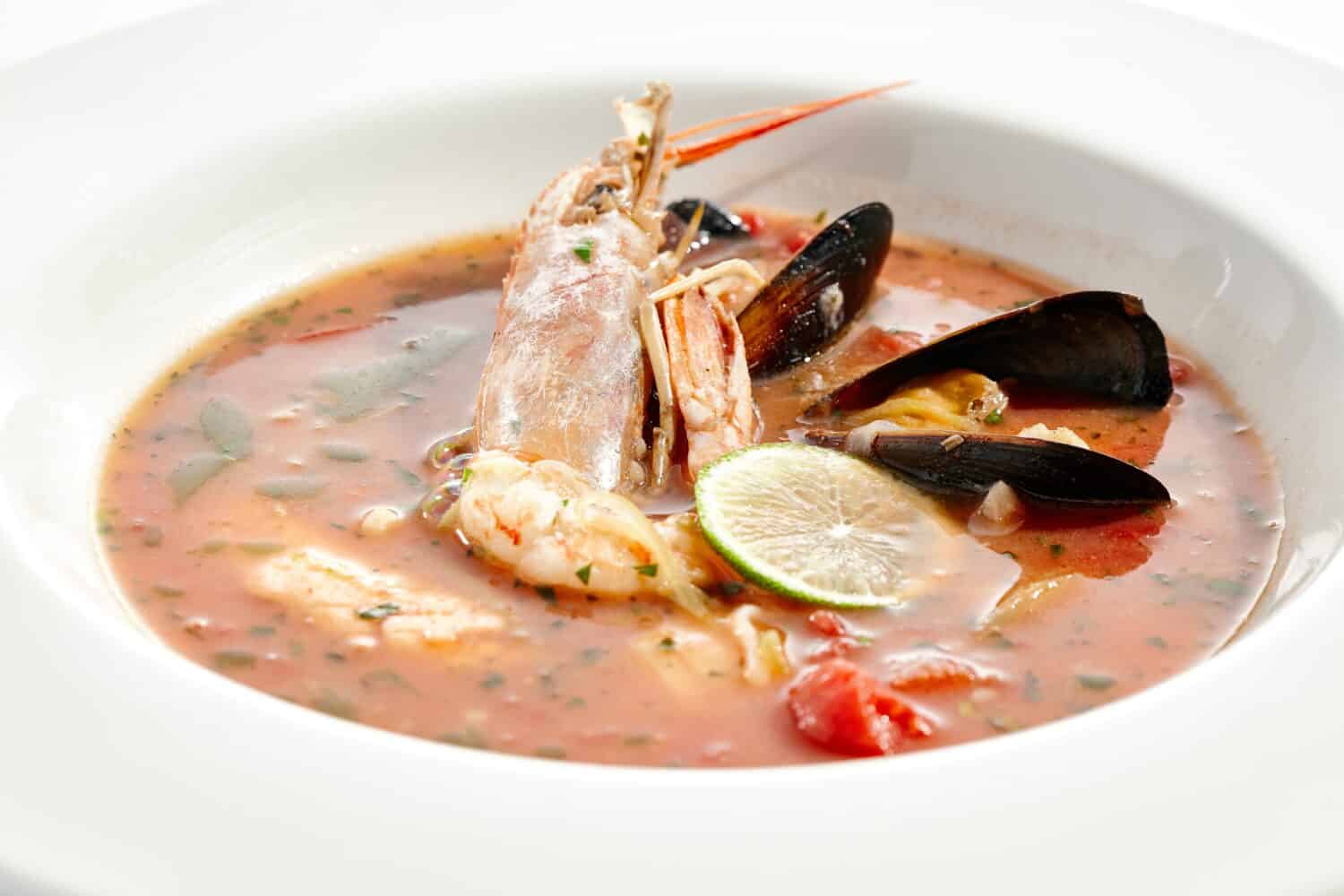 How Cioppino is Made
Ingredients
For your homemade cioppino, you'll need butter, chopped onions, chopped parsley, minced garlic, 2 cans of stewed tomatoes, 2 cans of chicken broth, white wine, and water. Spices include dried basil, bay leaves, thyme, and oregano. For the seafood ingredients, you'll need cubed cod filets, peeled shrimp, bay scallops, clams, debearded mussels, clams, and crab meat.
The Cooking Process
Use a large stock pot over medium heat to melt the butter, then add the chopped onions, garlic, and parsley. Cook until these have softened before adding in the tomatoes, chicken broth, water, wine, and spices. This mixture should be covered and simmered for at least 30 minutes. Finally, add in the seafood and bring to a boil. Lower the heat and simmer until the clams open fully (between 5-7 minutes). Flavor as needed and ladle into bowls to enjoy your homemade cioppino (via Allrecipes).
Nutritional Value of Each
Comparing a bowl of bouillabaisse vs. cioppino, you'll see there are some calorie, carbohydrate, and protein differences. All of these are due to the different ingredient quantities, and the rouille sauce used for bouillabaisse also adds some fat and cholesterol. Cioppino has a higher protein and vitamin content than bouillabaisse, also likely due to the quantity of the seafood ingredients. Refer to the chart below.
Bouillabaisse vs. Cioppino: Are They the Same Thing?
While bouillabaisse vs. cioppino are very similar stews, they have different countries of origin, different stew bases, and varying ingredients. Both resulted from scraps at sea, but were influenced by their cultural differences, and have evolved into different dishes. Either way, bouillabaisse and cioppino are wonderful stews, well worth a try, either at a restaurant or in the comfort of your own kitchen!
Print
Crock Pot Citrus Fish
---
Description
Fish is a popular choice by Americans looking to improve their diet. It lacks the saturated fat that red meat has, and it comes packed with nutrients. Check out this great crock pot fish recipe that is sure to delight your family!
---
1 1/2

lb

. fish filets
Salt and pepper to taste

1

medium onion, chopped

5 Tablespoons

chopped parsley

4 teaspoons

oil

2 teaspoons

grated lemon rind

2 teaspoons

grated orange rind
Orange and lemon slices
---
Instructions
Butter slow cooker or Crock Pot and put salt and pepper on fish to taste.
Place fish in pot. Put onion, parsley and grated rinds and oil over fish.
Cover and cook on low for 1 1/2 hours.
Serve garnished with orange and lemon slices.
The image featured at the top of this post is ©Yevgeniya Abayeva/Shutterstock.com.