If you've ever visited Louisiana or know a Louisiana native, you've likely experienced the joy of delicious Louisiana cooking. One thing about Louisiana no one can contest is that it's home to some flavorful cuisine. While spending time at some of the best restaurants in Louisiana can be an excellent way to experience these unique Cajun and Creole flavors, cooking a Louisiana-inspired meal can be just as much of an adventure. No matter what flavors you're familiar with, you may have wondered about the difference between two of Louisiana's most popular dishes–jambalaya vs. gumbo.
While gumbo and jambalaya have many ingredients and flavors in common, the main difference is the use of rice. Gumbo is more of a soup and contains more liquid than jambalaya because it's served over a bed of rice. On the other hand, when you make jambalaya, you cook the rice into the dish. Gumbo is considered a stew or soup while jambalaya is a take on Spanish paella.
Fans of Cajan and Creole cooking definitely wouldn't turn down a home-cooked meal that included either of these dishes, but if you want to try your hand at making them yourself, it's essential to know the difference. Read on to learn more about what makes jambalaya and gumbo unique.
Jambalaya vs Gumbo: What Is the Difference?
It's difficult to mention Louisiana cooking without bringing up beloved dishes like gumbo and jambalaya. With their unique flavors, signature spices, and even what's known as the "holy trinity," these delicious meals are hard to match.
Some people confuse jambalaya and gumbo since they do have similar flavors and ingredients. While they have a lot in common, the main difference between these two meals is the use of rice. Rice is an essential ingredient when cooking both gumbo and jambalaya, but how you use the rice impacts the uniqueness of each dish.
Gumbo is considered more of a soup or a stew, depending on how much liquid you add and your personal preference. No matter what the consistency is, it's always more liquid than jambalaya. As a type of stew, gumbo is served over rice and the liquid soaks into the rice to give it that signature flavor.
Jambalaya is different because it's a one-pot dish where the rice is cooked in the same pot. If you're familiar with paella or West African jollof, you'll notice some similarities between them and jambalaya.
The other main difference between gumbo and jambalaya is gumbo contains roux, which is a mixture of flour and fat that's used to thicken the gumbo. There are also some differences in the ingredients, but they both typically contain what's known as the "holy trinity" in Cajun cooking, which is simply bell peppers, onion, and celery.
3 Main Differences Between Them
If you have a craving for Louisiana-style cooking, both gumbo and jambalaya will do the trick, but they're not actually the same dish. Here are the 3 main differences between them:
Use of rice
While both jambalaya and gumbo contain rice, the rice is used differently in both dishes. Gumbo is a type of soup or stew served over a bed of rice. Jambalaya is cooked in one pot and the rice is cooked with the meal, making it similar to paella.
Gumbo starts with a roux
Unlike jambalaya, the base of gumbo is a roux. Roux is essentially flour and fat mixed together and is often used to thicken soups or stews, like gumbo.
Different ingredients and seasonings
There are many similarities between the flavors and ingredients in gumbo and jambalaya. However, there are some ingredients you may be more likely to see in jambalaya, like diced ham or hot sauce, that you won't find in gumbo recipes.
What is Jambalaya?
You can't visit a place like New Orleans without experiencing some of the most popular local cuisine. If you're not able to visit NOLA, there are plenty of recipes out there to help you make jambalaya on your own.
Jambalaya is a rice dish that has been a part of Louisiana culture and cuisine since at least the 1800s. The exact origin of this dish is difficult to pin down, but it was first published in cookbooks in New Orleans in 1885. This dish was influenced by numerous cultures, and there's a distinct Spanish influence since jambalaya is incredibly similar to paella.
While there's a difference between Creole jambalaya and Cajun jambalaya, all versions of the dish include rice, meat, and vegetables. The most common meats added to jambalaya are chicken and sausage, although there are variations that include a seafood jambalaya made with crawfish, oysters, or shrimp.
What is Gumbo?
Like jambalaya, gumbo is one of the most notable dishes to come out of New Orleans, and there are many variations that contribute to what goes in the dish. Gumbo is a type of stew or soup made with meat and vegetables and served on a bed of rice.
The amount of liquid in the dish can vary, but it's generally the consistency of a hearty stew. Much like any soup or stew, it requires a type of thickener. Unlike jambalaya, gumbo generally has a base of roux, which is made by mixing flour and fat together. Sometimes other thickeners in used in place of the roux. The most popular alternatives are okra or filé powder, which is a powder made from herbs from the sassafras tree.
Often known as a type of comfort food, gumbo can be made with a variety of meats and vegetables but there's also a seafood version of gumbo. The meat version generally includes sausage and chicken, along with vegetables and spices. Seafood gumbo might include crawfish or shrimp.
Do Gumbo and Jambalaya Have the Same Ingredients?
Many people confuse gumbo and jambalaya because of the similar nature of the ingredients and spices. It's difficult to say exactly what each should include considering it depends on who you ask. In Louisiana cuisine, there are both Creole and Cajun influences, and both make different types of gumbo or jambalaya.
One of the main differences between the Creole and Cajun varieties is Creole jambalaya or Creole gumbo will both include tomatoes while Cajun gumbo or jambalaya doesn't. Additionally, Creole gumbo is more likely to be made with seafood such as shellfish, while Cajun gumbo is more likely to be made with meat such as chicken or sausage.
Most variations of gumbo and jambalaya will have some ingredients in common. First off, they both contain rice even though the rice is cooked separately with gumbo. Additionally, they'll both contain what's referred to as the "holy trinity" in Louisiana cooking, which is simply a combination of bell peppers, onions, and celery.
The seasoning may differ depending on who's making it, but Cajun seasonings are common in both dishes. These seasonings are likely to include paprika and cayenne pepper. The types of meat may also be similar and it's common to see both chicken and sausage in gumbo and jambalaya.
Which is Healthier: Jambalaya vs Gumbo
While gumbo and jambalaya may not be the best choices if you're counting calories, the nutritional value of both dishes is something to consider. Gumbo and jambalaya are both high in calories and sodium. Due to the chicken or sausage typically included, they're also high in protein.
Jambalaya will usually have a higher calorie and fat content than gumbo. It's also higher in protein and lower in sodium. Additionally, jambalaya has a higher carb count, but the difference there is relatively insignificant.
Gumbo and jambalaya may not be the healthiest dishes, but there are ways to make a healthier version. It may not be authentic Louisiana style, but you can switch out the rice for brown rice or switch out the oil for something with less saturated fat.
Is Gumbo Thicker Than Jambalaya?
Jambalaya doesn't have any thickeners like the roux used in gumbo. However, jambalaya has less moisture in it because the rice is cooked into the dish. Gumbo is thicker in the sense that the sauce is thickened with roux, okra, or even filé powder. However, there's less liquid in jambalaya.
While gumbo is meant to be a stew or even a soup, jambalaya is considered a rice dish like paella.
A Quick Comparison of Jambalaya vs. Gumbo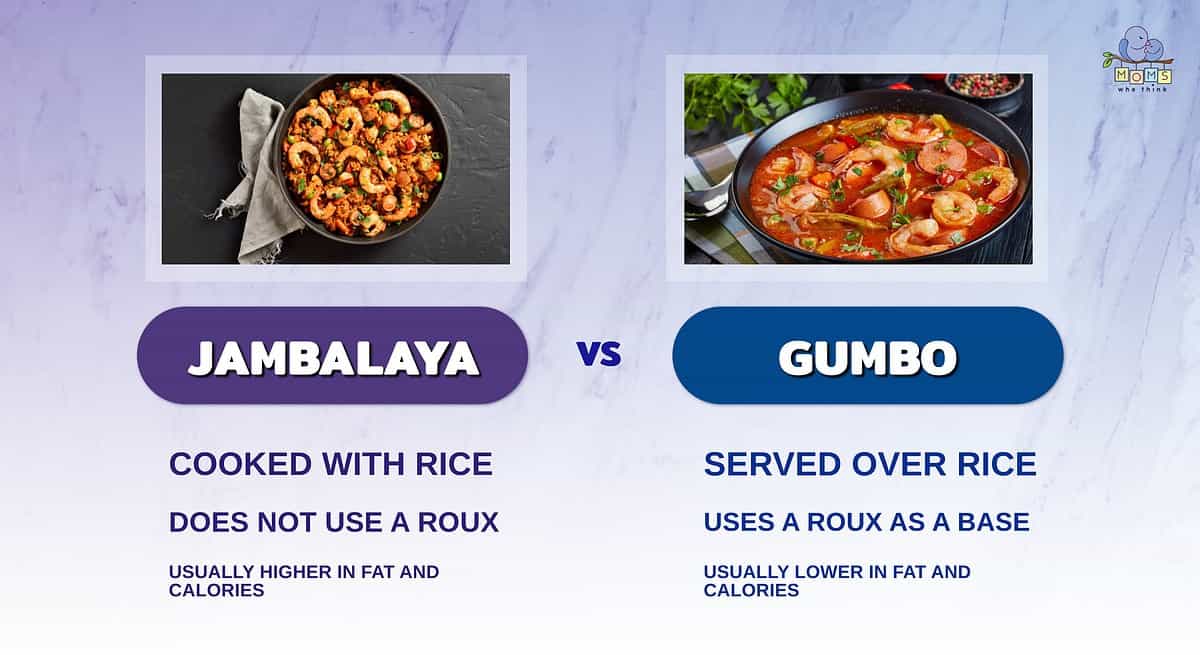 While both jambalaya and gumbo have rice in them, the way that rice is incorporated differs. With jambalaya, the rice is cooked with all of the other ingredients in one pot. Gumbo is served over rice. Another major difference is in the use of a roux; gumbo uses a roux as a base, while jambalaya does not. Finally, jambalaya is often higher in fat and calories, making gumbo the better choice for those watching their diet.
Delicious Louisiana-Inspired Recipes
Print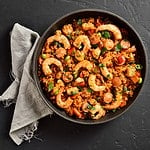 New Orleans Jambalaya
---
Author:

Yield:

4

servings

1

x
1/2 pound boneless skinless chicken breasts, cut into 1 inch pieces
2 large onions, chopped
1 cup chopped green pepper
1 celery rib, chopped
2 jalapeno peppers, seeded and finely chopped
3 garlic cloves, minced
1 Tablespoon canola oil
2 cans (14 1/2 ounces each) diced tomatoes, undrained
1/2 cup water
2 teaspoons dried thyme
1 teaspoon salt
1/2 teaspoon pepper
1/4 teaspoon cayenne pepper
1 pound uncooked medium shrimp, peeled and deveined
2 cups cooked long grain rice
---
Instructions
1. In a large saucepan, sauté the chicken, onion, green pepper, celery, jalapenos and garlic in oil until chicken is no longer pink.
2. Add the tomatoes, water, thyme, salt, pepper and cayenne; bring to a boil.
3. Reduce heat; cover and simmer for 15 minutes.
4. Add shrimp; simmer 6 to 8 minutes longer or until shrimp turn pink. Stir in rice.
Nutrition
Serving Size:

3 cups

Calories:

344

Sodium:

753mg

Fat:

6g

Saturated Fat:

1.5g

Carbohydrates:

39g

Fiber:

6g

Protein:

32g

Cholesterol:

252mg
The image featured at the top of this post is ©from my point of view/Shutterstock.com.