Etouffee vs. Gumbo: What's the difference? If you're ever in New Orleans, you have to try either the Etouffee or the Gumbo. They are some of the most popular dishes in New Orleans, especially during Mardi Gras. These dishes go back to the Creole and Cajun cuisine. But what makes Etouffee and Gumbo different?
Learning how Etouffee and Gumbo are different can give you a better idea of what you like more. You'll understand the history, the consistency, and the flavor differences that make these dishes stand out. You'll also know what dishes they complement, and you can make them your own.
This guide looks at the differences between Etoufee and Gumbo. We explore the differences when it comes to taste and texture. We also look at how they are prepared. You'll ultimately better understand and appreciate the differences between Etouffee and Gumbo.
What Is Etouffee?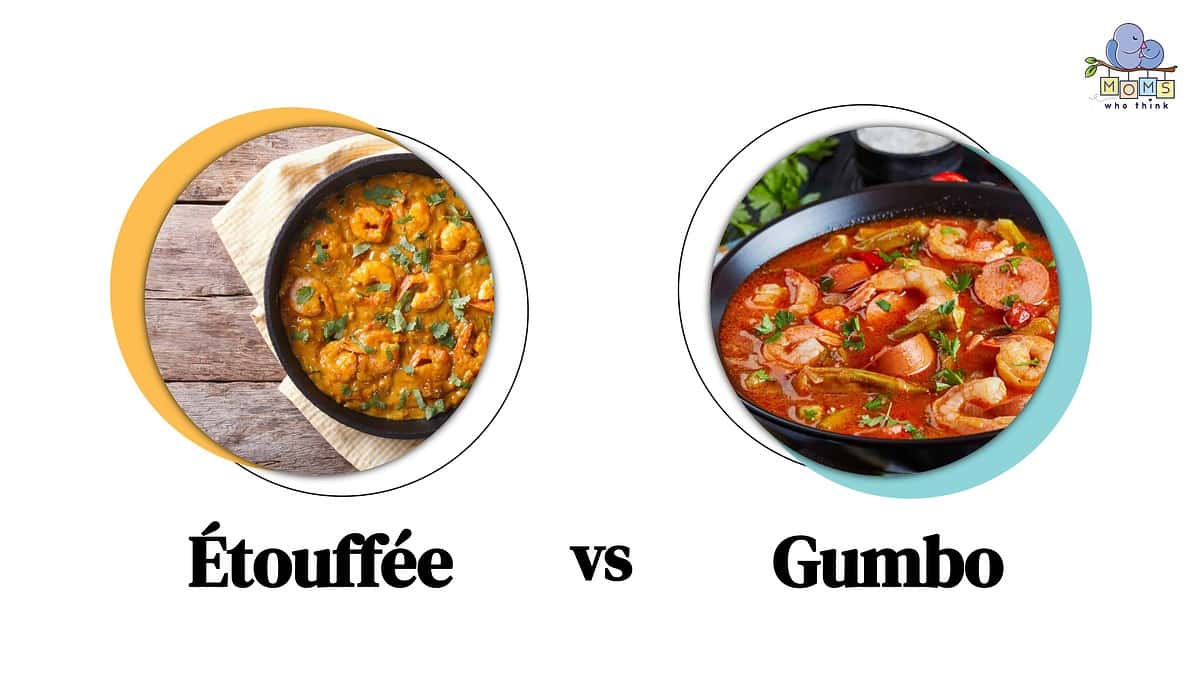 New Orleans is predominantly French culture. That's why they have a lot of French food, and a lot of the culture speaks French. It's also why Etouffee is a French word known as "smothered."
Etouffee is also a French dish considered a Cajun and Creole dish. It's a dish that has seafood in it, like shellfish. There's also chicken, crawfish, and shrimp Etoufee. Choosing one over the other is a matter of preference, but traditionally, it's made with shellfish.
These are typically the ingredients that are included in Etoufee:
Seafood stock
Worcestershire sauce
Hot sauce
Celery, onions, and bell peppers,
Garlic gloves
Roux
Creole seasoning
Etoufee is essentially thick gravy over rice. Of course, you also have the shrimp, shellfish, or chicken on top of the rice covered with sauce. When you make the sauce, you're cooking with all the ingredients on a pan. You then serve it over white rice.
While Gumbo is similar to this dish, it has its unique way of being made. While Etoufee seems like a simple dish you can whip up in about thirty minutes, it usually takes about 3 hours for all the flavors to mix and give the Etoufee its signature taste.
When it comes to taste, it's often described as rich and spicy, especially if you add more spice to it in the ingredients.
What Is Gumbo?
Gumbo is more than a French food. It's often considered a mix of German, French, Spanish, African, and other cultures. While it may look similar to Etouffee, it's different regarding preparation and how it tastes.
For example, Gumbo is often thicker than Etoufee. It was first described in 1802 in Louisiana and continues to be popular in that state, especially during Mardi Gras and other New Orleans events.
One of the unique things about Gumbo is how it's made and different from Etouffee. It's more of a stew with shrimp, chicken, or shellfish.
Here are the ingredients that makeup Gumbo.
Dark roux or dried sassafra leaves
Celery, bell peppers, onions,
Chicken, shrimp, shellfish, or sausage
If you want to make Gumbo that's more Creole style, then take the ingredients from Gumbo, heat it over medium heat, and then serve it over white rice. You can also add garnish-like parsley to the top of it.
Etouffee vs. Gumbo: What Are the Core Differences?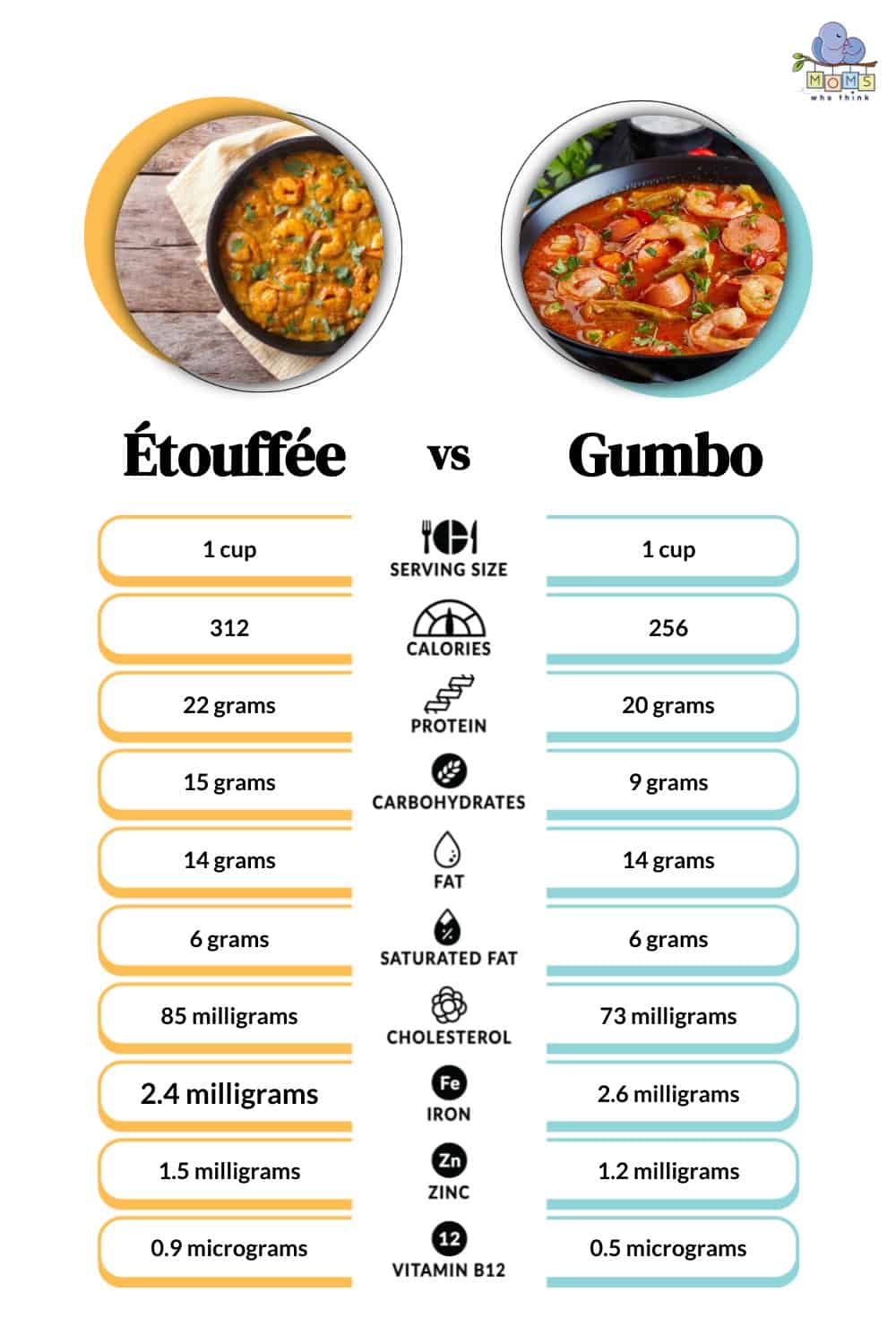 If you're ever in New Orleans, you may find it difficult to choose between Etoufee or Gumbo. Knowing exactly how they are different can give you a better idea of what you may prefer.
The biggest differences are in three categories: consistency, nutritional value, and flavor.
Flavor Differences
While Etouffee and Gumbo have similar flavors because of the Cajun seasoning, they also stand apart in unique ways. For example, Etoufee has a strong blonde roux base, which gives it a sweet flavor. On the other hand, Gumbo has more of a savory flavor.
However, the flavor can change depending on how many vegetables and spices you add to either one. If you want to make one spicier, all you need to do is add more red pepper to it.
Consistency Differences
Another unique difference between Etoufee and Gumbo is their different consistency. While they are both thick, Gumbo is more of a stew, while Etoufee is more of a sauce that goes on top of white rice. Etoufee can also be considered a gravy because its consistency is thicker. Gumbo is thinner and has more of a soupy consistency.
Nutritional Differences
The nutritional differences between Etoufee and Gumbo are marginal. They both have similar proteins, carbohydrates, and fats.
The main difference is what kind of seafood or meat you add to either. If you add sausage to either one, you'll have more calories and less positive nutritional value than if you add shrimp or shellfish.
Etouffee vs. Gumbo: What Should You Eat?
There's no better choice between Etouffee and Gumbo. It's about what you prefer and if you're looking for more of a stew with Gumbo or more of a sauce over rice with Etoufee. Overall, you'll find that they are both delicious New Orleans meals that are worth trying.