Having trouble choosing from Szechuan Chicken vs. Kung Pao Chicken? These two Chinese chicken stir-fries may seem interchangeable, with similar ingredients and appearances. Szechuan Chicken is much spicier when compared to Kung Pao chicken's ingredients, which make it more sweet than spicy. So, if you're looking for a milder meal, you may want to pick the latter. Both of these dishes hail from a southern region of China. So, it makes sense that they would have a similar ingredient list. But their differences do make the dish and are well worth knowing before you order them for a meal.
Keep on reading to learn about the history of each. You'll also learn a bit about the region of China they come from. We'll discuss the best ways to make these dishes at home, as well as the modern take on these traditional dishes. If you started this post out with little understanding of the differences between Szechuan Chicken vs. Kung Pao Chicken, you'll know them by the end. And you'll be ready and inspired to try it out on your own. Whether ordering at a restaurant or trying it in your very own kitchen, you got this!
Major Differences Between Szechuan Chicken vs. Kung Pao Chicken
As mentioned above, the biggest difference between these two dishes really comes down to the flavoring. To put it simply, Szechuan Chicken is spicy and Kung Pao Chicken is milder and often sweet.
Defining Szechuan Chicken
Szechuan Chicken is named for the region of China where it is traditionally made. This southern region is known as Sichuan. It combines Szechuan peppercorns, which is where the heat comes from, with other ingredients. Combine chicken, bell peppers, garlic, soy sauce, and sesame oil. All of these combine to form a nice sauce for the chicken to properly cook in. It can be served over rice and garnished with sesame seeds.
History and Origin Of Szechuan Chicken
Szechuan Chicken is one of eight popular modern dishes in the Sichuan region. All of these dishes use those spicy Szechuan peppercorns for the flavor profile. This method for cooking with lots of spice has roots in the Qin Dynasty which would've existed from 221-207 BC. Sichuan food stylings spread throughout China. Once peppers were introduced during the Ming Dynasty (1368-1644 AD) the spice level of these dishes took on a whole new level of heat. Modern Sichuan recipes use not only Szechuan peppercorns but also other kinds of toasted or dried peppers (via Travel China).
How To Make Szechuan Chicken
To start, you'll need to season your chicken with cornstarch and pepper. Add oil to a large pot and add chicken to the heated oil. Fry your chicken until properly baked through and golden in color. Set aside. Next, you'll place a skillet and oil, add to this ginger and garlic, and then you'll sauté your bell peppers, or other chosen veggies. Cook with dried chile peppers or other peppercorns. If you want to decrease the heat, this is a good place to consider how much you want to actually add. In a third saucepan, combine soy sauce, rice wine vinegar, sesame oil, and chili garlic sauce with the remaining cornstarch powder. Simmer until thickened. Combine your fried chicken, and sauce to the skillet with the chile oil and cook until well combined. Serve with other steamed veggies, over rice, or an alternative grain of your choosing (via Delish.com).
What is Kung Pao Chicken?
Kung Pao Chicken is also a classically Sichuan dish, that has been very Americanized to be much sweeter than its original version. It is a stir-fry-style chicken dish that combines cubed chicken, dried chili peppers, and sweeter ingredients with cornstarch, soy sauce, and vegetables.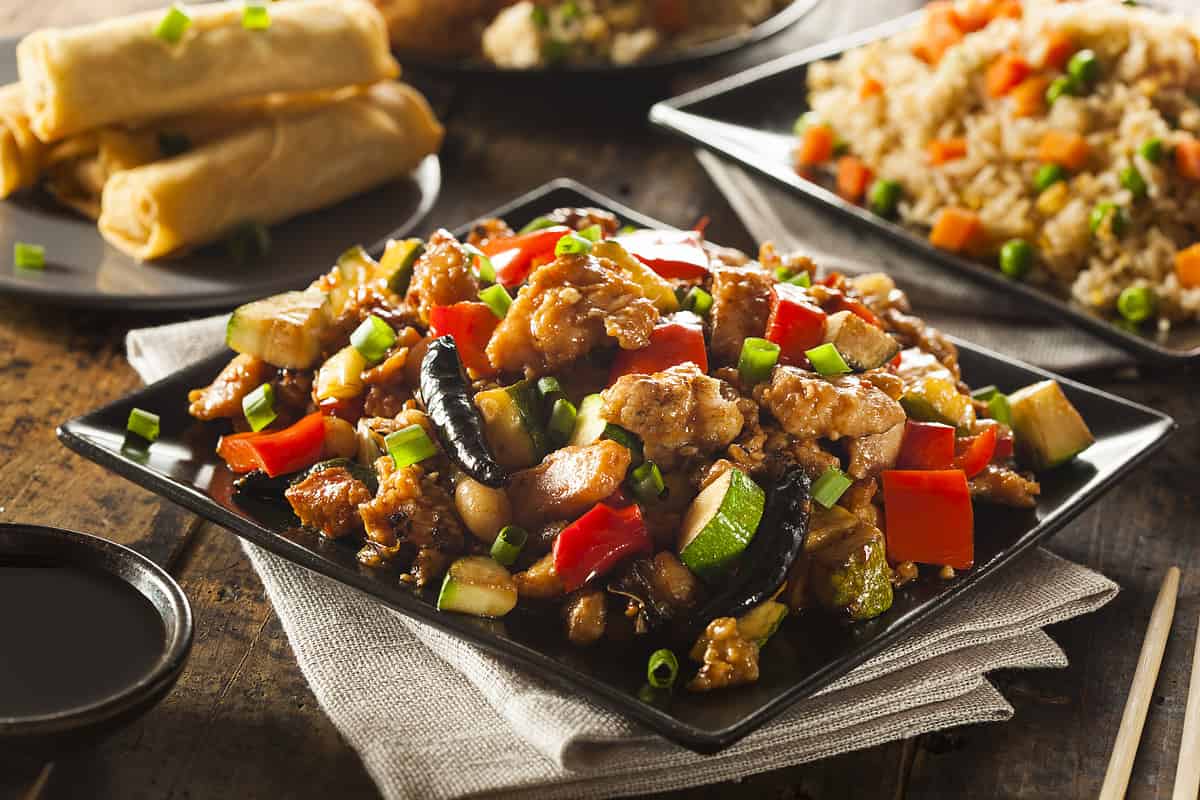 History and Origin of Kung Pao Chicken
According to the Los Angeles Times, the origins of Kung Pao Chicken are a contested timeline. Its original recipe is linked to a Qing Dynasty Official (1820-86), who cooked a version of the cubed chicken Sichuan stir-fry dish we know and love today. However, in a novel published in 1937 novel, author Li Jieren claimed that the dish popularized in Sichuan was an adaptation of a dish from the province of Guizhou, China. This dish also used cubed chicken and dried chilis, much like modern Kung Pao Chicken.
How To Make Kung Pao Chicken
First, you'll want to coat your chicken cubes in cornstarch and make a marinade. The marinade will combine, soy sauce, sesame oil, and Shaoxing wine. Refrigerate the marinating chicken for at least 30 minutes. In a separate bowl, combine the previous ingredients plus chili paste, vinegar, brown sugar, water chestnuts, green onions, garlic, and peanuts. Whisk until blended and then heat over a medium flame. Take your marinated chicken and stir until each cube is cooked all the way through. Add the sauce into the skillet and simmer all together until the sauce thickens and you can smell the Kung Pao spices (via Allrecipes).
If you can't find Shaoxing wine, a regular cooking wine will do. Try cashews instead of peanuts, and bamboo instead of water chestnuts aren't to your liking. Feel free to modify the recipe in terms of sugar content and sodium content. Also, adding vegetables like bell peppers or baby corn can create added flavors and textures for your homemade Kung Pao chicken dish.
Nutritional Value
Keep in mind that the nutritional value of these dishes will definitely change depending on how you modify the dish at home. You can reduce the sodium and sugar by changing out the sauce ingredients, and adding vegetables or rice as a base will also change the overall nutritional value of the dish.
My Fitness Pal breaks down the nutritional value of Szechuan Chicken vs. Kung Pao Chicken, as follows. A 1-cup serving of seasoned Szechuan Chicken has around 179 calories, 9.3 grams of carbohydrates, 8.5 grams of fat, and 25 grams of protein. Compared to 100 grams of Kung Pao Chicken with 129 calories, 9 grams of fat, and 9.8 grams of protein. The sauce in Kung Pao Chicken increases its sodium and sugar content, which is something you can modify at home if you so wish.
Are These Two Dishes The Same Thing?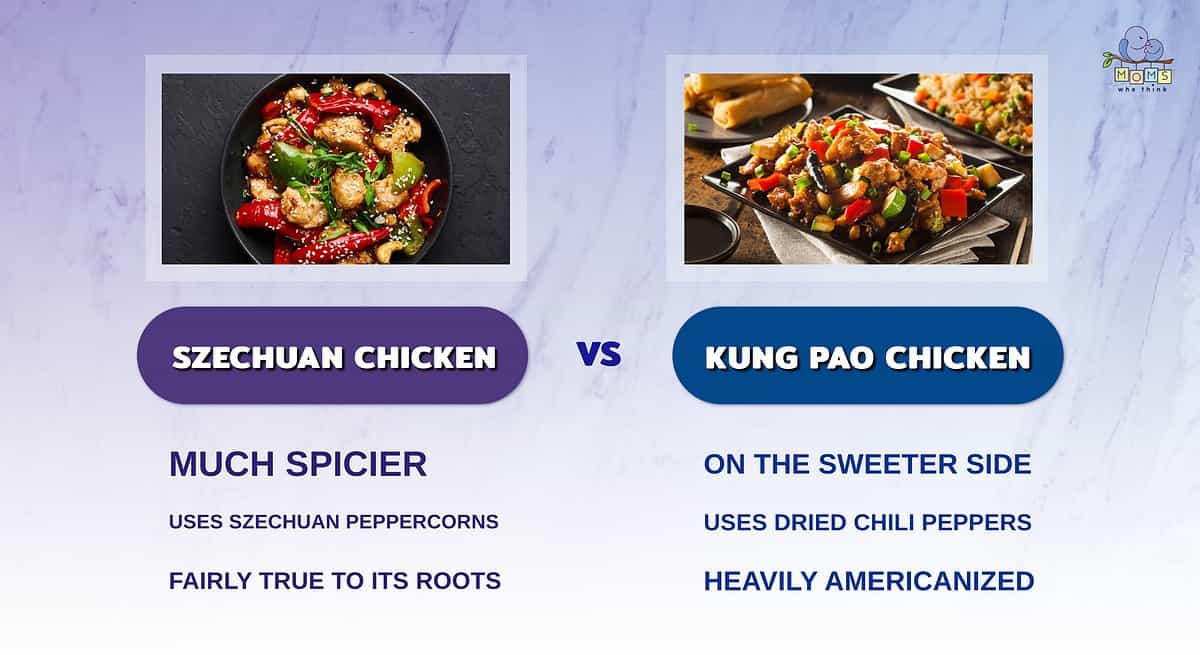 Szechuan chicken is much spicier than Kung Pao chicken, an important distinction to keep in mind if you have a sensitivity to spice.
The use of Szechuan peppercorns is what gives Szechuan chicken its signature heat. Kung Pao chicken often incorporates chili peppers, which gives it a bite that isn't as strong as Szechuan.
Szechuan chicken is still fairly true to its Chinese roots, while Kung Pao chicken has been heavily Americanized. There are some variations of Szechuan chicken that are more Westernized.
In the debate of Szechuan Chicken vs. Kung Pao Chicken, it is clear they are not the same thing. While many of their differences really come down to the flavor, many other things that look alike but taste different are very clearly not the same. Szechuan Chicken emphasizes spice, with the use of those particular Szechuan peppercorns that absolutely pack a solid punch. This dish combines savory sauces to form a marinade that pairs well against the heat of the peppers. Beware the spice level if you're given the choice from mild to hot! For a more milder dish, Kung Pao Chicken offers a sweet substitute for heat. Throw in some vegetables, bamboo shoots, and rice, and you've got a delicious Kung Pao meal ahead!
Print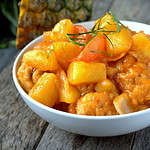 Sweet and Sour Chicken
---
Author:

Yield:

4

servings

1

x
3 teaspoons

reduced sodium soy sauce

1 Tablespoon

sherry or reduced sodium chicken broth

1/2 teaspoon

salt

1/2 teaspoon

garlic powder

1/2 teaspoon

ground ginger

1

pound

boneless skinless chicken breasts, cut into 1 inch cubes

1

can (20 ounces) unsweetened pineapple chunks

2 Tablespoons

cornstarch

1/3

cup

cornstarch

2 Tablespoons

sugar

1/4

cup

cider vinegar

1/4

cup

ketchup

1 Tablespoon

canola oil

2

cups

hot cooked rice
---
Instructions
In a large resealable plastic bag, combine 1 Tablespoon soy sauce, sherry or broth, salt, garlic powder, and ginger; add the chicken. Seal bag and turn to coat; refrigerate 30 minutes.
Drain pineapple, reserving juice; set pineapple aside. Add enough water to juice to measure 1 cup.
In a small bowl, combine 2 Tablespoons cornstarch, sugar, and pineapple juice mixture until smooth; stir in vinegar, ketchup and remaining soy sauce. Set aside.
Drain chicken and discard marinade.
Place remaining cornstarch in a large resealable plastic bag.
Add chicken, a few pieces at a time, and shake to coat.
In a large nonstick skillet or wok coated with cooking spray, stir fry chicken in oil until no longer pink. Remove and keep warm.
Stir pineapple juice mixture and add to pan. Bring to a boil; cook and stir for 2 minutes or until thickened.
Add chicken and reserved pineapple; heat through. Serve with rice.
Nutrition
Calories:

428

Sodium:

571mg

Fat:

6g

Saturated Fat:

1g

Carbohydrates:

65g

Fiber:

2g

Protein:

26g

Cholesterol:

63mg
Possible Alternatives To Kung Pao Chicken And/Or Szechuan Chicken
If chicken is the main obstacle in trying out this dish, there are numerous other types of meat, or meat alternatives that can be substituted in. Try out tofu, seitan, or tempeh. You can cook heartier veggies like zucchini, eggplant, or certain types of squash in the same way as fried chicken and use all the same sauces for your vegetarian version of either of these dishes. As mentioned above, many of these ingredients, as well as the heat factor of Szechuan Chicken dishes, can be cut down or modified to better suit your dietary needs and preferences. Happy cooking!
The image featured at the top of this post is ©iStock.com/Andrei Kravtsov.