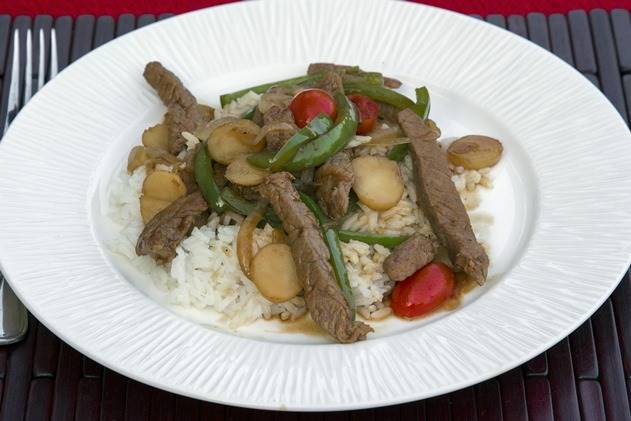 Oriental Steak Stir-Fry
Let's Get Ready for Baby!
Sign up for our monthly pregnancy email series, and you'll get regular updates on your baby's development, helpful timelines to get ready for their arrival, must-have baby needs and so much more! PLUS, you'll get instant access to the MomsWhoThink "Ultimate Guide to Baby Naming in 2022."
CLICK HERE
to get started!
Ingredients:
1 Tablespoon cornstarch
1 teaspoon reduced sodium beef bouillon granules
1 cup cold water
¼ cup reduced sodium soy sauce
⅛ teaspoon pepper
10 ounces beef top sirloin steak
1 medium green pepper, thinly sliced
1 medium onion, thinly sliced
1 garlic clove, minced
2 teaspoons canola oil
2 medium tomatoes, cut into halved then cut into quarters
1 can (8 ounces) sliced water chestnuts, drained
4 cups hot cooked rice
Directions:
1. In a large bowl, combine the cornstarch, bouillon, water, soy sauce and pepper, whisking until smooth; set aside.
2. Cut steak thinly across the grain, then cut slices in half; set aside.
3. In a nonstick frying pan or wok, stir fry green pepper, onion and garlic in oil for 4 minutes. Remove and set aside.
4. Add the steak to the pan; stir fry for 4 to 6 minutes, or until no longer pink.
5. Stir cornstarch mixture and add to pan. Bring to a boil; cook and stir for 1 minute or until thickened.
6. Add the tomatoes, water chestnuts and the green pepper mixture; cook and stir until heated through.
7. Serve with rice.
Makes 4 servings
Nutrition Information:
One serving (1½ cups meat mixture with 1 cup rice) equals:
469 calories
15 grams fat (5 grams saturated fat)
46 mg cholesterol
678 mg sodium
62 grams carbohydrate
5 grams fiber
21 grams protein