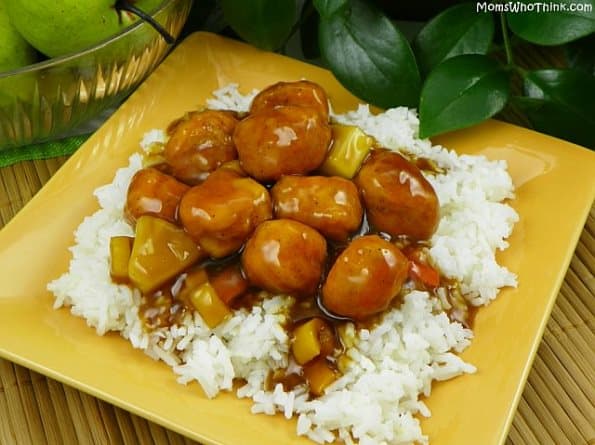 Easy Sweet and Sour Chicken with Rice
Ingredients:
1 10-ounce package frozen batter dipped chicken nuggets
1½ cups quick cooking rice
1 8-ounce canned pineapple chunks
1 large green sweet pepper, cut into 1-inch pieces
¼ cup vinegar
3 Tablespoons sugar
2 Tablespoons cornstarch
2 Tablespoons soy sauce
½ teaspoon instant chicken bouillon granules
1 8-ounce can sliced water chestnuts, drained
Directions:
1.  Bake chicken nuggets according to package directions.
2.  Prepare quick cooking rice according to package directions.
3.  Drain pineapple, reserving juice.  Add enough water to reserved juice to make 1 ½ cups liquid.
4.  Pour pineapple juice mixture into a medium saucepan.  Add sweet pepper.  Bring to boiling, reduce heat.
5.  Cover and simmer for 1 to 2 minutes or until pepper is crisp-tender.
6.  Stir together vinegar, sugar, cornstarch, soy sauce, and bouillon granules.
7.  Stir into mixture in saucepan. Cook and stir over medium heat until thickened and bubbly, then cook and stir for 2 minutes more.
8.  Gently stir in chicken, pineapple chunks, and water chestnuts.  Heat through.
9.  Serve chicken mixture over hot cooked rice.  Makes 4 servings.
 
Try these similar recipes: