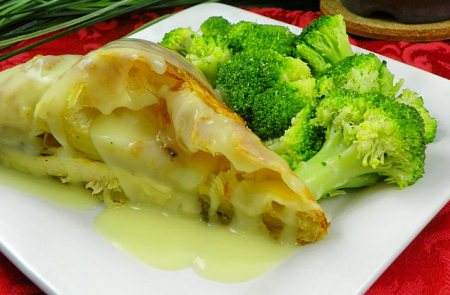 Chicken Wellington and Garlic Broccoli
Let's Get Ready for Baby!
Sign up for our monthly pregnancy email series, and you'll get regular updates on your baby's development, helpful timelines to get ready for their arrival, must-have baby needs and so much more! PLUS, you'll get instant access to the MomsWhoThink "Ultimate Guide to Baby Naming in 2022."
CLICK HERE
to get started!
Ingredients:
4 boneless skinless chicken breast halves (6 ounces each)
1 Tablespoon olive oil
4 Tablespoons butter, softened, divided
1 teaspoon dried rosemary, crushed
½ teaspoon dried sage
¼ teaspoon each salt and pepper
2 packages (15 ounces each) refrigerated pie pastry
1 egg, lightly beaten
1 ¼ teaspoons chicken bouillon granules
1 ¼ cups hot water
3 Tablespoons all-purpose flour
2 Tablespoons white wine
½ pound broccoli florets
garlic powder for broccoli
Directions:
1.  Preheat oven to 450 degrees F. Flatten chicken to ¼ inch thickness.
2.  In a skillet, cook chicken in oil and 1 Tablespoon butter 4 to 5 minutes on each side, until juices run clear.
3.  Meanwhile, combine rosemary, sage, salt, pepper and 1 Tablespoon butter.
4.  Unroll pastry sheets; cut each into a 9 inch square (discard scraps).
5.  Place a chicken breast half on each square, spread chicken with butter mixture.  Fold pastry over chicken.
6.  Trim off excess pastry, pinch seams to seal.
7.  Place on a greased baking sheet, brush with egg.  Bake for 18 to 20 minutes or until golden brown.
8.  While chicken is baking, dissolve bouillon in hot water.
9.  In a saucepan, melt remaining butter.  Stir in flour until smooth.  Gradually stir in bouillon and wine.
10.  Bring mixture to a boil, cook and stir for 2 minutes or until thickened.  Serve with chicken.
11.  Cook broccoli florets according to package directions, lightly coat with butter and sprinkle with garlic powder.  Serve with the Chicken Wellington. Makes 4 servings.
Try one of our favorite 30 Minute Meals: