Dinner parties are the perfect way to connect with friends and family. Our collection of dinner party recipe ideas is the perfect solution for those times. As the weather cools down, it's easy to get caught up in the comfort of our own homes and forget to foster relationships outside our cozy nests. But what better way to foster relationships than by gathering around a table for an evening of great food and conversation? These five recipes will help you create a meal that will sure to win your guests over.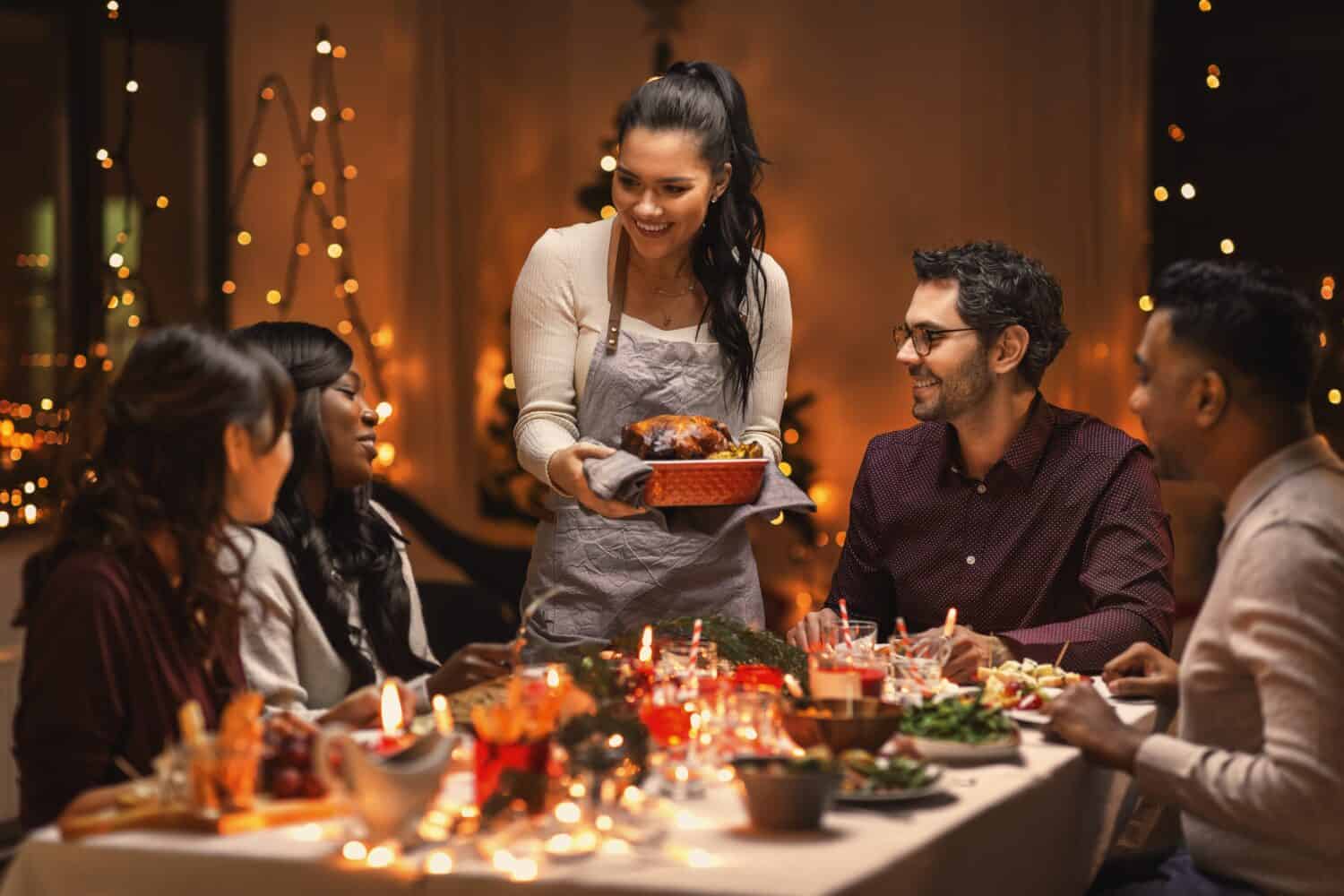 Key Points of Dinner Party Recipes
Dinner parties are a fantastic way to connect with family and friends over great food and conversation.
A well-planned menu will help you save time and reduce stress on the day of.
Presentation is also important, so be sure to dress it up!
Include a variety of dishes that cater to different tastes and preferences.
Be sure to enjoy the party, too, and don't get too caught up in the kitchen.
Main Courses That Will Wow Guests
When it comes to hosting a memorable dinner party, you want to be sure the main course steals the spotlight. Planning ahead is key, as guests have varying tastes and preferences. So, when choosing a recipe, it's important choose dishes that cater to those preferences. To help you along the way, we've gathered five delicious main course recipes that are sure to impress. Once you've chosen your recipe, be sure to gather all the ingredients well in advance and plan your menu's timing, so you can enjoy the party with your guests instead of being stuck in the kitchen. Check out these amazing recipes:
1. Chili Coke Roast
Ingredients:
1 roast
1 can Coca-Cola
1 pkg. onion soup mix
1 bottle chili sauce
Directions:
Place all ingredients in crockpot and cook for 7-10 hours depending on the size of the roast. The meat will flake apart when done. 
2. Lamb Chops with Peppercorns
Ingredients:
8 lamb loin chops, cut 1 inch thick
1/2 teaspoon cracked whole black peppercorns
1/2 teaspoon whole green peppercorns, crushed
1/2 teaspoon ground white pepper
1/2 cup dry red wine
1/4 cup olive oil
1-1/2 teaspoons snipped fresh rosemary or 1/4 teaspoon dried rosemary, crushed
2 cloves garlic, minced
1 Tablespoon Dijon-style mustard or horseradish mustard
Directions:
1. Place lamb chops in a plastic bag; set in deep bowl.
2. Combine cracked black peppercorns, green peppercorns, and white pepper. Set aside.
3. For marinade, combine half of the pepper mixture, the wine, oil, rosemary, and garlic.
4. Pour mixture over lamb. Seal bag. Marinate in the refrigerator for at least 6 hours or up to 24 hours, turning bag occasionally to distribute marinade.
5. Place chops on the unheated rack of a broiler pan. Broil 3 inches from the heat for 5 minutes. Turn and broil for 4 minutes more or until juices run clear.
6. Spread mustard on one side of chops and pat the remaining pepper mixture into the mustard. Broil 1 minute more or until desired donesness. Makes 4 servings.
3. Prime Rib
Ingredients:
Prime Rib Roast, at room temperature
Dijon mustard
Thyme
Garlic, minced
Salt & Pepper
Directions:
1. With the roast bone side down, starting at the tail or narrow end, make a "flap," by cutting the fat strip on top of the meat, going toward the thicker part.
2. Lay the fat strip back, and set aside.
3. Mix Dijon, thyme, garlic, salt and pepper in small bowl. Rub this mixture on top of the meat, under the flap. Replace the flap and use kitchen string to loosely wrap the meat.
4. Place roast in oven roasting pan.
5. Preheat overn to 500° F. Multiply the roast weight on the package times 5 minutes and set a timer for this amount of time in minutes. Place the roast in the oven.
6. Once the timer goes off, turn off the oven but leave the roast in the oven for at least 2 hours.
7. During this time do not open the door, as the meat is still cooking very slowly.
4. Roasted Cod with Prosciutto and Fresh Sage
Ingredients:
2 carrots, cut into 1/2-inch dice
3 Tablespoons vegetable oil
1 small yellow onion, finely diced
1/2 head of Savoy cabbage (about 1 1/2 pounds), finely shredded
2 Tablespoons chopped fresh flat-leaf parsley
1 Tablespoon ground coriander
Salt and freshly ground pepper
Six 6-ounce pieces of fresh cod fillet, about 1 1/2 inches thick
18 fresh sage leaves, 12 whole and 6 minced
6 paper-thin slices prosciutto di Parma
3 Tablespoons all-purpose flour
1 cup dry white wine
Juice and finely grated zest of 1 small lemon
1 cup chicken stock or canned low-sodium broth
3 Tablespoons unsalted butter
Directions:
1. Preheat the oven to 400°. In a small saucepan, boil the carrots in lightly salted water until just tender, about 2 minutes. Drain and rinse under cold water until cool. Set aside.
2. In a large skillet, heat 2 tablespoons of the oil. Add the onion and sauté over high heat until lightly browned, about 2 minutes. Add the cabbage and toss to coat with oil. Reduce the heat to moderate and cook, stirring occasionally, until softened, about 5 minutes. Stir in the parsley and coriander and season with salt and pepper. Keep warm over very low heat.
3. Pat the cod dry and place 2 whole sage leaves on top of each piece. Wrap a slice of prosciutto around each piece of cod and secure it with a toothpick. Lightly dust the cod with flour and pepper.
4. Heat the remaining 1 tablespoon oil in a large nonstick skillet. Add the cod and cook over moderately high heat until browned and crisp, about 2 minutes per side. Using a spatula, transfer the fish to a small baking sheet and roast in the oven for about 8 minutes, or until cooked through.
5. Meanwhile, set the skillet in which the fish was seared over high heat. Add the wine, lemon juice and lemon zest and boil, scraping up any browned bits from the bottom of the pan, until only a few tablespoons remain, about 7 minutes. Add the chicken stock, butter and the reserved cooked carrots and boil until reduced by half and thickened, about 5 minutes. Add the minced sage and season with salt and pepper.
6. Reheat the cabbage if necessary. Bring the sauce to a boil. Mound the cabbage in the center of 6 warmed plates. Set a piece of cod on the cabbage and discard the toothpicks. Spoon the sauce over the cod and cabbage and serve.
5. Peanut Crusted Chicken
Ingredients:
1/2 cup salted peanuts
2 eggs
Pinch cayenne pepper
1/2 cup flour
4 chicken breast halves, boneless and skinless, patted dry
Salt and freshly ground black pepper
Olive oil for the pan
Directions:
1. Heat the oven to 500 degrees F. In a food processor or coffee grinder, pulse the peanuts just until finely crushed; be careful not to grind them to a paste. Transfer the crushed nuts to a plate or shallow bowl. In a second plate, beat the eggs with the cayenne pepper. Place flour in a third plate. Line up the flour, eggs, and nuts in that order.
2. Working with one chicken breast at a time, place each between two pieces of plastic wrap with the smooth side down (where the skin used to be). Working from the center to the edges, gently pound each chicken breast with a meat mallet to 1/4-inch thick. You want the smooth side to remain intact while the ragged side receives the impact of the mallet. And since chicken has little connective tissue, it's important to use gentle strokes when pounding—the meat can tear easily.
3. Lightly season the chicken with salt and pepper. With one hand (this will be your dry hand), dredge a chicken breast in the flour, making sure it's coated evenly. Shake off the excess. Transfer the chicken to the other hand (this will be your wet hand) and dip it in the egg. With the same hand, dredge the chicken breast on one side only in the crushed peanuts, patting to coat the chicken. Set aside, nut side down, and repeat with the three remaining chicken pieces.
4. In a large cast-iron skillet over medium-high heat, add just enough oil to make a light film. When the oil is very hot, add the chicken, peanut side down, and cook approximately 2 minutes or until the crust is light brown. Flip the chicken over, put the skillet in the oven, and let the chicken roast for about 4 minutes or until a meat thermometer registers an internal temperature of 165 degrees F (juices will run clear when cut with the tip of a knife). Remove the pan from the oven and serve immediately.