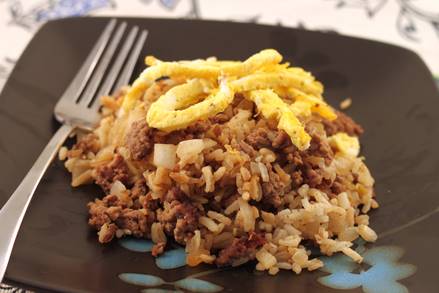 Beef Fried Rice
Fried rice is cooked rice that has been stir fried in a wok or frying pan. It can be mixed with any number of ingredients including eggs, vegetables, seafood or meat. It can also be served as an accompaniment to a main entrée.
Fried rice has been adapted to different cultures, but it first originated in the Sui Dynasty in China. Therefore, all forms of fried rice can be traced back to Chinese fried rice.
If you do some research, you will find that there seems to be no end to the recipes that can be made using fried rice. You can include eggs or meat in the dish, or add aromatics like onions, shallots, scallions and garlic for extra flavor.
Different cooking oils like vegetable oil, sesame oil or lard can be used to grease the frying pan or wok to prevent sticking and add to the flavor. Soy sauce, oyster sauce and other herbs and spices can also be added to taste.
This recipe will be focusing on beef. Beef is a healthy addition to any diet when eaten in moderation. It is a good source of protein and may lift your mood and protect your heart.
Combined with the fried rice, this makes a hearty and delicious meal.
Fried rice is typically made with ingredients left over from other dishes. Because of this, countless variations can be created. In this recipe, we use eggs as a base to fry the rice as well as other ingredients included in the meal.  Also included are onions and peppers which lend the dish a unique flavor.
Beef fried rice is a great dish to serve family and friends. It is filling and delicious and it is sure to be a crowd pleaser every time. What will you be adding to your dish to make it your own?
Ingredients:
1 pound ground beef
3 eggs
dash pepper
3 Tablespoons vegetable oil, divided
2 cups cold, cooked long grain rice
2 small onions, chopped
3 Tablespoons soy sauce
1 teaspoon sugar
Directions:
1. In a skillet, cook beef over medium heat until no longer pink. Drain.
2. In a large bowl, beat eggs and pepper.
3. In skillet, heat one Tablespoon oil over medium-high heat. Pour eggs into skillet.
4. As eggs set, lift edges, letting uncooked portion flow underneath.
5. When eggs are completely cooked, remove from the skillet and cut into strips.
6. Return the eggs to pan. Stir in the remaining ingredients.
7. Cook and stir over medium-low heat in remaining oil for 5 minutes or until heated through. Makes 6 servings.
Try one of our favorite 30 Minute Meals: