Chicken is a great protein because its neutral taste makes it perfect for absorbing other flavorings.
However, despite chicken working as a great base for a variety of meals, many of us may still find chicken and raspberry to be an unusual combination. Yet, we feel this recipe has the ingredients that make the two foods work together perfectly.
Read on to find out more about this recipe and similar creations you can make in your kitchen.
Raspberry Chicken Recipe
To make this recipe, we start by sautéing the onion until its tender.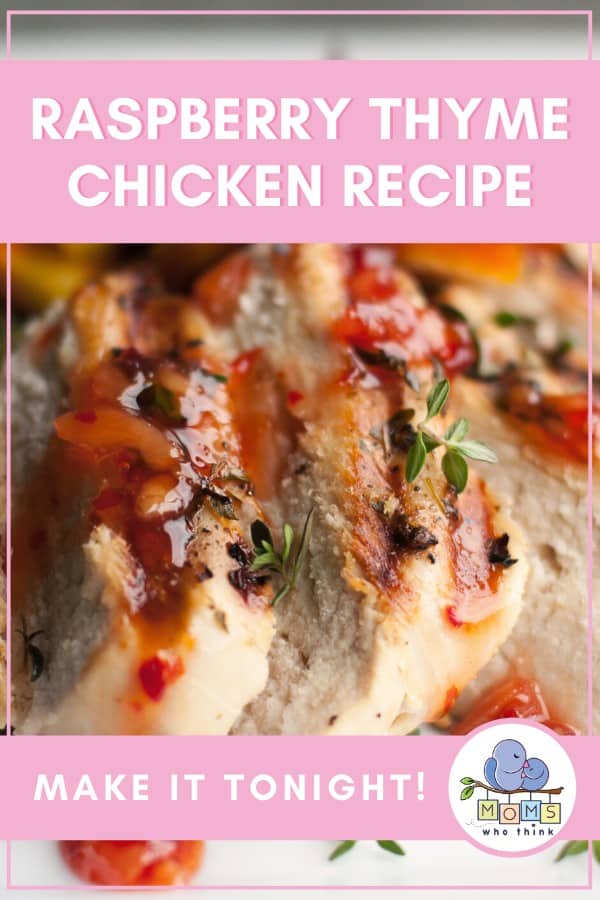 Then sprinkle thyme and ¼ teaspoon of salt over the chicken and put it in the skillet with the onion. Cook for 5 minutes on each side. Remove from heat and keep warm.
Next add raspberry preserves, balsamic vinegar, 1/8 teaspoon pepper, and the remaining salt to the skillet. Cook and stir over medium-low heat until the preserves are melted, and the sauce is heated through.
Spoon the mixture onto a platter and put the chicken on top.
When thinking of sides for the meal, you must be a bit creative as anything served on the same plate will absorb the raspberry so it should have a complementary taste.
Some will find that rice will work well in absorbing the fruity taste. Others might think a salad will be the perfect side as the preserves can substitute as a fruity balsamic.
However, if you're fussy about mixing flavors in your food, you may be better off eating a side that is served in a separate dish.
Another meal idea is to serve your raspberry chicken on a sandwich. The preserves can work as the sandwich's dressing giving it a great tangy flavor.
A chicken raspberry sandwich can make a terrific lunch, or you can serve it with a side for a meal that is heartier and more filling.
Raspberry Balsamic Chicken
Aside from the raspberry, another thing that gives this recipe its unique flavor is the addition of balsamic vinegar.
Balsamic vinegar varies greatly from other types of vinegar. Real vinegar comes from the fermentation of alcohol into wine into acetic acid. Balsamic vinegar, on the other hand, is made from the juice of white Trebbiano grapes. Juice from other varieties of grapes may be mixed in as well.
The juice is boiled down to make a thick syrup called mosto cotto.
Then strong, older balsamic vinegar is added to ensure the sugar will turn into alcohol and then acetic acid. This occurs during a 12-year aging process where the vinegar is transferred into different wood barrels.
Because this process is not simple, some use alternate methods such as adding colorings and flavorings to the vinegar. The result is a vinegar that is cheaper and easier to produce but does not come near the aged balsamic in terms of taste.
Of course, there are many variations you can make on the raspberry balsamic chicken recipe. Most involve coating the chicken in the glaze rather than having the chicken sit on top of it.
One recipe that uses that method is this one for Raspberry Balsamic Chicken with Shallots.
To make the recipe, start by combining raspberry jam and vinegar in a small pan over medium to low heat. Stir 3 to 4 minutes or until jam is dissolved. Remove from heat and stir in salt and pepper letting it cool slightly.
Reserve a ½ cup of the sauce. Place the chicken breasts and the rest of the sauce in a large, sealable plastic bag. Shake gently to coat and marinate in the refrigerator for 1 to 1 ½ hour.
Heat oil in a large, nonstick skillet over medium-high heat. Add shallots and thyme and cook stirring often until shallots begin to soften about 1 minute.
Remove chicken from marinade and add to the pan. Cook until beginning to brown, 2 minutes on each side.
Add reserved raspberry sauce, stir to melt jam and coat the chicken. Reduce heat to low, cover and cook until chicken is cooked through 6-10 minutes. Serve immediately.
Raspberry balsamic gives a unique flavor to chicken that is surprisingly delicious and a definite crowd-pleaser. With several variations available, there is no end to what you can do. How will you be preparing this dish for your family tonight?
If you enjoyed this recipe, make sure to check out our Summertime Chicken and our Olive Oil Garlic Chicken.
Print
Raspberry Thyme Chicken Recipe
---
Author:

Total Time:

25 minutes
Description
Aside from the raspberry, another thing that gives this recipe its unique flavor is the addition of balsamic vinegar.
---
½ cup

chopped red onion

2 teaspoons

canola oil

1½ teaspoons

minced fresh thyme

½ teaspoon

salt, divided

4

boneless, skinless chicken breast halves (about

1

pound)

⅓ cup

seedless raspberry preserves

2 tablespoons

balsamic vinegar
---
Instructions
 In a nonstick skillet, sauté the onion in oil until tender.
Sprinkle thyme and ¼ teaspoon salt over chicken; add to skillet. Cook for 5 minutes on each side or until juices run clear. Remove chicken and keep warm.
Add the preserves, vinegar, ⅛ teaspoon pepper, and remaining salt to skillet. Cook and stir over medium-low heat until preserves are melted and sauce is heated through. Spoon onto a serving platter; top with chicken.
Prep Time:

10 Minutes

Cook Time:

15 Minutes

Category:

Main Course

Method:

Sauteing

Cuisine:

American
Keywords: raspberry balsamic chicken, raspberry chicken recipe