[addtoany]
Meals that are cooked for families during the weekday tend to be viewed as basic and simplistic because they have to fit into the busy schedules that everyone is juggling on a daily basis. However, just because a recipe for a delicious meal is simple, that does not necessarily mean that it has to be a bad thing. It could be a tremendous boon for people who love to cook, but simply cannot afford to spend too much time in the kitchen. With this tasty recipe for olive oil garlic chicken, you can get in the kitchen, whip it up, and get back to the routine in no time.
Garlic Olive Oil Chicken
The time it takes to cook this recipe and the number of steps in the recipe is simple and both are both definitely appreciated in this sense by anyone who finds minimal amounts of time to cook. However, the simplicity of the recipe is not limited solely to the steps and the time in the kitchen. There is also a much-beloved simplicity to the ingredients that are used, as well. The ingredients come together to produce a flavorful, harmonious mixture of tastes that suit a succulent chicken dish perfectly. Lightly crusted, and consumed by flavors, this olive oil garlic chicken dish will turn your average weeknight mealtime into something completely special altogether.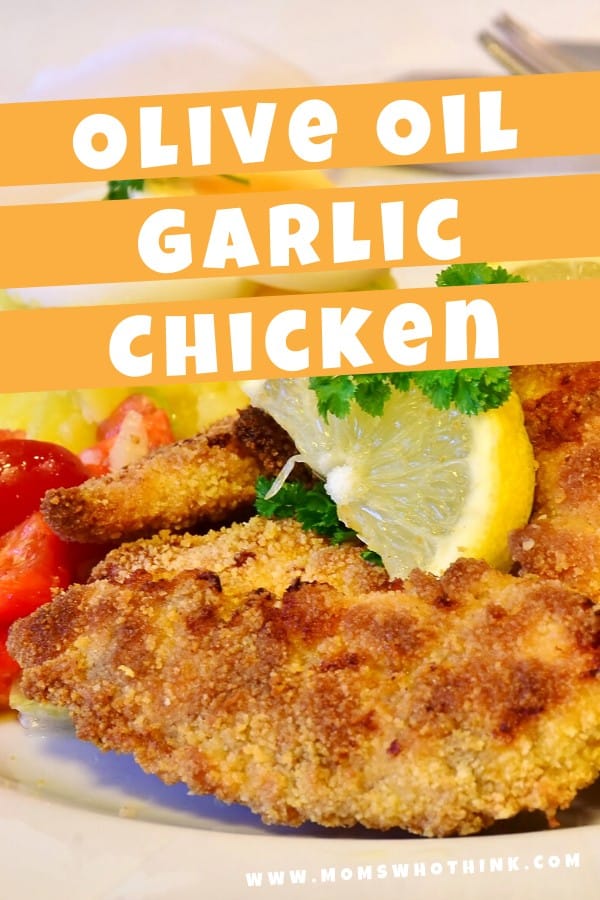 The ingredients included in this recipe are truly about as simple as they can get for a dish that tastes this scrumptious. Required are two-quarter cups of olive oil and dry bread crumbs, respectively, two teaspoons of garlic, a half cup of parmesan cheese, and a set of chicken breasts. Obviously, the amount of each ingredient and the number of chicken breasts you can use for this recipe can vary depending on how many mouths you are trying to feed on a nightly basis, but the same can be said of every recipe.
Not only are these ingredients very easy to procure, but they are also simple to blend together and it completely understands how they should be blended together because the flavors of each component are so intrinsically complementary of one another. They make for an out of this world taste!
Baked Chicken with Olive Oil
Baked chicken is a pretty popular dish to cook for your family on a weeknight, but this recipe stands out from the other standard baked chicken fare because of the way the ingredients are blended together perfectly to set your taste buds aflame with delight. Not every baked chicken recipe comes cooked in olive oil and not every baked chicken recipe comes doused and peppered with garlic. Well, to be honest, not every baked chicken recipe even necessarily comes cooked with cheese. Then again, not every baked chicken recipe tastes this good and keeps people in the kitchen for the absolute minimum amount of time.
For one, the recipe keeps people in and out of the kitchen quickly because there are only six steps in the process and three of the time require minimal effort on the part of the home chef. For example, step one is simply preheating the oven and the final step is completely hands-off as you allow the meal to cook in the oven for thirty minutes or so, which is a small amount of time, as well.
The real nitty-gritty of the cooking procedure comes in the middle of the cooking steps during the recipe. For one, you have to combine the bread crumbs and the cheese into a concoction all their own. For another, you have to blend the garlic and the olive oil into something that will then later be combined with the chicken breasts. Regardless of the step in the recipe, though, all of them are quite well-suited to families, parents, and more who need to cook a meal with relative expediency.
If you enjoyed this recipe, make sure to check out our Summertime Chicken and our Sweet and Saucy Chicken.
Print
Olive Oil Garlic Chicken Recipe
---
Author:

Total Time:

50 minutes
Description
Simple ingredients create a lightly crusted chicken dish that turns a weekday meal into something special. Garlic and Parmesan cheese create a blend of flavors perfect for chicken. Get in and out of the kitchen in no tiime with this 5 ingredient family favorite.
---
2 teaspoons

crushed garlic

1/4 cup

olive oil

1/4 cup

dry bread crumbs

1/2 cup

grated Parmesan cheese

4

skinless, boneless chicken breast halves
---
Instructions
Preheat oven to 425 degrees F.
Warm the garlic and olive oil together in a small pan to blend the flavors.
In a separate dish, combine the bread crumbs and Parmesan cheese.
Dip the chicken breasts in the olive oil and garlic mixture, then into the bread crumb mixture.
Place in a shallow baking dish.
Bake in the preheated oven for 30 to 35 minutes, until no longer pink and juices run clear.
Prep Time:

15 Minutes

Cook Time:

35 Minutes

Category:

Main Course

Method:

Baking

Cuisine:

American
Keywords: garlic olive oil chicken, baked chicken with olive oil