For years, olive oil has been an ingredient found in kitchens worldwide. However, recently, avocado oil has become a household favorite. Avocado oil has gained popularity due to its flavor and nutritional qualities. Since it has a higher smoke point, avocado oil is a better choice when cooking at high temperatures. Both oils have their benefits and play essential roles in cooking and health. This post will explore the differences between these two oils, their health benefits, and how to use them in recipes effectively.
Avocado Oil vs. Olive Oil: How Are They Made
Understanding their production methods can impact our purchasing choices when deciding between olive and avocado oil. Olive oil is created by first removing their stems and washing them thoroughly. The olives are then crushed into a paste and mixed with water before being pressed to extract the liquid known as olive oil.
Avocados go through a similar process to create avocado oil; however, it involves a couple of extra steps, such as removing the skin and pit of the avocados. Next, the fruit's flesh is mashed, and the oil is separated from the pulp. Once separated, the oil is filtered, bottled, and ready for use.
Avocado Oil vs. Olive Oil: Nutritional Benefits
Let's explore each oil's health benefits because they differ slightly. Although both oils are an excellent source of vitamin E, olive oil offers somewhat more. Vitamin E is highly beneficial for skin and eye health. On the other hand, avocado oil has more plant sterols, which are great for lowering cholesterol.
Both oils have gained recognition for their health benefits and are essential components of the Mediterranean diet. A balanced diet incorporating these oils can enhance heart health, alleviate inflammation, and help prevent chronic conditions like type 2 diabetes and cancer. Both oils contain monounsaturated fats, which reduce the risk of heart disease. They also have high levels of antioxidants known for their anti-inflammatory properties. Lastly, they are rich in oleic acid, improving inflammation and cardiovascular functions.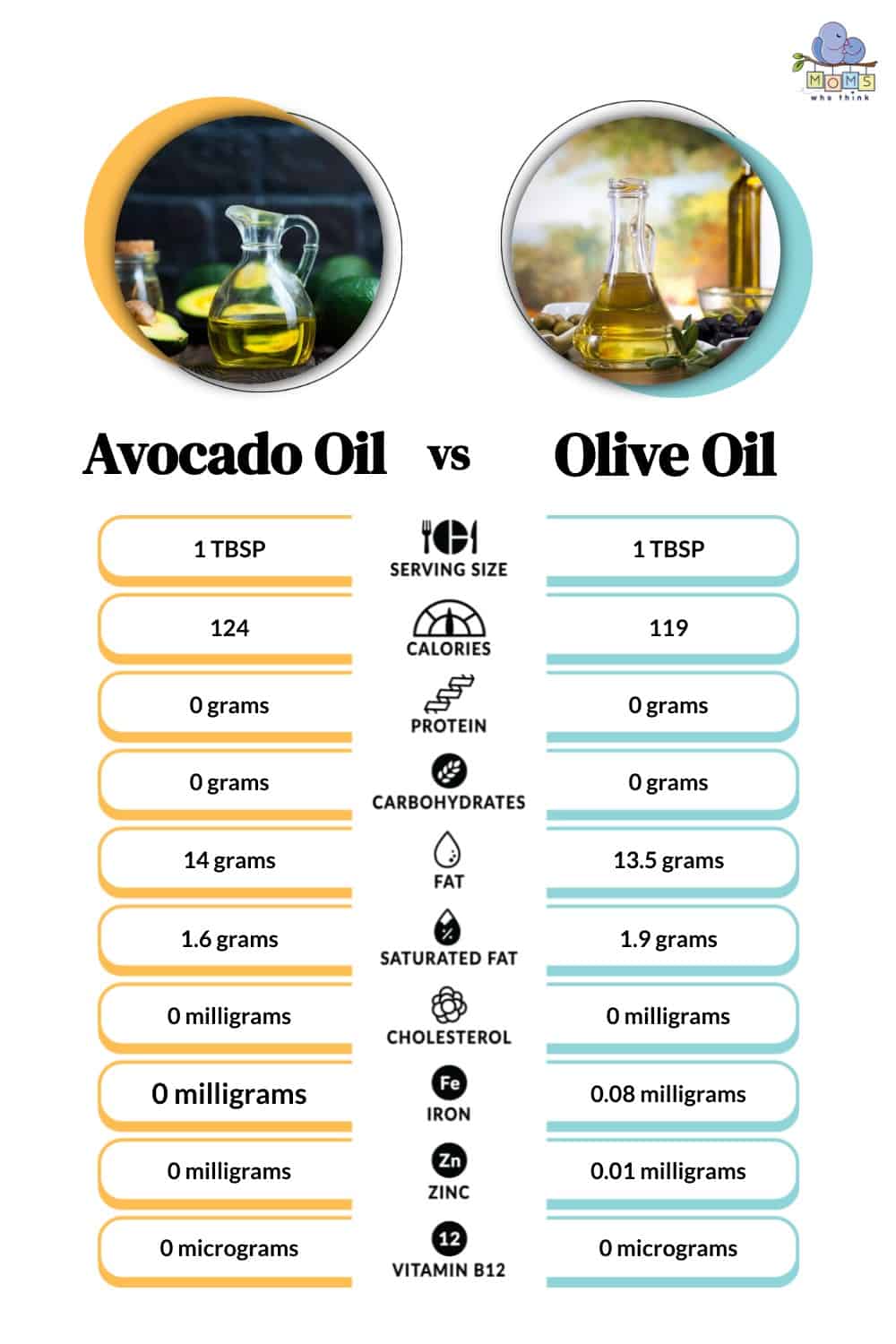 Avocado Oil vs. Olive Oil: Smoke Points
There has been some debate surrounding olive oil's smoke point, which is the temperature at which it starts to release compounds when cooking at high temperatures. As a result, this raised concerns that it was best used at lower temperatures and considered toxic when using high heat. However, recent research has shown this belief is unfounded as it has been proven safe and healthy when cooking at high temperatures. Avocado oil has a higher smoke point than olive oil, which means it can withstand higher temperatures without burning or releasing harmful fumes.
Avocado Oil vs. Olive Oil: Flavor
In terms of flavor, olive oil offers a fruity taste that can vary from mild to robust depending on the type of olives used. It works great when drizzled over bread, used as a base for sauces and marinades, or tossed in salads. On the other hand, avocado oil has a neutral flavor that complements the taste of other ingredients in recipes. It is particularly well suited for baking, adding to marinades, and cooking meat.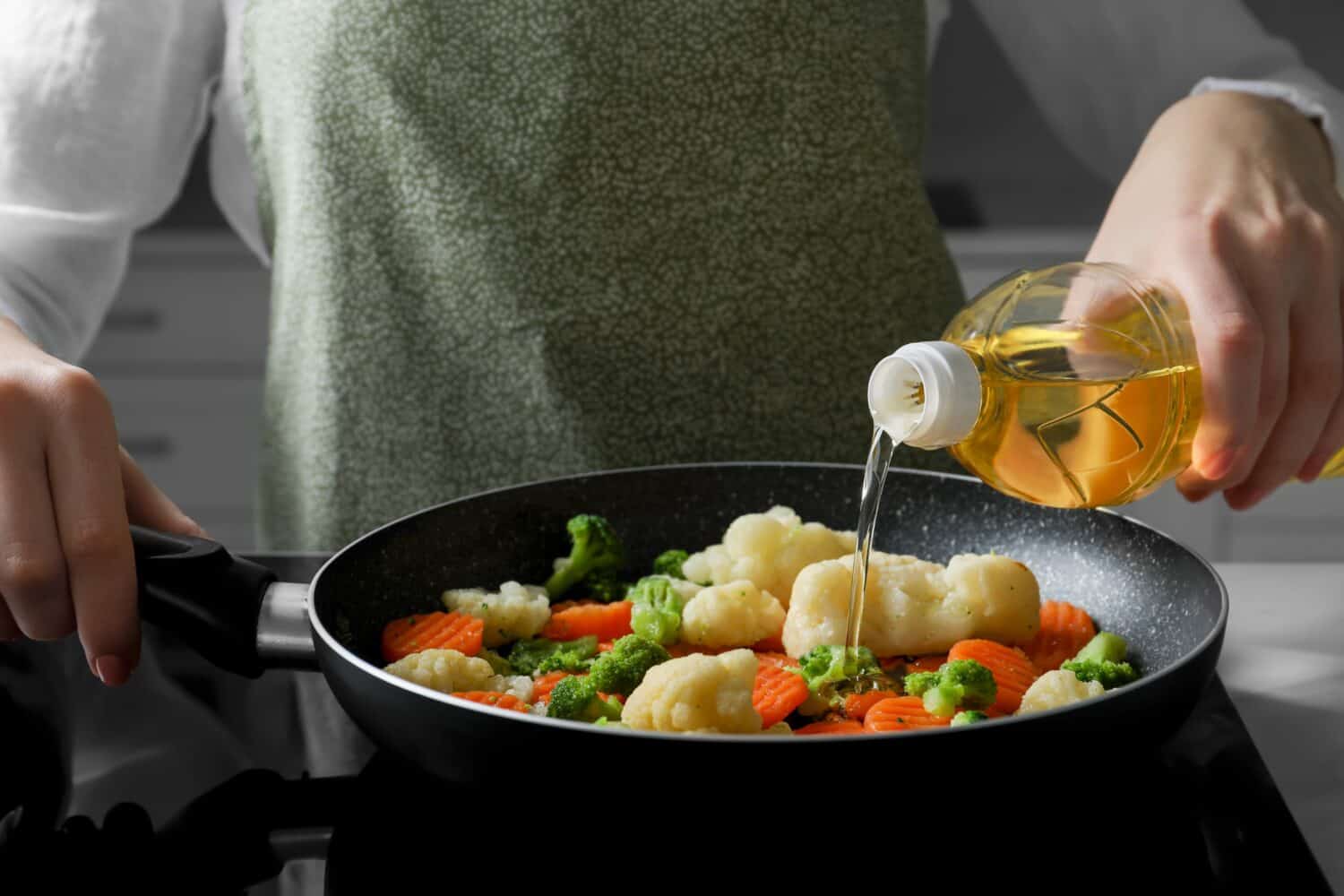 Avocado Oil vs. Olive Oil: How to Cook With Them
When it comes to cooking, we all know that using the perfect oil is crucial as it can significantly impact the outcome of our dishes. With such a wide variety of oils available, making the right choice may seem overwhelming.
Let's begin with olive oil. Olive oil is an excellent choice for sautéing, frying, and roasting. Different grades include extra virgin, virgin, and refined options, giving you more variety when you have particular cooking needs.
Extra virgin olive oil is the way to go if you're searching for olive oil with even more nutritional value. It is produced by pressing olives using a cold-press process, preserving natural flavors and nutrients. However, it's important to avoid using virgin olive oil for cooking at high temperatures as it may overpower or turn bitter due to its delicate flavor. Instead, choose refined olive oil as it has a higher smoke point and can withstand higher heat without compromising its properties.
Now, let's talk about avocado oil. This popular oil is perfect for high-heat cooking methods such as searing and grilling thanks to its high smoke point. It is also great in dressings, dips, and even baking.
Avocado Oil vs. Olive Oil: Creative Ways to Use Both
If you want to shake things up a little bit, why not consider incorporating a combination of avocado and olive oils into your creation? Each oil has unique health benefits, but when combined, they form a delicious and nutritious foundation for your dishes.
This combination in a pesto sauce is a great way to experiment. Swap out the olive oil for a mixture of avocado and olive oils to add a flavorful twist.
Another delicious option is to roast an assortment of vegetables like bell peppers and zucchini in a blend of avocado and olive oils seasoned with sea salt and garlic.
You can easily prepare a refreshing salsa by combining avocado, tomatoes, red onion, jalapeno, cilantro, lime juice, and a drizzle of both oils.
Another tasty dish is grilled artichokes with a lemon avocado aioli made from avocado, lemon juice, garlic, and Dijon mustard. Add a splash of avocado and olive oil for a more unique taste.
Try making a delicious shrimp and asparagus risotto using avocado and olive oils. The dish is usually cooked with a combination of butter and olive oil. However, add avocado oil to enhance the flavor and add depth.
Create a salad dressing with a twist. Mix equal parts avocado and olive oil with balsamic vinegar and some Dijon mustard to create a zesty, creamy vinaigrette.
You can also use a 50/50 blend of both oils to sauté chicken.
The possibilities are endless when it comes to the versatility of these oils! So, let your creativity shine in the kitchen as you experiment with them.
Avocado Oil vs. Olive Oil: How to Store and Preserve Them
Now that you know the health benefits and how to cook with avocado and olive oil, you must understand how to store and maintain them. Both oils should be kept at room temperature, so do not keep them in the refrigerator. They should be stored away from heat and light sources to ensure quality. I hate to break it to you, but your kitchen counter is not a spot for storing these oils if you want to prevent them from turning rancid too quickly. Instead, please keep them in dark cabinets or pantries. For freshness and flavor, it is recommended that you consume these oils within 1-2 months after opening. Following these steps will help you keep them fresh and reap the full health benefits of using them.
Takeaways
In conclusion, avocado and olive oils offer nutritional perks, great flavors, and many uses. While olive oil offers versatility due to its different grades, avocado oil takes the crown in high-heat cooking due to its high smoke point. Choosing one of these oils depends on taste preferences, desired cooking methods, and recipes.
Both oils contain fats and should be used in moderation as part of a well-rounded eating plan. Next time you're at the grocery store, pick up an olive or avocado oil for your household. After all, there is no wrong choice.
Print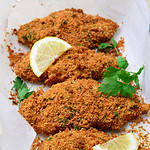 Olive Oil Garlic Chicken
---
Author:

Total Time:

50 minutes

Yield:

4

Pieces

1

x
2 teaspoons

crushed garlic

1/4 cup

olive oil

1/4 cup

dry bread crumbs

1/2 cup

grated parmesan cheese

4

skinless, boneless chicken breast halves
---
Instructions
Preheat oven to 425 degrees F.
Warm the garlic and olive oil together in a small pan to blend the flavors.
In a separate dish, combine the bread crumbs and parmesan cheese.
Dip the chicken breasts in the olive oil and garlic mixture, then into the breadcrumb mixture.
Place in a shallow baking dish.
Bake in the preheated oven for 30 to 35 minutes, until no longer pink and juices run clear.
Prep Time:

15 minutes

Cook Time:

35 minutes

Category:

Main Course

Method:

Baking

Cuisine:

American
Up Next
The image featured at the top of this post is ©Marian Weyo/Shutterstock.com.