[addtoany]
Chicken makes a great base for any dish. It is lean and protein-packed. It also has a light taste that works well with a variety of flavorings ranging from sweet to spicy to fruity.
When thinking of fruity flavoring, pineapple makes a perfect match. It gives the perfect tang to the meat and a taste that is reminiscent of Hawaii and the Philippines.
We feel the recipe we have here gives home cooks a great way to prepare a pineapple glazed chicken. Read on to find out more about the dish as well as some other chicken pineapple combinations.
Pineapple Glazed Chicken
This recipe starts with 4 boneless and skinless chicken breasts that are seasoned with salt and pepper and browned in butter over medium heat.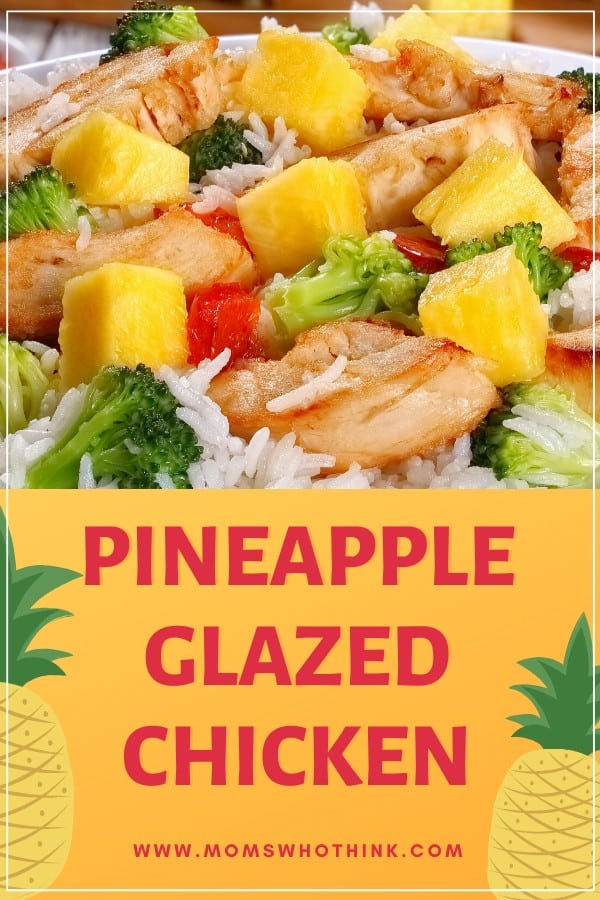 Once the meat is browned, pineapple and brown sugar are added, and the meat is cooked until the liquid thickens into a sauce.
Although you can serve the meat with any side you like, rice is recommended. It makes the perfect complement for this Asian style dish and the rice works to absorb the sauce and infuse it throughout the meal.
Of course, there are many variations on the pineapple glazed chicken dish. The glaze itself typically consists of pineapple and brown sugar but additional ingredients can be added such as salted butter and even rum.
You can also put different seasonings on the chicken to elevate your dish. Cinnamon and cayenne can be used to give the recipe a great island flavor.
Another variation is Pineapple Glazed Chicken with Jalapeno Salsa. For this recipe, mustard is the secret ingredient added to the pineapple juice and brown sugar glaze.
The recipe goes on requiring home cooks to mix their own salsa which consists of pineapple, red pepper, cilantro, onion, and chiles. The ingredients are mixed in a bowl and salt and pepper are added.
The chicken is brushed with the glaze and then topped with the salsa mix. Then the whole dish is cooked through.
Chicken and Pineapple
Chicken glazed pineapple is one of the more popular chickens and pineapple combinations, but there are many others that you can put in your home cooking arsenal. Here are some we recommend.
Chicken Pineapple Pizza: Chicken and pineapple are often used together as pizza toppings. You can make your own pizza from scratch and add pineapple and chicken as toppings or just order a customized pie from your local pizzeria.
Pineapple Chicken: While pineapple juice can be used to flavor a glaze for chicken, pineapple can also be diced up and added to chicken. This recipe calls for chicken to be seasoned with salt and pepper and cooked.
Red pepper and pineapple are added and flavored with garlic and ginger.
A mixture of pineapple juice, soy sauce, chicken broth, hoisin sauce, and brown sugar is included in the recipe. Then corn starch is thrown in as a thickening agent.
The entire dish it sprinkled with sesame seeds and green onions and served.
Pineapple Baked Chicken: Pineapple can work to flavor a chicken glaze, it can be served alongside chicken and it can even be served on top of chicken.
This dish calls for the chicken to be seasoned with salt, pepper and a mixture of Italian seasoning, sweet paprika, and garlic powder.
The top of the chicken is then sprinkled with a 1 cup of mozzarella and parmesan cheese. Pineapple is added to the top and more parmesan is added. The chicken continues to bake until the cheese is melted making for a delicious meal.
Kabobs: Chicken and pineapple can also work well together in a kabob. Alternate chunks of pineapple and chicken with veggies like bell pepper, tomatoes, and onion for a Mediterranean style dish that can take your meal to the next level.
Of course, if you want to get adventurous with pineapple, there are plenty of meats besides chicken that works well with the tangy, fruity flavor. These include ham, sausage, pork, seafood and more.
Chicken and pineapple make an exotic combination that can add a delicious twist to a variety of meals and preparations. With a bit of creativity, you can make an island dish that is sure to take your family away on any given weeknight. What combination will you be making to put a smile on their faces tonight?
If you enjoyed this recipe, make sure to check out our Summertime Chicken and our Sweet and Saucy Chicken.
Print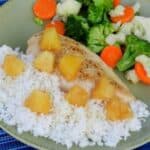 Pineapple Glazed Chicken Recipe
---
Author:

Total Time:

30 minutes
Description
Chicken and pineapple make an exotic combination that can add a delicious twist to a variety of meals and preparations. With a bit of creativity, you can make an island dish that is sure to take your family away on any given weeknight.
---
4

boneless, skinless chicken breasts

1

(15 oz.) can chunk pineapple
Salt and pepper

2 Tablespoons

butter

1/4 cup

packed brown sugar
---
Instructions
Salt and pepper chicken breasts, brown in butter over medium heat.
When browned add pineapple and sugar.
Continue cooking until liquid is thickened and forms a sauce. Serve over rice.
Prep Time:

10 Minutes

Cook Time:

20 Minutes

Category:

Main Course

Method:

Pan-Frying

Cuisine:

American
Keywords: pineapple glazed chicken, chicken and pineapple
The image featured at the top of this post is ©iStock.com/Mariha-kitchen.