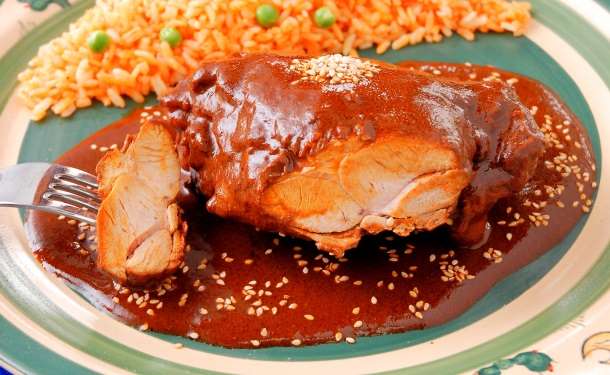 Easy Mole Sauce Recipe
Let's Get Ready for Baby!
Sign up for our monthly pregnancy email series, and you'll get regular updates on your baby's development, helpful timelines to get ready for their arrival, must-have baby needs and so much more! PLUS, you'll get instant access to the MomsWhoThink "Ultimate Guide to Baby Naming in 2022."
CLICK HERE
to get started!
Those who have never tried mole sauce might think it is best served on ice cream. And while it's true that the sauce does contain chocolate, it is best when used as a dressing on meats. Read on to find out more about what makes mole sauce special.
The first thing you should know about mole sauce is that it's pronounced MOH-lay, not like the animal. You should also know that it can be made using several different ingredients, but chocolate is commonly used. However, the chocolate flavor should never dominate.
When making the sauce, ingredients from five different categories should be included. These categories are chilies, sour, sweet and spicy and a thickener must be added as well. The ingredients are mixed together to form a paste that is combined with water or broth. However, the consistency should remain thick.
There are two main types of mole. Mole Negro contains at least three types of dried chilies, smoky whole spices and dark unsweetened chocolate. It gets its dark color from the chocolate and a Mexican herb called hoja santa.
Mole Pablano is reddish brown in color and includes pasilla chiles, chocolate, pumpkin seeds and coriander.
Of course, there are many other mole sauces that are delicious and worth trying like Mole de Cacahuate which contains peanuts, Mole Dulce which contains bananas and plantains, Pipan which contains ground squash seeds and Mile Verde which contains fresh herbs and tomatillos. There is also a Mole Manchamanteles (table cloth staining) variation that uses apples and pineapples.
The recipe we provide is for a form of Mile Negro. It is defined by the cinnamon, chocolate and chilies it contains. It is perfect for serving with chicken for a tasty dish that represents the flavors of the Aztec culture from which it originates. Add some to tonight's meal to take your poultry to the next level.
Ingredients:
2 teaspoons salt
1/2 teaspoon pepper
1 cup water
3 large dried chilies
2 onions; chopped
2 cloves minced garlic
2 cups tomato sauce
1/3 cup sugar
1/4 teaspoon ground cinnamon
1 1 oz. square unsweetened baking chocolate
Directions:
1. Combine salt, pepper, water, chiles and onions in a saucepan. Simmer for 30 minutes on low.
2. Add garlic, tomato sauce, sugar, cinnamon and chocolate.
3. Stir until heated through and chocolate is melted, then serve over chicken. Garnish with fresh cilantro.
Easy RecipesMain Page