Chicken thighs with brown sugar glaze is a crowd-pleasing recipe. It's also easy to make and inexpensive. You can't ask for much more when it comes to making a meal for your family. This is a meal that definitely deserves to be in your rotation.
The sweet flavors of the brown sugar glaze guarantee that kids will especially love it. The chicken thighs provide a good source of protein. Even better, the recipe comes together quickly and easily, so you can get dinner on the table in a hurry.
Brown Sugar Glazed Chicken Thighs
Chicken thighs are a great choice for dinner. Not only are they inexpensive, they also don't tend to dry out if they get a little bit overcooked. When you're rushing to get dinner on the table, you need a dish that's more forgiving. Chicken breasts tend to dry out when cooked too long, but chicken thighs do not because they contain more natural fat.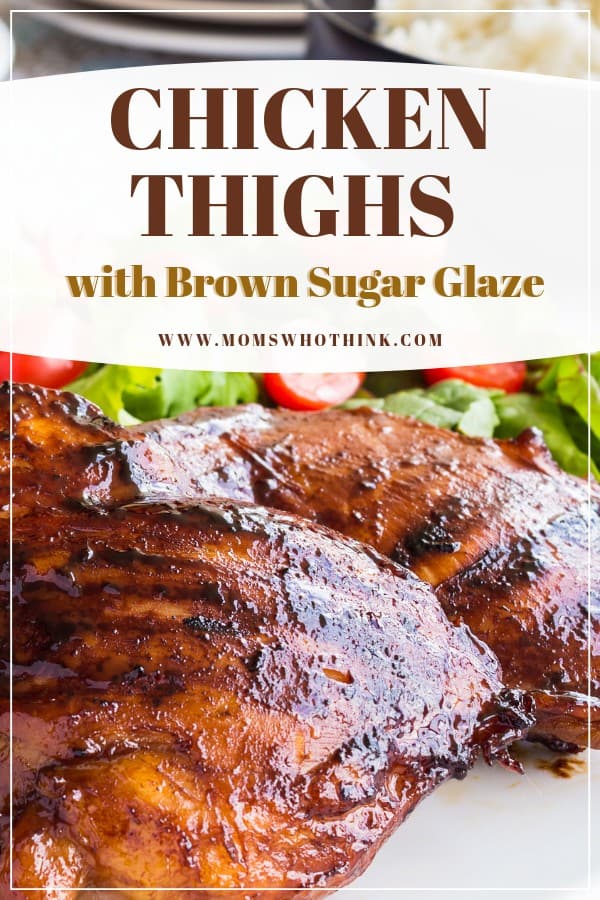 You can often get chicken thighs in a multiple package for a discounted price. Or, you can get them directly from the meat counter in your grocery store. Chicken thighs can be as little as a quarter of the price of boneless, skinless chicken breasts, but you get a lot more flavor.
The brown sugar glaze makes an ideal marinade for the chicken thighs. You can marinate them for as long as you want, so they'll absorb more flavor if you have a little more extra time. When you cook them in the pan as the recipe calls for, the chicken thighs will be nice and crispy.
Brown sugar glazed chicken thighs even work great on the grill. You can cook them on the grill after marinating them and they'll be just as delicious. However, you'll want to trim off any extra fat from the chicken thighs before grilling. Too much fat on the grill can cause it to smoke.
Garlic Brown Sugar Chicken Thighs
Brown sugar marinades for chicken thighs is reminiscent of a popular Hawaiian dish called shoyu chicken. Sold by street vendors, shoyu chicken is savory and flavorful. But if you want to make your own version of shoyu chicken, it's remarkably similar to chicken thighs with brown sugar glaze.
You can add some ingredients to the base marinade for brown sugar glaze and it will only make the recipe even better. Add a cup of soy sauce (also known as shoyu) and increase the brown sugar to one cup, and leave out the pineapple juice. Of course, you'll want to add 4 cloves of minced garlic to the mixture as well to make it extra savory.
Whether you make the basic brown sugar glazed chicken thighs or garlic brown sugar chicken thighs, you'll want the same garnishes and sides. This recipe is ideal when it's served with white or brown rice on the side. You can reserve some of the marinade and boil it to spoon over the rice.
Garnish and serve with sliced green onions and sesame seeds for a flavorful topping and delightful texture.
Whether you make the brown sugar glazed chicken thighs for a sweet, savory entrée, or make the tantalizingly flavorful version with garlic or soy sauce, you can't go wrong. You'll have a dish that will please your whole family. And since it's cheap and easy to make, you'll be just as happy to make it!
Health Benefits of Chicken
Chicken has numerous health benefits to help your family live a healthy, balanced life. The main health benefit of chicken is that it is high in protein, but low in fat. This is an important characteristic, and is the main reason why chicken is beloved among those trying to lose weight or build muscle.
Research has shown that the protein in chicken can also help you feel fuller for longer. This means that you'll be much less likely to want to snack throughout the night. Intermittent snacking can cause you to gain weight, or at least make it more difficult to lose weight.
Chicken is also packed with a variety of nutrients. Niacin, selenium, phosphorous, and vitamin B6 are all found in large quantity in chicken. These nutrients support a variety of bodily processes, from DNA synthesis to brain health.
By feeding this delicious recipe to your family, you'll ensure that they get the nutrition they need to be as healthy as possible. Plus, this recipe will quickly become a favorite with your family!
If you enjoyed this recipe, make sure to check out our Corn Fritters Recipe and our Dude Ranch Beans Recipe
Print
Chicken Thighs with Brown Sugar Glaze
---
Author:

Total Time:

30 Minutes
Description
Chicken thighs with brown sugar glaze is a crowd-pleasing recipe. It's also easy to make and inexpensive. You can't ask for much more when it comes to making a meal for your family.
---
1 cup

pineapple juice

3 Tablespoons

brown sugar

1 Tablespoon

maple syrup

1 teaspoon

cornstarch

3/4 teaspoon

salt

1/2 teaspoon

pepper

2

pounds boneless chicken thighs

3 Tablespoons

all-purpose flour

1 Tablespoon

butter
Vegetable oil
---
Instructions
Whisk together pineapple juice, brown sugar, maple syrup and cornstarch until smooth; set aside.
Sprinkle chicken with salt and pepper, then dust with flour.
Over medium high heat, melt butter in a large nonstick skillet coated with vegetable oil.
Cook chicken 6 to 8 minutes on each side, or until no longer pink inside. Remove chicken from pan.
Turn heat to high. Add pineapple juice mixture to skillet, and cook, whisking constantly, until thickened and bubbly.
Pour over chicken and serve immediately.
Prep Time:

15 Minutes

Cook Time:

15 Minutes

Category:

Main Course

Method:

Pan-Frying

Cuisine:

American
Keywords: brown sugar glazed chicken thighs, garlic brown sugar chicken thighs
The image featured at the top of this post is ©iStock.com/ALLEKO.