Let's Get Ready for Baby!
Sign up for our monthly pregnancy email series, and you'll get regular updates on your baby's development, helpful timelines to get ready for their arrival, must-have baby needs and so much more! PLUS, you'll get instant access to the MomsWhoThink "Ultimate Guide to Baby Naming in 2022."
CLICK HERE
to get started!
[addtoany]

If you were a cowboy who lived in the idealized, Hollywood-type version of what the explorations to the west of the United States of America were, then there is a good chance that something similar to dude ranch beans would be your absolute favorite meal. (There is also a chance it would be your only meal.) But this is not just a recipe for beans that you sit around the fire to eat after cooking them on a makeshift source of heat. This is an absolute delicacy that will leave your mouth watering as you hope that you can make dude ranch beans as a side dish or a main course meal for dinner every evening.
Dude Ranch Chicken
Obviously, by the very nature of cooking beans as an actual meal for oneself, there is a lot of flexibility that can come from it. If you are not feeling very hungry or you do not have a lot of time, then you are absolutely able to eat the dude ranch beans recipe that you cook and move on with your day. However, if the beans are not enough or you would like to mix in a different sort of flavor or add in something to help satisfy your hunger more, then there is some matching of foods that you can undertake to send the meal to the next level.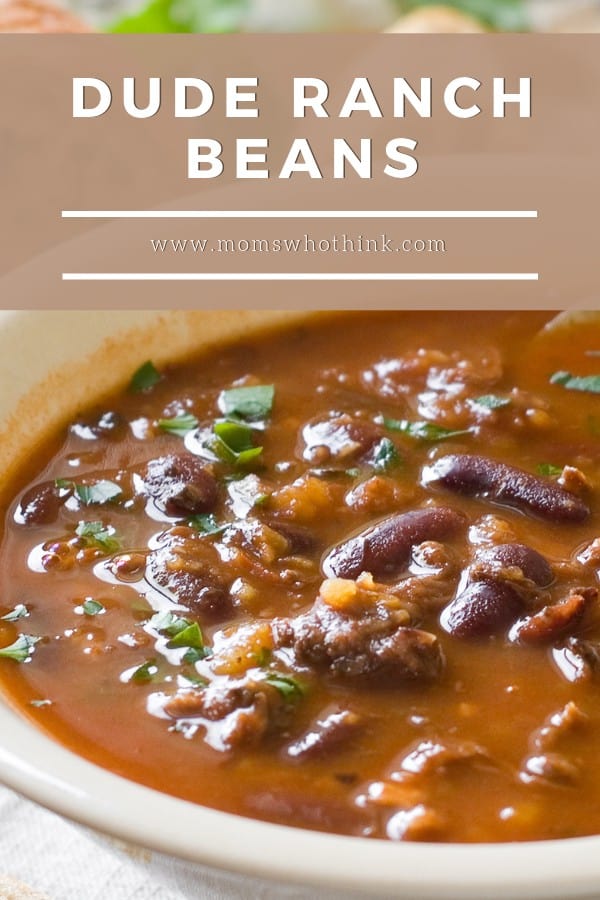 Of course, the dude ranch beans taste dynamite all their own, but this exceptional flavor that they come with also helps elevate so many other foods, too. Namely, this would be chicken. One of the more versatile meats and proteins, chicken tends to go with most foods. It can be a part of Mexican food like enchiladas, Italian food like linguini, many different types of salads, and more. In this particular case, it pairs very well with the southwest flavors and stylings of the dude ranch beans.
To have a meal consisting of chicken and beans is about as consistent a delicacy as you can hope for and it will surely satisfy every member of your family. Dude ranch chicken is just as tasty as dude ranch beans. Give it a whirl! You might not ever go back to just the beans.
Tomato Sauce and Ranch Beans
Understandably, though, you might not be in the mood for anything beyond the dude ranch beans themselves. Or, you could be a vegetarian or vegan or someone who just straight up does not enjoy the taste of chicken. Whether you are the picky eater or you have someone in your family who fits that bill, there is no one way to make dude ranch beans. But with this particular recipe, you are definitely going to experience the best version of this particular dish. The dude ranch beans are so set apart from many other beans and similar dishes because of the particular ingredients that help to define them.
In addition to the dried red kidney beans, this recipe also calls for onions, garlic, green peppers, salt, pepper, chili powder, and, of course, tomato sauce. Each of these ingredients is so crucial and it may seem like there are too many flavors going on at once, but if you were to lose just one of these ingredients, then the dish would not taste as good as it could. It would still be scrumptious, of course, but there is no denying that each of them are very important for making the dude ranch beans what they are.
Particularly, special attention has to be paid to the tomato sauce, which just elevates the beans to a whole other level. Garlic and onions and the various types of seasonings are great, but tomato sauce not only brings out the best flavors of the ingredients by being the liquid-esque base for the meal, but it is also a delicious taste all its own!
If you enjoyed this recipe, make sure to check out our Church Supper Cauliflower Recipe and our Crispy Norwegian Potatoes Recipe.
Print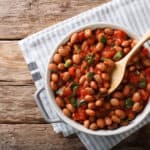 Dude Ranch Beans Recipe
---
Author:

Total Time:

165 Minutes
Description
Of course, the dude ranch beans taste dynamite all their own, but this exceptional flavor that they come with also helps elevate so many other foods, too.
---
2 cups

dried red kidney beans

1 quart

cold water

1 cup

thinly sliced, peeled onions

2

minced cloves garlic

1/3 cup

minced, green pepper

1

8 oz. can tomato sauce

1/8 teaspoon

pepper

2 ¼ teaspoons

salt

1

–

2

Tablespoons chili powder

2 Tablespoons

cold water
---
Instructions
Wash beans, cover with 1 quart water, and let soak covered, several hours or overnight. Drain, reserving five cups of the liquid.
Add the liquid back into the beans with all but last 3 ingredients.
Cover, cook 2 ½ hours, or until tender, adding boiling water if necessary.
Add salt during last hour of cooking, stirring gently with a fork.
About 15 minutes before done, mix chili powder with 2 tablespoons cold water and stir in.
Prep Time:

15 Minutes

Cook Time:

150 Minutes

Category:

Side Dish

Method:

Simmering

Cuisine:

American
Keywords: dude ranch chicken, tomato sauce and ranch beans