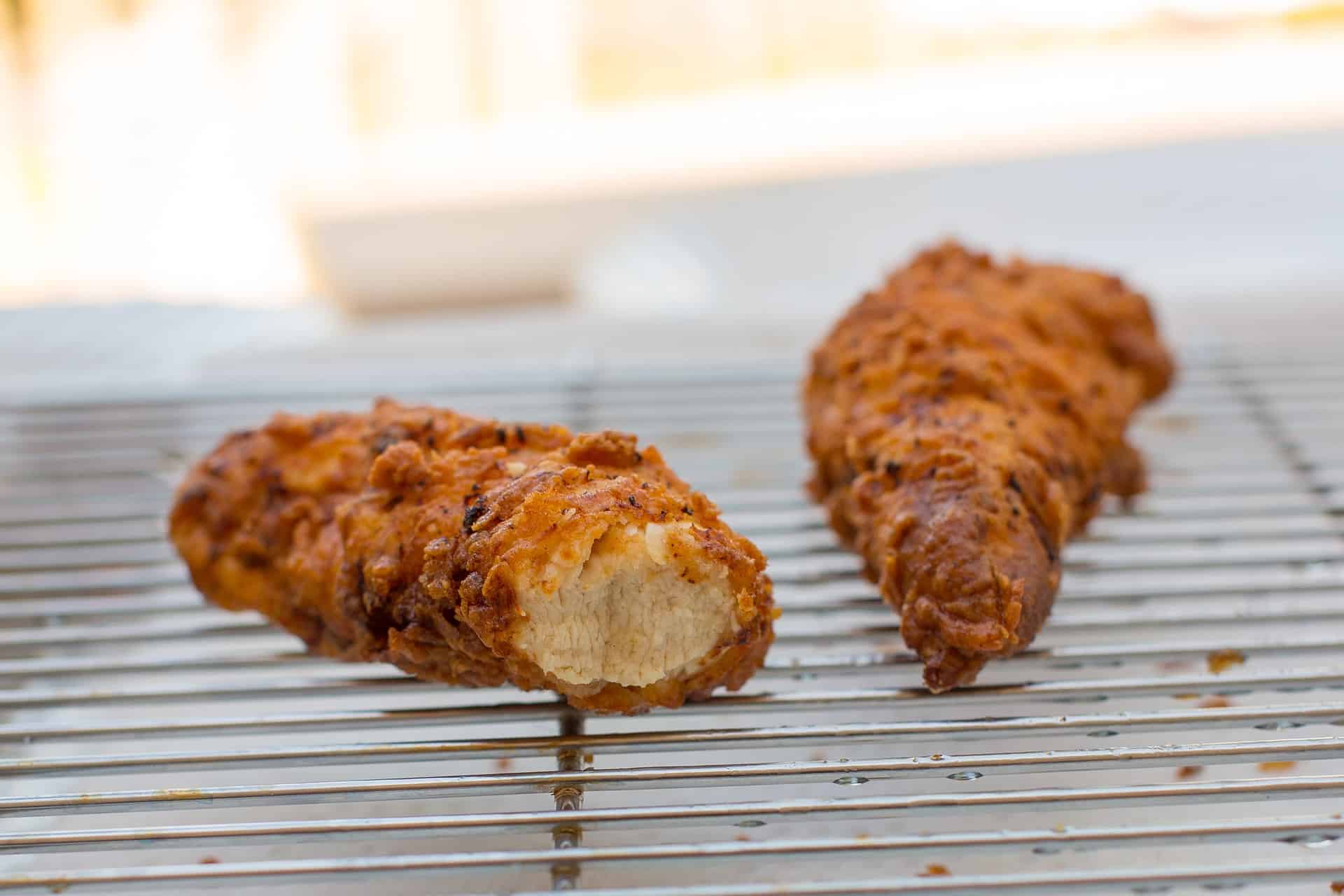 [addtoany]
It's an almost universal truth that kids love chicken fingers. How many times have you taken your kids to a fancy restaurant and they still just wanted the usual chicken fingers? When you make them for dinner, it's guaranteed that your kids will love them.
But kids aren't the only ones who love chicken fingers. As a busy mom, I have to admit that this finger food has a lot of appeal to me, too. Chicken fingers are fun to eat and almost everybody loves them.
This recipe is a different take on the usual chicken fingers, though. By adding a coating of parmesan cheese and Italian seasonings and having a savory tomato dipping sauce, they are more like a cross between chicken fingers and mozzarella sticks. My mouth is watering just thinking about them!
While this is a great family-friendly recipe for lunch or dinner, it would also be a hit if you served it at an informal family gathering. Think of serving these parmesan chicken fingers with warm tomato dipping sauce at a football-watching party. If you do, make sure to prepare a double or triple batch, because they'll be gobbled up quickly.
Tomato Dipping Sauce
Chicken fingers are usually served with ranch dressing, barbecue sauce, or honey mustard. The Italian theme of these chicken fingers starts with oregano and parmesan cheese. Then the theme continues with the slightly garlicky tomato sauce for the perfect complement.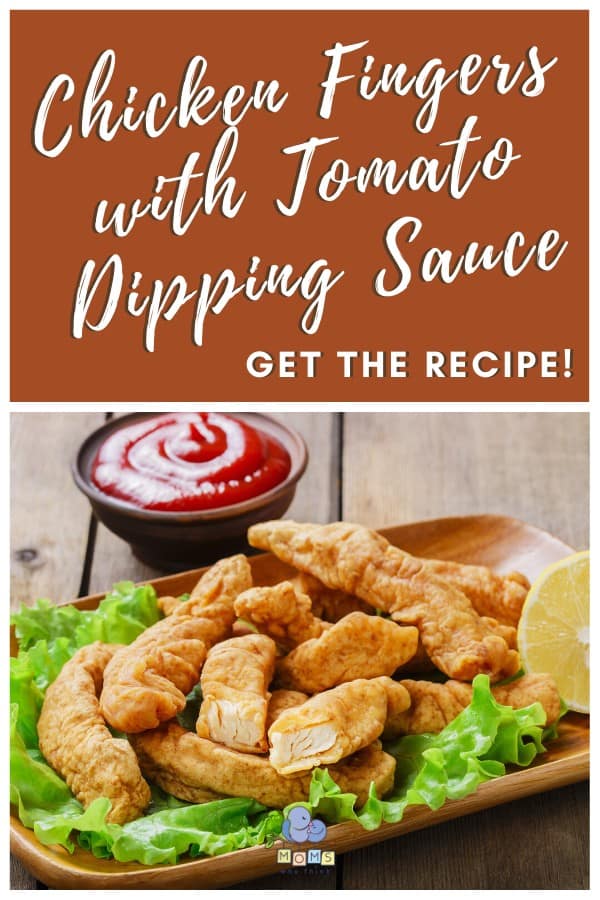 But if your kids don't usually like garlic, don't worry: it's just a subtle flavor enhancer here in the tomato sauce. Kids who like foods like pizza will surely like the similar flavors here as well. Besides that, everyone knows that foods you can pick up with your fingers and dip into sauce are just more fun to eat.
Even though this recipe is sure too much beloved by you and your family, the good news is that it won't require you to spend all day in the kitchen making it. This recipe still meets my main criteria for family meals: it's fast and inexpensive to make. My goal is to get dinner on the table in about a half-hour on most days and this recipe meets that standard.
It's also inexpensive to make, which means that you don't have to break your budget to keep your family happy. The total cost of this recipe comes in under $10 bucks in most places, depending on the cost of groceries in your area. You can serve a fresh, home-cooked meal for less money than it would cost to feed everyone from the dollar menu at a fast-food restaurant.
Using chicken tenders instead of boneless, skinless chicken breasts saves both time and money. Chicken tenders are usually a couple of dollars cheaper per pound than whole breasts. They're also more convenient since they're already the right size for breading and cooking. Cheap, easy, and delicious: all the ingredients for a hot meal in my house.
Baked Parmesan Chicken Tenders
This recipe has one major advantage over traditional chicken tenders. That is the fact that these are baked rather than fried, as most restaurant chicken tenders are. Even if you're not the biggest health food fan out there, most of us still want our family to eat relatively healthy meals whenever possible.
Baked parmesan chicken tenders take the grease out of typical chicken fingers. Greasy foods may be tasty, but most experts say that we should eat them only sparingly. I can't speak for you, but I would rather save the grease in my diet for an occasional order of French fries. I never want to completely give up French fries!
Unlike some other food substitutions, this recipe compared to fried chicken tenders is a swap that doesn't lose anything in the process of being healthier. I promise that neither you nor your kids will feel like it's missing anything by being baked instead of fried. It's just that good!
In fact, this recipe is actually healthy in many ways other than just being baked. It's suitable for gluten-free diets because it doesn't use any flour. And you can even eat this recipe on a low carb or keto diet if you leave the dipping sauce for the kids.
Baked parmesan chicken tenders are so easy to make, your kids will be asking for them all the time. And because they're so quick and inexpensive to prepare, you can say yes without going broke or becoming a slave to the kitchen. 
If you enjoyed this recipe, make sure to check out our Summertime Chicken and our Sweet and Saucy Chicken.
Print
Parmesan Chicken Fingers with Warm Tomato Dipping Sauce Recipe
---
Description
This recipe is a different take on the usual chicken fingers, though. By adding a coating of parmesan cheese and Italian seasonings and having a savory tomato dipping sauce, they are more like a cross between chicken fingers and mozzarella sticks.
---
1½

pounds chicken tenders

¾ cup

grated Parmesan cheese

1

(15 ounce) can tomato sauce with roasted garlic

1 Tablespoon

sun-dried tomato paste

1 teaspoon

dried oregano
---
Instructions
Preheat oven to 375°F.
Coat a baking sheet with cooking spray.
Combine the chicken tenders and Parmesan cheese in a large bowl and toss to coat the chicken.
Transfer the chicken to the prepared baking sheet.
Bake for 25 to 30 minutes until the chicken is cooked through.
Combine the tomato sauce, tomato paste and oregano in small saucepan over medium heat.
Simmer for 10 minutes.
Serve the chicken fingers with the dipping sauce on the side.
Category:

Main Course

Method:

Baking

Cuisine:

Italian
Keywords: tomato dipping sauce, baked parmesan chicken tenders