[addtoany]

Of all the culinary experiences that hail from the European region, you might be surprised to learn that the foods of Norway rank among the best that the continent has to offer. In my opinion, the best Norwegian food I ever tried was a Norwegian club sandwich that was handmade by Scandivanian chefs.

That was until I heard about this particular recipe for Norwegian potatoes. I think this would easily top the Norwegian club sandwich because of every aspect of this recipe seems curated to absolute perfection. You might be hesitant to try Norwegian food, but I promise you there is nothing to feel intrepid about.
Norwegian Potatoes
For the most part, when you are cooking potatoes for dinner, you know you have a rather simple task ahead of you that will not take too long to complete. That is not to say that potatoes are easy necessarily (especially if you are a novice in the kitchen) to cook, but once you have enough experience with them, it somewhat becomes second nature to whip up some potatoes as a side dish in a meal. However, if you are looking to embrace this recipe for crispy Norwegian potatoes, then you will definitely need to prepare yourself for the fact that this is a much bigger undertaking than your average potato dish.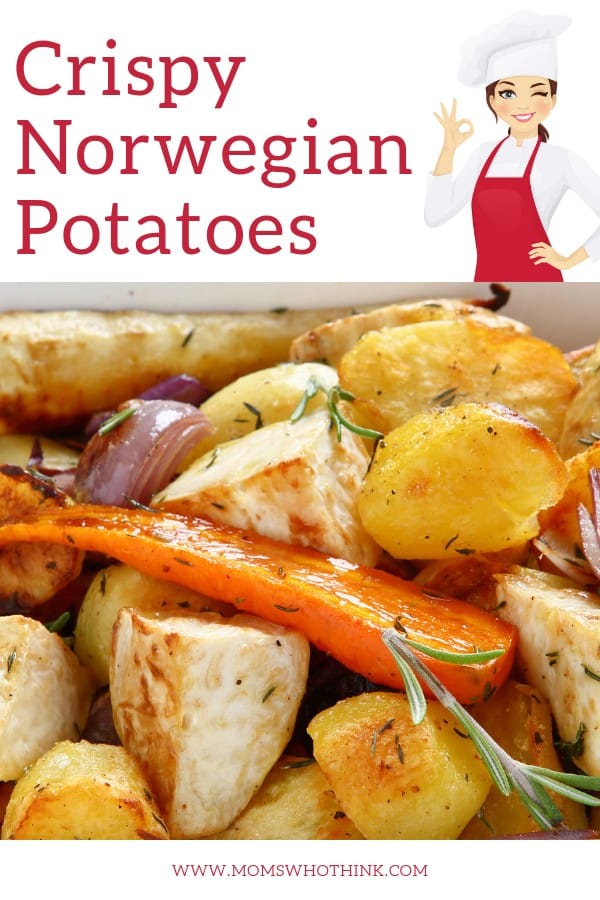 Norweigan potatoes are delicious and, to emphasize this, you need to ensure that you are taking the necessary steps and putting in a ton of effort to make this part of the meal as tasty as can be. Unfortunately, for those of you on a time crunch who are interested in a potato's crunch, this might mean that you will have to sideline the dish for another time, in favor of something that can be whipped together with much more expediency.
Aside from the seven ingredients (that comprise together to be worth eight separate servings of these Norwegian potatoes), there are eight total steps for directional cooking. The cooking process, on average, exceeds two hours in most cases and requires a lot of attention to ensure that every part of the potatoes is cooking evenly. If you're going to make Norwegian food, after all, you have to make it properly.
Potato Lefse
This specialized method of cooking Norweigan potatoes is a delicious glimpse and taste into the culinary culture of Norway. However, you do not have to cease your taste bud-based dalliance with the potatoes. After all, once you venture into Norwegian-style cooking, you might as well keep going down the rabbit hole because you never know what new food you might discover that could become a favorite of yours. Mexican, Italian, French, Chinese is all different types of foods from varying cultures and ethnicities that have established a foothold in American culture as being extremely popular and well-liked by many. Norweigan food is definitely not as popular as some of these, but the delicacies whipped up by our Scandanivan friends can be just as scrumptious as anything.
So keep pursuing the foods Norway has to offer. When you cook up Norwegian potatoes, you have to pair it with something, right? Well, meat is a popular option for such an idea, but you should also look into adding Norwegian potatoes to your plate alongside lefse bread. Similarly, lefse is made from potatoes and beloved flatbread in the realms of Norwegian culture.
Because of the similarity in that both the potatoes (obviously) and the lefse have a starchy base, they taste rather incredible together. In terms of Norwegian meals, this is definitely one of the easiest to make at home, as long as you know some solid places to find high-quality lefse. It is not the easiest find, but it is worth it all the same.
If you enjoyed this recipe, make sure to check out our New England Corn Chowder Recipe and our Zucchini Cheese Bake.
Print
Crispy Norwegian Potatoes Recipe
---
Author:

Total Time:

55 Minutes
Description
If you are looking to embrace this recipe for crispy Norwegian potatoes, then you will definitely need to prepare yourself for the fact that this is a much bigger undertaking than your average potato dish.
---
1 cup

butter, divided

2 cups

coarsely chopped onion

3

lbs. potatoes, peeled and cut into ½ inch chunks (

8 cups

)

4 cups

sliced (

¼

inch rounds) carrots

2 teaspoons

salt

1 ½ teaspoons

coarsely ground black pepper

1 teaspoon

nutmeg
---
Instructions
Set the oven rack in the middle position. Preheat the oven to 350 degrees F. Coat a 9 inch by 13 inch ovenproof glass baking dish with vegetable spray. Set aside.
Bring 4 cups of water to a boil.
Melt ½ cup of the butter in a Dutch oven or heavy bottomed casserole over medium heat. Add onion and cook until translucent, 5 to 7 minutes.
Add potatoes, carrots, salt, pepper, and nutmeg. Cook 1 minute, stirring with a wooden spoon.
Remove to prepared baking dish.
Add enough boiling water to cover vegetables. Cover with foil and place in oven. Bake about 40 minutes, or until vegetables are tender when pierced with the tip of a knife.
Remove from oven. Drain vegetables in a colander.
Line a 17 inch by 11 inch jelly roll pan with foil, shiny side up, and coat with vegetable spray.
Arrange vegetables in an even layer in prepared pan.
Melt remaining ½ cup butter and pour over vegetables. Return to oven and bake for 55 minutes, shaking pan every 15 minutes, until brown and crispy. Serve immediately.
Prep Time:

15 Minutes

Cook Time:

40 Minutes

Category:

Side Dish

Method:

Baking

Cuisine:

Nordic
Keywords: norwegian potatoes, potato lefse