Chicken and dumplings is a dish that involves cooking chicken in water and then using the resulting broth to boil the dumplings. It is known as comfort food that is popular in the South and Midwest.
Many say the dish originated in French Canada during the Great Depression. Others say it is native to the Southern United States and originated during the antebellum era, but either way, it is known for being a mainstay meal during harsh economic times.
In addition to the chicken and dumplings, finely chopped vegetables like carrots and celery are often added to the broth and herbs like dill, parsley, thyme, or chives are added to the dumpling dough.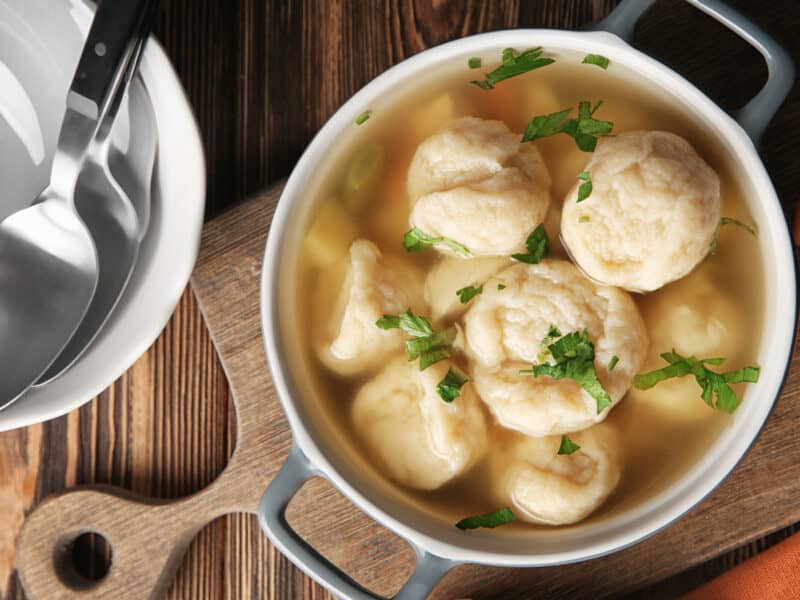 Across the world, different cultures have their own variations of the chicken and dumpling dish. In China, the wonton is a popular dish that is similar to chicken and dumplings. In Iranian-Jewish culture, the Gondi dish uses matzah ball dumplings in the recipe.
Another variation is the 'chicken and pastry' or 'chicken pastry' meal. This dish uses flat, wide noodles that are rolled from biscuit dough. It is distinct from traditional chicken and dumplings in that the dough is in the form of flat strips rather than small balls. In the Appalachian region of the United States, this meal is called chicken and slicks while the Pennsylvania Dutch call it bott boi.
Chicken and dumpling soup is another variation that is popular in the Midwest.
Don't forget to check out our other chicken recipes.
Soup Dumplings
The consistency of the prepared chicken and dumpling dish can vary from a thin soup to a very thick casserole. These thicker preparations are made by simmering the dumplings for a longer amount of time and adding flour or another thickening agent directly to the broth.
The thickening agents and added simmer time can cause the chicken to dry and out become tough. Therefore, it is usually removed from the mixture while this is occurring.
While the dumplings continue to cook, the chicken meat is taken out to be separated from the bones. The chicken is then added back in and the meal is ready to be served.
The recipe we have provided does require removing the chicken while the dumplings are cooking. However, there is no thickening agent added to the broth, so the dish has a soup-like consistency when prepared.
It may be interesting for some foodies to find out that there are three classifications of soup dumplings. The first is known as xiaolongbao. Originating in Shanghai, China, this type of dumpling has a thicker skin and not much soup.
The other two dumplings originate in the Jiangsu Province, where a cooking tradition is practiced that is associated with light flavors. The dumplings native to this region are the Nanjing tangbao, which are soup-filled and have a very thin skin.
The third is a crab soup dumpling called the xiehuangtangbao, which is quite large and has a leathery exterior. This type of dumpling is larger than the average fist and a straw is required to get the soup inside.
Other Cuisines to Try
The world is full of so many different cuisines. Many families only ever experience a small tidbit of what the world has to offer, which is truly a shame. By restricting yourself to traditional cooking, you're missing out on so many great culinary experiences.
One often under-appreciated cuisine is that of Norway. Seafood lovers are definitely missing out, as many Norwegian dishes incorporate fish in some sort of way. The cuisine of Norway is certainly different from that of the United States, but there are some dishes that are easily recognizable to the average American family. Consider trying some of Norway's best food!
In terms of Asian cuisine, China and Japan get all the love in the United States. We totally get why; Chinese and Japanese food is absolutely delicious. But you ought to give other Asian food a chance to shine, too. Vietnamese, Thai, and Laotian are all examples of Asian cuisine that you absolutely need to try.
Despite sharing land and history with them, many Americans haven't tried the food of Native Americans. You'd be surprised to learn how many of our own dishes come from or were inspired by Native American dishes. Colonialism meant that many indigenous recipes were cast aside in favor of European dishes. In modern times, many are beginning to appreciate all that these time-tested recipes have to offer.
Chinese Dumplings Recipe
To get a truly authentic taste of China, you will want to try this Great Chinese dumpling recipe, which is guaranteed to make for a moist and juicy dish.
If you enjoyed this recipe, make sure to check out our Bread Bowl Potato Soup and our Chicken Noodle Soup Recipe.
Print
Chicken and Dumplings
---
Author:

Total Time:

2 hours 15 minutes
Description
Chicken and dumplings is a dish that involves cooking chicken in water and then using the resulting broth to boil the dumplings.
---
1 cup

all purpose flour

2 teaspoons

baking powder

1/2 teaspoon

salt

2

Tablespooons butter, softened

1

large egg, beaten

1/2 cup

milk
---
Instructions
Cover the chicken with water in a large pot. Bring to a boil, cover and simmer for 1 1/2 to 2 hours, until the chicken is completely cooked.

Strain and save the broth and let the chicken cool.

Remove the chicken meat from the bones. Discard the skin and bones, cut the meat into bite-sized pieces and set aside.

Skim the chicken fat off the surface of the broth and discard.

To make the dumplings : Mix the flour, baking powder, and salt in a large bowl. Cut in the butter with a fork until well blended.

Mix the egg and milk together in a small bowl. Add to the flour mixture and knead for a few seconds, until just mixed. If the dough is sticky, add more flour.

Heat the broth to a simmer in a large pot. Add the carrots, onion, celery, thyme, salt and pepper and cook for 5 minutes.

With a large spoon, pull the dumpling dough apart into rough shaped balls the size of a walnut (do not press to form). Carefully drop the dumplings into the broth.

Cover and reduce the heat so the broth is barely simmering. Cook for 7 to 8 minutes, or until the dumplings are cooked through. Overcooking will make the dumplings mushy.

Place the cooked chicken into a large bowl or glass baking dish and ladle the hot broth, vegetables, and dumplings over the top. Serve immediately.
Prep Time:

15 Minutes

Cook Time:

2 Hours

Category:

Main Course

Method:

Stewing

Cuisine:

Asian
Keywords: soup dumplings, chinese dumplings recipe
Print
Chinese Chicken and Dumplings
---
Author:

Total Time:

35 minutes
Description
To get a truly authentic taste of China, you will want to try this Great Chinese dumpling recipe which is guaranteed to make for a moist and juicy dish which is great when served with a flavorful broth.
---
1/2 cup

soy sauce

1 tbsp

seasoned rice vinegar

1 tbsp

finely chopped Chinese chives

1 tbsp

sesame seeds

1 tsp

chile-garlic sauce

1

lb ground pork

3

cloves garlic, minced

1

egg beaten

2 tbsp

finely chopped Chinese chives

2 tbsp

soy sauce

1 1/2 tbsp

sesame oil

1 tbsp

minced fresh ginger

50

dumpling wrappers

1 cup

vegetable oil for frying
---
Instructions
Combine soy sauce, rice vinegar, 1 tbsp chives, sesame seeds, and chile sauce in a small bowl. Set aside.
Mix pork, garlic, egg, 2 tbsp. chives, soy sauce, sesame oil, and ginger in a large bowl. Place a dumpling wrapper on a lightly floured surface and spoon about 1 tbsp of the filling in the middle. Wet the edge with a little water and crimp together forming small pleats to seal the dumpling. Repeat with remaining dumpling wrappers and filling.
Heat 1 to 2 tbsp vegetable oil in a large skillet over medium-high heat. Place 8 to 10 dumplings in the pan and cook until browned, about 2 minutes per side. Pour in 1 cup of water, cover and cook until the dumplings are tender, and the pork is cooked through about 5 minutes. Repeat for remaining dumplings.
Serve with soy sauce for dipping.
Prep Time:

15

Cook Time:

20

Category:

Main Course

Method:

Stewing

Cuisine:

Chinese
Keywords: Chinese Chicken and Dumpling, Chicken and Dumpling Soup
The image featured at the top of this post is ©Africa Studio/Shutterstock.com.