Grab your FREE copy of one of our most popular and engaging activity packets!
Whether you're in the classroom or keeping your little ones busy at home these days, we have fun, engaging, and FREE printable activity for your kiddos to enjoy. To snag and instantly download you copy,
just CLICK HERE
!

Vegetable side dishes are sometimes one of the most challenging items to come up within my house. We want to eat more vegetables but sometimes get bored with the usual ways that we prepare them.
Zucchini is a great vegetable that we don't eat nearly often enough. This recipe combines the mild flavor of zucchini with the creamy goodness of cheese that everybody loves. The bread crumbs and eggs add substance to fill you up. It's great on its own for vegetarians or as a side dish for ham or chicken.
Zucchini Cheese Bake
Zucchini is one of those words that is hard to spell but delicious to eat. An interesting fact about zucchini: it's a member of the squash family that has different names in different countries. It originated in Central and South America, like most squashes. It made its way to Europe, where it was called zucchini in Italy and courgette in France.
It was originally brought to America by Italians and the word retained the same name and spelling in America because it was easy to pronounce. However, in Britain, the zucchini is called the courgette for reasons unknown. It's one of many vegetables that has a different name in the United States and in England.
Zucchini is versatile and has an incredibly mild flavor. But sometimes kids who are picky eaters don't like green vegetables just on sight. This recipe just might win them over, though. I call it "the cheese effect": the best way to get kids to eat vegetables is to serve them with cheese. It worked on my kids for broccoli, so why not try it with zucchini?
Baked Zucchini Recipes
If you've ever tried to grow zucchini, you know about its legendary status. The plants will grow slowly all summer, then suddenly, you'll be buried under an avalanche of zucchini. You'll have so much zucchini, you'll have to find ways to use it up. If you're a Midwesterner, you will probably have your gardening neighbors trying to offload their extra zucchini on you too!
This zucchini cheese bake recipe is only one of many delicious ways you can use up extra zucchini. Another baked zucchini recipe that is really popular is zucchini bread, which tastes mild and cinnamon-y, almost like banana bread. If you want to make your zucchini bread extra fancy and not quite as healthy, try adding a cup of chocolate chips to make it more decadent.
Zucchini is also a nutritional powerhouse. There are so many benefits to your health from eating zucchini that it's a really good idea to add it to your diet—especially if you're trying to lose weight (although smothering it in cheese and butter might defeat that purpose.) Zucchini is high in fiber and water and low in calories, so you can fill up without adding many calories.
Another good nutrition fact about zucchini is that it's high in a lot of vitamins. Zucchini is packed with magnesium, vitamins A, C, and B complex, and manganese. It's believed to be especially beneficial for people with diabetes.
Because the taste of zucchini is so mild and it goes so well with Italian dishes, it has become popular to make zucchini "noodles" with a spiralizer or food processor. Then you can prepare it just like you would any other pasta, with a marinara sauce and mozzarella or parmesan cheese. If you bake zucchini noodles in the oven with marinara and cheese, that's another baked zucchini recipe that's sure to be a winner.
Baked zucchini recipes with spiralized "noodles", marinara, and cheese are also naturally suited to gluten-free diets and low-carb diets. Zucchini is really a vegetable you should eat more often!
If you enjoyed this recipe, make sure to check out our Tater Tot Casserole Recipe and our Ham and Potato Casserole Recipe.
Print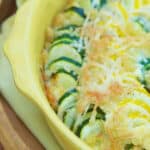 Zucchini Cheese Bake Recipe
---
Author:

Prep Time:

15 Minutes

Cook Time:

1 Hour, 15 Minutes

Total Time:

1 Hour, 30 Minutes
Description
Zucchini is a great vegetable that we don't eat nearly often enough. This recipe combines the mild flavor of zucchini with the creamy goodness of cheese that everybody loves.
---
2

lbs. zucchini

1 cup

finely chopped onion

¼

lb butter, melted

1 ¼ cups

fine bread crumbs

1/3 cup

heavy cream

4

eggs, beaten

1 ¼ cups

grated American cheese

1 teaspoon

salt

½ teaspoon

coarsely ground black pepper

½ teaspoon

chopped fresh dill
---
Instructions
Set the oven rack to the middle position. Preheat the oven to 350 degrees F. Coat a 1 ½ quart ovenproof soufflé dish with vegetable spray or butter.
Wash and peel zucchini. Trim both ends. Grate with the metal grating blade of a food processor.
Wring out grated zucchini in a dish towel over sink to remove as much liquid as possible. Squeeze zucchini  again by hand to remove remaining liquid. Set zucchini aside in a large bowl.
Squeeze chopped onion by hand to remove as much liquid as possible. Add to bowl with zucchini.
Add melted butter, bread crumbs, and cream. Add eggs and mix thoroughly.
Fold in cheese, salt, pepper, and dill until completely combined.
Spoon mixture into prepared dish and bake about 1 hour and 15 minutes, or until golden brown on top and bubbling around edges. If zucchini seems to be browning too quickly, cover with foil. Serve hot.
Category:

Side Dish

Method:

Baking

Cuisine:

American
Keywords: zuchini cheese bake, baked zucchini recipes