Meatloaf is a beloved family meal, and it's often made with a generations-old family recipe. (Scroll down for my mom's meatloaf recipe. I've never found one I love more!) And while meatloaf is often accompanied by buttery, creamy mashed potatoes, it doesn't have to be. Consider ditching the mashed taters for a healthier side. OR, supplement the spuds with one of these healthy sides for meatloaf.
The History of Meatloaf
While many herald the modern meatloaf as an all-American dinner table staple, this delicious dish actually has roots dating back to 5th Century medieval Europe, where it was a cornucopia of meat and vegetable scraps. Fast forward to the Great Depression, and meatloaf was a palatable way to stretch the weekly grocery budget, and the evolution of the meat grinder made coming by ground beef with which to make a meatloaf that much easier.
Today's meatloaf, though, is slightly more civilized and indeed features a variety of different approaches in how it's made. And everyone, it seems, has their favorite. Here's mine:
Print
Mom's Meatloaf
---
Description
This recipe is a family favorite in our house. I grew up eating it, and now I enjoy serving it to my own kids. 
---
LOAF:
1 1/2

lbs

ground chuck

1/2

cup

bread crumbs

1

onion grated

1/2

can tomato sauce
salt & pepper to taste
GRAVY:
1/2

can tomato sauce

1

cup

water

2 Tbsp

apple cider vinegar

2 Tbsp

prepared (yellow) mustard

2 Tbsp

brown sugar
---
Instructions
Turn on the oven broiler.
Mix all loaf ingredients in a bowl.
Transfer ingredients to a greased baking pan, and form a loaf.
Brown lightly under broiler, and remove from oven.
Preheat oven to 350 degrees F.
Combine all gravy ingredients in a separate bowl and pour over browned loaf.
Back at 350 degrees F for one hour, basting every 10 minutes.
What to Make With Leftover Meatloaf
On the rare occasion when you have leftover meatloaf, put it in the refrigerator overnight. The next day for lunch, slice off a piece and put it on two slices of white bread with mayo. THE. BEST!
Healthy Sides for Meatloaf
OK, let's get to it. You have your meatloaf recipe ready to roll. Don't waste any time thinking about what to serve with it. Here are the healthy recipes to serve with meatloaf to make it a well-rounded guilt-free meal.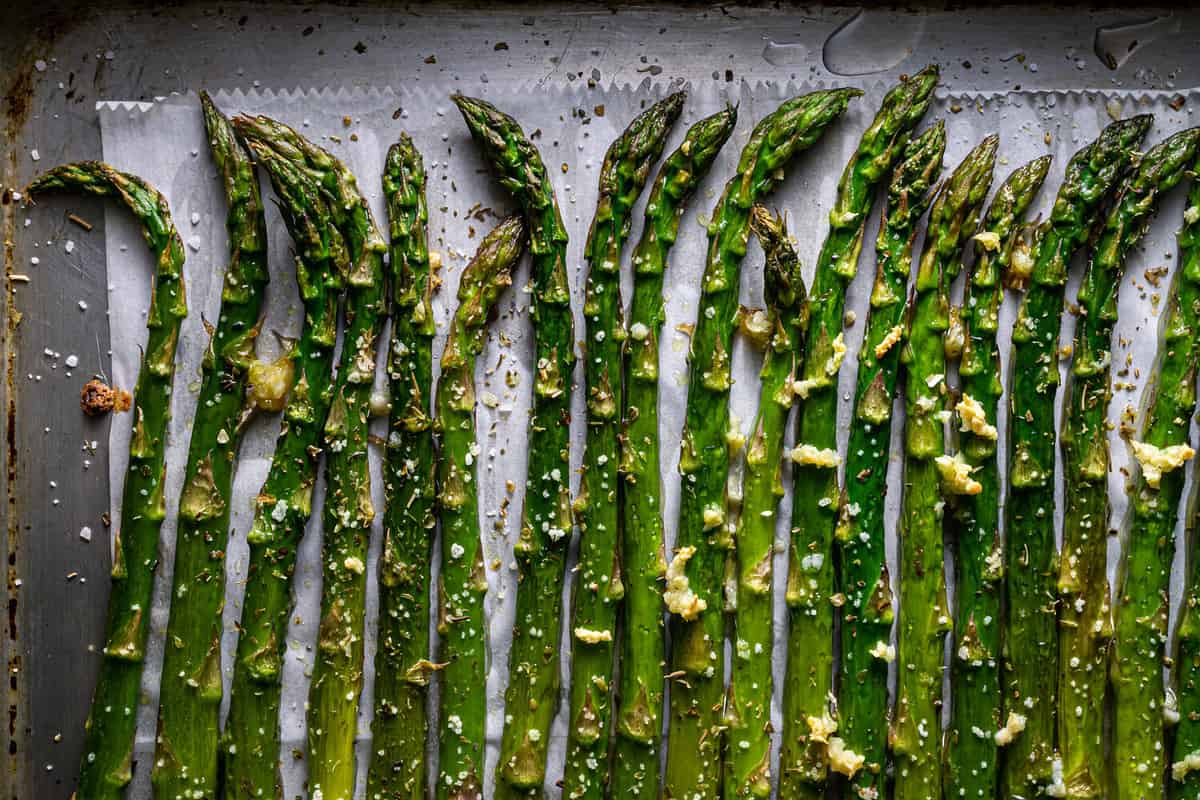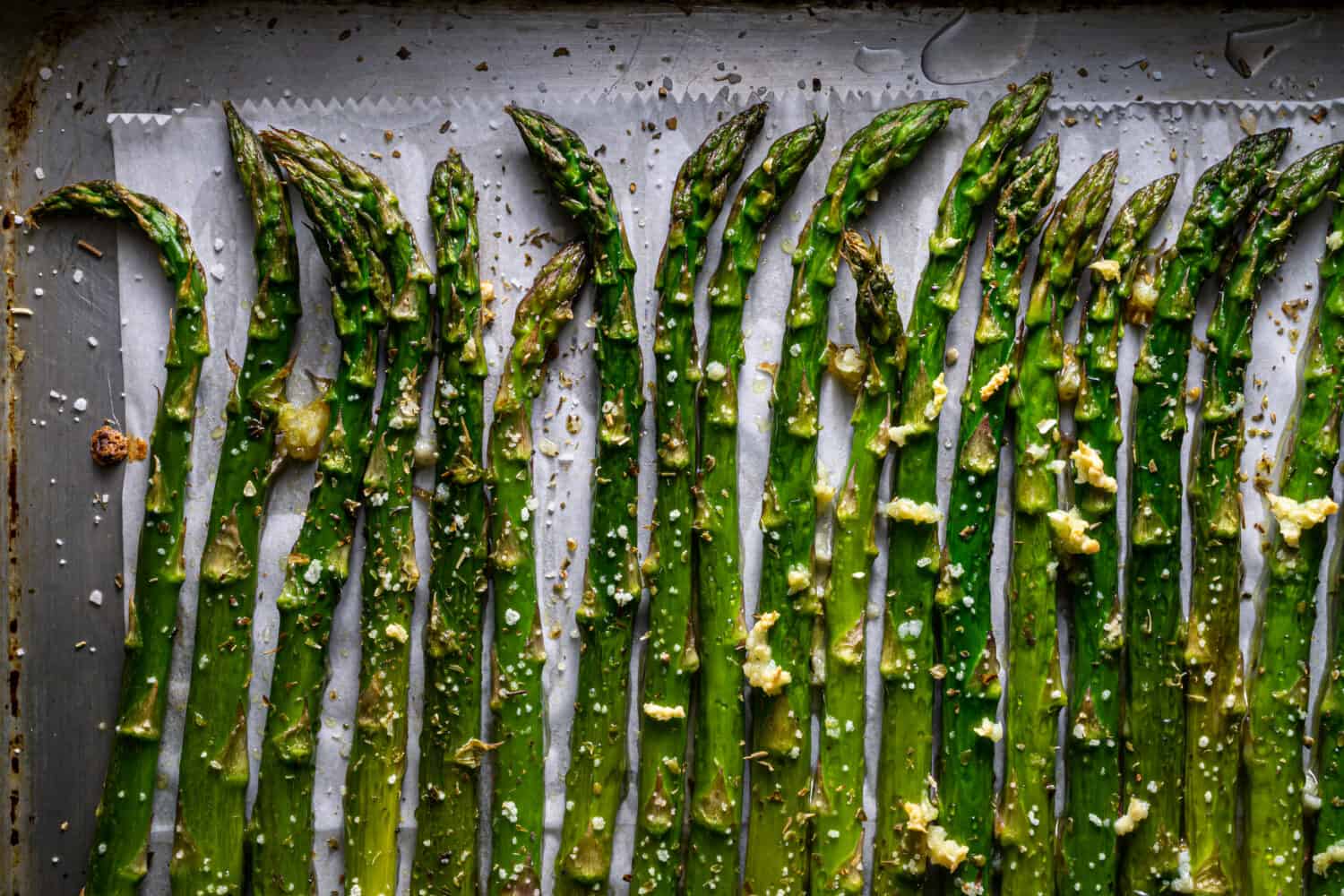 You really can't go wrong with a simple roasted asparagus recipe. Snap the ends of the stalks, chop them into bite-sized pieces (or not), toss them in some olive oil and lay out on a roasting pan. Sprinkle some seasoning on top and roast for 15 minutes or so. So easy and the perfect veggie to serve with meatloaf.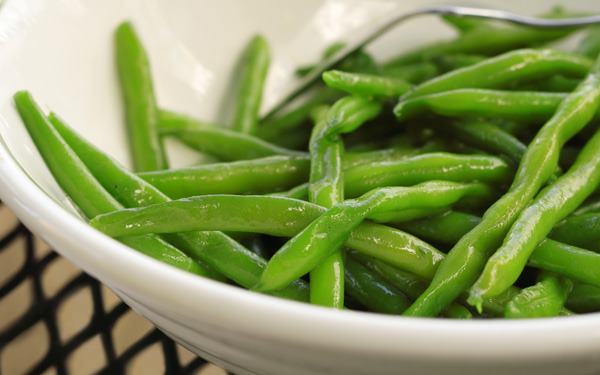 For a simple side that packs flavor but doesn't steal the spotlight from the main dish (meatloaf!), try this delicious recipe for sauteed green beans. It's easy, approachable and oh-so-tasty.
If your oven is otherwise occupied by the meatloaf, this garlic herb butter broccoli recipe is ideal as it can be cooked in the microwave. A few minutes is all it takes to create a tasty side for your meatloaf.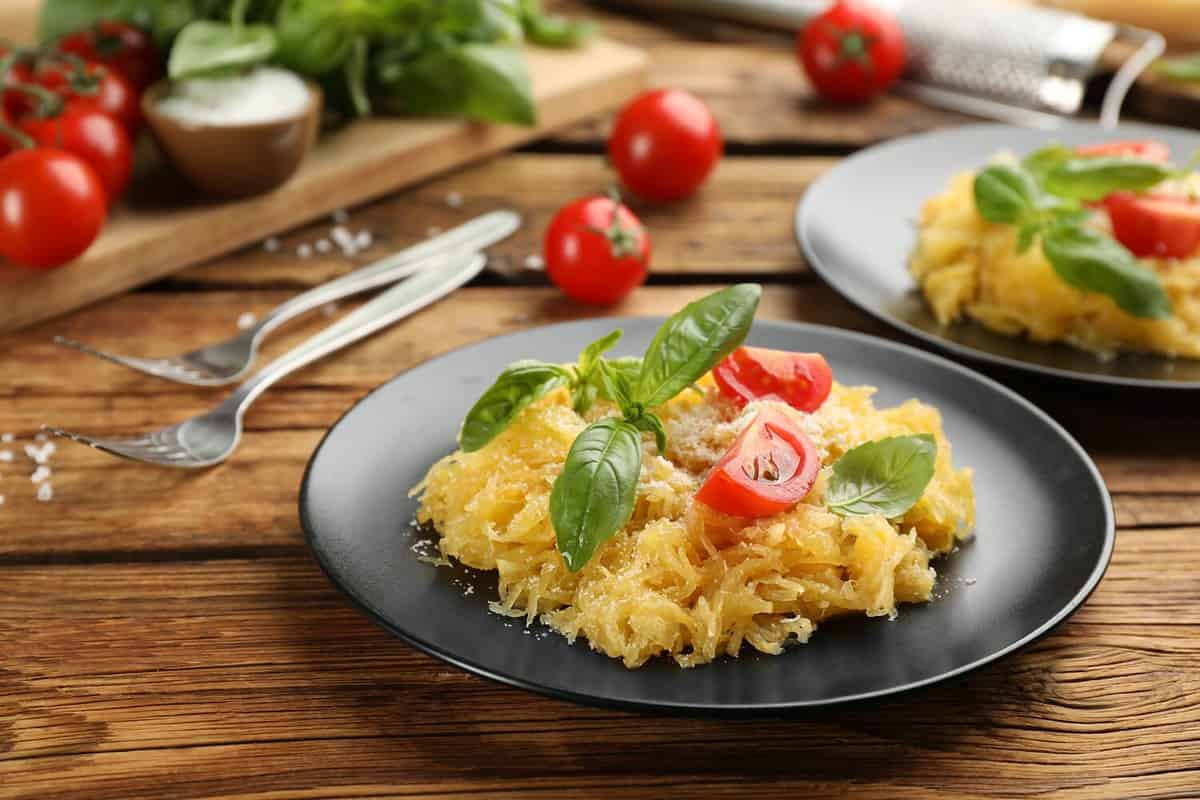 If you've never served spaghetti squash, it's an adventure. Once cooked, a simple scrape of the squash with a fork pulls off spaghetti-like tendrils — hence the name. This recipe is another microwave option and features a scant few ingredients to create a flavorful side dish.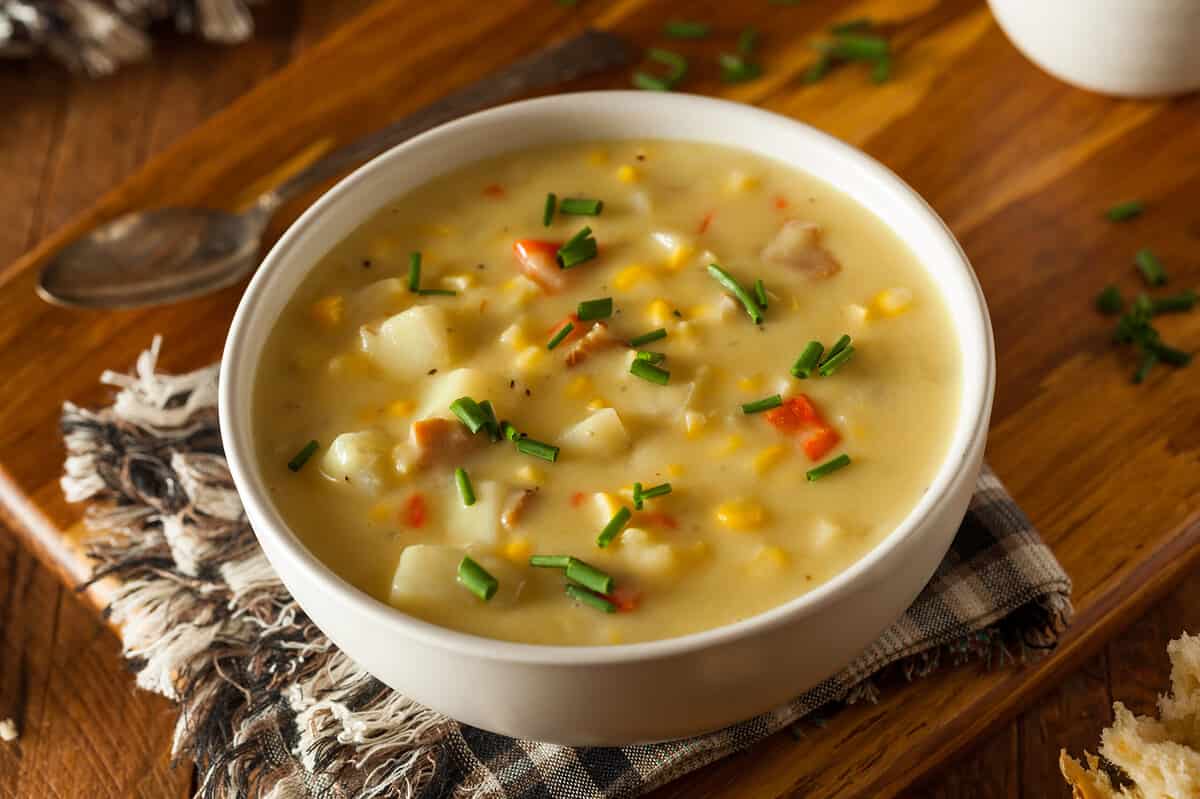 When you have a hearty entree like meatloaf, offering a healthy side feels like a good balance. This healthy corn chowder recipe is a great way to either start your meatloaf meal or to serve in tandem as a side.
Quinoa is a delightful and versatile grain. This recipe spotlights this key ingredient and elevates it with a variety of additional ingredients.
Artichokes are an adventurous dish that requires a bit of work to enjoy — but they're SO worth it. This recipe to whip some up in an Instant Pot makes it incredibly easy.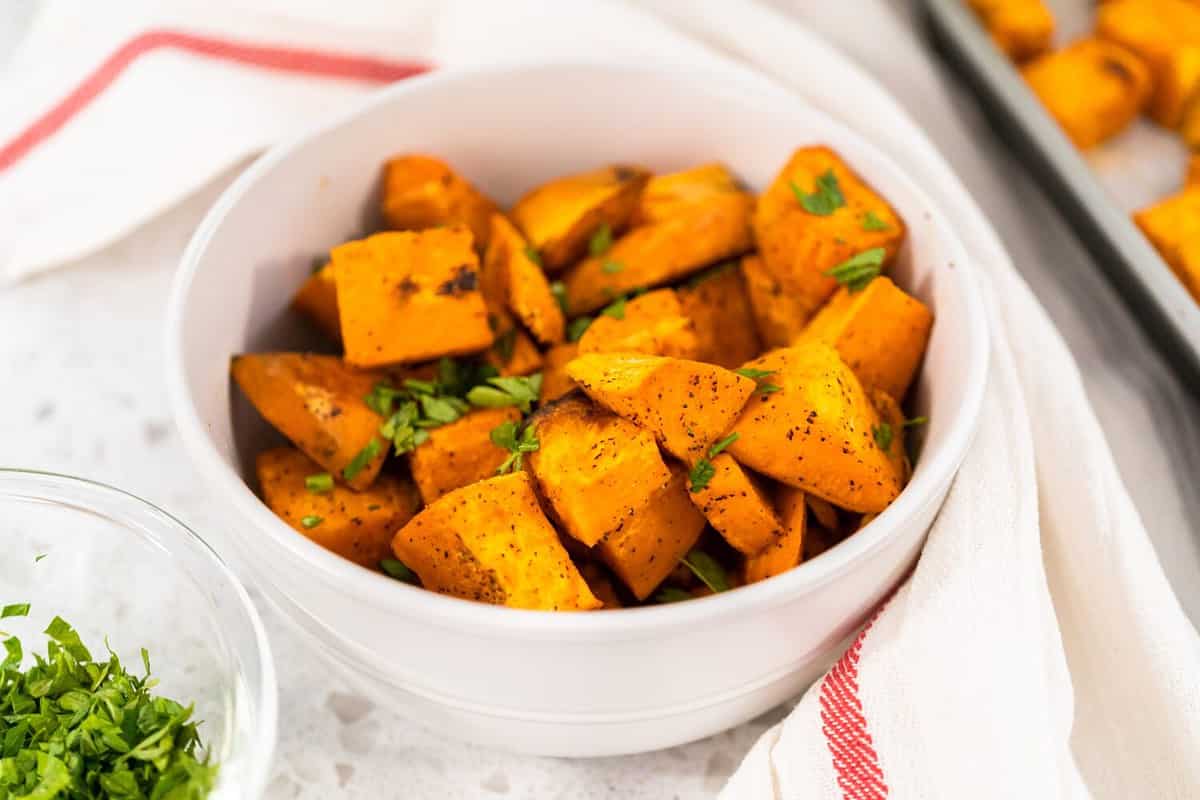 While the "other potato" typically sidles up to a meatloaf entree, here we showcase just how impactful sweet potatoes can be in a meatloaf menu. By roasting them, you're taking a healthier serving option, and they still provide the tasty, starchy punch.
The savory flavors of zucchini doused in soy sauce bring a distinctly Asian flavor to your meal — which actually plays well with meatloaf. If you'd rather cut down on the sodium, though, eliminate the soy sauce and strictly saute.
Slice up some butternut squash, toss it with some olive, Parmesan and seasoning, and throw it in the oven to bake. Voila! A flavorful side for your meatloaf.
Provide a starchy side with this pasta with peas recipe. Add some tomatoes for color and balance, and you'll have a beautifully plated dish your family will love!
Popeye was onto something tasty when he'd pop open a can of spinach. This recipe takes a flavorful step further with garlic and seasoning, all sauteed in olive oil. You can't go wrong!
More Healthy Sides for Meatloaf
Print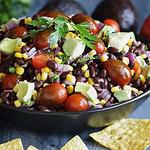 Black Bean Salad
---
Description
This is a quick and easy chilled bean salad that always delights and never fails.
---
2

16

–

oz

cans of black beans
1

16

–

oz

can corn niblets
1

14

–

oz

can diced tomatoes

1/2

large green pepper, finely chopped

1/2

large sweet red pepper, finely chopped

2

green onions, thinly sliced

2 Tbsp

fresh cilantro

1/2 tsp

basil

1/2 tsp

oregano

1/8 tsp

freshly ground black pepper

1 1/2 Tbsp

olive oil

1 1/2 Tbsp

balsamic vinegar
---
Instructions
Pour black beans and corn into a strainer, drain and rinse thoroughly with cold running water and drain again. Pour into a large bowl.
Chop tomatoes and add to bowl, reserving juice. Add the chopped green pepper, red pepper, green onions, cilantro, basil, oregano and pepper.
Whisk olive oil and balsamic vinegar together. Stir in half the reserved tomato juice. Pour over vegetables, adding remaining tomato juice to taste, if desired. Serve immediately or cover and refrigerate 2-8 hours.
Print
Roasted Brussels Sprouts
---
Description
Roasted Brussels sprouts are a delicious and easy-to-make side dish. Here's a basic recipe for roasted Brussels sprouts. Feel free to customize this recipe to your preferences. You can add bacon bits, chopped nuts, or other herbs and spices to make your roasted Brussels sprouts unique.
---
1

pound

Brussels sprouts

2 tablespoons

olive oil
Salt and pepper to taste
Optional seasonings: garlic powder, grated Parmesan cheese, balsamic vinegar, or lemon zest (customize to your taste)
---
Instructions
Preheat your oven to 425°F (220°C).
Prepare the Brussels sprouts:
Trim the stem ends of the Brussels sprouts and remove any loose or discolored leaves.
Cut the Brussels sprouts in half lengthwise.
In a large mixing bowl, toss the Brussels sprouts with the olive oil until they are well coated. You can also add your preferred seasonings at this point.
Spread the Brussels sprouts in a single layer on a baking sheet. Make sure they are not too crowded, as this will help them roast evenly.
Season with salt and pepper to taste. You can always add more seasonings after they come out of the oven, so start with a conservative amount.
Roast the Brussels sprouts in the preheated oven for about 20-25 minutes, or until they are tender and caramelized. Check them after 15 minutes and give them a stir for even cooking.
If you're adding additional seasonings, like Parmesan cheese or balsamic vinegar, you can do so as soon as the Brussels sprouts come out of the oven while they are still hot.
Serve the roasted Brussels sprouts immediately as a side dish. Enjoy!
Print
Sauteed Cabbage
---
Description
This simple sautéed cabbage recipe is a quick and easy way to prepare cabbage, and it makes a great side dish for a variety of main courses. It's a basic preparation, but you can customize it by adding other seasonings, like red pepper flakes for a bit of heat, or by mixing in cooked bacon or sausage for added flavor. Enjoy this easy and nutritious cabbage dish with your favorite meals.
---
1

small head of cabbage, thinly sliced

2 tablespoons

butter or olive oil

1

small onion, thinly sliced (optional)

2

cloves garlic, minced (optional)
Salt and pepper to taste

1

–

2

tablespoons water or vegetable broth (optional)
---
Instructions
Heat a large skillet or frying pan over medium-high heat.
If you're using onion and garlic, add them to the pan with the butter or olive oil. Sauté them for a few minutes until they become fragrant and the onion becomes translucent.
Add the thinly sliced cabbage to the skillet. If your pan is not large enough to hold all the cabbage at once, you can add it in batches and let it wilt down before adding more.
Season the cabbage with a pinch of salt and pepper to taste. You can also add a tablespoon or two of water or vegetable broth to help the cabbage cook and soften, but this is optional.
Sauté the cabbage, stirring occasionally, for about 8-10 minutes, or until it's tender and slightly caramelized. The cooking time may vary depending on your heat level and the thickness of the cabbage slices.
Taste the sautéed cabbage and adjust the seasoning if needed.
Once the cabbage is cooked to your liking, remove it from the heat.
Serve the sautéed cabbage as a side dish, garnished with fresh herbs like parsley or dill if desired.
The image featured at the top of this post is ©Arina P Habich/Shutterstock.com.