[addtoany]

Tuna casserole is a popular dish that is commonly made with pasta or rice and canned tuna. Peas or corn are often added. Other ingredients that are used include bread crumbs, potato chips, corn flakes, and fried onions.
The dish became popular in American households in the 1950s. This was largely due to the fact that it was affordable and easy to make. It could also be easily refrigerated and frozen for leftovers. It is often brought to potlucks or given as gifts of bereavement to families that are mourning the loss of a loved one.
While the ingredients used in tuna casserole may vary, it is most commonly made with egg noodles, tuna, cheddar cheese, chopped onions, frozen peas, cream of mushroom or celery soup, sliced mushrooms and crushed potato chips. The ingredients are mixed with the potato chips and cheese being sprinkled on the top. Then it is all placed in a casserole pan to bake.
One variation of tuna casserole that is served in Australia is called Tuna Mornay. In this dish, Mornay sauce (a type of cheese sauce) is used. Peas and corn are usually added and wheat pasta is used instead of egg noodles.
Tuna Casserole Recipe
In addition to Tuna Mornay, many variations have been made on tuna casserole over the years.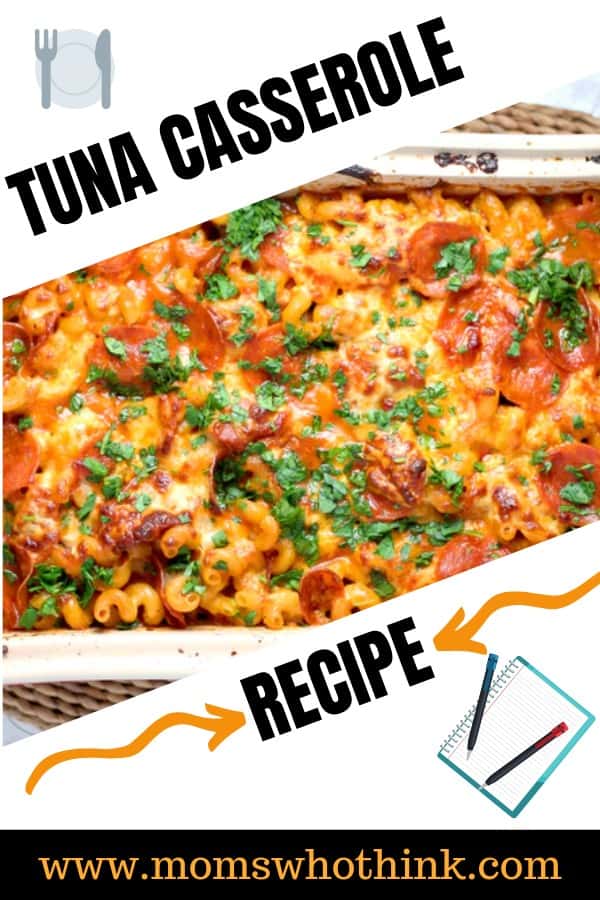 People that are on a lower calorie or keto diet may want to avoid eating pasta and potato chips. One example of a healthier tuna casserole recipe can include canned tuna, red onion, mayonnaise, and cheese. The desired seasonings can be added and the dish should be baked until the top is browned a bubbly.
To make the recipe even healthier and bulk it up a bit, you can add cooked riced cauliflower. You can also use avocado oil mayonnaise which is healthier than other types of mayonnaise and skipjack tuna which is lower in mercury than other types of tuna.
Other recipes that offer healthier, lower-fat options include different varieties of vegetables along with the mayonnaise and cheese binders.
The recipe we offer may not be the healthiest and lowest in fat, but it is great comfort food that almost anyone is sure to enjoy. Our soup of choice is chicken noodle and we use Ritz crackers for our crust. Other ingredients include sliced mushrooms, onions, heavy cream, and peas.
Preparation involved heating the ingredients in a skillet and combining them in a pan to bake.
Tuna Noodle Casserole
Although tuna noodle casserole may be a higher calorie option as compared to recipes that don't use pasta, it still offers several health benefits.
Tuna is a great source of protein and it contains almost no fat. It is also a great source of all the essential amino acids that are required for the maintenance of lean muscle tissue. It contains omega-3 fatty acids which support heart health and prevent the risk of heart disease.
Of course, the presence of vegetables also makes the dish a healthy choice. You may get different health benefits depending on the type of vegetables you choose to add, but since peas are a popularly used, let's take a look at their nutritional information.
Peas contain heart-healthy vitamins and minerals like magnesium, potassium, and calcium. They also have high fiber content and can lower bad cholesterol levels.
Although pasta can be high in carbs and calories, it is also a great source of energy. The health factor will also increase if you choose whole grain pasta which is higher in fiber and other nutrients.
Here are some other variations on tuna casserole that can make the dish healthier:
Tuna Zoodle Casserole: Another alternative to regular pasta, zucchini noodles are lower in calories and carbs. This tuna casserole has zucchini noodles as well as coconut milk, coconut flour and olive oil mayonnaise making it healthy and keto-friendly.
Veggie Packed Tuna Casserole: This tuna casserole recipe is extra healthy because it includes veggies like spinach, onions, bell peppers, and peas. To make it even healthier, use whole grain pasta and Greek yogurt as a cheese and mayo substitute.
Healthy Tuna Casserole with Brown Rice: The brown rice in this recipe serves as a healthy alternative to the pasta while soaked cashews make for a rich and nutty sauce. Other ingredients include croutons, bread crumbs, frozen peas, sea salt, garlic, and extra virgin olive oil.
No matter how tuna casserole has evolved over the years, some things still remain the same. It is still easy to make, affordable and a crowd-pleaser in almost every home. If you're not sure what to give your family for dinner, try fixing some tonight!
If you enjoyed this recipe, make sure to check out our Monterey Jack Chicken and Rice Casserole and our Sausage and Broccoli Pasta Skillet.
Print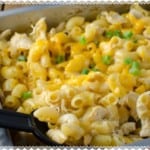 Tuna Casserole
---
Author:

Total Time:

1 hour
Description
Turn macaroni into a delicious, belly-filling homemade casserole. The cream of celery soup adds a hint of flavor beyond the traditional chicken soup used in most casseroles. This is a fantastic weeknight dinner that uses simple pantry ingredients and comes together in a flash.
---
2 cups

macaroni

1

can cream of celery soup

1

can chicken breast

1

small package cream cheese

½ teaspoon

garlic

½ teaspoon

dry mustard

¼ cup

milk

1

small onion, chopped

¼ cup

seasoned bread crumbs

2 Tablespoons

butter
---
Instructions
Cook macaroni per package directions.

In casserole dish mix cream of celery, softened cream cheese, milk until smooth.

Add chicken breast, garlic, dry mustard and onion. Stir in cooked macaroni.

Melt butter and mix bread crumbs into the butter. Spread mixture over top of casserole.

Bake in 375 degree oven for 45 minutes.
Prep Time:

15 Minutes

Cook Time:

45 Minutes

Category:

Main Course

Method:

Baking

Cuisine:

American
Keywords: tuna casserole recipe, tuna noodle casserole