When you prepare pork chops, it's all about the flavor. A great oniony flavor will take your pork chops over the top, especially when it's incorporated into a crispy breading.
Find out more about how you can make pork chops your entire family will love.
Onion Soup Mix Pork Chops
The pork chop recipe we are featuring here is exceptional due to the onion soup mix we add into the breading.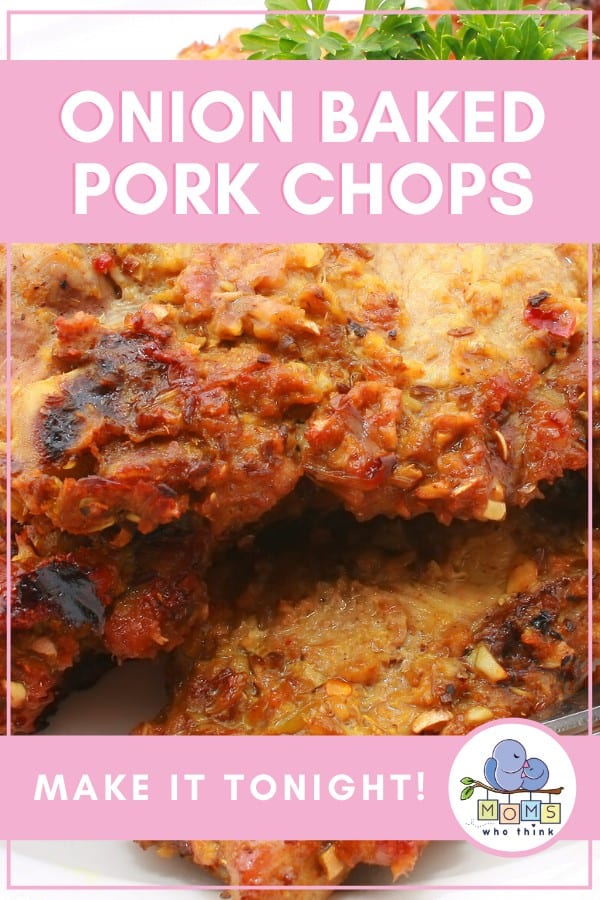 We start by combining 1/3 cup plain breadcrumbs with one package of dried onion soup mix.
Then, beat one egg. Dip pork chops into the egg and then into the soup and breadcrumb mixture.
Place the pork chops on a baking sheet and bake 12 minutes at 400 degrees. Turn and bake for an additional 25 to 30 minutes.
The ingredients in an onion soup mix can vary but typically it includes dry onion flakes, beef bullion granules, onion powder, and other seasonings like celery seed, paprika, and black pepper. It is a great way to give your meals an oniony flavor without chopping onions and makes sure you get a flavor that seasons your dish without overpowering it.
When used in this meal, your onion soup pork chops will be the star of the dish, working well with sides like salads, potatoes, mac and cheese, veggies, or a nice light salad.
To make a lighter variation, the onion soup mix does not have to be incorporated into a breading. It can work on its own to flavor a dish. One example is this easy crockpot meal.
To make this meal, start by browning the pork chops in a skillet with olive oil. This will give them a great sear.
Then, transfer into a slow cooker.
In a bowl, combine chicken broth, onion soup mix, and water. Pour the mixture over the pork chops and cook on low for 6 to 7 hours or on high for 3 to 3.5 hours.
This will help them to absorb the flavors and achieve a fall of the bone tenderness that will be absolutely mouth-watering.
Oven-Fried Pork Chops
There are many ways to prepare pork chops, but this oven-fried method is a favorite. It gives the chops a great flavor and a crispy texture your family is sure to love.
However, when your oven cooks meat, you risk having the meat become dried out. Here are some measures you can take to keep that from happening.
Start the Meat Cooking When It's at Room Temperature: Meat that starts at room temperature will cook more evenly. Therefore, you should remove your chops from the refrigerator 30 minutes before you plan to cook.
Season the Chops with Salt 30 Minutes Before Cooking: The 30-minute mark will also be the perfect time to start seasoning your chops with meat. Salt will work as a dry brine, enhancing the flavor and texture of the meat.
Let the Chops Rest: Chops are done when they reach an internal temperature of 145 degrees. Once they reach this temperature, transfer them to a clean plate and loosely cover them with foil. This will allow time for the juices inside the pork to distribute around the meat.
Now that we've established that, let's take a look at an alternate recipe you can use to make oven-fried pork chops for your family.
Oven-Fried Italian Pork Chops
Start by seasoning chops with salt and pepper. Mix Panko breadcrumbs with Parmesan cheese, garlic powder, and Italian seasoning.
Next, make an assembly line that includes flour, Italian seasoning, and Panko breadcrumbs.
Dip the chops into the flour so that both sides are coated. Let excess drip off. Then, do the same with the Italian seasoning and the breadcrumbs.
Place on a baking sheet coated with nonstick spray and spray the tops of the pork chops with a nonstick as well. Bake for 25 to 35 minutes turning once during cook time.
Fried pork chops are a great meal to serve your family, and when you enhance the taste by adding onion soup mix to the breading, it really takes it to the next level. What will you be adding to your pork chop recipe to give it a flavor your family will love? 
If you enjoyed this recipe, make sure to check out our Maple-Pecan Pork Chops and our Pork and Potatoes with Tomato Relish Recipe.
Sides to Serve With These Pork Chops
You can't have just pork chops for dinner! Well, technically you can, but we don't recommend it! Serving these pork chops with just the right side dish will elevate your meal to a perfect level.
Mashed potatoes are always an excellent side dish, and that's no exception with these pork chops. If you want to keep it really easy on yourself, buy some pre-made mashed potatoes from the store and use those. You can choose the refrigerated ones or the mix. If you can, we recommend just making your own.
Creamed corn is another great choice. The nice thing about creamed corn is that you can find it easily and cheaply in the store. Simply grab a can or two of creamed corn, and you're good to go! This might not be a favorite with some, but it's a good side dish when you want to keep your budget tight.
Green bean casserole is a fantastic choice, especially for the colder months. There's nothing better than a good casserole on a cold winter day! While green bean casserole can easily be a main dish itself, it can also work as a side dish in the right circumstances. We think green bean casserole will pair nicely with these pork chops.
Print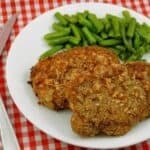 Onion Baked Pork Chops Recipe
---
Author:

Total Time:

40 minutes
Description
This super easy pork chop recipe doesn't skimp on flavor. The wonderful little packet of onion soup mix is packed with zest that helps turn the ordinary into the extraordinary.
---
1

package dried onion soup mix

1/3 cup

plain bread crumbs

3

lbs. of pork chops, each about

1/2

″ thick

1

egg
---
Instructions
Preheat oven to 400 degrees F.
In a flat bowl or bag combine soup mix and bread crumbs.
In a separate bowl beat egg, dip pork chops into egg and then into soup/bread crumb mixture
Place well coated pork chops on shallow baking sheet.
Bake uncovered for 12 minutes, turn and continue to bake an additional 25 to 30 minutes until done
Prep Time:

10 Minutes

Cook Time:

30 Minutes

Category:

Main Course

Method:

Baking

Cuisine:

American
Keywords: onion soup mix pork chops, oven fried pork chops