Looking for a way to spend some money while you're visiting Memphis, Tennessee? Check out the most expensive restaurants in Memphis today. Not only is this beautiful city teeming with things to do, but it also has numerous fine-dining establishments that are worth trying out on your visit. Memphis is known for its soulful blues scene, and roots in rock n' roll music (via Visit The USA). Alongside its musical influences, Memphis has some incredible food that can be found all over the city.
The restaurants on this list represent the top-quality dining experiences you'll find on your trip. From steakhouses to French restaurants, you're sure to taste the diverse cultural makeup of Memphis, TN, while you're trying out some of the most expensive restaurants in Memphis.
In this post, we'll do a deep dive into what they have to offer. We'll take a look at the menu, the location, and the ingredients. From prices to specials, you get a thorough layout of these restaurants. Decide for yourself which one is worth a trip on your grand tour through Memphis.
Fleming's Fine Steakhouse & Winebar
6245 Poplar Avenue, Memphis, TN 38119
Fleming's Fine Steakhouse & Winebar is in a prime spot within the Memphis landmarks. Located right on Poplar Avenue, a stone's throw from Elvis's Graceland, and the iconic Beale Street. Enjoy the sights and the sounds of Memphis with a glass of wine in your hand, and a plate of incredible food in front of you. Their menu features prime steak and top-quality seafood. They also offer vegetarian and vegan options, for both dine-in and carry-out options. Let's take a closer look at the dinner menu.
Starters include sweet calamari, ahi tuna poke, onion rings, shrimp cocktail, and burrata with prosciutto ($14-$25). There's seared pork belly, beef carpaccio, and crab cakes ($19-$26). For a real seafood experience, try the chilled shellfish tower with lobster tails, lobster claws, colossal shrimp, crab legs, oysters, and all kinds of delicious sauces ($150). There are all kinds of fresh salads featuring bacon, roasted corn, crispy prosciutto, and blue cheese crumbles ($15-$16). Enjoy lobster bisque, and French onion soup ($17-$18), which leads us into the prime cuts of steak.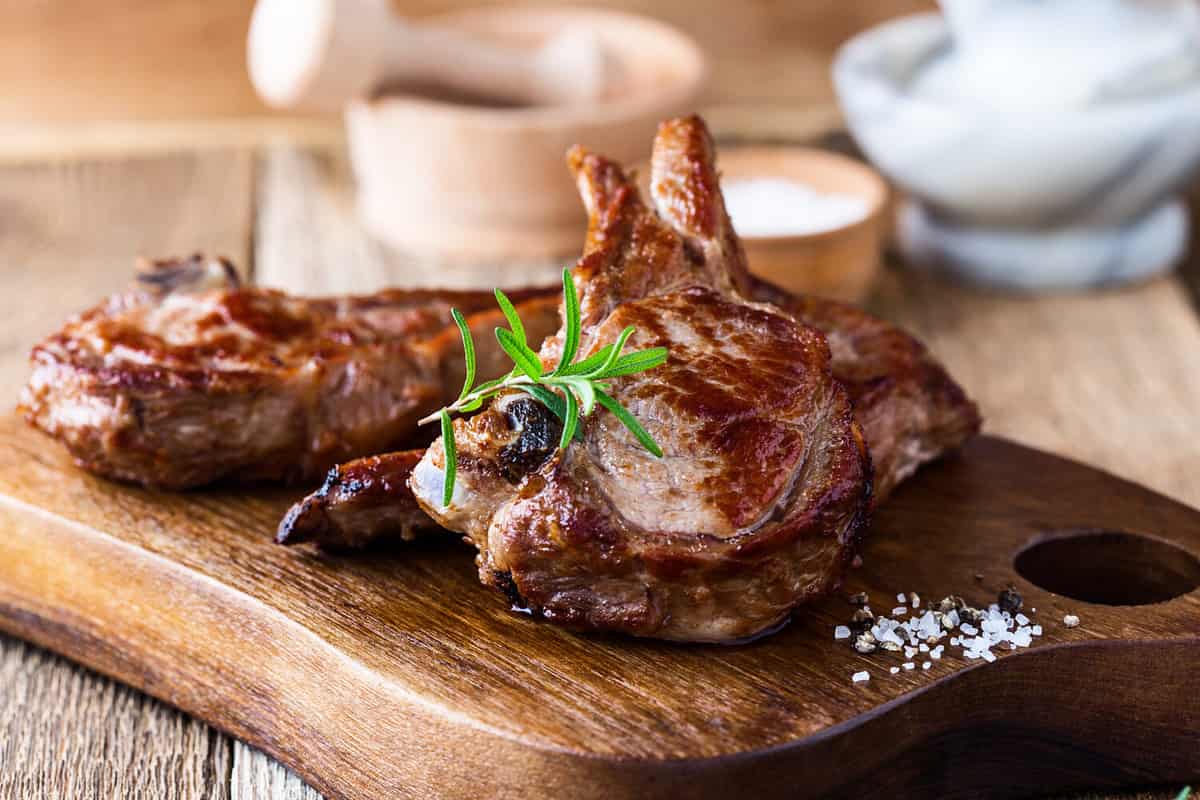 From filet mignon ($58) to Angus beef ribeye ($56), there are also several specialty cuts. There's Prime New York strip steak ($62), dry-aged ribeye ($69), bone-in ribeye ($67), and tomahawk ($99). Non-steak-related dishes include diablo shrimp ($17), maitake mushrooms with tarragon aioli ($13), lump crab meat ($16), truffle poached lobster ($20), and seared scallops ($45). Pick from salmon fillet, Chilean sea bass, lobster tails, pork chops, and cauliflower steak ($48-$61). Save room for New York cheesecake, olive oil cake, berry mousse, and crème brûlée, among many other dessert options ($13).
Erling Jensen
1044 South Yates Rd., Memphis, TN 38119
Erling Jensen is a French restaurant named for its owner and head chef, Erling Jensen. Jensen, who is originally from Denmark, trained with some of the best of the best before opening his own restaurant. He was voted "Best Chef in Memphis", and his restaurant has received numerous awards and honors in its time being open in Memphis. This restaurant offers a la carte menu items as well as a special Sunday menu alongside a chef's tasting menu. The tasting menu operates on Thursday and Friday evenings. It costs $75 per person, not including wine pairings which costs an additional $35.
The current tasting menu includes seared foie gras with pepper gremolata and a wild arugula salad with kalamata olives and champagne vinegar. Taste their house-made pappardelle pomodoro pasta with sun-dried tomatoes and gulf prawns, and the bison ribeye with truffle parmesan gnocchi. And finally, enjoy a vanilla bean espresso panna cotta, all of which come with a specified wine-pairing. Check out their website for more a la carte menu options at one of the most expensive restaurants in Memphis.
Acre
690 S Perkins Rd, Memphis, TN 38117
Considered a "classic" of the Memphis dining scene, Acre combines fine dining with family-style sharing. Led by chefs Wally Joe and Andrew Adams, Acre is well worth a visit on your next trip to Memphis. They are available for dinner reservations from Tuesday through the weekend, open from 5 p.m. – 9 p.m. The menu is centered around locally sourced produce and seasonal cuisine. Both chefs Joe and Adams enjoy cooking to their Southern roots and fusing these traditional recipes with influences from Italy, Asia, and France. Enjoy their seasonal cuisine alongside a cold drink from their detailed cocktail menu.
Starters include arugula salad with strawberries, goat cheese, and sherry vinaigrette ($14). There's also panzanella ($15), hamachi crudo with cucumbers, yuzu kosho ($19), and grilled octopus with chorizo, and potato mousse ($19). For a true delicacy, enjoy Taiwanese fried quail with pickled daikon ($16), and Baerii or Golden Osetra caviar ($60/$100) with cauliflower mousseline and scallion pancakes. Sharing plates feature Piedmontese gnocchi, smoked potato short rib, duck confit, lamb meatballs, and grilled asparagus ($13-$17). A la carte includes prime cowboy ribeye ($59), New York strip ($48), smoked porterhouse ($29), and crisped Bronzino ($43), among many others. Enjoy entrees like Alaskan halibut, grilled hangar steak, smoked duck breast, and grilled swordfish with five-spice cherry coulis ($36-$40).
River Oaks Restaurant
5871 Poplar Avenue, Memphis, TN  38119
River Oaks Restaurant is led by Chef José Gutierrez. A trip to this restaurant will deliver a true French-American Bistro experience. The menu showcases traditional French and Southern recipes. Gutierrez joined the River Oaks Restaurant team in 2010 and with the help of his wife, Chef Gutierrez has continued to craft the eatery into a top-notch fine-dining experience in Memphis. They serve both lunch and dinner menu options. Let's take a closer look at some of the dishes available.
Start off with housemade whipped ricotta, tuna tartare, house-cured salmon, and short rib empanadas ($17-$20). There are several fresh salads, and soups include tomato, chicken tortilla, corn chowder, wild mushroom leek, and gazpacho ($9). Enjoy entrees like caramelized salmon, crispy ahi tuna, sea scallops, a rack of lamb, filet mignon, and lemon chicken paillard ($28-$42). There's warm chocolate fondant cake with berries, caramelized lemon mousse, and key lime pie, all for $10. And be sure to check their daily specials, available on their website or in person when you visit!
Porch And Parlor
2125 Madison Avenue, Memphis, TN 38104
Porch And Parlor is fine-dining steakhouse, located right in Overton Square of beautiful Memphis, TN. Their dinner menu is centered around prime steaks and delicious sides, alongside a unique cocktail list. Start off with tuna carpaccio, steak tartare, and oysters on the half shell ($14-$18). There's a king prawn cocktail ($21), butcher's bacon rack ($28), prime filet egg rolls ($18), and duck confit ravioli ($14), and numerous other appetizers to get your evening going. Enjoy seafood like Louisiana Redfish, Yellowfin tuna, and Surf & Turf platters ($38-$85).
Chops include Niman Ranch pork ($38), veal chop ($48), and Mountain River elk ($64). Don't forget the prime cuts like the petite filet ($49), New York strip ($54), bone-in ribeye ($88), and tomahawk ribeye ($115). There's also Wagyu cuts between $75-$88, and a tasting option for $110. For a 3oz portion of each it'll cost you $225 for the "Yume A5 Experience".
The image featured at the top of this post is ©Kevin Ruck/Shutterstock.com.