Washington D.C. in the District of Columbia, is a hub of culture, creative opportunities, and fine-dining eateries. There also happen to be a number of Michelin Star restaurants, which have a high price point for the world-class dining experience. Read on to check out some of the most expensive restaurants in Washington D.C. which offer a unique fine dining experience within the city limits. Enjoy seasonal, local fresh food that showcases Columbian, New American, French, Valencian, and other global cuisines. Wherever you decide to spend your time, and money, these places should be at the top of your list as some of the best, and the most expensive restaurants in Washington, D.C.
In this post, you'll learn about some of the top-tier fine dining joints in the D.C. area. We'll discuss the restaurants in terms of their history, their menu, and their inspiration. You'll get a better idea of the price point for each, and how the menus compare to one another. On your next trip to D.C., you'll know exactly where to reserve a table for an unforgettable dinner.
Imperfecto
1124 23rd St NW, Washington, DC 20037, United States
Imperfecto is led by chef Enrique Limardo and takes inspiration from Mediterranean & Latin American cuisine. This Michelin-starred restaurant aims to bring people together over its food, with an emphasis on hospitality. The ethos of the restaurant is to seek perfection while accepting imperfection as a part of the process. Hence the name Imperfecto. Let's take a look at their menu offerings.
The menu can change daily, entirely dependent on the availability of certain ingredients. This sample menu may not directly reflect what is offered upon your visit to Imperfecto. They offer a chef's tasting menu for $175 per person, plus a wine pairing for $135. The tasting menu is made up of an amuse-bouche tarte with mussels, crudo with sea bream, and Robuchon potatoes. Entrees include spaghetti with chorizo, dry-aged tenderloin with foie gras, and sorbet varieties for dessert.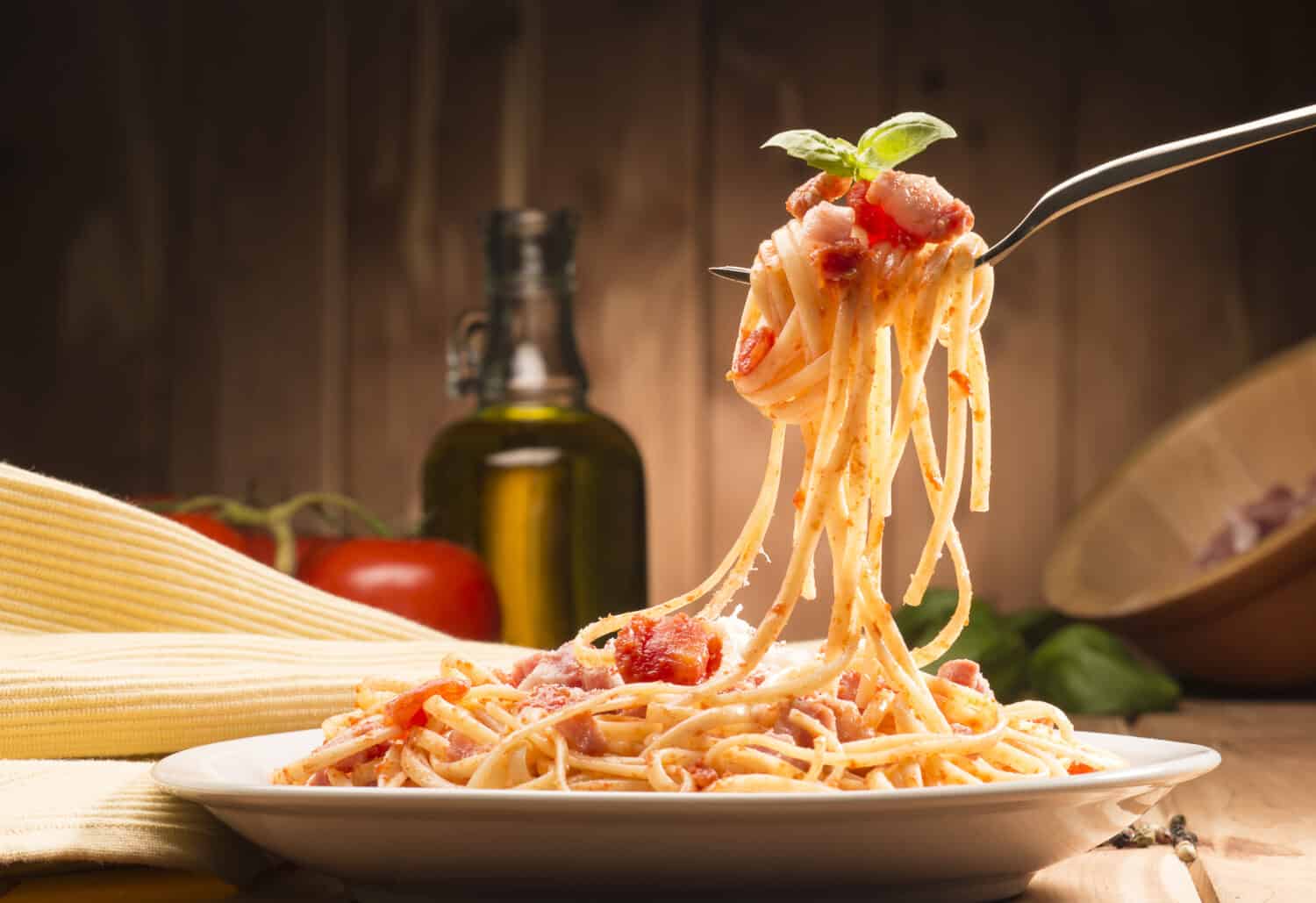 A la carte features other dishes like burrata with tamarind hummus ($27), bluefin tuna tartare with pecorino ($28), truffle tagliolini ($28), onion risotto ($32), and steak tartare ($31). There's aged branzino with bottarga sauce ($48), slow-roasted pig ($51), duck magret with pickled banana ($48), and an A5 3-ounce Wagyu strip steak ($95). Desserts include white chocolate ice cream, ricotta crème brûlée, eclairs with mascarpone, poached bosque pears, and a grouping of sorbets ($15-$19).
Xiquet
2404 Wisconsin Ave NW B, Washington, DC 20007
This fine-dining eatery, pronounced "Chee-Kett" is led by head chef Danny Lledó, showcases the traditional cuisine of Valencia, Spain. Xiquet earned its first Michelin Star in 2021 and received a Sommelier of the Year Award in 2022. It also has a five-diamond rating for AAA, awarded in 2022. The menu is centered around a wood-fired kitchen, emphasizing the flavors of traditional Valencian recipes. The multi-course experience includes some of Lledó's signature rice dishes and seasonal offerings.
The tasting menu costs $265 per person. There is also an added wine pairing of $220 for the standard selection or $420 for the premium. Start off with Valencian flatbread with white anchovies, house-marinated olives, aged tuna loin, and pickled vegetables. There are oysters with burnt citrus and honey, the signature red pawn of Dénia dish with Petrossian osetra caviar, and dill-cured bluefin tuna. Enjoy frog legs in ibérico barbecue sauce, squab pigeon stuffed with raspberries, ibérian pork shoulder, and smoked duck breast. Save room for spiced watermelon sorbet, strawberry coulis, cakes, and fresh fruit.
El Cielo
1280 4th St NE, Washington, DC 20002
El Cielo offers Columbian cuisine as part of its fine dining experience. Located in the Union Market District of Washington's NOMA neighborhood, El Cielo's 22-course menu will transport you through the beautiful flavors of Columbia. Experiences unique to El Cielo include a chocolate handwash, and yucca bread served on their "tree of life," a wire bonsai tree. Freshly picked bread, straight from the oven! This Michelin-starred restaurant is led by the talents of Chef Juan Manuel Barrientos. Let's get into the menu.
The tasting menus cost $289 for 20 courses, $235 for 13 courses, $198 for a chef's choice, and a bar experience for $155 per person. The a la carte bar menu includes crab empanadas ($18), yuca bread with brown butter and cilantro ($19), and lobster ceviche rolls ($29). There's posta negra pork terrine ($38), quail with rice ($40), and lamb with artichoke ($45). Dessert is shaved ice with fruits ($15).
Jônt
1904 14th St NW, Washington, DC 20009, United States
Jônt is a 14-seat tasting counter experience and one of the most expensive restaurants in Washington, D.C. They have two Michelin Stars and aim to engage their guests in the preparation of Japanese-inspired cuisine. The food is prepared right in front of you, showcasing the skill, preparation, and thought that goes into the whole culinary experience offered by Jônt. The tasting menu includes around 30 dishes, and costs $375 per person, with ingredients sourced locally, and globally.
Fiola
601 Pennsylvania Avenue NW, Washington, DC 20004, United States
Fiola is a rustic Italian restaurant that is part of the Fabio Trabocchi hospitality team. It is Michelin-starred and is currently run by Chef Antonio Mermolia. Mermolia has made waves at previous Michelin-starred and fine-fining restaurants in Miami, and New York. Chef Mermolia's ethos when it comes to food is to celebrate complex flavors while maintaining simplicity. The menu at Fiola reflects this aim for balance.
They offer a dinner tasting menu, as well as an a la carte option. Tuesday-Thursday the tasting menu costs $285 per person, with added wine pairings of $210, or non-alcoholic options for $95. Weekend pricing is $315 per person, with wine pairings at $225, and non-alcoholic options for $110.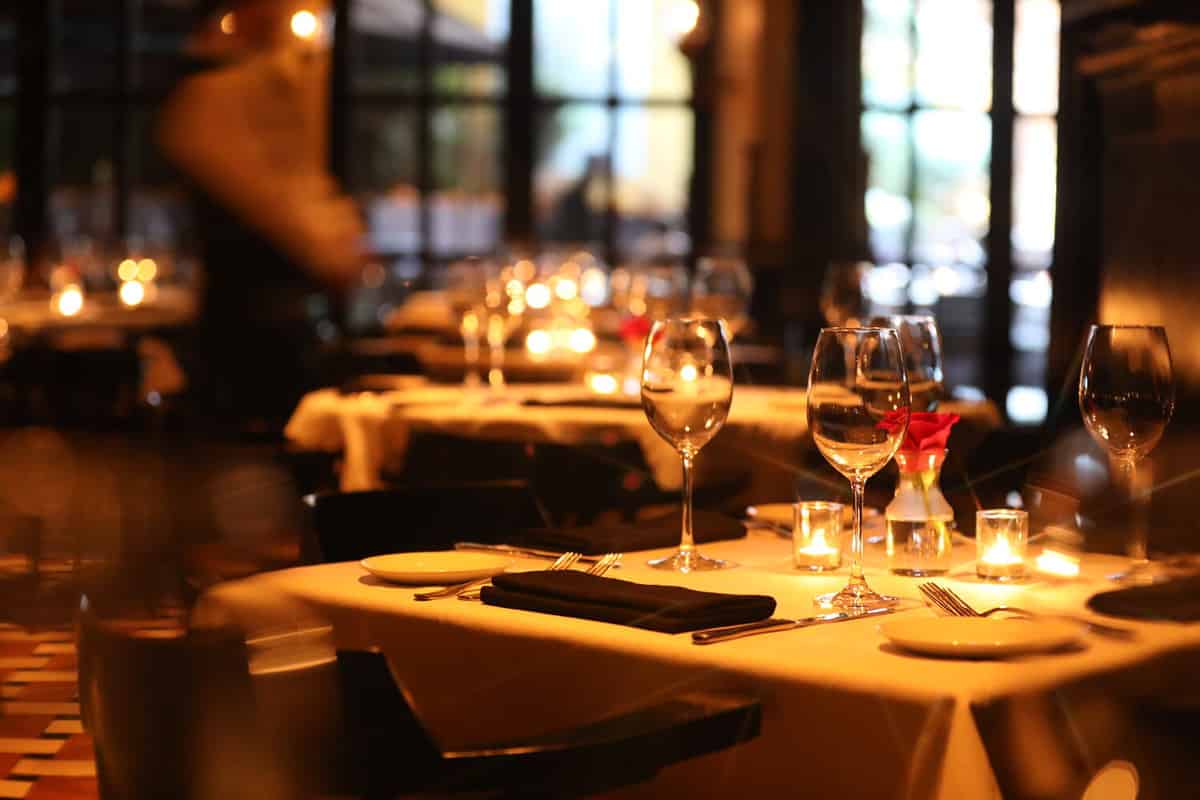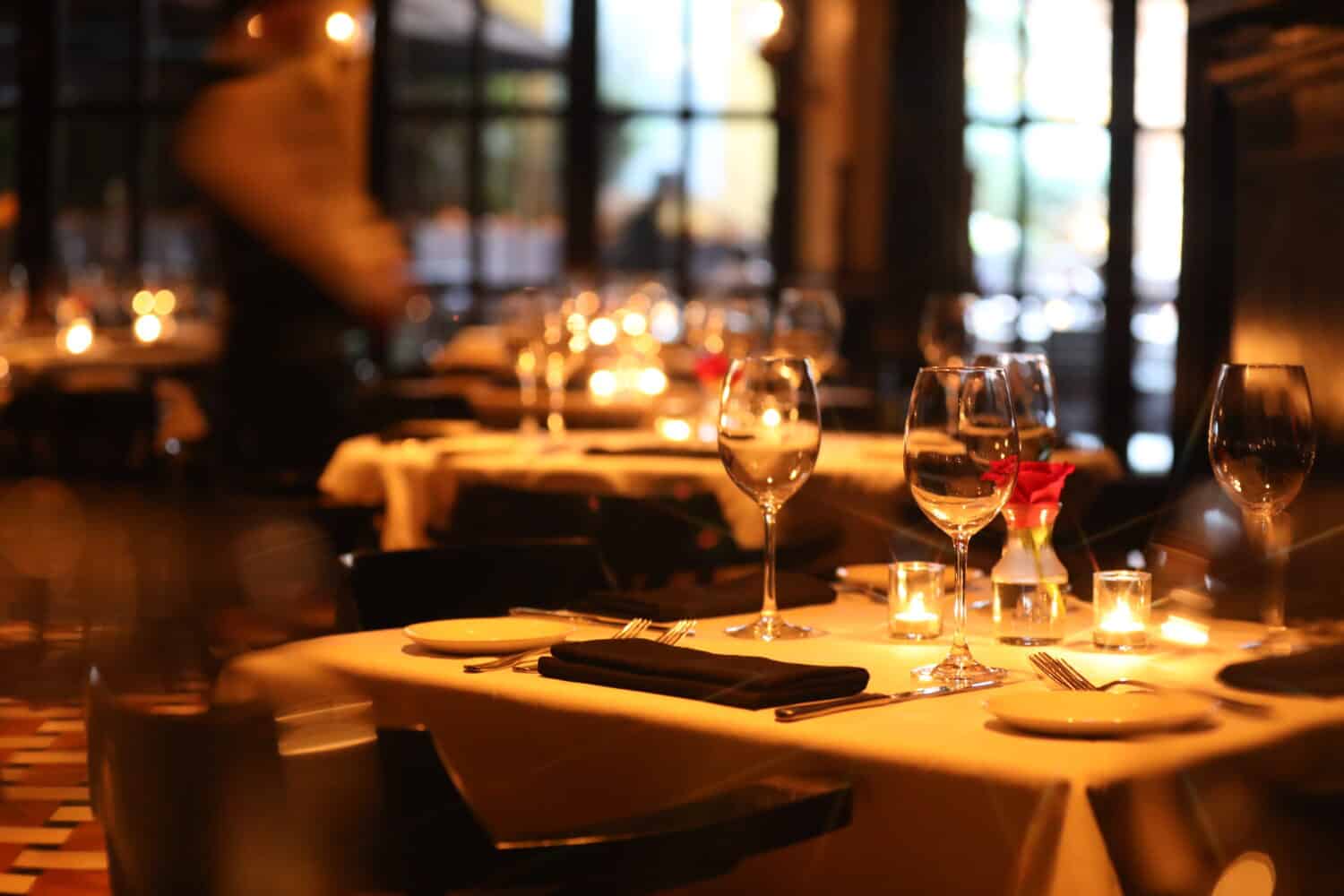 "The Journey" menu features starters like zucchini and cheese bonbon, eggplant and tomato pasta, and "oro nero" balsamic vinegar with ricotta and caviar. There's branzino with red onion and caprese with buffalo mozzarella. Appetizers begin with tuna ravioli, gnocchi with nutter, and cannelloni with eggplant. For entrees try aged Mediterranean sea bass, and a Robiola cheese wheel with crystallized bread and an assortment of jams. Desserts feature strawberries and cream panna cotta, and citrus mousse with pink lemons.
Estuary
950 New York Ave NW, Washington, DC 20001
This contemporary D.C. eatery offers the best of local, and regional ingredients. Estuary is led by Chef de Cuisine Ria Montes and her team who is dedicated to working directly with the region's farmers, fishers, and ranchers. Sourcing local ingredients through sustainable means, the Estuary team delivers a tasting menu served with a gorgeous view of D.C. in their central dining room, or lounge tables. They offer breakfast, brunch, lunch, a midday menu, happy hour, dinner, and desserts. There is also a kid's menu. Please note that due to the seasonal availability of certain ingredients, the menus are apt to change.
Start your dinner off with their raw bar offerings. There are oysters ($24/$40), ceviche ($24), shrimp cocktail ($26), and caviar offerings with herb crème fraîche ($110). Starters include seasonal melons with tajin and mint yogurt ($19), farm crudité with onion dip ($16), roasted oysters ($24), and a number of dips and charcuterie boards. There are lump crab hush puppies ($19), crisped pig ears ($19), and lamb albondigas with honey yogurt and herb oil ($23). Enjoy seasonal fresh salads, and entrees like white peppercorn tagliatelle ($32), seared rockfish ($26), seafood carbonara ($36), and the signature estuary smash burger ($25). Try the seared flat iron steak ($38), pork blade steak ($70), dry-aged bone-in caviar ($120), or grilled fish with trout roe caviar (Market Price). Desserts include seasonal sorbets, plum baba, cheesecake, and tres leches chocolate cake ($10-$12).
Cranes
724 9th St NW, Washington, DC 20001, United States
Cranes restaurant serves a unique combination of Spanish-style tapas paired with Japanese fare and sake tastings. The restaurant is led by Chef Pepe Moncayo, a Barcelona native with a background in Michelin-star cuisine. Cranes opened in 2019 and adjusted to a take-out and delivery mode during the global pandemic. In 2020, Cranes was honored with a "best fine dining in a box" award by the Restaurant Association of Metropolitan Washington and received a Michelin Star in 2021. That same year, Cranes was named the "Formal Fine Dining Restaurant of the Year," also by the RAMW organization. They offer lunch, happy hour, omakase dining, tapas dining, a la carte dining, as well as a dessert menu.
Omakase is a 10-course experience that costs $148 per person. The beverage pairing adds $75 to that total. Tapas include $4 oysters with ponzu, scallops with Asian pears ($26), Wagyu short ribs ($19), and jamón ibérico ($24). There are shishito peppers with salt flakes ($12), eggplant tempura ($17), soft shell crab ($24), patatas bravas ($11), lamb gyozas ($16), and bao buns with mayo ($17). The comprehensive menu includes dishes like squid with chorizo ($28), octopus with white kimchi ($38), halibut ($40), and ahi tuna with foie gras ($64). Enjoy mushroom rice with shio kombu ($22), unagi paella ($35), ibérico pork ($54), and wagyu beef with kohlrabi ($58). Get your sweet tooth fix with desserts like brown butter churros, melon semifreddo, passion fruit cheesecake, and creme plum caramel black sesame ($15-$16).
Minibar
855 E St NW, Washington, DC 20004, United States
Minibar is a project of Chef José Andrés. With two Michelin stars, this restaurant offers an avant-garde experience that combines gastronomy, and science. This may be one of the most expensive restaurants in Washington, D.C., but it's also an incredibly unique creative culinary experience. Minibar accepts ten guests per dining experience, with tickets costing $325 per person. Menu highlights from their website gallery include the likes of snail, with snail eggs, feta ravioli with Turkish tomatoes, and skate with bergamot in a Thai curry. The featured dessert is an olive oil and chocolate bonbon. Eater D.C. described more dishes including a freeze-dried soy chicharron with a wasabi guacamole and a Spanish tomato stew with eel. They also referenced this article by the Washingtonian that mentions seared wagyu beef, shisho leaf tacos with green tomato gel, and strawberry tuille with a green tea tempura doughnut.
The image featured at the top of this post is ©Musa Visual Media LLC/Shutterstock.com.