Minneapolis is known for quite a few things: Prince, Caribou Coffee, and extremely cold weather. Minneapolis, also known as the Mini Apple, isn't necessarily known for its food scene, but like any highly-populated city, there are numerous high-quality restaurants there. However, there aren't any Michelin Star Restaurants in Minneapolis.
You might wonder if this is because there aren't any restaurants in Minneapolis worthy of the Michelin Star. The short answer is no. The reason Minneapolis doesn't have any Michelin Star Restaurants is because Minnesota doesn't have a Michelin Guide. In fact, there are currently only 5 U.S. locations with Michelin Guides. 
Despite the lack of a Michelin Guide, there are some restaurants in Minneapolis that may be worthy of a Michelin Star. Keep reading to find out which restaurants are deserving of the rating.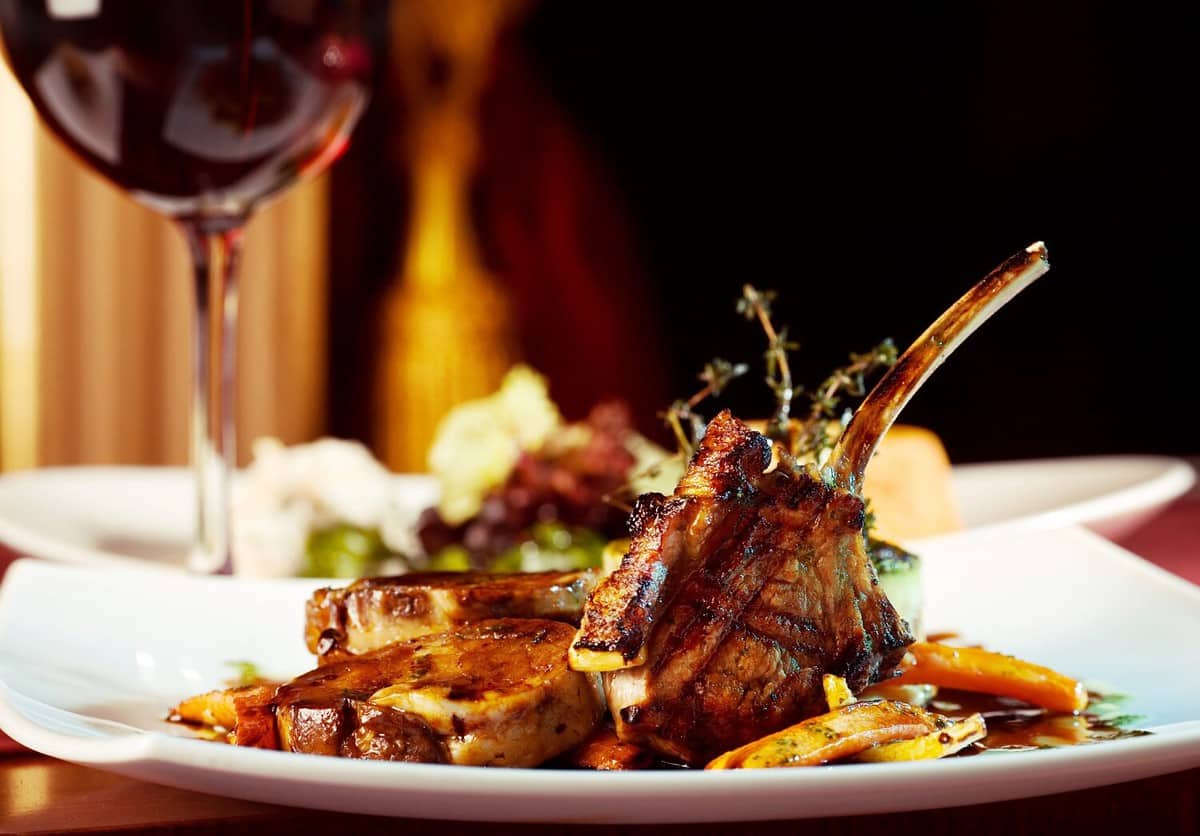 Restaurants in Minneapolis That Are Michelin Worthy
Even though Michelin has yet to create a guide for Minnesota or Minneapolis, there are a handful of restaurants in the area that could make the cut. Locals from Minneapolis and the surrounding areas are proud of their local restaurants that are worthy of a Michelin Star, including:
Demi
Travail Kitchen and Amusements
Spoon and Stable
Alma
Fhima's Minneapolis
Petite Leon
Borough
Each of these restaurants offers the quality of ingredients and consistency that Michelin looks for when evaluating restaurants. Let's look closer at what makes each restaurant worthy of a star.
Demi
Demi is likely the first restaurant you'll see mentioned by any Minneapolis local or foodie who has visited the area. When you think of fine dining in Minneapolis, Demi immediately comes to mind. At this unique restaurant, the staff focuses on serving delicious food with fresh, local ingredients as well as creative ingredients from around the country.
Due to the small dining area, you can only dine at Demi with a reservation. This only adds to the luxury and exclusive feel of the restaurant. Demi is open for dinner from Wednesday through Sunday each week, and reservations open at the beginning of the month.
Demi offers an ever-evolving menu that changes with the seasons, but you can get the full experience by choosing the Barrington Menu. The Barrington Menu is a 7-course tasting experience you can enjoy from the intimate kitchen counter. This gives you a full view of what's going on behind the scenes while enjoying your delicious meal.
Travail Kitchen and Amusements
Travail Kitchen and Amusements offers a combination of fine dining and a relaxing atmosphere. Led by the culinary team of Mike Brown, Bob Gerken, and James Winberg, this restaurant has a menu inspired by local ingredients and French cuisine.
The team behind Travail Kitchen and Amusements was recognized for their efforts as James Beard semi-finalists. Now they've brought their talent to the unique menu of Travail Kitchen and Amusements. The Signature Chef's Tasting Menu is one way to enjoy all that this luxury restaurant has to offer.
You can enjoy your meal from the Sky Lounge Rooftop or the elegant Travail Marble Room. No matter what entree you choose, you'll be surprised by how delicious each item is. The menu is made up of signature dishes such as the Roasted Chicken with grilled bavette and lemon or for dessert, the Mochi cake with whipped cheesecake, strawberry, and lychee.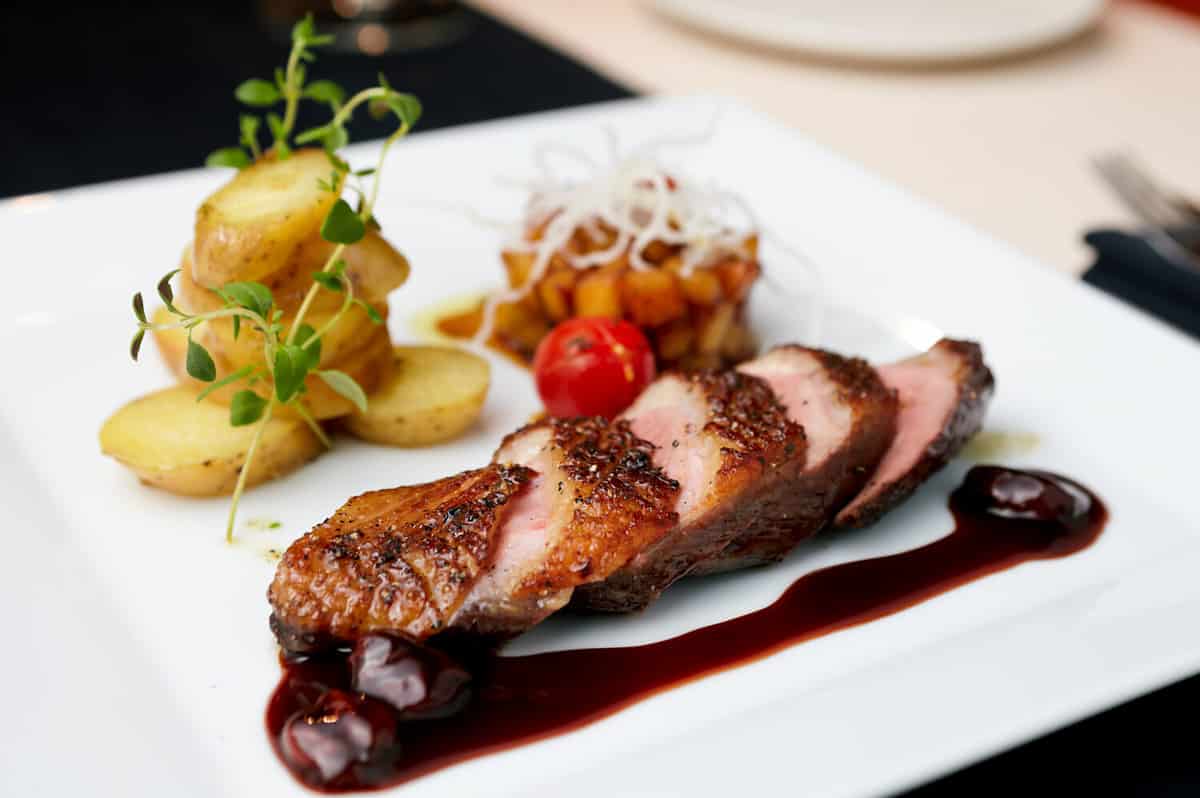 Spoon and Stable
Spoon and Stable is a beautiful, New American restaurant in Minneapolis. At Spoon and Stable, the staff creates a memorable dining experience for each guest. The dining room, which was once a horse stable, is filled with natural light and creates a warm, welcoming atmosphere.
Chef Gavin Kaysen was raised in Minneapolis and always dreamed of opening his own restaurant back in his hometown. As a James Beard award-winning chef, his talent shines through in each delectable dish.
At Spoon and Stable, the cuisine is focused on local culture as well as the French cuisine Chef Gavin Kaysen is known for. Their dinner menu is full of sensational dishes such as the Roasted Duck Breast with fried dumplings and Shinko pear. There's also dishes like the Pork Chop with tamarind glaze, coconut tahini, and lacinato kale.
Alma
Located in the heart of Minneapolis, Alma has a nationally recognized seasonal menu and is open for dinner only. Their menu features a variety of small plates, sandwiches, and desserts. When you dine at Alma, you'll be dazzled by some of their signature dishes. There's the Ricotta and Toast or simple, but delicious dishes like the Fried Cauliflower.
Since 1999, this restaurant has offered an excellent dining experience. Their ingredients are locally sourced and they have close relationships with their suppliers and local farmers.
To experience all the beauty that Alma has to offer, you can choose a seasonal tasting menu. This experience includes 10 plated and shared dishes, with the option of adding an expert wine pairing. Although their menu is seasonal, it includes dishes such as Blistered Summer Beans & Shishitos, Pan Roasted Duck Breast with mushroom jus, and Yuzu Tart for dessert.
Fhima's Minneapolis
At Fhima's Minneapolis, you'll find a bright, modern atmosphere with delicious meals inspired by French and Moroccan cuisine. Chef David Fhima is the visionary behind the restaurant. He partners with local farmers to source the highest-quality and freshest ingredients.
The atmosphere and concept behind Fhima's was inspired by Chef David Fhima's childhood. He grew up in an environment where cooking and eating were the center of the home, and he was inspired by a combination of French, Moroccan, Spanish, and Sicilian food in his family.
The bar within Fhima's Minneapolis is historic and was previously run by some of the most well-known and recognized chefs in the country. You can enjoy the atmosphere at Fhima's from the bar which serves a variety of craft cocktails and wine. If you come for dinner, you'll be delighted by some of the unique entrees on the menu such as the Pulpo a la Gallega, which includes octopus, potato crust, and paprika. Or you can choose something lighter such as the Ras Al Hanout Cauliflower Salad of pomegranate, figs, and tahini cream.
Petite León
Petite León is another elegant restaurant in Minneapolis worthy of Michelin recognition. This establishment in south Minneapolis is considered a neighborhood bistro. Award-winning Chef Jorge Guzmán leads his team in the kitchen to create delicious meals inspired by his own love for food, especially related to his home state of Yucatán.
This bistro also specializes in perfect wine pairings and expertly crafted cocktails, with a team led by the Bar Manager and part-owner, Travis Serbus. Petite León has been recognized in a number of publications including the New York Times and the Zagat Guide.
Their diverse menu includes unique dishes such as Steak Picanha, with black bean puree and fried platanos. They also offer refreshing cocktails such as the Tepache, which includes fermented pineapple and spices.
Borough
From the time you walk into Borough, the atmosphere and lighting set the tone for an incredible night. Borough has been open since 2013 and the culinary team is led by Executive Chef Mike DeCamp and the chef de cuisine William Karon.
The menu includes small plates that allow guests to explore multiple dishes on the menu, with cuisine inspired by the fresh, local, and seasonal flavors of Minnesota. Their dinner menu includes dishes such as the Kale Ravioli with forest mushrooms and parsley or the Black Cod with baby artichokes.
If you want the most intimate and exclusive experience at Borough, you can dine at the Apartment. This restaurant experience combines the classic elegance of dining in a restaurant with the warmth and comfort of eating at home. The Apartment holds 22 guests and can be booked for private events or a private dining experience.
The Best Restaurants in An Underrated Food Scene
Some say that the food scene in Minneapolis is underrated, but the locals know that their city is home to a number of Michelin Worthy restaurants.
If you've wondered about Michelin Star Restaurants in Minneapolis, remember that there isn't a guide for this city of Minnesota yet, but hopefully, Michelin makes its way to Minnesota in the future. When they do, some of these restaurants are sure to be considered.
The image featured at the top of this post is ©iStock.com/RudyBalasko.