Calgary, located in Alberta, Canada, is a large city with plenty of parks, museums, and restaurants to explore. Aside from the year-round sunshine, Calgary is also known for being an excellent city for fine dining in Canada. If you're looking for Michelin Star Restaurants in Calgary, you may be surprised to find out there aren't any. Although there are restaurants worthy of a Michelin Star, there are no official Michelin Star Restaurants in the area.
Even though Michelin has deemed thousands of restaurants all over the world as Michelin Star-worthy, the number of Michelin Star Restaurants in North America is far from impressive. However, with the Michelin Guide finally making its way to Canada in 2022, there's a chance Michelin could include Calgary in the future.
No matter what type of restaurant you're looking for, there are numerous restaurants in Calgary worth the stop. Keep reading to discover which Calgary restaurants could be worthy of a Michelin Star.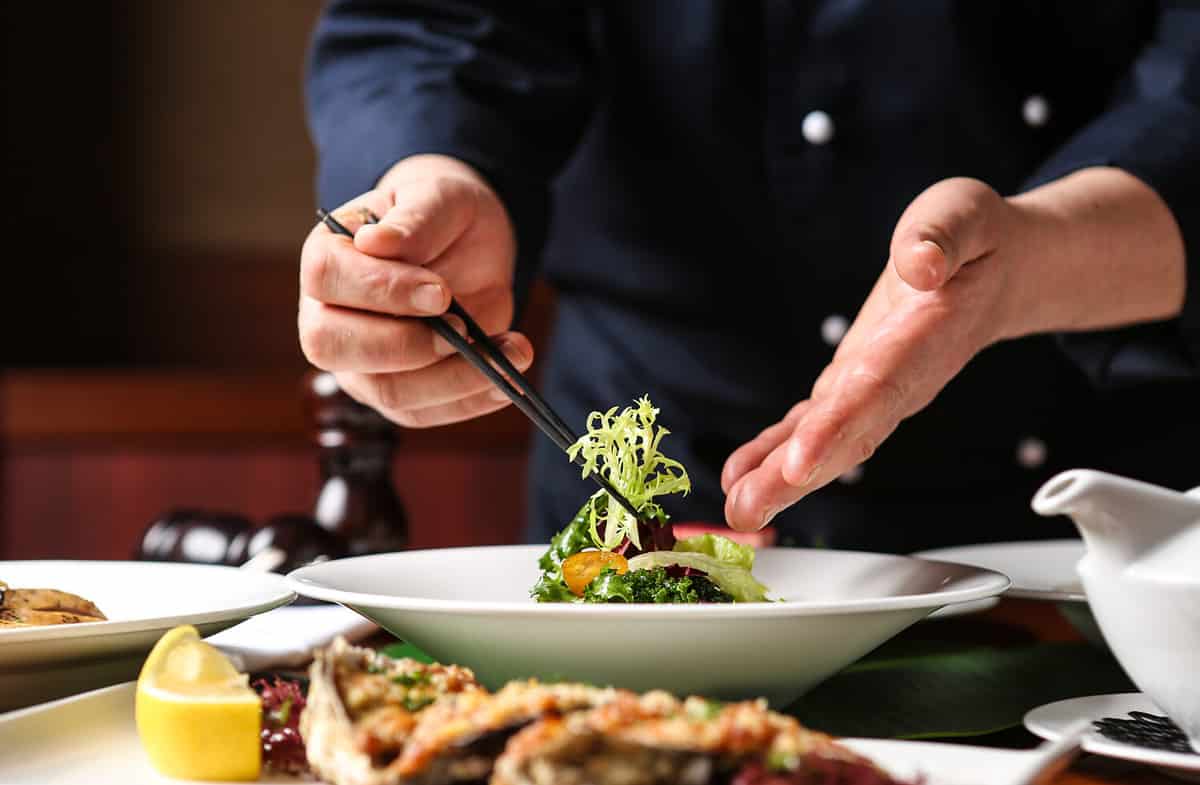 Michelin Worthy Restaurants in Calgary
2022 was a monumental year for the restaurant industry in Canada when they received their first Michelin Guide. Restaurants in Toronto and Vancouver are now rated by Michelin, so there's hope for the rest of Canada to be included one day as well.
Although the addition of the first Canadian Guide was an exciting milestone for Canada, there are still many areas with excellent restaurants that Michelin has passed over. Even though there isn't a Michelin Guide for Calgary, there are excellent restaurants there that could potentially make the list in the future. 
If Michelin decides to expand its guide to Calgary, some of the restaurants worthy of a star include:
Eight
Model Milk
Alloy
Rogue
Shoukukin
Vero Bistro
Calgary has a variety of delicious restaurants with unique cuisine worth visiting. Let's dive into what makes each restaurant unique and worthy of a Michelin Star.
Eight
Dining at Eight is the most exclusive dining experience in all of Calgary. There are only eight seats available for one seating, three nights a week. If you're fortunate enough to get a reservation at this hideaway restaurant, you're sure to have a memorable night.
At Eight, Chef Darren MacLean treats guests to a delicious tasting menu made up of entrees made from local Canadian ingredients. Part of the experience at Eight is discussing what Canadian cuisine is and what it means to be a part of the culture of Canada.
The Canadian Reflection Menu at Eight draws upon the unique flavors and culture of the Canadian people. This 15-course meal takes guests on a culinary journey where they can experience all that Canadian cuisine has to offer. Since the daily tasting menu changes frequently, they're unable to accommodate dietary restrictions at Eight.
Model Milk
Model Milk in Calgary offers a rustic yet stylish atmosphere for guests who choose to eat at the restaurant. They focus on sourcing the freshest, highest-quality ingredients and preparing meals in a simple and delicious way.
The owners of Model Milk have built relationships with local farmers and fisheries to ensure the ingredients they use are the best Calgary has to offer. Their menu includes a number of small and large plates as well as an extensive list of drinks and desserts.
After choosing your craft cocktails or glass of wine, you can enjoy items like the East Coast Oysters or the Wagyu Beef Tartare. Your meal wouldn't be complete without a delicious dessert such as the Model Milk Apple Pie or the Milk Chocolate Layer Cake.
Alloy
Alloy offers guests a delicious, internationally-inspired cuisine, served in a classy and beautiful setting. The atmosphere of Alloy is calm and relaxing while still offering the elegance you expect at a fine dining restaurant. The owners built Alloy out of a passion for food and excellent wine.
Chef and owners Uri Heilik and Rogelio Herrea created Alloy to offer an oasis in the heart of Calgary. They combine their unique culinary experiences to create something creative for locals and those passing through. The cuisine at Alloy combines their Mediterranean and Latin heritages, while also bringing in Asian-inspired flavors and dishes.
Dinner at Alloy is more than just a delicious meal–it's also an experience. With a passion for food, wine, and people, the owners have set the stage for an exquisite dining experience. On the dinner menu, you'll find starters like the Chicken Empanadas with green olives and pico de gallo or the Truffle Gnocchi with black truffle buttercream and parmesan cheese. You can also enjoy main entrees such as the Braised Short Rib or the Duck Breast with cherry gastrique and turnips.
Rouge
Located in a historic house in the center of Calgary, Rouge offers a memorable farm-to-table dining experience. This restaurant is located just a few minutes from downtown and is located inside the historic Cross House in Calgary's oldest neighborhood.
The owners of Rouge, Olivier Reynaud, and Chef Paul Rogalski, honed their culinary skills while traveling across nine different countries. They then brought their skills and talents together to create a restaurant that offers the best service and cuisine in Calgary. Numerous publications have recognized the accomplishments of Rouge. These publications include the New York Times, Avenue Magazine, Food & Hospitality Magazine, Alberta Venture Magazine, and Business in Calgary Magazine.
When you dine at Rouge, you can start off your meal with a variety of appetizers, soups, or salads. Choose from items such as the Tomato Gazpacho with crispy quinoa cracker and compressed cucumber or the Foie Gras with rhubarb glaze and brioche. For the main course, you'll enjoy distinguished entrees like the Seared Pork Belly or the Trio of Lamb with potato fondant and cipollini onion.
Shokunin
If you're looking for an excellent place to enjoy sushi, sashimi, and other Japanese cuisine, Shokunin is the go-to Japanese restaurant in Calgary. Since its opening, this restaurant has consistently ranked as one of the top 50 restaurants in Canada. They aim to provide excellent Japanese cuisine made with fresh ingredients.
Chef Darren MacLean of the restaurant Eight created the concept behind Shokunin and many of the ingredients and produce from Shokunin even come from Chef Darren's own garden and farm. For a truly unique experience, guests can enjoy their meal at the Chef's Bar where they can watch the excitement of the meals being cooked.
The focus of the entrees at Shokunin is expert grilling and all the grilled meats are cooked over a Japanese-Style Robata Grill. There is no limit to the types of ingredients used in each of the meals at Shokunin. In addition to the grilled chicken and other meats, you can also choose entrees such as the Shokunin Tori Ramen or the Buttered Miso Soup with tofu and wakame.
Vero Bistro Moderne
The flavors of Italy, Spain, and France as well as the local flavors of Calgary come alive in the kitchen at Vero Bistro. Chef Jenny leads the way to excellence by creating authentic Italian-inspired meals using fresh, local vegetables from nearby farms as well as organic, locally sourced meats.
To continue being inspired and honing her craft, Chef Jenny travels to Europe each year to experience the cuisine and bring back inspiration for her own kitchen at Vero Bistro. She has a passion for excellent food and unique recipes. Vero Bistro has been recognized by TripAdvisor as the best restaurant in Calgary and was listed in the top five restaurants in all of Canada. Their restaurant has also been recognized by OpenTable and other publications.
When you dine at Vero Bistro, you can choose individual items off the dinner menu or choose the family-style dinner to get the full multi-course experience. No matter what you choose, you'll experience items such as the House Made Ravioli with caramelized onions, potato, and ricotta, or the Grilled Ahi Tuna with lemon risotto.
The Best Upscale Restaurants in Calgary
Whether you're local to Canada or passing through and looking for the best restaurants to visit, there are some incredibly unique and creative restaurants in Calgary that will blow you away.
If you're looking for Michelin Star Restaurants in Calgary, you'll find that there aren't any in the area. While Michelin did add a Michelin Guide to Toronto and Vancouver, there isn't one for Calgary yet. However, there's always the possibility of Michelin adding Calgary to the list of North American locations they visit.
The image featured at the top of this post is ©LisaBourgeault/Shutterstock.com.