Colorado Springs is a beautiful city at the base of the Rocky Mountains. Be sure to check out some of the most expensive restaurants in Colorado Springs on your next visit! These eateries are a sampling of the top-notch food available in this gorgeous piece of Colorado. There are also fine dining opportunities that are well worth saving for. Colorado Springs already has so many things to do. There are local zoos and cultural museums. Not to mention they have some incredible outdoor sights to see. And you can't forget the dining scene. From steakhouses to American fare, there's exceptional seafood and several hotel-based restaurants that you can add to your list of places to spend. 
Let's take a closer look at the opportunities for fine dining at some of the most expensive restaurants in Colorado Springs. From the menu to the ambiance, there's a reason these places stay open, even with the high price tag. We'll discuss the price point of the food as well as the location of the restaurants. By the end of this, you'll have a better idea of how to plan your time in Colorado Springs around a trip to one of these fine establishments for some good food.
The Broadmoor – Ristorante Del Lago, and La Taverne
1 Lake Ave, Colorado Springs, CO 80906, United States
Housed within the Broadmoor Hotel are multiple fine dining establishments. These include the Italian-style restaurant Ristorante Del Lago and the French-inspired La Taverne. Ristorante Del Lago offers a breadth of traditional Italian recipes, from house-made pasta dishes to wood-fired pizza. Located right on the shore of the local Cheyenne Lake, you'll enjoy the beautiful sights of Colorado Springs while experiencing the taste of Italy. Led by three chefs all with an authentic background in Italian pasta-making, everything from their lunch menu to their Chef's and dinner menu are deliciously made.
Ristorante Del Lago Menu Breakdown
Start with Antipasti the likes of fennel and citrus salad, chilled seafood salad with preserved lemons, Caprese, salted cod, and prosciutto with melon, all between $18-$22 USD. Enjoy a chef's selection of cheese and meat selections for $33 or order options á la carte for between $9-$25 USD. Pizzas include three cheese for $23, classic Margherita for $19, Aosta house sausage, or Toscana with buffalo mozzarella for $22. A number of the pizzas are seasonal, using items such as summer squash to complement classic Italian pizza recipes. And you can make your pizza gluten-free for another $5. Their desserts include tiramisu, bombolini, gianduiotto hazelnut cake, or panna cotta ($12-$13).
La Taverne Menu Breakdown
The Hors d'oeuvres selection at La Taverne takes lots of inspiration from classic French starters. There's soft poached farm egg salad, oysters with mignonette, shrimp salad, tiger prawns, crab bisque, and endive salads for between $17-$29 USD. The seafood tower encompasses Maine lobster, Dungeness crab, oysters, and shrimp for a whopping $195. Entrees jump considerably in price with signature steak frites for $92, Wagyu strip steak for $74, juicy chicken for $42, and striped bass for $43. Enjoy Angus beef in numerous cuts for between $54-$70, tenderloin for $80, a rack of lamb for $69, and a dry-aged New York strip for $108. As far as restaurants go, this is for sure one of the most expensive restaurants in Colorado Springs today!
Mackenzie's Chop House
128 S Tejon St, Colorado Springs, CO 80903, United States
Mackenzie's Chop House is a steakhouse that specializes in top-quality meat options, seafood, and wine pairings. This locally-owned steakhouse has been operating since 1997. It is both a community favorite and an elegant option for people new to Colorado Springs. They offer lunch, dinner, and happy hour meals. All the food is prepared by a dedicated team, led by Mackenzie's Chophouse Chef Chris Heise. The menu is seasonally curated. This helps to showcase the local fare that Colorado Springs has to offer guests of its high-end restaurants.  
Menu Breakdown
Start your experience off with Duxbury oysters in a cucumber-yuzu mignonette for $18. Other appetizers include the shrimp cocktail, pork belly, shishito peppers, and beef filet tips. The latter comes with bordelaise sauce and all these cost between $10-$26 depending on the plate. Soups feature French onion, a daily soup, and fresh house salads for between $7-$10. Meat additions cost another $5. The Cioppino Alaskan King crab with scallops, shrimp mussels, shellfish, and ciabatta costs $40 for the mix, and there's a poblano tortellini for $24, with chicken or shrimp additions for $4 or $6. Try their swordfish ($36), scallops ($40), Norwegian Salmon ($38), or Chicken Piccata ($30).
And now onto the steak options, which come with your choice of white cheddar mashed potatoes or french fries. There's a prime flatiron (10oz) for $42, and three sizes of filet mignon between $44-$54. The prime New York strip steak comes with tobacco onions and also ranges from $44-$54 depending on the size. The cowboy-cut bone-in ribeye costs $72, and the porterhouse costs $70. Surf & Turf and the Alaskan King crab legs are market prices and the side sauces include a bleu cheese gratin, bearnaise, bordelaise, au poivre, and smoked gouda. Save some room for their dessert section. Take your pick of New York or Brooklyn-style cheesecakes, apple streusel, or chocolate spoon cake.
The Steakhouse At Flying Horse
1880 Weiskopf Point #100, Colorado Springs, CO 80921
This is an award-winning steakhouse in Colorado Springs. It is 5-Star Safety Certified and a three-time winner of the Wine Spectator Award of Excellence. Enjoy the steakhouse offerings in this Tuscan-style villa. Not only do they have an array of delicious menu items, but hand-crafted and inventive cocktails to pair with your culinary experience. They offer lunch, and dinner options, with a happy hour from 4-6 pm.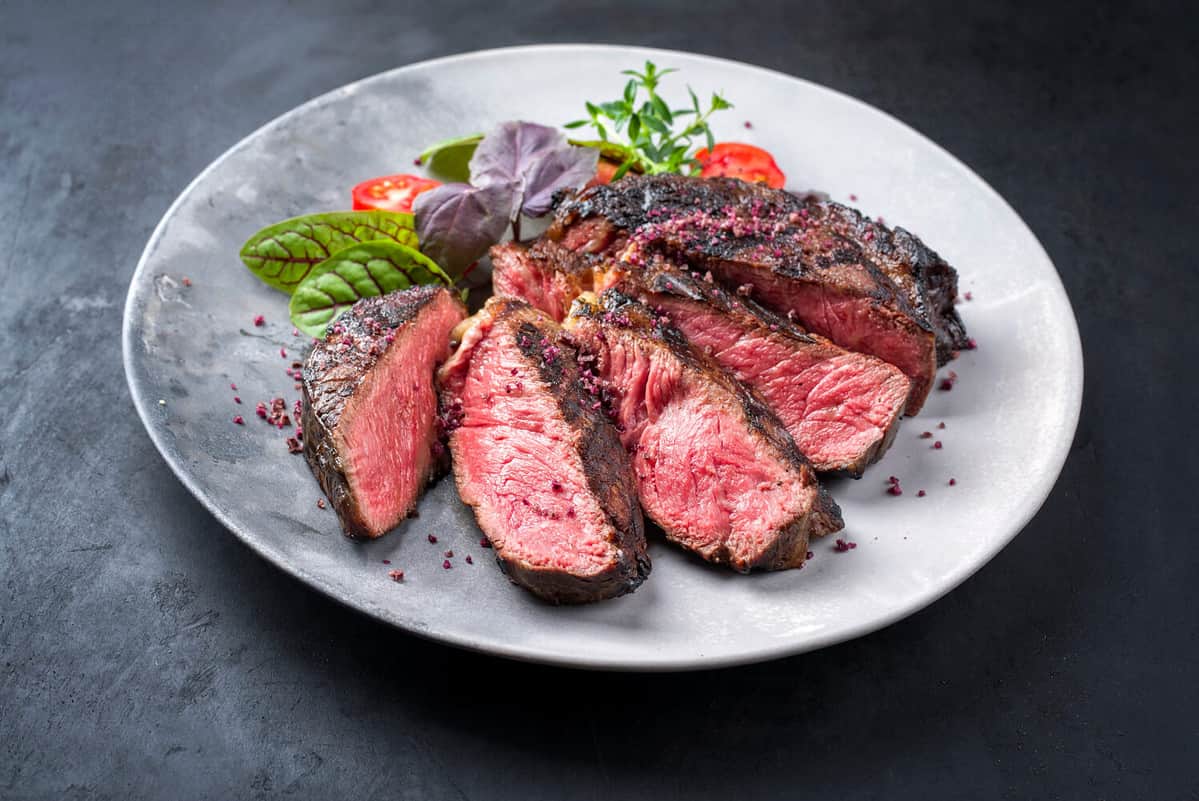 Starters include long-stem artichokes, smoked salmon with sweet chili sambal, steak frites, crab cakes, calamari, and a number of fresh salads ($14-$25). There are a number of specials including scallop fettuccine ($45), filet mignon medallions ($53), and braised short ribs ($42), Try their petite filet mignon, and larger filet mignon for $49, and $60 respectively. There's USDA Prime New York strip for $56, Wagyu Ribeye for $75, bone-in for $60, and New Zealand lamb rack for $65. Add on crab cakes ($20), scallops ($15), shrimp ($15), or market price King crab legs. Steak sauces are an additional five and include the Flying Horse signature sauce, bearnaise, cognac peppercorn, tallow butter, and gorgonzola.
Joseph's Fine Dining
1603 S. 8th Street Colorado Springs, CO 80905
Joseph's Fine Dining in Colorado Springs is run by Joseph Freyere, an experienced restauranteur. With Peruvian roots, Freyere worked in a number of French restaurants, a background that influenced his cooking. Joseph's Fine Dining is considered modern French, with fresh and local ingredients alongside their curated wine list. They offer lunch and dinner options, we'll take a closer look at the dinner menu.
Start off with the seafood platter, escargot in garlic butter, crab stuffed mushrooms, and calamari ($17.99-$24.99). There are fresh salads and Joseph's specialty hot spinach pernod with applewood smoked bacon, brown sugar, and red vinegar all flambéd in pernod spirits ($16.99). Specialities also include a fruits de mer platter of scallops, mussels, shrimp, and lobster ($35.99), and a number of seafood pastas ($31.99-$42.99). There's grilled trout, chicken, lamb leg steak, calf's liver, filet mignon, and a center-cut ribeye. The main dishes range from $25.99-$46.99, depending on the dish. For a true Joseph's experience, try the peppered steak flambé with pan-seared center cut tenderloin, marinated in mango chutney with French Brandy for $49.99.
The image featured at the top of this post is ©Sarah Fields Photography/Shutterstock.com.