Fresno, California, is centered in the San Joaquin Valley, and only an hour or so to Yosemite. It is filled with beautiful things to see and do. Not to mention the absolutely top-tier food at some of the most expensive restaurants in Fresno, today. From classic steakhouses to nuanced New Mexican cuisine, the culinary scene in Fresno is well worth checking out. Imagine a night on the town with amazing food and some quality wine pairings. If you have the means to spend some time and money, why not give one of these great eateries a try? After all, dinner at one of the most expensive restaurants in Fresno is quite the bucket list item. While this experience will surely burn a hole in your wallet, read on to learn if it's worth it.
In this post, you'll learn more about the specific restaurants that we've chosen. We'll talk about their menu options, price points, and pairings. By the end of this, you'll better understand why these places cost so much. And you'll be able to decide where it might be worth it to you to spend an evening at one of these fantastic restaurants located right around beautiful Fresno. Let's get into the meat of it!
Happy reading, and happy eating!
Saizon
2894 E Shepherd St., Fresno, CA 93720
Saizon is bringing high-end New Mexican food to the San Joaquin Valley. Their menu combines American recipes with local ingredients and Mexican influences. Saizon prides itself on its presentation and its hospitality. Taste the cutting-edge culinary endeavors on their menu, and enjoy the freshest ingredients in its cocktail selection. The menu is seasonal, using local ingredients, so the menu is subject to change.
Starting with their raw bar offerings, try out oysters on the half shell with tomatillo mignonette, and chili cocktail sauce. It costs $21 for a half serving or $36 for a full one. There's cured hamachi ceviche with leche de tigre, salmon agua chile with black sesame tempura, marinated crab legs, Dungeness crab, and spicy crab. All these dishes are between $16-$24 USD. Try their bluefin pizza ($29), or vegetarian cauliflower ceviche ($14). The larger seafood options include an oyster, shrimp, crab, and ceviche platter for $50, a large tower for $90, and a grand tower for $125. Their California caviar costs $65.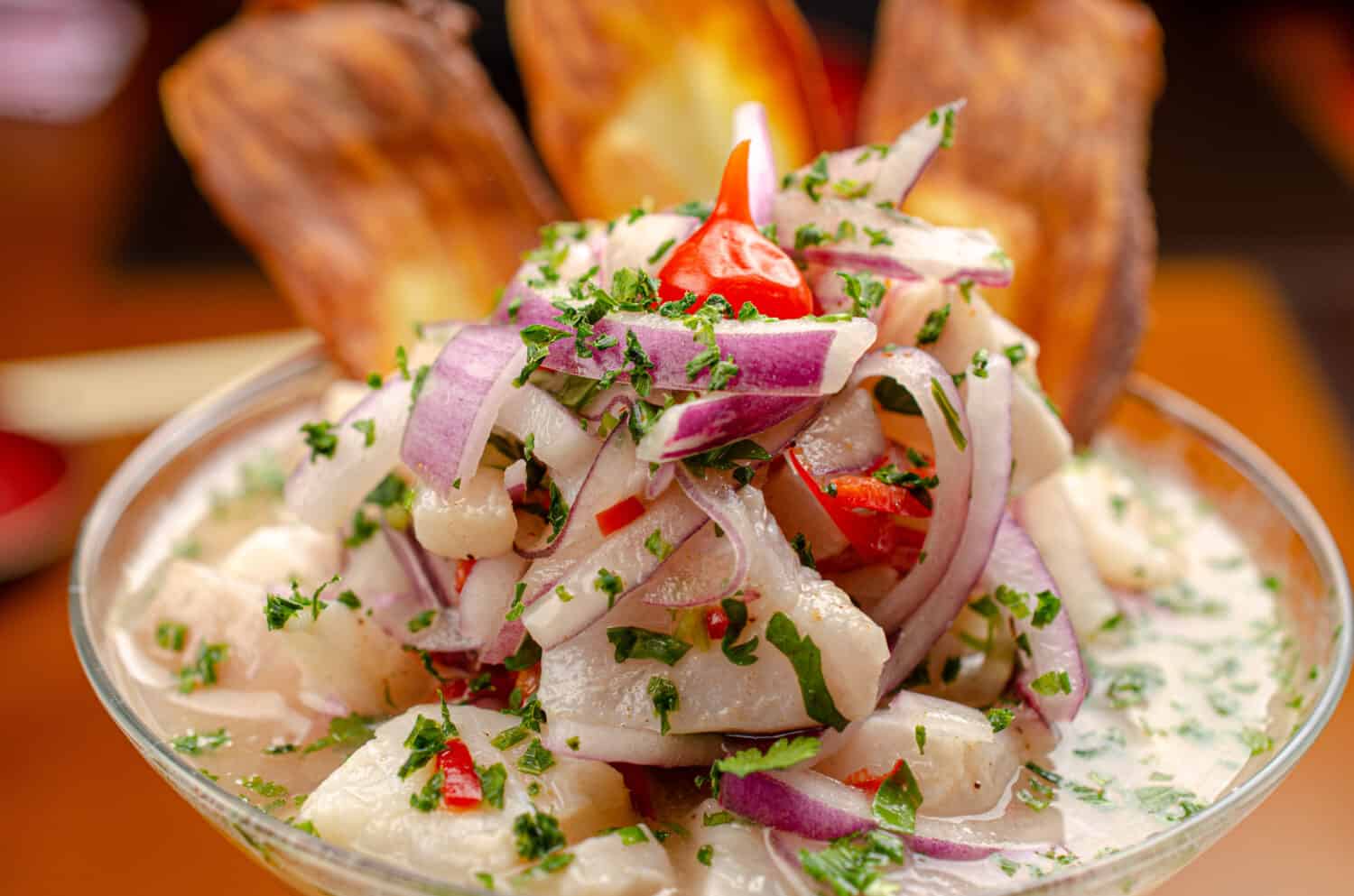 Menu Breakdown
Entrees begin with aged prime beef in a black pepper guajillo rub ($25), and charcoal grilled octopus ($24). There's also chuleta lamb chops ($38), and bone marrow ($22). Ensalads include a beef carpaccio ($13), peach burrata ($14), and charred avocado with brown sugar bacon, pears, and radicchio ($14). Main plates include New Zealand elk ($55), New York wagyu ($75), Ora King Salmon ($34), and Chicken A La Brasa ($29). Enjoy Hanger Steak ($38), and prime ribeye with bone marrow chimichurri ($65). Be sure to save room for the chocolate ganache in a waffle shell "choco taco." Or there's a delicious-sounding pineapple date cake with chantilly, banana tuille, and coconut ice cream, over a coconut crumble. Both dessert options cost $14 USD.
Trelio Food And Wine
438 Clovis Ave, Clovis, CA 93612
Trelio Food And Wine is located a mere 13 minutes outside of Fresno, in Clovis, California. The menu is centered around classic Californian food, inspired by the traditional recipes of the Italian Apennine Peninsula. Opened in 2006, Trelio is led by wine Sommelier/Chef Chris Shackelford. Using the local ingredients and the freshest available, Shackelford has created a menu that showcases the flavors of French, Spanish, Creole, and Italian styles of cooking. They offer a la carte ordering, as well as a tasting menu. This prices out to three courses for $56, and five courses for $68. Let's look at the dinner menu.
Menu Breakdown
Begin your night with house-made focaccia bread with burrata, olive oil, and saba ($18). Salads feature fresh arugula, nectarines, marcona, and fennel, or pecorino with honey-roasted garlic, and heirloom tomatoes and basil (between $15-$18). Their pasta section includes paccheri with corn and blue crab, potato gnocchi with basil pesto, fettuccine with pork bolognese, and pickled peppers. There's also salmon ravioli in a lemon leek sauce (between $26-$36). Entrees feature miso roasted rock cod ($34), seared diver scallops in a sugar snap pea risotto ($40), and chicken confit ($32). Try their duroc pork chops ($46), and a wagyu steak for $52. The current dessert includes saffron panna cotta, flourless chocolate torte, and three kinds of housemade gelatos (between $12-$14 USD).
The Lime Lite
1054 W Shaw Ave., Fresno, CA 93711
The Lime Lite has been a happening spot in Fresno for half a century! Owner Brandon Smittcamp has kept this fine-dining establishment alive, with a continued reputation for community engagement and hospitality. The Lime Lite uses the freshest ingredients from local vendors and farmers. They work to showcase the best produce and meats of the San Joaquin Valley. Because of this, the menu is seasonal.
Menu Breakdown
Start off with items like panko-crusted calamari strips, and grilled ponzu steak surf & turf. There's cauliflower brown rice tempura in a honey cashew glaze, and a Dungeness crab cocktail (all between $14-$36). Try the lobster mac & cheese with black truffles for market price. There's also a stone fruit burrata with Calabrian chiles and crispy chorizo ($16). Specialty salads include the strawberry with toasted almonds, frisee lettuce, and feta cheese. Try the slow-roasted beets with whipped goat cheese, or the sesame-crusted tuna with sriracha shrimp, and soba noodles. And lastly, there's "the Louie" a salad with bay shrimp, Dungeness crab, and haricot verts (green beans).
Mains include prime rib ($40), wood-fired ribeye ($42), New York Wagyu ($75), center-cut filet ($52), and grilled lamb chops ($46). There are grilled lamb chops ($46), maple shoyu salmon ($33), halibut ($44), sole ($29), and diver scallops ($46). And, finally, take your pick of strawberry shortcake, bread pudding, and brownie s'mores, all for $12 USD.
Flemings Fine Steakhouse And Wine Bar
639 E Shaw Ave. Suite 149, Fresno, CA 93710
Fleming's Fine Steakhouse And Wine Bar is a chain restaurant in Fresno's cuisine scene. Located right in the Fashion Fair Mall on Highway 41, Fleming's' serves top-quality prime steak, fresh seafood, and wine pairings. They offer catered events, a happy hour menu, and a dinner menu as well. There is a two-person tasting menu for $140. For the purpose of this article, we'll take a closer look at the dinner menu.
Menu Breakdown
Starters include sweet chili calamari, tune poke, shrimp cocktail, burrata and prosciutto, seared pork belly, and beef carpaccio (between $17-$35). Enjoy crab cakes ($26), and a melange of seafood ingredients in Fleming's shellfish tower. You'll have lobster tails, colossal shrimp, lobster claws, and crab legs, alongside fresh oysters with three kinds of sauce for $150. Salads include pickled nectarine and smoky corn, caesar, and wedge ($15-$16). There's lobster bisque and French onion soup, with spiced sherry cream, and two types of cheeses ($17-$18). Steak cuts include filet mignon ($58), Angus beef ribeye ($56), prime New York strip ($62), dry-aged ribeye ($69), bone-in ribeye ($67), and tomahawk ($99). Pick from seafood platters like Diablo shrimp, lump crab meat, truffle poached lobster, seared scallops, and Chilean sea bass (between $16-$50).
Vegetarian options feature crispy mistake mushrooms with tarragon aioli ($13) portobello and cauliflower steak with asparagus and pickled onions ($41), and sides of pecorino creamed corn ($15). And lastly, enjoy New York cheesecake ($15), olive oil cake ($13), summer berry mousse ($13), and a number of other sweetly seasonal delicacies at Fleming's Fine Steakhouse.
The image featured at the top of this post is ©Jacob Boomsma/Shutterstock.com.