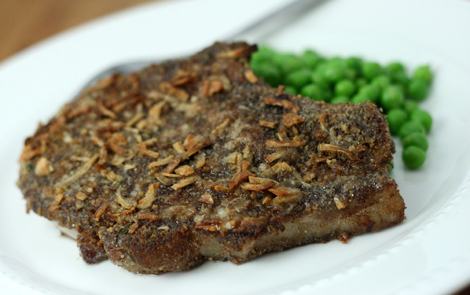 [addtoany]
Pork chips make a great base for any meal. They are scrumptious, tender and give a terrific melt in your mouth taste to your dishes.
Porkchops are particularly delicious when they are breaded and given a great onion taste. This meal achieves the perfect texture and flavor when considering that combination.
Read on to find out how it's done.
Onion Soup Mix Pork Chops
To make this meal, start by combining 1 package of dried onion soup mix with 1/3 cup plain breadcrumbs.
In a separate bowl, beat one egg. Then dip pork chops into the egg and then into the soup and bread crumb mixture.
Place the pork chops on a shallow baking dish and bake uncovered in a preheated oven at 400 degrees for 12 minutes. Flip and bake an additional 25 to 30 minutes.
The dish can be served with a variety of sides including macaroni and cheese, potatoes, veggies, rice or a nice light salad.
If you are looking for variations on the recipe, here is one for Easy Crock Pot Porkchops with Onion Soup Mix. This is a non-breaded version that uses a crockpot to allow the meat to achieve the perfect taste of tenderness while letting the onion flavoring seep in while it cooks.
Start by heating olive oil in a skillet over medium heat. Add pork chops and sprinkle with ground pepper. Brown the pork chops turning regularly for a total of 5 to 7 minutes, then add to crockpot.
In a bowl, combine onion soup mix with 1 cup chicken or vegetable broth and ½ cup water. Pour over the pork chops and cook on low for 6 to 7 hours or on high for 3 to 31/2 hours.
Transfer chops to a serving plate and keep warm.
Strain juices and skim off fat. Put juices in a saucepan and heat until simmering. Stir in cornstarch mixture and cook, stirring until thickened. Stir in butter until melted.
Pour the sauce over the pork chops and serve.
Oven-Fried Pork Chops
When we think of fried foods, we typically think of foods that are prepared in a pan. However, oven frying is a thing. In our recipe, for instance, the breading that is used qualifies it as a fried food even though it is prepared in an oven.
When thinking of the pan-fried vs. oven-fried debate, some would argue that pan-frying allows food to come out more evenly cooked and is also a time-saving method of preparation. However, some fried foods have been known to come out better when oven-fried, and we feel as if this pork chop dish fits the bill.
It also is worth mentioning that while pan-frying may be more efficient time-wise, it takes more of a cook's attention. When frying foods, cooks have to be involved 100% of the time to make sure food is cooking properly and is flipped at regular intervals.
When baking, you only need to throw the food in the oven and allow it to bake, perhaps taking time out occasionally to flip the food or add ingredients.
If you are looking for variations on the oven-fried pork chop recipe, this one for Oven-Fried Parmesan Porkchops is highly recommended.
To make the recipe whisk an egg with 1 tbsp milk in a shallow dish and set aside.
Then combine 1 cup breadcrumbs with ¼ cup parmesan cheese, 1 tsp. salt, ½ tsp. garlic powder, ½ tsp. onion powder and a bit of black pepper.
Take your pork chops and coat both sides with the egg mixture and then dip in the breadcrumb mix.
Bake on a greased baking pan for 10 to 15 minutes at 425 degrees. Allow to rest for 5 minutes and serve.
This recipe also includes an onion flavoring but it incorporates the taste of parmesan cheese to make the meat-rich and flavorful.
If you love pork chops, there are countless ways to prepare them to incorporate them into your family's meals. The oven-fried taste is sure to be one they will love and there is so much you can do to work with the ingredients in the breading to give it a unique taste. How will you be changing up your pork chop recipes for your family tonight? 
If you enjoyed this recipe, make sure to check out our Maple Pecan Pork Chops and our Pork Chops Devine.
Print
Onion-Baked Pork Chops Recipe
---
Author:

Total Time:

30 minutes
Description
Porkchops are particularly delicious when they are breaded and given a great onion taste. This meal achieves the perfect texture and flavor when considering that combination.
---
1

envelope Onion Soup Mix

⅓ cup

plain dry bread crumbs

4

pork chops, 1 inch thick (about

3

pounds)

1

egg, well beaten
---
Instructions
Preheat oven to 400°F.
In small bowl, combine soup mix and bread crumbs.
Dip chops in egg.
Dredge chops in bread crumb mixture until evenly coated.
Arrange chops on baking sheet.
Bake, uncovered, 20 minutes or until done, turning once.
Prep Time:

10 Minutes

Cook Time:

20 Minutes

Category:

Main Course

Method:

Baking

Cuisine:

American
Keywords: baked bone in pork chops, cooking pork chops in oven