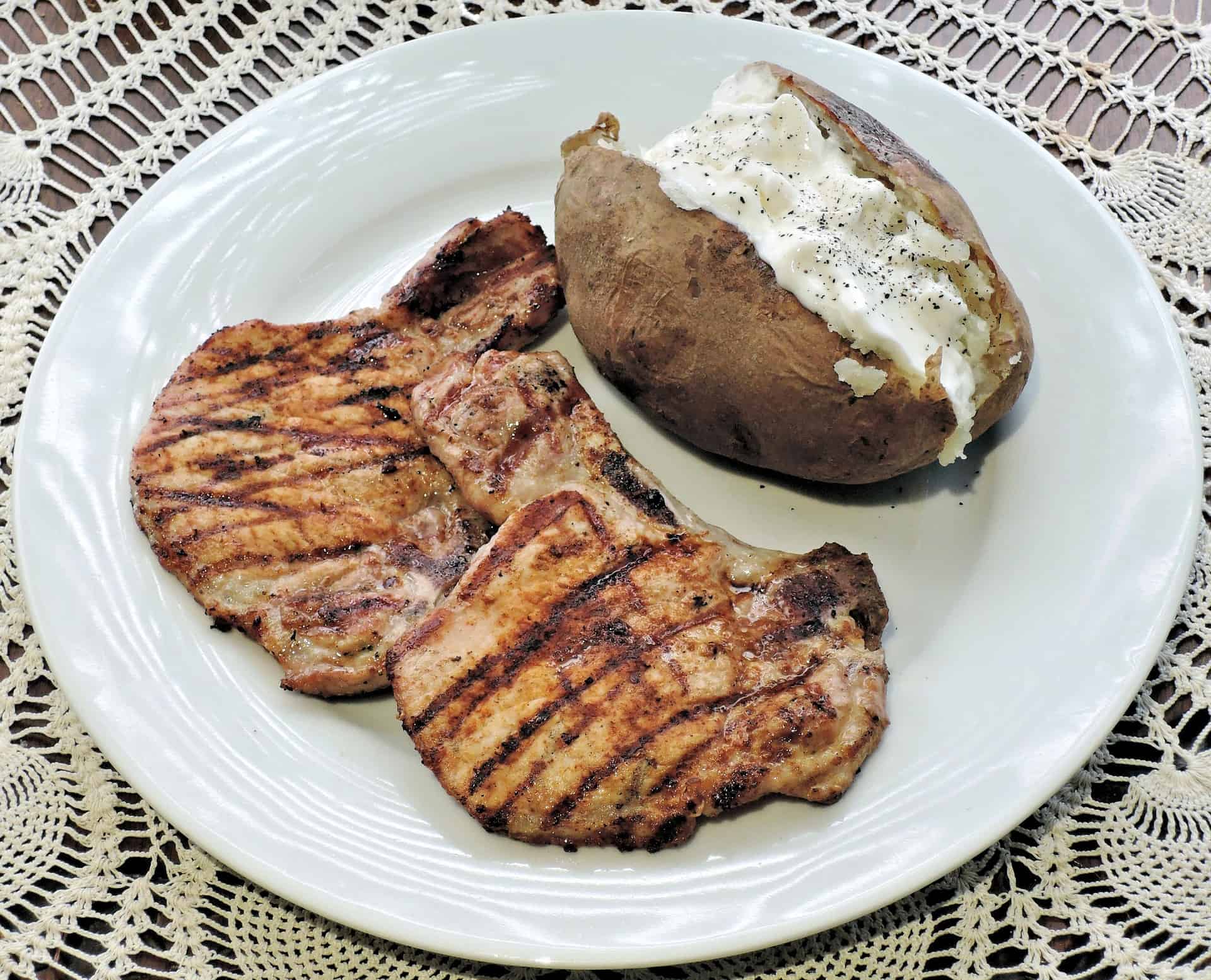 Let's Get Ready for Baby!
Sign up for our monthly pregnancy email series, and you'll get regular updates on your baby's development, helpful timelines to get ready for their arrival, must-have baby needs and so much more! PLUS, you'll get instant access to the MomsWhoThink "Ultimate Guide to Baby Naming in 2022."
CLICK HERE
to get started!
[addtoany]
Pork chops are always a treat when served at the dining room table. Their juicy goodness and melt in their mouth taste make them a definite crowd-pleaser. Their succulence gives them a flavor that's second to none.
There's something about bone-in pork chops that makes them even more delicious and fun to eat. If you are a fan of bone-in pork chops, we are confident that this recipe for baked herb pork chops is one you are going to love.
Baked Bone-in Pork Chops
To make this recipe, start with 4 loin cut pork chops about a ½" thick. Sprinkle the sides with salt and pepper.
In a small bowl, combine 1 tbsp. Dijon mustard, 1 tbsp red wine or garlic wine vinegar and 1 tsp. Italian seasoning. Brush mixture over pork chops.
Bake uncovered in a sprayed baking pan for 10 minutes at 450 degrees. Remove from oven, turn pork chops and continue baking uncovered for 5-8 minutes or until the internal temperature reaches 145 degrees.
It is important not to overcook the pork chop. Pork chops can be challenging to cook because there is a very small window between them being done to perfection and overcooked. Here are a few tips that will help keep you from overcooking your chops.
Buy bone-in pork chops that are at least 1 ½ inches thick and are pink in color with some marbling. The bone conducts heat to prevent the meat from overcooking while the marbling (fat) adds flavor and moisture.
Bring meat to room temperature before cooking. This will help them cook evenly and retain moisture.
Sear the pork chop on the stove and finish baking it in the oven. The sear will seal in the juices to keep it tender.
Add a splash of chicken stock before transferring it to the oven to provide added moisture.
Buy a meat thermometer to accurately determine cook time.
After the meat cooks let it rest for 10 minutes covered. This will allow the juices to redistribute back into the meat.
Easy Baked Pork Chops
Once you have the cooking time of the meat under control, making pork chops can be pretty easy. To vary the recipe, you can use different sauces and seasons to flavor the meat.
Here is one recipe that boasts a tasty pork chop seasoning:
The recipe calls for:
2 Tablespoons smoked paprika
1 Tablespoon Kosher salt
1 Tablespoon black pepper
1 Tablespoon brown sugar
1 teaspoon garlic powder
1 teaspoon onion powder
1/2 teaspoon ground mustard
1/2 teaspoon cayenne pepper
All ingredients are combined in a bowl and stirred with a whisk or fork until all clumps are broken up. You can store the mixture for up to 6 months in an airtight container. When it's ready to use, sprinkle it liberally on the pork chops. Then bake, grill or sear as desired.
While we can go on about the different seasonings you can use on pork chops, it may be more about how you season them that sets the meat apart.
To properly season pork chops, start with fully defrosted chops and sprinkle seasoning liberally on both sides. For best results, use your hands and allow the seasoning to drop onto pork chops from 8-10 inches above. This will allow the seasonings to become evenly distributed.
Rubbing the seasoning in is not necessary and it can even make some of the ingredients clumps. Instead, you can use the palm of your hands to gently press the seasoning into the meat a few minutes before baking or grilling.
Pork chops are a great protein that can be served with any number of sides. Mac n cheese, rice, vegetables, and a nice, healthy salad are just a few suggestions that come to mind.
And while pork may have gotten a bad rap in the past, they can be quite healthy when consumed in moderation. Pork is a great source of protein, vitamins, and minerals and it has been shown to improve exercise performance and muscle growth and maintenance.
You can use different flavorings to make for unique meals every day of the week or experiment until you find your favorite. How will you be serving this meat to your family tonight?
If you enjoyed this recipe, make sure to check out our Sausage and Orzo Recipe and our Pork and Potatoes with Tomato Relish Recipe.
Print
Baked Herb Pork Chops Recipe
---
Author:

Total Time:

25 minutes
Description
There's something about bone-in pork chops that makes them even more delicious and fun to eat. If you are a fan of bone-in pork chops, we are confident that this recipe for baked herb pork chops is one you are going to love.
---
4

loin-cut pork chops, about

½

-inch thick
Salt and pepper

1 Tablespoon

red wine or red wine garlic vinegar

1 Tablespoon

Dijon mustard

1 teaspoon

Italian seasoning
---
Instructions
Rinse pork chops and pat dry.
Sprinkle both sides lightly with salt and pepper.
Place in a sprayed 8×8-inch baking dish.
Combine remaining ingredients and brush over meat.
Bake, covered for 10 minutes 450°F.
Remove from oven, turn pork chops, and continue baking, uncovered 5 to 8 minutes or until temperature reaches 145°F. (Do not overcook or meat will be dry and tough.)
Prep Time:

10 Minutes

Cook Time:

15 Minutes

Category:

Main Course

Method:

Baking

Cuisine:

American
Keywords: baked bone in pork chops, easy baked pork chops