[addtoany]
Pork chops and cornbread stuffing is a delicious dish for the holidays or any time of year. The pork chops make a hearty protein and the stuffing is a great side that makes the perfect complement for the dish.
Read on to find out how you can make this meal for your family's dinner or to serve at your holiday table.
Cornbread Stuffing
It is arguable as to which is the star of this dish, the pork chop or the cornbread stuffing. While everyone has their preferences, let's start by talking about the stuffing.
The cornbread stuffing here is made from a store-bought mix. However, the addition of the vegetables gives it a special twist.
To make the stuffing, start by combining one 10 ¾ ounces can of golden mushroom or cream of mushroom soup with ¼ cup melted butter or margarine.
Then stir in a 16 oz. package of frozen vegetables. Though you can use any vegetables you would like, a mix of broccoli, cauliflower, and carrots is recommended.
Finally, stir in half of a 16 oz box of cornbread stuffing mix.
All of this goes into a slow cooker with the pork and cooks on low heat for five to six hours or on high heat for 2 ½ to 3 hours on low.
Of course, some home cooks will prefer to make cornbread stuffing from scratch. You can do this by combining 1 ½ cups yellow cornmeal, ¾ cups all-purpose flour, ¼ cup brown sugar, 2 tsp. baking powder, ½ tsp. baking soda and 1 tsp kosher salt.
In another bowl, whisk together 1 cup milk, ½ cup buttermilk, 2 large eggs, and 3 tbsp. melted butter. Add to dry ingredients and stir with a fork.
Pour batter into a baking dish and bake 20 – 25 minutes at 400 degrees.
In a large skillet, stir one onion and two 2 stalks of celery seasoned with salt, pepper, thyme, and garlic in melted butter until vegetables are tender and spices are fragrant. Remove from heat and tumble with the cornbread mix.
In a small bowl, combine 2 eggs with one cup chicken broth. Mix into cornbread mixture and bake for 30 minutes at 375 degrees.
Pork Chops in Slow Cooker
There are many ways to prepare pork chops, but a slow cooker is a preferred method.  A slow cooker allows the meat to achieve the perfect amount of tenderness. If mixed with other ingredients, the flavors become infused throughout the dish perfectly.
In this recipe, the chops are heated in a skillet over medium-high heat until brown on both sides. They are then set on top of the stuffing and put in a slow cooker to cook.
The skillet is perfect for adding a sear to the meat while the slow cooker lets the flavors come together and the meat becomes tender.
If you are cooking your pork chops in a slow cooker, here are some tips that will ensure they will come out perfectly.
Use Bone-In Chops: The bone helps keep moisture in and it protects the meat during cooking. Blade, sirloin chops and bone-in ribs are all recommended.
Brine Your Chops: Brining your chops will give them a great flavor and help protect the meat from overcooking. A basic brine can consist of something as simple as salt and water. Dissolve the salt in water and pour it over the chops. Then refrigerate for up to four hours. Pat dry before cooking.
Time and Texture: The amount of time it will take to cook your chops will vary depending on how big the chops are, the slow cooker you are using and the texture you are going for. For the most part, after 2 hours, pork will start to feel tender but firm. At 3-6 hours, it will start falling off the bone. It is best to experiment with pork the first time you cook it checking on it often to determine the point when it will reach the desired tenderness.
Pork chops make a great start to any meal. This slow-cooker preparation along with the cornbread stuffing side will make a dinner your family is sure to love. What will you be doing to set your pork chop and cornbread stuffing meal apart?
If you enjoyed this recipe, make sure to check out our Maple Pecan Pork Chops and our Pork Chops Devine.
Print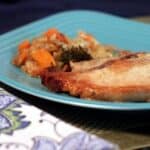 Pork Chops and Corn Bread Stuffing Recipe
---
Author:

Total Time:

5 hours 10 minutes
Description
Pork chops and cornbread stuffing is a delicious dish for the holidays or any time of year. The pork chops make a hearty protein and the stuffing is a great side that makes the perfect complement for the dish.
---
Nonstick cooking spray

4

pork rib pork chops, cut ¾-inch thick

1

–

10¾

ounce can condensed golden mushroom or cream of mushroom soup

¼ cup

butter or margarine, melted

1

–

16

ounce package frozen broccoli, cauliflower and carrots

½

of a 16 ounce package (about

3 cups

) corn bread stuffing mix
---
Instructions
Lightly coat a 5½– or 6-quart slow cooker with cooking spray, set aside.
Trim fat from chops.
Lightly coat 10 inch skillet with cooking spray.
Heat skillet over medium-high heat.
Cook chops in hot skillet, half a chop at a time, until brown on both sides.
Remove chops from skillet, set aside.
In very large bowl combine soup and melted butter.
Stir in frozen vegetables and stuffing mix.
Transfer stuffing mixture to prepared cooker.
Place chops on top of stuffing mixture.
Cover and cook on low-heat setting for 5 to 6 hours or on high-heat setting for 2½ to 3 hours.
Prep Time:

10 Minutes

Cook Time:

5 Hours

Category:

Main Course

Method:

Slow Cooking

Cuisine:

American
Keywords: corn bread stuffing, pork chops in slow cooker