Pork chops come from a part of the pig perpendicular to the spine. They usually contain a rib or part of the vertebrae. They are a great source of protein, they are not processed, and they are leaner than other cuts of pork. They also make for a delicious meal your family will love.
The recipe we have here includes a salt, pepper, and sugar rub that we think really showcases the taste of the meat. The cut is then covered with oil and fried in bacon drippings. Onion and pepper are added for a meal that is full of mouthwatering goodness.
Pork Chops and Gravy
Nothing goes with pork chops quite like gravy. They add flavor and moistness that will take your dish to the next level.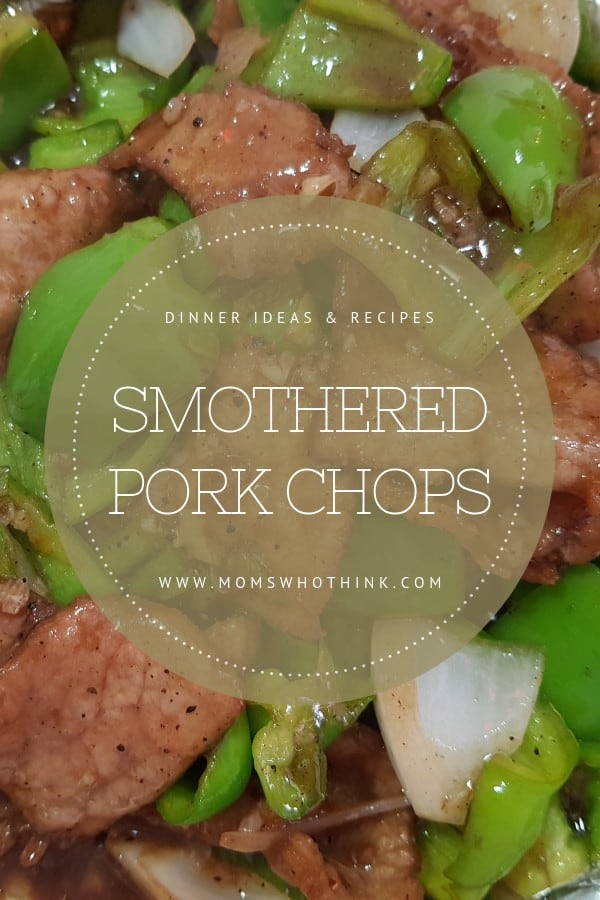 There are many different types of gravy and the one you choose for your pork chops will be a matter of personal taste. Here are some options you can choose from.
Brown gravy: Brown gravy is made from the drippings of roasted meat or fowl. The drippings are heated on a stovetop with onions and/or other vegetables. The gravy is then thickened with a mixture of water and wheat flour or cornstarch.
Egg gravy: This type of gravy is made with meat drippings. Flour and water, broth, or milk is added to increase thickness. A cooked egg is then added in small fragments.
Onion gravy: This is made from chopped onions that have been heated in oil or butter. Stock or wine is added to produce the right taste and consistency.
Red-eye gravy: Red eye gravy is made of the drippings of ham that has been fried in a skillet. The pan is then deglazed with coffee, hence the name red eye.
Vegetable gravy: Recipes for vegetable gravy vary. Some start with boiled or roasted vegetables but vegetable broth, stock and flour can also be used. Other main ingredients include bouillon cubes with cornstarch, yeast extract, Marmite or Vegemite.
Giblet gravy: This type of gravy has the giblets of turkey or chicken added.
Slow Cooker Pork Chops and Gravy
A slow cooker is ideal for the preparation of pork chops. It allows for plenty of time to let the flavors marinate and for the meat to become tender.
It is also recommended for moms on the go. With a bit of advanced preparation, all you have to do is throw your ingredients in the slow cooker in the morning and by the time you get back from work, you will have a house full of a wonderful aroma and a meal that is ready to go.
Here are some tips for preparing your pork chops in a slow cooker:
Season your pork chops well. Ranch seasoning mix, garlic powder, and pepper are recommended. Extra salt is not necessary; your guests can add salt to taste as per personal preference.
Don't overdo it on the ingredients. This is a low maintenance type of preparation that really lets the flavor of the meat shine.
Thickening the gravy is recommended. After pork chops are finished, remove them from the slow cooker. Then stir two tablespoons of cornstarch with two tablespoons of water and add it to the gravy. Turn the crockpot back on high and leave the gravy in for 5-10 minutes to get a nice thick consistency.
Pork chops make for a great dinner when paired with brussels sprouts, a crisp salad, corn on the cob, mac n cheese or just about any other side you prefer. Serve this meal to your family to fill their bellies and put a smile on their faces.
Health Benefits of Pork Chops
Understanding what you're feeding your family is important. Pork chops have their own set of nutritional benefits; by understanding them, you'll be able to provide your family with the nutrition they need to be healthy. Let's get into the health benefits of pork chops.
Pork chops are notably high in selenium and zinc. The high presence of these nutrients in pork chops helps support your endocrine and immune systems, while also working to reduce inflammation. Eating foods that lower or prevent inflammation in your body can help prevent certain diseases and chronic conditions.
Like many other meats, pork chops contain a good amount of protein. However, this high protein content can be off-set by the cooking method. Frying your pork chops introduces more fat, which reduces the positive effects you get from the protein content.
Some studies have suggested that protein is a great aid to those looking to lose weight. It is for this reason that a high-protein, low-fat diet is often preferred among those trying to reduce their weight. Protein can also make you feel fuller for longer, reducing your risk of snacking when you shouldn't be.
If you enjoyed this recipe, make sure to check out our Coca Cola Pork Chops Recipe and our Chicken Potato Delight Recipe.
Print
Smothered Pork Chops Recipe
---
Author:

Total Time:

25 Minutes
Description
The recipe we have here includes a salt, pepper and sugar rub that we think really showcases the taste of the meat. The cut is then covered with oil and fried in bacon drippings.
---
1 Tablespoon

brown sugar

½ teaspoon

salt

1/4 teaspoon

pepper

6

pork chops, 3/4 inch thick
all-purpose flour
hot bacon drippings

1

medium onion, peeled and sliced

1

medium green pepper, sliced

1

lemon, sliced and seeded
water
---
Instructions
Combine sugar, salt and pepper; rub mixture onto both sides of pork chops.
Coat chops well with flour.
Fry in 1/4 inch of hot bacon drippings in a large heavy skillet until browned on both sides; remove from skillet and set aside.
Add onion and green pepper, sauté until just tender.
Return chops to skillet. Add lemon slices and water to come 1/2 inch up sides of pan.
Cover and simmer over low heat 1 to 1½ hours or until very tender, adding additional water if necessary
Prep Time:

10 Minutes

Cook Time:

15 Minutes

Category:

Main Course

Method:

Simmering

Cuisine:

American
Keywords: pork chops and gravy, slow cooker pork chops and gravy